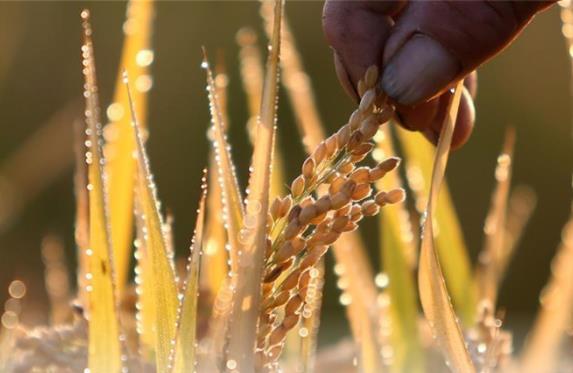 (Photo source: Xinhua)
The COVID-19 pandemic has highlighted global food security issues. The population suffering from hunger continues to increase and the world is facing the worst food security crisis in 50 years. What has caused the food crisis and what is the way out?
Extreme weather in 2020 caused casualties around the world and impacted food production as well. The Food and Agriculture Organization of the United Nations (FAO) pointed out extreme weather had resulted in a drop in global grain production and pushed food prices high. According to statistics from the International Grains Council, the prices of exported wheat increased by 46 per cent, and FAO figures show food prices have reached record high in 10 years. Experts argue that if extreme weather continues, food prices will climb.
Human factors behind food price hikes
The abundance of US dollars has pushed grain prices up. To relieve the economic pressure from the pandemic, the US Fed started to print dollars in huge amounts. As a result, prices of bulk commodities, including grains, began to plummet.
Speculation contributes to food price hikes. The US has controlled the world's four grain traders and monopolized 80 per cent of global grain trade. The US has gripped the grain futures in hand and determined the pricing of grains across the world. This means that the US Department of Agriculture can influence the price of grain futures and those of global agricultural products.
Disrupted supply chain worsened panic. Food producers like Vietnam, Russia and Canada have constrained food export to avoid food price rises at home, which is a huge shock to the global food supply chain. Lockdowns in some developed countries have prompted people to hoard food. Fuel prices, shortage of vessels, and delayed shipping all contributed to the increase in the cost of food shipping.
Urgent need to reform global grain security governance system
We must be aware that global grain security governance system remains unreasonable and inequitable. Global grain supply is still unbalanced and inadequate and grain prices are highly financialized and capitalized. Developed countries have dominated global grain supply and controlled grain prices. The pandemic has increased the risk of global grain security and low-income countries that depend on grain import are facing an unprecedented food crisis.
China has seen bumper harvests for 17 consecutive years. The Chinese people have been able to feed themselves and achieved food security. To improve the global grain security governance system, we need to strengthen cooperation through the UN and other international organizations in the post-pandemic era, reduce poverty and hunger and avoid man-made food crisis to build a community of food security for all humans. We need to prioritize agricultural cooperation under the "Belt and Road" initiative. The BRI participating countries need to establish cooperation mechanisms and adopt policies, technical and comprehensive measures to promote common grain security. Green agriculture needs to be promoted in the BRI participating countries to ensure their food security and guarantee the food security of the Belt and Road Initiative.
Contributed by Wan Zhe, Researcher of the Belt and Road School, Beijing Normal University
Translated by Wu Zidan
Editor: Zhang Zhou