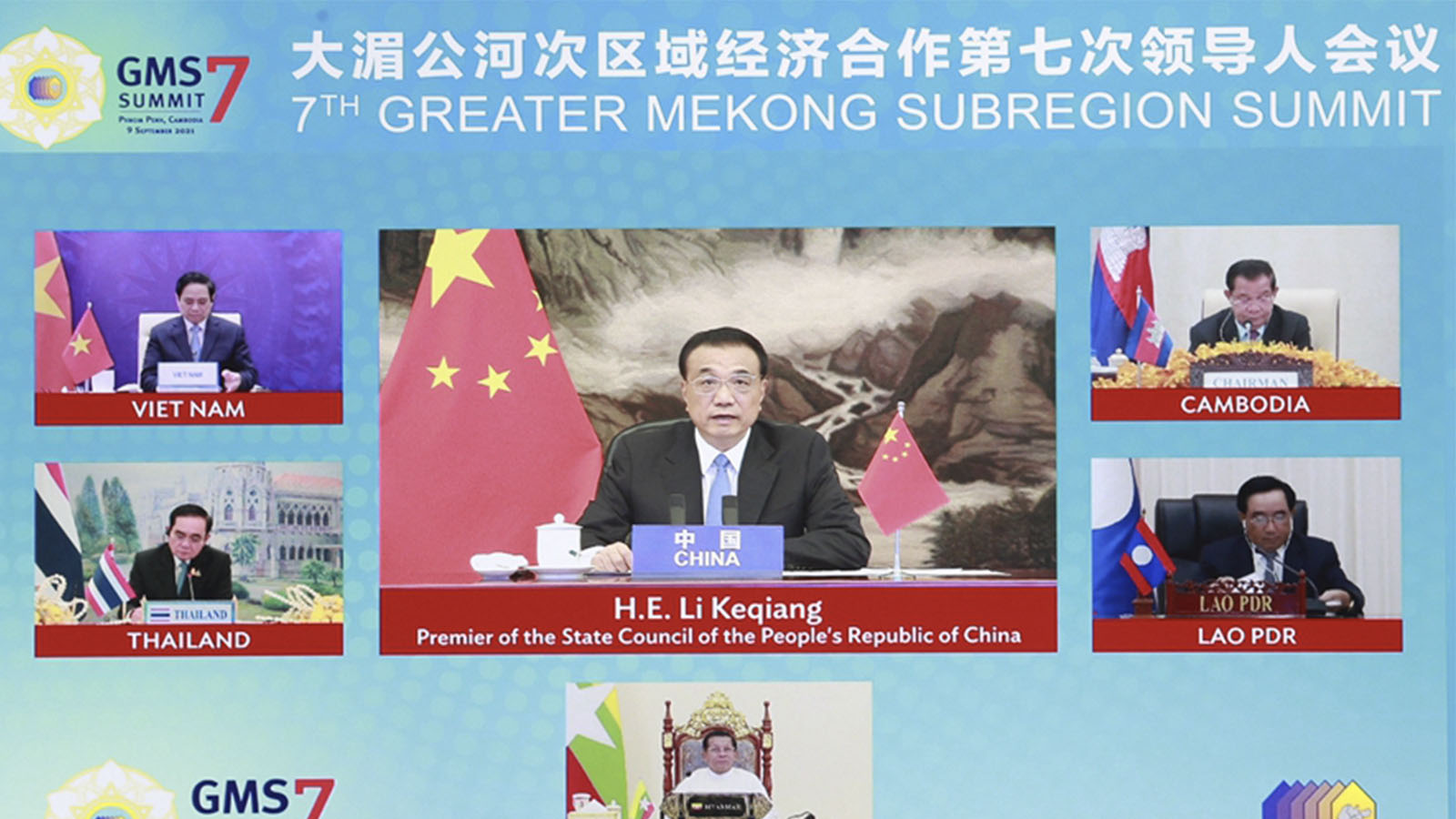 The seventh Greater Mekong Subregion Summit(Photo by CGTN)
Premier Li Keqiang attended the seventh summit of the Greater Mekong Subregion (GMS) Economic Cooperation on September 9 in Beijing and gave a speech. The theme of the conference was "enhance cooperation, meet the challenges of the new decade". The meeting issued the Declaration of the Seventh Summit of the Greater Mekong Subregion Economic Cooperation and passed the 2030 strategic framework of the Greater Mekong Subregion Economic Cooperation and the plan for COVID-19 response and economic recovery of the Greater Mekong Subregion Economic Cooperation for 2021 to 2023.
Founded in 1992, the Greater Mekong Subregion (GMS) economic cooperation mechanism was initiated by the Asian Development Bank (ADB) and consists of China, Cambodia, Laos, Myanmar, Thailand, and Vietnam. It is an important economic cooperation platform for the six countries to promote common development. China has been a major participant and an active contributor to GMS economic cooperation. In 2005, the 2nd GMS Economic Cooperation Summit was successfully held in Kunming, Yunnan Province. Yunnan, Guangxi, and other provinces and regions have actively participated in pragmatic cooperation in all fields, making great contributions to promote regional prosperity and stability, and building a frontier window and a reliable base for China-ASEAN cooperation.
The seventh summit was held against the backdrop of the ups and downs of the COVID-19 pandemic, complex international and regional conditions, and sluggish recovery of the world economy. Drawing on years of successful cooperation experience, the six countries have paid more attention to solidarity and coordination and agreed to strengthen political mutual trust, share development opportunities, face risks and challenges together, and discuss new cooperation frameworks, in order to promote a more integrated, prosperous, sustainable and inclusive subregion.
Political mutual trust is the foundation for lasting cooperation. As a Chinese saying goes, "Drinking from the same river, our destinies are closely linked." Guided by the principle of openness, inclusiveness, and win-win cooperation, the six countries have reached out to each other in cooperation over the years, respected each other's major concerns, fully accommodated each other's comfort level, and safeguarded the common interests of GMS countries. In recent years, the comprehensive strategic and cooperative partnerships between China and the five Mekong countries have been continuously enhanced. China-Cambodia, China-Laos, and China-Myanmar communities with shared future have been established one after another. The awareness of a community with a shared future has been further strengthened in China's neighboring countries.
In the future, the six countries will continue to cherish good-neighborly friendship, vigorously promote practical cooperation in various fields, and jointly build a Greater Mekong Subregion community with a shared future. Upholding multilateralism, China welcomes and supports all initiatives and mechanisms conducive to regional development. China will promote integration and coordination between GMS economic cooperation, the "Belt and Road" initiative and Lancang-Mekong Cooperation Mechanisms, sharing successful experience and jointly launching projects to build synergy for subregional development.
Solidarity and mutual assistance are the best way to defeat the pandemic. Since the outbreak of COVID-19, China and Mekong countries have assisted each other to overcome difficulties together. Medical experts from Yunnan and Guangxi were sent to Laos, Myanmar, and Cambodia to assist them in pandemic prevention and control. Hospitals in Yunnan and Guangxi have also held special training sessions for and offered technical guidance to medical institutions in neighboring countries to share their experience in fighting COVID-19. In September 2021, 42 container trucks full of COVID-19 vaccines and anti-pandemic materials provided by the Chinese government were sent from Yunnan to Myanmar via land ports in batches. GSM countries have stood together and helped each other in times of trouble, demonstrating through actions that a friend in need is a friend indeed, and setting a good example of international cooperation in fighting COVID-19.
Faced with the complex and severe pandemic situation, GMS countries will continue to carry forward the scientific spirit, follow scientific rules, conduct in-depth cooperation on pandemic prevention and control and vaccine production, enhance the capacity for joint pandemic prevention and control, and protect people's livelihoods and health in the region. China will continue to prioritize supporting and assisting Mekong countries, providing vaccines and medical aid, to enhance the accessibility and affordability of vaccines in the region, leverage the role of special Lancang-Mekong public health funds, and jointly improve public health in the subregion through cooperation in pandemic surveillance, traditional medicine, and prevention and control of infectious diseases.
Mutual benefit is the core of economic recovery. It has always been an important feature of GMS economic cooperation to "seek opportunities from crisis and turn crisis into opportunity". Faced with the impact of COVID-19, GMS countries have not waited passively. Instead, they have responded in a scientific way, actively sought change, and promoted economic and trade growth against the trend. Trade between China and the five Mekong countries reached $19.2 billion in the first half of this year, rising nearly 40% from the same period last year. Several indicators are steadily recovering, including the total import and export volume of border trade in Yunnan and Guangxi and the total import and export volume of frontier trade.
Looking ahead, the six countries will comprehensively deepen cooperation in trade facilitation, transportation, energy, agriculture, tourism, environment, and urban development, promote the Regional Comprehensive Economic Partnership Agreement to take effect as soon as possible, and accelerate the implementation of the Protocol on upgrading the China-ASEAN Free Trade Area. The six countries will speed up cooperation on infrastructure connectivity, leverage the spillover effect of the China-Laos railway, which will be open to traffic by the end of this year; we will promote the development of a new international land-sea trade corridor, and coordinate the establishment of a regional power coordination center. We will explore new forms of tourism cooperation and new paths of agricultural cooperation under the conditions of regular pandemic prevention and control. The six countries will take multiple measures to promote regional economic recovery and resilient growth.
Sustainable development underpins prosperity and stability. The COVID-19 pandemic has made life harder for the poor and vulnerable and brought environmental challenges. Sustainable development is a long way off. China will further deepen exchanges and cooperation with Mekong countries in poverty reduction, climate change prevention, and environmental protection. Through the China Poverty Reduction Fund set up in the Asian Development Bank and other multilateral and bilateral channels, China will help Mekong countries enhance their capacity for social governance and improve the well-being of their people.
The six countries will waste no time in implementing the UN 2030 Agenda for Sustainable Development, accelerate the transformation of rural development in the subregion, and support rural women and border area development. We will focus on promoting cooperation in the prevention and control of air and water pollution and ecosystem management, jointly implement the third phase of the GMS Core Environment Project, and respond to environmental and climate challenges with green technologies. The 15th Conference of the Parties to the United Nations Convention on Biological Diversity (CBD) will be held in Kunming next month, which is expected to contribute "Chinese wisdom" and "Chinese solutions" to global biodiversity protection and sustainable development.
A Chinese saying goes like this,"Practice earnestly so as to travel far; accumulate much so as to release little." GMS economic cooperation will soon mark its 30th anniversary. A new blueprint has been drawn and a new journey has begun. Premier Li Keqiang announced that China will host the eighth Greater Mekong Subregion Economic Cooperation Summit in three years. Standing at a new starting point, China and Mekong countries will carry forward the spirit of partnership, focus on jointly fighting COVID-19 and promoting common development, facilitate economic integration, and set a new example for global and regional cooperation.
Contributed by Lu Guangsheng
Translated by Zhang Andi
Editor: ZAD