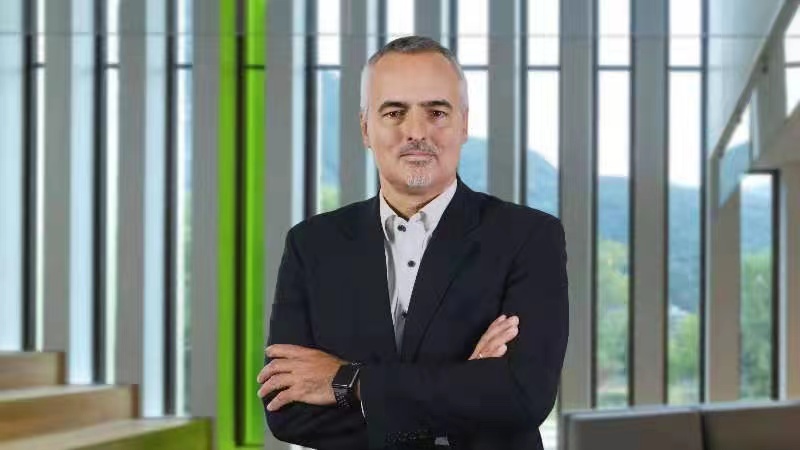 Peter Weckesser, Executive Vice President, Digital & Chief Digital Officer of Schneider Electric
"We see the potential of integration of 5G technologies and industrial scenarios that bring a major leap in productivity and efficiency, especially in those use cases that require real-time, quality connectivity for precision, accuracy, and reliability, " said Peter Weckesser at the WIC forum on 5G empowerment Monday.
Here we spoke with Peter Weckesser, the executive vice president, digital & chief digital officer of Schneider Electric to discuss how 5G will empower a new era of manufacturing.
Guangming Online: As you see it, how does 5G empower the world recovering from the pandemic?
Peter Weckesser: The growing use of 5G technologies can help meet the demand for greater, faster connectivity especially in remote operations using AR/VR and real-time data. These use cases have become especially critical in many industries during the pandemic and will continue to play an important role in the post-COVID world. In the long term, 5G has the potential to act as a catalyst of further digitization of industries, leading to greater productivity, efficiency, and resiliency.
Guangming Online: How can 5G technologies revolutionize industrial activities and catalyze digital transformation in industries?
Peter Weckesser: At Schneider Electric we see 5G as an important enabler of accelerated digitization across industries, unlocking greater flexibility and benefits of remote operations. It can empower greater connectivity and help manage massive volumes of data which means providing better insights, faster. These data-based insights that can help reach new levels of efficiency and lead to greater sustainability at the enterprise level.
Guangming Online: Currently, the commercial deployment of 5G worldwide is entering a critical period. From your point of view, how can 5G technologies be integrated in industrial scenarios in China? And what kind of practice has Schneider Electric made in this sector in China?
Peter Weckesser: At Schneider we have been interested in adopting 5G for relevant use cases from the very beginning and today we already have some highly valuable applications in place. One example is the Schneider Electric Wuxi factory where 5G is used to enable fast, flexible setup of our production lines depending on the orders for the factory. Without 5G, the time needed to re-configure the wired production lines took weeks - now, thanks to 5G connectivity, it's just a matter of hours.
This means incredible flexibility of production and enables us to meet our customers demands faster.
Guangming Online: How can the rapid development of 5G in China facilitate the digital transformation of industry?
Peter Weckesser: Thanks to the fact that 5G in China is experiencing remarkable growth, there will be more and more practical use cases for 5G applications. The challenge is finding the right use cases and scaling them to achieve lasting business outcomes, seizing the true potential of AI, Internet of Things,  cloud, and edge computing Partnerships on various 5G projects can help accelerate this and bring even more innovation in China.
Guangming Online: As the 5G communications era has dawned, how can 5G technologies enable people to make the most of energy and resources, as the purpose of Schneider Electric states?
Peter Weckesser: 5G is an important technology that must be integrated as part of an efficient, sustainable and secure manufacturing landscape of the future. Simply put, it can help manufacturing and use of energy and resources smarter in a connected, integrated enterprise.
Guangming Online: China announced that it would strive to peak carbon dioxide emissions by 2030 and achieve carbon neutrality by 2060. As an expert in global digital transformation in energy management and automation, how will Schneider Electric help China meet its commitment with the application of hi-tech such as 5G?
Peter Weckesser: Schneider Electric is both an actioner and an enabler on the way toward carbon neutrality.  We pledge to achieve: carbon-neutral in our operations by 2025, and net zero CO2 emissions in our operations by2030. Carbon-neutral on full end-to-end footprint (scope 1, 2, 3) by 2040, and net zero CO2 emissions in our supply chain operations by 2050. In China we are helping customers and supply chain partners to increase productivity, energy and resource efficiency, as well as business resilience to achieve high quality and sustainable development. We have integrated new technologies such as 5G and AI in our carbon neutrality solutions, across the entire lifecycle of our customers, from carbon neutrality consultation to its realizing via green smart manufacturing solutions and green energy management solution. By 2025, we will deliver 800 megatons of saved and avoided CO2 emissions to our customers globally.
Editor: WXL