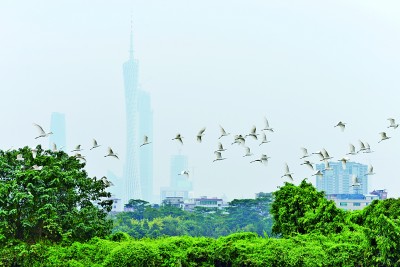 A green picture of the harmonious coexistence of humans and birds in Haizhu National Wetland Park in Guangzhou, Guangdong. (Photo by Xie Huiqiang/Guangming Picture)
Biodiversity is relevant to human well-being and is an important foundation for human survival and development. According to a latest survey conducted by the Chinese Academy of Social Sciences, 80% of Chinese people think that the ecological environment has improved in the past 10 years, and most people are unwilling to increase their income at the expense of the environment.
On October 14, at the forum of the 15th meeting of the Conference of the Parties to the Convention on Biological Diversity, themed "Green Mountains are Mountains of Gold and Silver: From Concept to Practice", Zhang Yongsheng, Director of the Institute of Ecological Civilization of the Chinese Academy of Social Sciences, said that the fundamental purpose of development is to improve people's well-being.
China is one of the countries with the richest biodiversity in the world. How to improve the natural ecosystem by protecting biodiversity, enhance ecological services, increase the supply capacity of ecological products, and realize the virtuous cycle of the natural ecosystem, so as to continuously meet people's growing demand for a beautiful ecological environment? Recently, our reporters walked to the green mountains and river valleys, to the countryside and urban areas, trying to find the answers.
Red River Valley Breeds "Mountain Future"
Baobabs, Indian acacias, horned melons... Plants from different countries and regions thrive in the sun on the hillsides of the dry and hot valleys - this is the Red River Valley Mountain Future Innovation Center of the Kunming Institute of Botany of the Chinese Academy of Sciences, located in the Honghe Hani and Yi Autonomous Prefecture of Yunnan Province (hereinafter referred to as "the Innovation Center").
Many years ago, when Xu Jianchu, chief scientist of the World Agroforestry Center and director of the Innovation Center, came here for the first time, what he saw was only "bare, dry-hot river valley and muddy water of Honghe River flowing".
Here, there is an often-mentioned word "Sawangna", which means "savanna" in the African language. "Sawangna" is mainly distributed in sub-Saharan Africa and southern Africa, South America, northern parts of Australia, India and Myanmar, and the dry-hot river valley of Yunnan, China.
Xu said that the dry-hot river valley has high temperature and little rain, with very fragile ecology, but the red soil means the future of mountain development and revitalization. According to the research of phytocoenology, the Red River Valley has the most typical river valley-type "Sawangna" vegetation in Asia. It is rich in biological resources and is a unique representative of biodiversity.
In 2017, based on the global issue of ecological restoration in dry-hot valleys, Xu and his team carried out germplasm resource innovation and circular agricultural innovation, successively selected tropical economic forests and fruits such as mango, lychee and Javanese kapok, and developed new feeds such as Stylosanthes guianensis and mudar. New plant resources have formed a three-dimensional planting model of "trees, shrubs and grass" covering the surface with tropical economic forests and fruits and plant-based protein feeds.
Driven by the "Mountain Future" project, the ​​mango-planting area in Honghe County, Honghe Hani and Yi Autonomous Prefecture currently exceeds 110,000 mu, with 7 mango varieties such as "Guifei" and "Tai Nong" planted. Shanghai-Yunnan Cooperative Litchi King Industrial Base in Dayangjie Township of the Red River Valley is also under construction in full swing.
"The residents of the Red River Valley are changing from the past development model of using biological resources for money to a new model of green, low-carbon and recyclable 'ecological economy'" ,Xu said.
Take Care of Snow Leopards to Increase Income
With an average altitude of 4,000 meters, Angsai Township, Zaduo County, Yushu Tibetan Autonomous Prefecture, Qinghai Province, belongs to the hinterland of Lancang River Source Park in Sanjiangyuan National Park. Here, the mountains and valleys are crisscrossed, the Lancang River flows rapidly, and the big cats, snow leopards, live here.
The villagers of Niandu Village in Angsai Township, who have been grazing for generations, have seen their lives intersected with snow leopards in different forms. In recent years, this intersection has been given new meanings due to the "Angsai Grand Canyon Snow Leopard Nature Experience Program" carried out by the Shanshui Nature Conservation Center.
As one of the first national parks, the Sanjiangyuan National Park has public management positions with the coverage expanded to "one household, one post". Cairen Nima, who lives in the second community of Reqing Village, Angsai Township, is one of them. This not only gives him a stable income of 1,800 yuan per month, but also offers him more opportunities to observe and understand nature. Now, he can distinguish different wild animals through feces and footprints.
In 2017, the Lancang River Source Park of the Sanjiangyuan National Park cooperated with Beijing Shanshui Nature Conservation Center to carry out nature experiencing pilots with cooperatives and train herders to act as nature experience guides, drivers and host families, who lead nature experiencers to observe and record rare wild species such as snow leopards. Thus, Cairen Nima has another identity-a nature experience guide.
After discussion and negotiation by all members of the cooperatives, Angsai Natural Experience began to adopt the collective income distribution system in the community at the end of 2018. Of the total income of the program, 45% is given to the host family, 45% goes to the community fund, and 10% is used for local ecological protection. "The community is deeply involved in the whole process, and the benefits are given back for the community's development," said Li Yuhan, the first director of the Angsai Workstation of the Shanshui Nature Conservation Center.
In 2019, the Angsai Nature Experience Program was approved by the Sanjiangyuan National Park Administration, among the first batch to receive the pilot franchise in the national park. According to Lv Zhi, a professor at Peking University, the nature experience program has formed a mutually beneficial relationship between people and national parks, enabling locals not only to obtain economic income, but also to enhance their ability to participate in the construction of national parks and their sense of pride.
Birds Return to Soothe the Soul
In his book "Last Child in the Woods", American writer Richard Louv put forward "Natural Deficiency", that is, children who grow up in the environment of electronic products spend less and less time in nature, which then triggers a series of behavioral and psychological problems. "Humans are part of nature, and children should be encouraged to go outdoors, to the natural environment, and to meet birds through human senses." Zhao Xinru, a bird expert at Beijing Normal University, regards bird watching as a "good medicine" to soothe the soul.
In fact, if you want to watch birds, you don't have to go to the suburbs, mountains and forests on purpose. In the city parks and green spaces, we can meet these smart "notes" of nature.
Xuanxuan, a primary school student who lives in Guangzhou, Guangdong Province, is a "bird fan." A nature observation class in the city park organized by the school has planted the seeds of bird watching in her heart. White-headed bulbul, magpie robin, heron... At the age of 11, she can already recognize more than a dozen kinds of birds. Recently, she has a new place to go-Haizhu National Wetland Park that covers an area of ​​1,100 hectares. This "urban green heart" is less than 5 kilometers away from Guangzhou's landmark Canton Tower, but it has attracted 180 species of birds to inhabit and multiply here.
"Birds are indicative species of the natural ecological environment and are sensitive to the environment. They must at least have nests, food, and a sense of security before they are willing to stay," said Hu Huijian, a researcher at the Institute of Zoology of the Guangdong Academy of Sciences. Since 2020, Guangzhou has actively promoted the construction of waterfowl ecological corridors in the Pearl River Delta, and expanded the distribution space of water birds through protection of waterfowl gathering areas, construction of related ecological environment, and habitat restoration, so as to build "bridges" for birds to enter the city. Birds that once disappeared in Guangzhou gradually return.
The restored and reconstructed wetland will not only stop the degradation of urban biodiversity, but also become a green leisure space for citizens to enjoy the urban "slow life".
Zhang Yongsheng told reporters that a good life not only refers to an increase in income, but also includes a wealth of spiritual life, physical health and a beautiful living environment. Obviously, good ecology provides citizens with a livable environment and allows more birds to "fly into the homes of ordinary people." Doesn't it satisfy people's yearning and needs for a better life?
Contributed by Xu Tan
Translated by Wu You
Editor: Zhang Zhou