By Wang Xinyuan
China on Oct. 27, 2021 released a white paper titled "Responding to Climate Change: China's Policies and Actions" that documented its progress in mitigating climate change, and to share its experience and approaches with the rest of the international community.
"China's responses to climate change are an important part of its efforts to achieve eco-environmental progress and high-quality development," it said, "based on the requirements of its internal sustainable development, and its due responsibility for building a global community of shared future, China has formulated new principles on tackling climate change and is contributing its solutions to global climate governance."
As the largest developing country, with a population of over 1.4 billion, China faces major challenges across a range of important areas including economic development, improving the people's lives, pollution control, and eco-environmental protection. In order to meet its targets in response to climate change, China has risen to these challenges and formulated and implemented a variety of strategies, regulations, policies, standards, and actions, including intensifying efforts in response to climate change, staying committed to a green and low-carbon path to development, tightening control over greenhouse gas emissions, giving full play to the role of the market, reinforcing ability to adapt to climate change, and increasing support for addressing climate change.
Since the 18th National Congress of the Communist Party of China (CPC) convened in 2012, guided by Xi Jinping thought on eco-civilization and committed to the new development philosophy, China has made the response to climate change a higher priority in state governance. It has steadily reduced the intensity of its carbon emissions, reinforced the effort to achieve its Nationally Determined Contributions (NDCs), and maximized its drive to mitigate climate change.
Walking the talk, China has already begun to implement positive and effective moves in its strategy to peak carbon emissions and achieve carbon neutrality.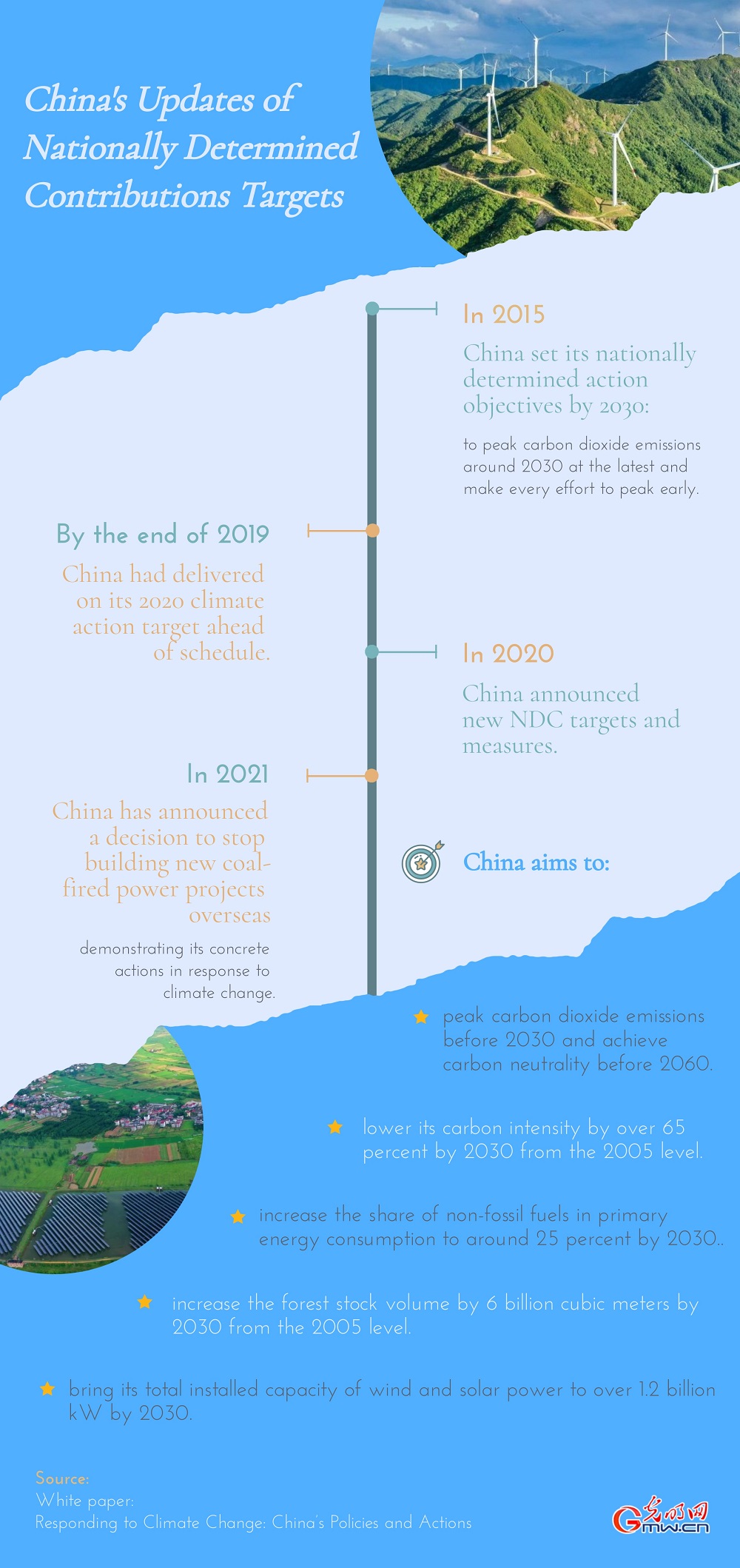 In 2015, China set its nationally determined action objectives by 2030: to peak carbon dioxide emissions around 2030 at the latest and make every effort to peak early.
By the end of 2019, China had delivered on its 2020 climate action target ahead of schedule.
In 2020, China announced new NDC targets and measures. China aims to:
    - peak carbon dioxide emissions before 2030 and achieve carbon neutrality before 2060.
    - lower its carbon intensity by over 65 percent by 2030 from the 2005 level.
    - increase the share of non-fossil fuels in primary energy consumption to around 25 percent by 2030.
    - increase the forest stock volume by 6 billion cubic meters by 2030 from the 2005 level.
    - bring its total installed capacity of wind and solar power to over 1.2 billion kW by 2030.
Compared with the objectives set in 2015, the new targets are more ambitious in timeframe. They involve a steeper cut in carbon intensity, an increase of another five percentage points in the share of non-fossil fuels in primary energy consumption, a new target for installed capacity of non-fossil fuels, an additional forest stock of 1.5 billion cubic meters, and a clear announcement to aim for carbon neutrality before 2060.
China has announced in 2021 a decision to stop building new coal-fired power projects overseas, demonstrating its concrete actions in response to climate change.
Editor: GSY