By Wang Xinyuan
Chinese President Xi Jinping on Oct. 30, 2021 addressed the first session of the 16th Group of 20 (G20) Leaders' Summit via video link. In his speech, Xi proposed a Global Vaccine Cooperation Action Initiative, setting an example of playing a leading role in building consensus, mobilizing resources, and promoting cooperation.
The initiative includes the following aspects: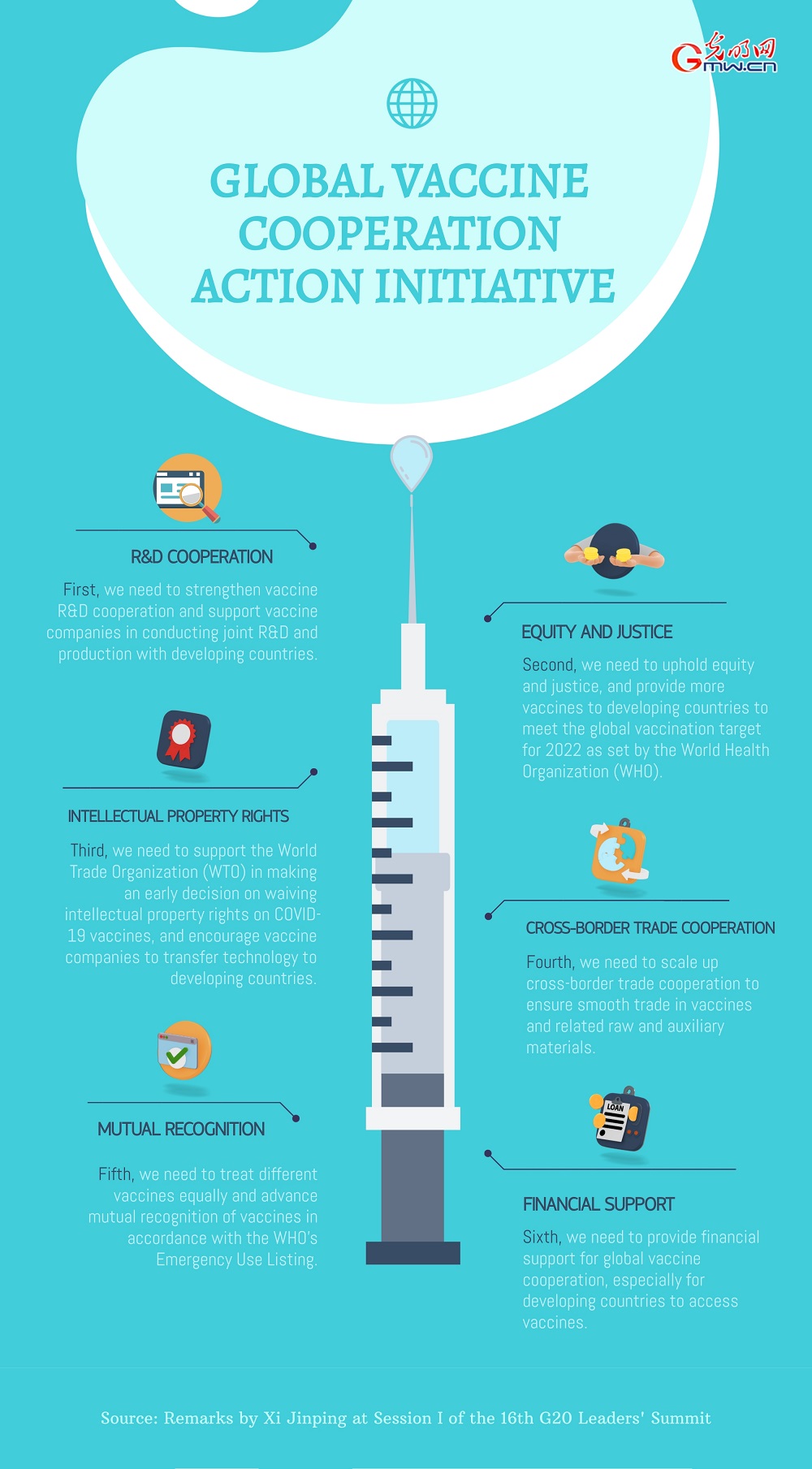 First, we need to strengthen vaccine R&D cooperation and support vaccine companies in conducting joint R&D and production with developing countries.
Second, we need to uphold equity and justice, and provide more vaccines to developing countries to meet the global vaccination target for 2022 as set by the World Health Organization (WHO).
Third, we need to support the World Trade Organization (WTO) in making an early decision on waiving intellectual property rights on COVID-19 vaccines, and encourage vaccine companies to transfer technology to developing countries.
Fourth, we need to scale up cross-border trade cooperation to ensure smooth trade in vaccines and related raw and auxiliary materials.
Fifth, we need to treat different vaccines equally and advance mutual recognition of vaccines in accordance with the WHO's Emergency Use Listing.
Sixth, we need to provide financial support for global vaccine cooperation, especially for developing countries to access vaccines.
To date, China has provided over 1.6 billion doses of vaccines to more than 100 countries and international organizations, and will provide over two billion doses to the world in the course of this year. China is conducting joint vaccine production with 16 countries, with an initial capacity of 700 million doses per year.
China is ready to work with all parties to enhance vaccine accessibility and affordability in developing countries and make positive contribution to building a global line of defense through vaccination.
Editor: GSY