By Siyu Gu
President Xi Jinping on Thursday opened the fourth China International Import Expo (CIIE) and delivered a keynote speech via video link.
Xi noted that China has implemented measures that he announced at the third CIIE for further opening-up and has made important contributions to world economic recovery last year.
Here are some highlights of his speech: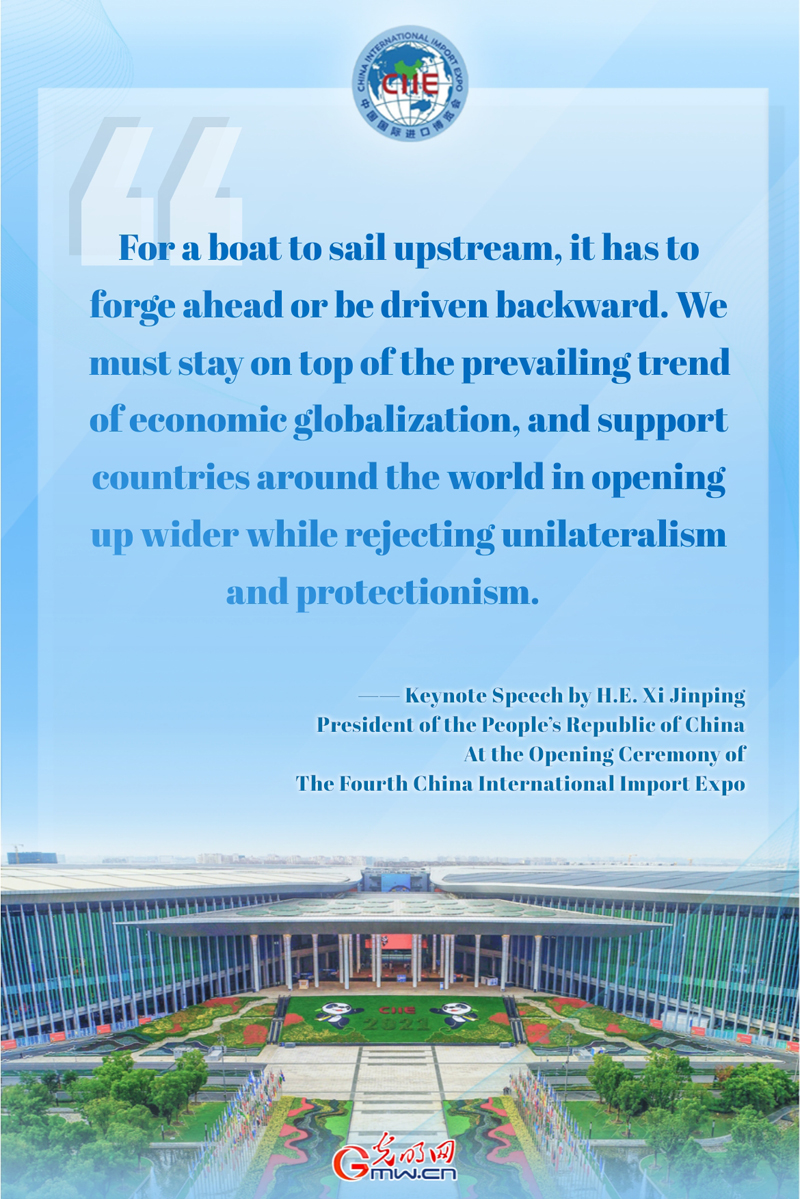 -- For a boat to sail upstream, it has to forge ahead, or will be driven backward. We must stay on top of the prevailing trend of economic globalization, and support countries around the world in opening up wider while rejecting unilateralism and protectionism.
-- The past 20 years have witnessed a China deepening reform and pursuing all-round opening-up, a China seizing opportunities and rising to challenges, and a China stepping up to its responsibilities and benefiting the whole world.
-- Since joining the WTO, China has kept opening wider to the world, thus generating a new wave of domestic development while injecting fresh impetus into the world economy.
-- "One can tell the inside of a thing by observing its outside and see the future development by reviewing the past." For any country or nation to thrive, it must follow the logic of history and develop in line with the trend of the times.
-- "The going may be tough when one walks alone, but it gets easier when people walk together." As the pandemic continues to wreak havoc and the global economy faces a bumpy recovery, it is all the more imperative that people around the world pull together to tide over this difficult time.
Xi pledged that China will firmly safeguard true multilateralism, share market opportunities with the rest of the world, promote high-standard opening-up and uphold the common interests of the world.
In the face of the raging pandemic and other profound challenges that take place globally, he highlighted China's commitment to open wider at high standards and share development opportunities with the rest of the world. "China stands ready to work with all countries to build an open world economy so that the spring breeze of openness will bring warmth to all parts of the world."
Editor: GSY