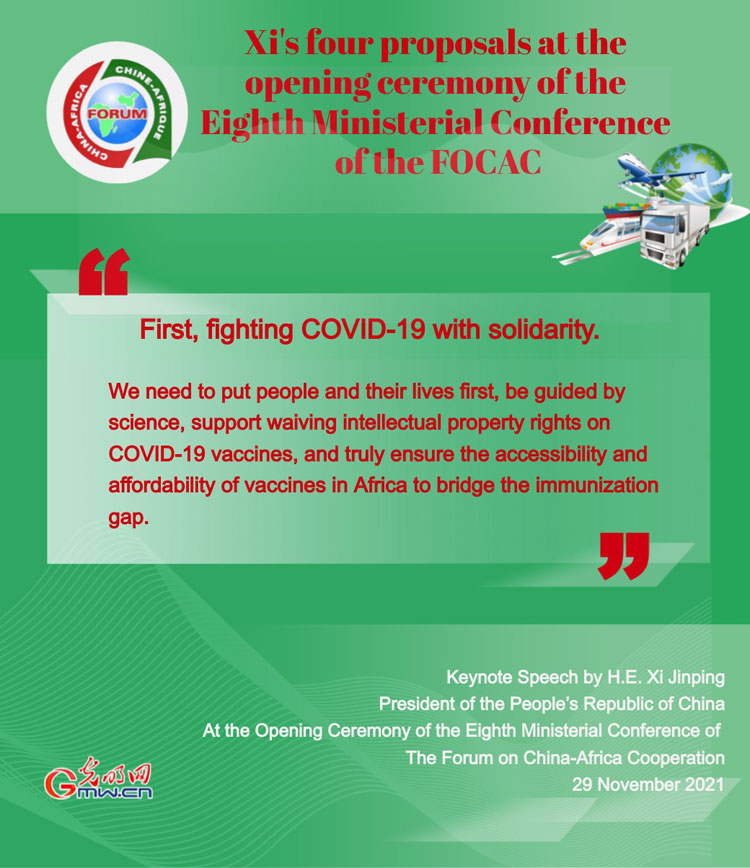 By Zhang Zhou
Chinese President Xi Jinping delivered a keynote speech via video link at the opening ceremony of the Eighth Ministerial Conference of the Forum on China-Africa Cooperation (FOCAC) on Nov. 30, 2021.
This year marks the 65th anniversary of the start of diplomatic relations between China and African countries.
At the historic starting point of building a China-Africa community with a shared future in the new era, Xi makes the following four proposals:
First, fighting COVID-19 with solidarity.We need to put people and their lives first, be guided by science, support waiving intellectual property rights on COVID-19 vaccines, and truly ensure the accessibility and affordability of vaccines in Africa to bridge the immunization gap.
Second, deepening practical cooperation.We need to open up new prospects for China-Africa cooperation, expand trade and investment, share experience on poverty reduction, strengthen cooperation on digital economy, and promote entrepreneurship by young Africans and the development of small and medium-sized enterprises (SMEs).
Third, promoting green development.In the face of climate change, which is a major challenge to all humanity, we need to advocate green and low-carbon development, actively promote solar, wind and other sources of renewable energy, work for effective implementation of the Paris Agreement on climate change and keep strengthening our capacity for sustainable development.
Fourth, upholding equity and justice.The world needs true multilateralism. Peace, development, equity, justice, democracy and freedom are common values of humanity and represent the abiding aspirations of both China and Africa.
(Source: Xinhua)
Editor: Liu Jiaming