Temple of Heaven is a signature architectural compound in Beijing, and it also has a deep connection with the Olympic Games. On Feb. 1, right before the Beijing Winter Olympic Games is about to open, let's review how the Temple of Heaven is connected to both the Beijing 2008 Summer Olympics and Beijing 2022 Winter Olympics.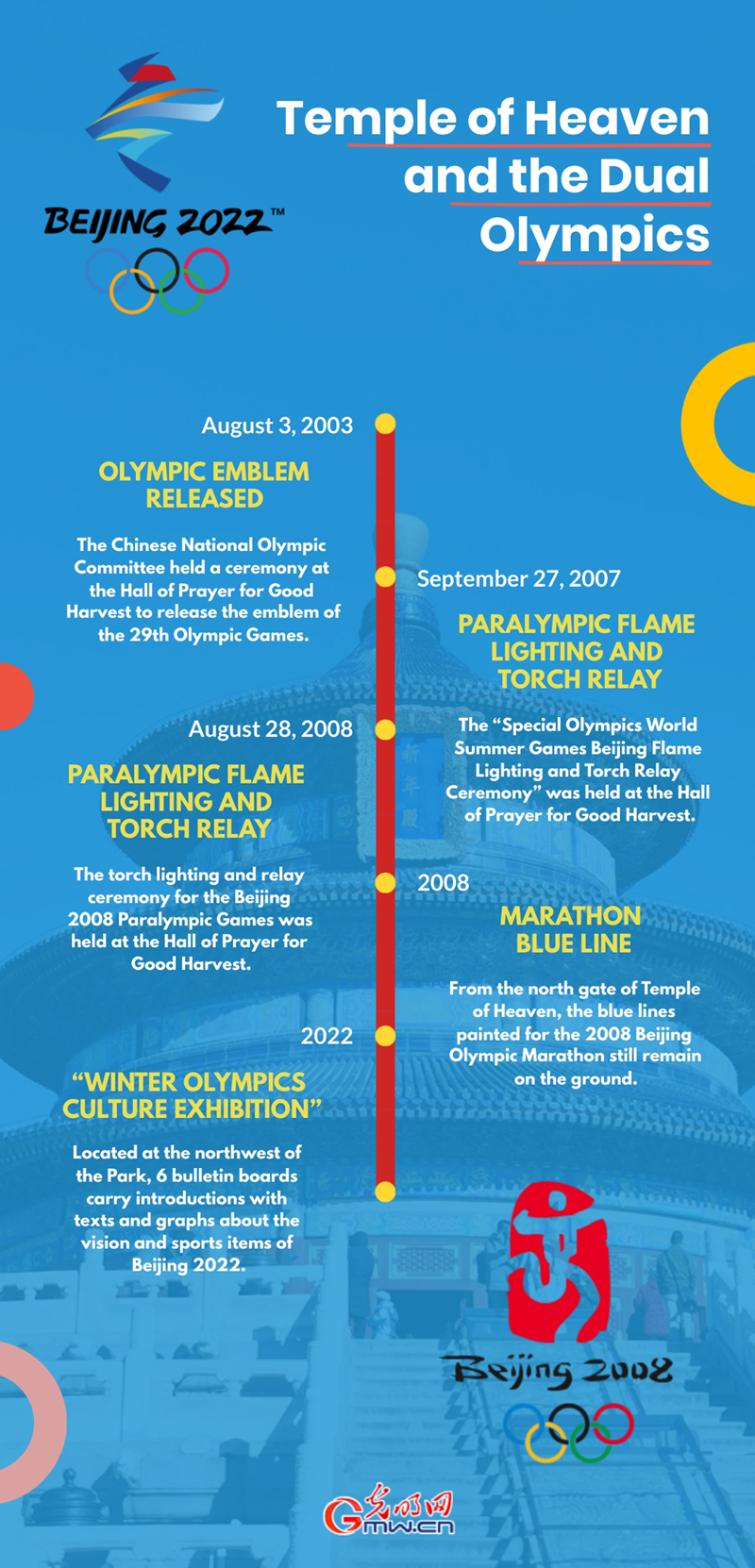 1.Marathon Blue Line
From the north gate of Temple of Heaven, the blue lines painted for the 2008 Beijing Olympic Marathon still remains on the ground. Many runners come to this line to experience the marathon route. At the same time, the Temple of Heaven is rich in vegetation and greenery, forming a natural "oxygen bar", attracting a great number of runners throughout the year.
2. Olympic emblem released
On August 3, 2003, the Chinese National Olympic Committee held a ceremony at the Hall of Prayer for Good Harvest to release the emblem of the 29th Olympic Games.
3. Paralympic flame lighting and torch relay
On September 27, 2007, the "Special Olympics World Summer Games Beijing Flame Lighting and Torch Relay Ceremony" was held at the Hall of Prayer for Good Harvest. On August 28, 2008, the torch lighting and relay ceremony for the Beijing 2008 Paralympic Games was held at the at the Hall of Prayer for Good Harvest.
4. "Winter Olympics Culture Exhibition"
The exhibition is co-sponsored by Beijing Olympic City Development Promotion Center and Beijing Municipal Park Management Center. Located at the northwest of the Park, 6 bulletin boards carry introductions with texts and graphs about the vision and sports items of Beijing 2022 and other relevant knowledge.
Editor: JYZ