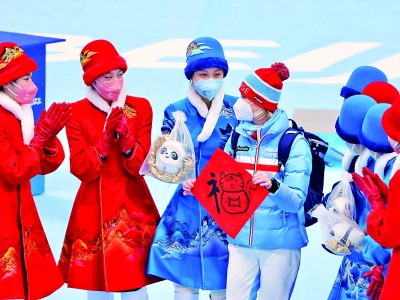 (Photo by Guo Hongsong)
Four days before the opening of the Beijing Winter Olympics, journalists from all over the world gathered in the Main Press Center to celebrate the Chinese New Year.
They had the chance to take part in a range of quintessential Chinese New Year activities: writing fu characters and Spring Festival couplets, doing paper-cutting, and making traditional red envelopes.
On the second floor of the MPC, a Greek journalist showed off a piece of red paper with his son's name on it to his colleagues. Whitebread, a British journalist, was attracted by the Peking Opera masks and the red envelopes. "I learned how to distinguish between characters in the Peking Opera," he said. He said he was planning to take candies and Chinese tea to his children when he returned to the UK.
In an interview room on the first floor, British journalist Wober was trying his hand at writing Spring Festival couplets. "Let's face it, my writing is pretty terrible, but this is a fun activity," he said.
Meanwhile, athletes and workers focused on preparations. In the National Speed Skating Oval, staff are busy with rehearsals. Hard work also continues in the Capital Indoor Stadium. Short track teams from different countries are training as usual, racing against time to prepare for the coming competitions.
Outside the stadiums are a bunch of happy, hard-working volunteers. Volunteer translator Zhang Futian works at Taizicheng Railway Station. "We get busy at rush hours. Time passes quickly when I concentrated on my work," she said.
At the Zhangjiakou Mountain News Center the wind and snow haven't chilled the enthusiasm. Liang Peichao is responsible for guiding guests to their shuttle buses. "I'm too excited to feel the cold," he said.
Contributed by Wangdong and Huang Xiaoyi, Guangming Daily
Translated by Jiang Jiyi, Shanghai International Studies University
Editor: WXY