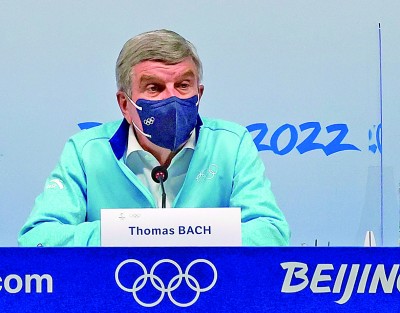 (Photo by Guo Hongsong)
On the evening of Feb 3, the International Olympic Committee (IOC) held a press conference at the Main Media Center of the Olympic Winter Games Beijing 2022. IOC President Thomas Bach said that Beijing 2022 would make Beijing the first city to host both summer and winter editions of the Olympic Games. Moreover, China has achieved the goal of "introducing 300 million people to winter sports" during its preparation for the Olympic Games. Safe and splendid, Beijing 2022 will open a new era for global winter sports.
Citing data from China, Bach pointed out that with 346 million people participating in winter sports, global Winter Olympic Games had entered a new era and that the landscape and industry of global winter sports would be changed.
Bach introduced the preparation for Beijing 2022 and noted, "I think we can feel very safe in this closed loop. Despite the challenges of the global pandemic, what we have seen so far is that the closed loop is really highly efficient ... We would like to take this opportunity to thank you and everybody who is in the closed loop for respecting these rules, and in this way, making a great contribution to a safe Winter Games."
The venues stand ready. The Olympic Village stands ready. Most importantly, the athletes are ready, and Beijing is ready.
Contributed by Chen Cheng, Guangming Daily
Translated by Wang Xunjia, Peking University
Editor: WXY