Five years after the Indian blockbuster Dangal reached massive success in China, director Nitesh Tiwari's latest film Chhichhore hit Chinese screens again in January.
Centered on education, the 2019 Indian coming-of-age comedic drama narrates the story of a father and son whose relationship became strained due to high pressure from college entrance exams. The subject has been well received by Chinese viewers and won praise from moviegoers despite the influence of the ongoing pandemic.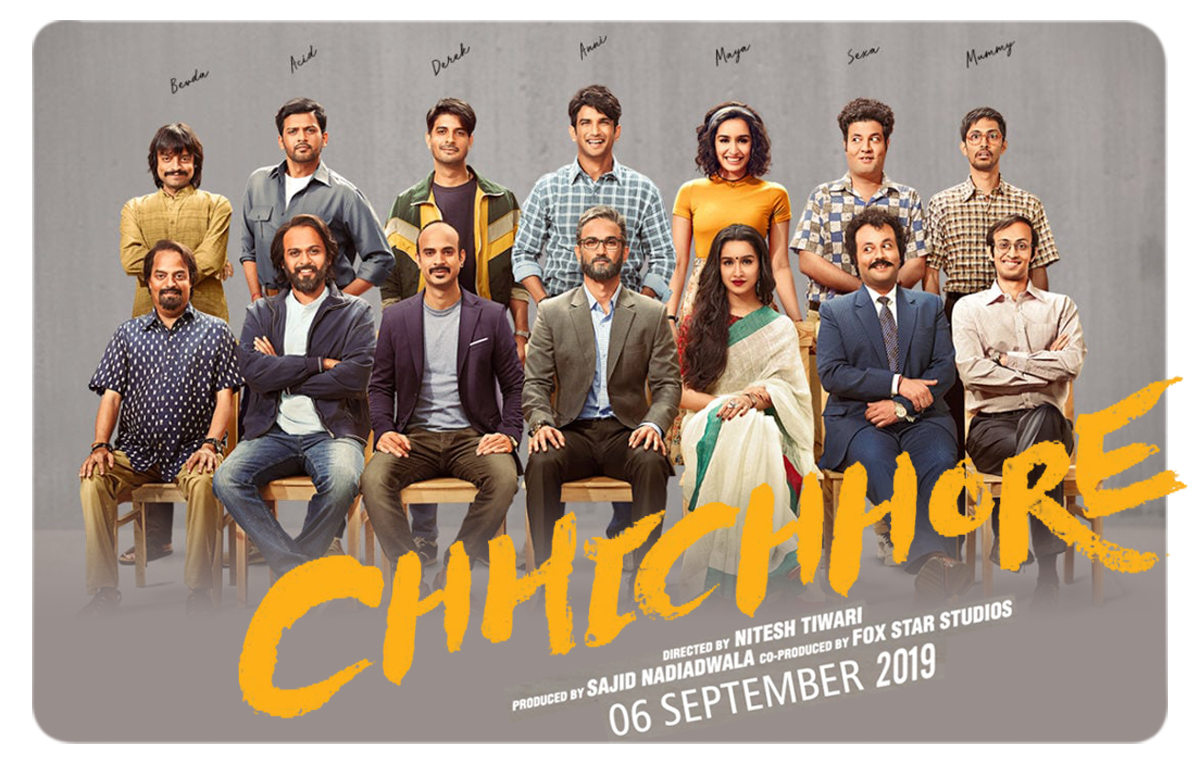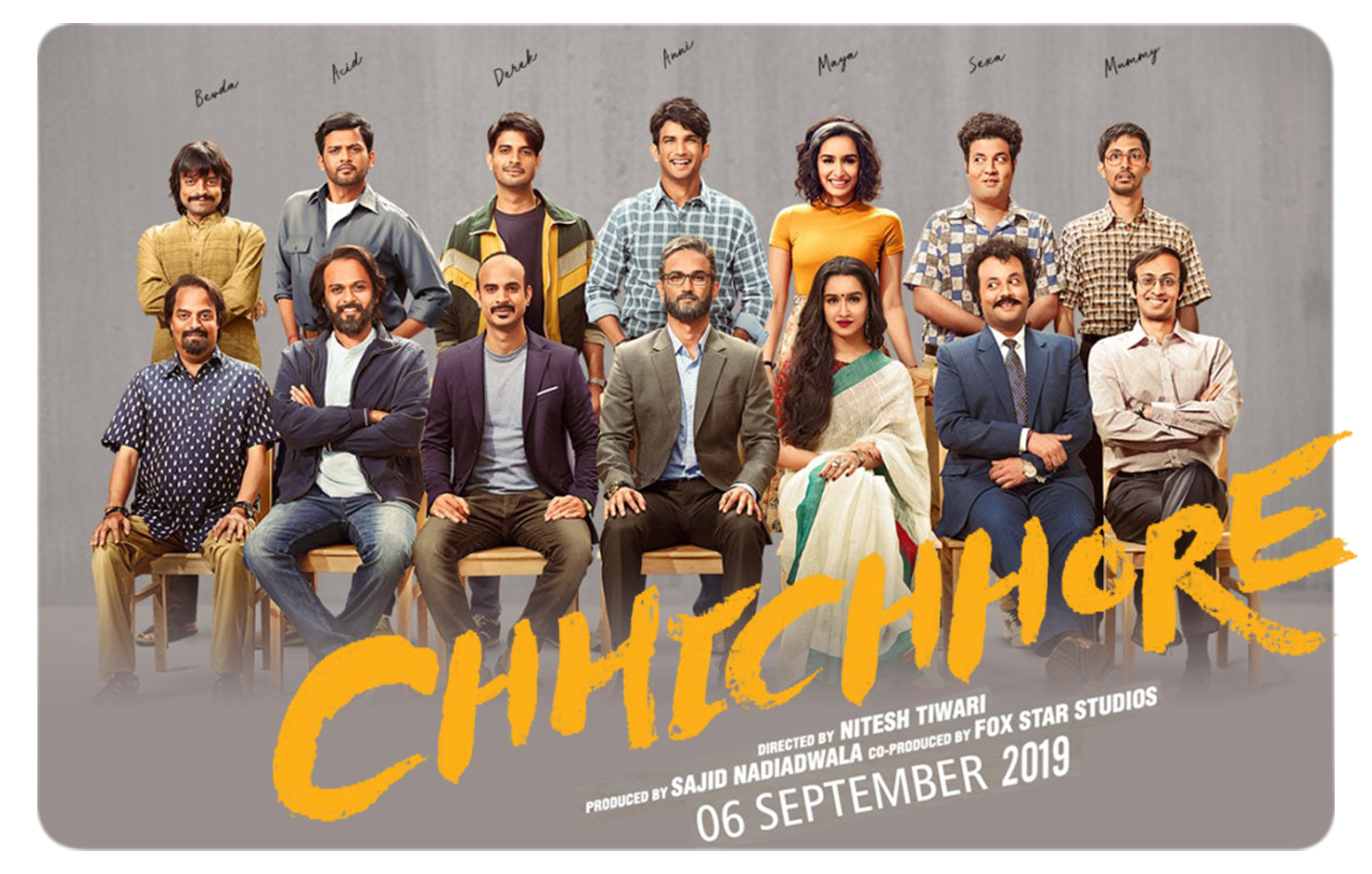 A poster of Indian movie "Chhichhore". (Publicity Photo)
Interestingly, it's not the first time that a movie of similar topic draws resonance with Chinese audiences. The previous Bollywood release Dangal, themed on family education and love, became a dark horse in 2017, making history in China as the first top-grossing non-Hollywood film. While revealing a growing Chinese film market, it also draws attention to a new phase of Bollywood's dissemination in China in recent years.
India boasts the largest annual movie output in the world with a total number about twice that of Hollywood movies. It features an annual film output of more than 1,000 since the beginning of the 21st century and has sustained a strong momentum.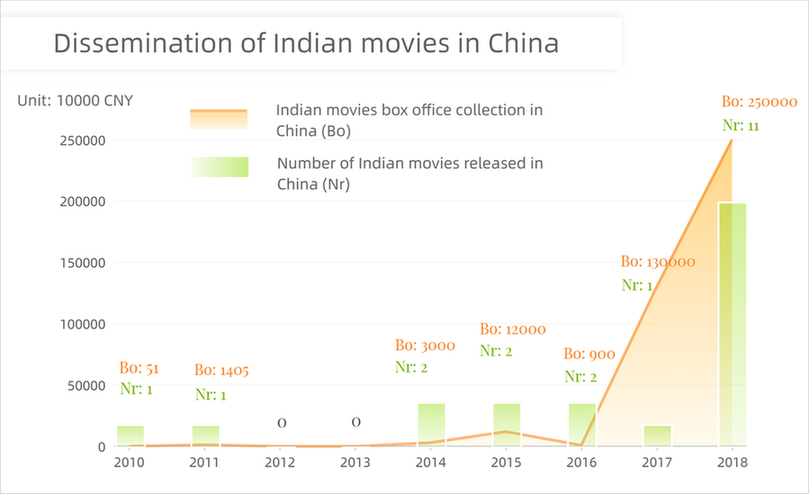 Statistics show that the number of Indian films released in China has been on the rise in general from 2010 to 2018. After Dangal, the box office revenues of Indian films have grown rapidly, except that no Indian films were released in China from 2012 to 2013.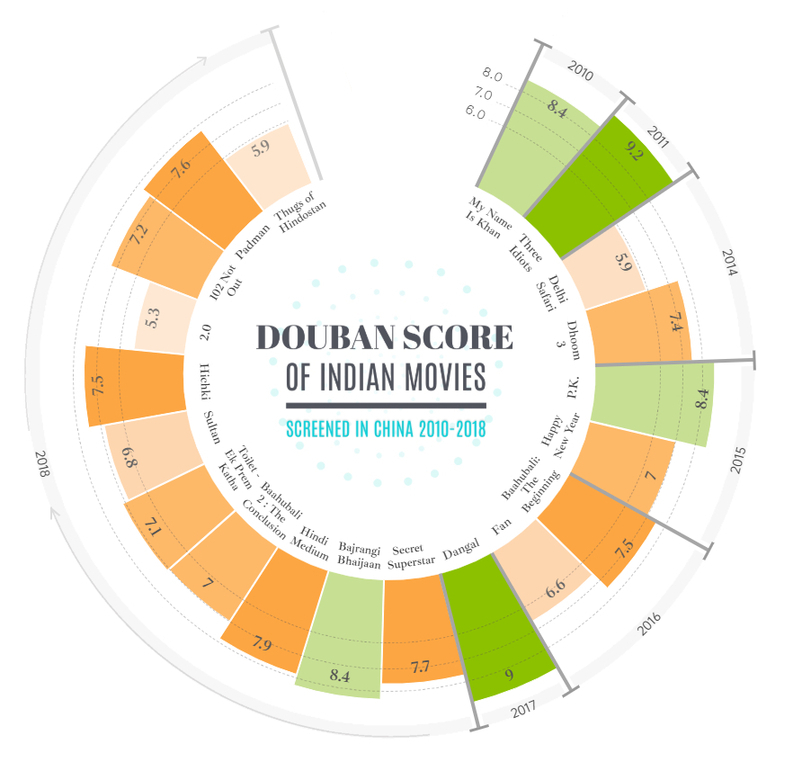 Rating is another dimension to the dissemination of Indian films in China. The chart above shows that half of the Indian movies screened in China between 2010 and 2018 were rated higher than 7.5 on Douban Movie, one of the most authoritative sources for movie information in China. Some of these films even outperformed many Hollywood blockbusters at the same time. As wide recognition aroused further discussions and analysis from multiple angles, the publicity has in turn boosted favorable perceptions of Indian movies in Chinese cinema.
With high box-office performances and good reputations featuring dissemination advantages of Indian movies in China, it's important to find out what factors resulted in the Bollywood popularity and analyze how influences are wielded.
BOOMING CHINESE FILM MARKET
In 2012, China's total box office revenue surpassed Japan and became the second largest film market in the world. In 2020, China again overtook North America and became the world's largest movie market with a total box office revenue of 20.417 billion yuan ($3.129 billion). The fast-growing capacity has expanded the Chinese film market and become an important engine driving box office revenue of Indian movies.
Meanwhile, in 2018, the total number of cinemas and screens in China exceeded 10,000 and 60,000 respectively, and the total number of cinema visits reached 1.71 billion. An excellent industrial environment provided fertile soil for the dissemination of Indian films in the Chinese market and the emergence of a few phenomenal blockbusters.
APPEALING EXOTIC NATURE
"A Hindi movie ain't right until someone's singing and dancing," though half-joking, this is what Chinese movie-goers are bound to imagine when thinking of Indian cinema.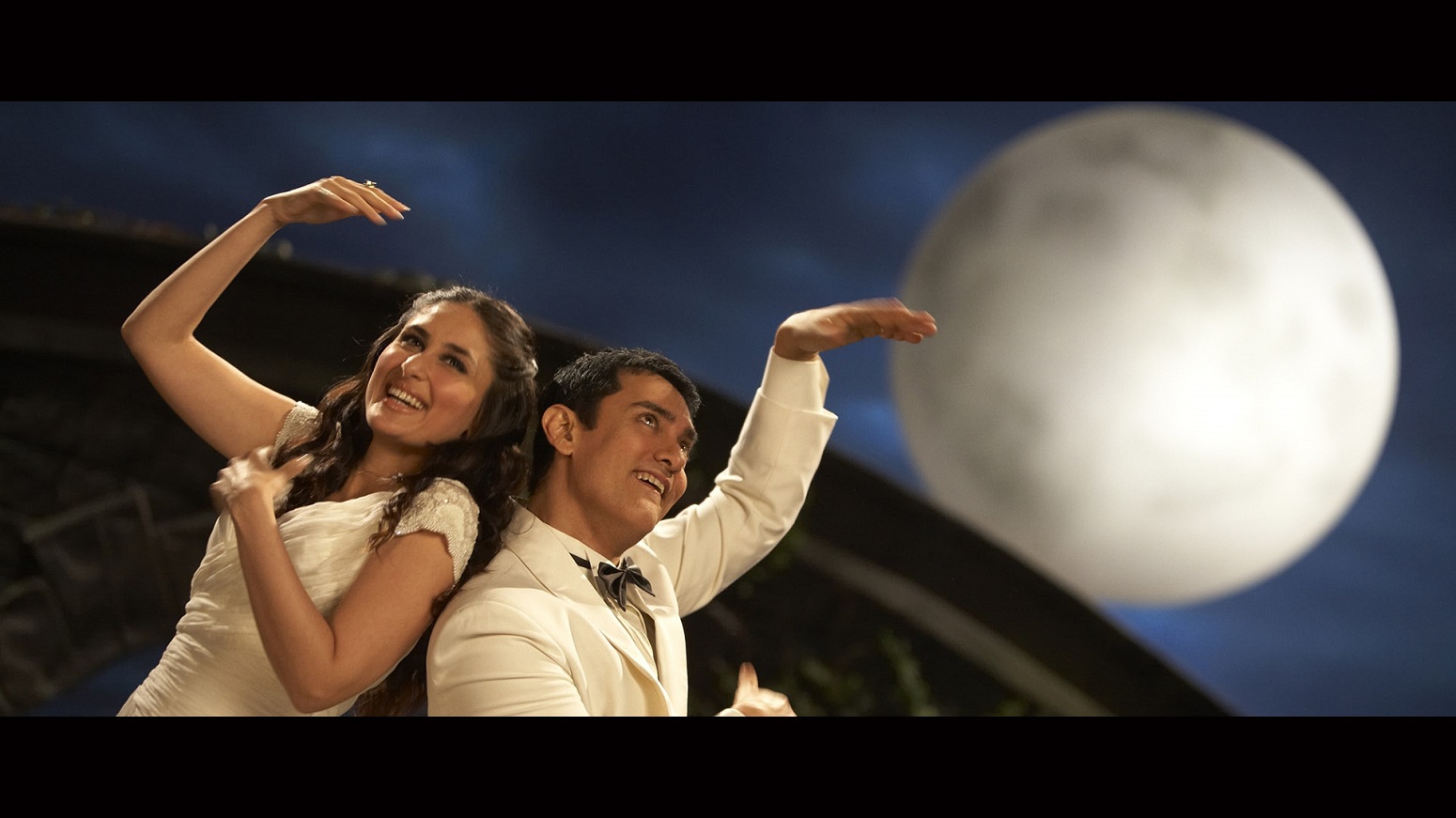 A still shows the dance sequences of the movie "3 Idiots". (Publicity Photo)
Catchy musical scenes, rosy love stories, a happily-ever-after ending ... the cipher behind the Indian blockbusters is the so-called Masala formula, which is mostly represented by Bollywood commercial movies. Named after a mixture of spices in Indian cuisine, Masala Films in their most typical form would include "a version of the romance narrative, a comedy track, an average of six songs per film, as well as a range of familiar character types," explains The Bollywood Reader.
Parallel Cinema as an alternative to mainstream Indian movies is known for serious content, realism and an artistic attempt. Even without the identification of music and dance sequences, Parallel Cinema still displays strong local characteristics.
"At the core of most Indian movies lie issues of culture, identity and values," said Huang Xiaoting, a student majored in visual cultures and film studies at HKU, while talking to Guangming Online. "All those sounds, languages, clothing and cuisine show the rich cultures of India."
The exotic nature of Indian cinema hasn't left it culturally insular overseas but helped establish its success in the Chinese market.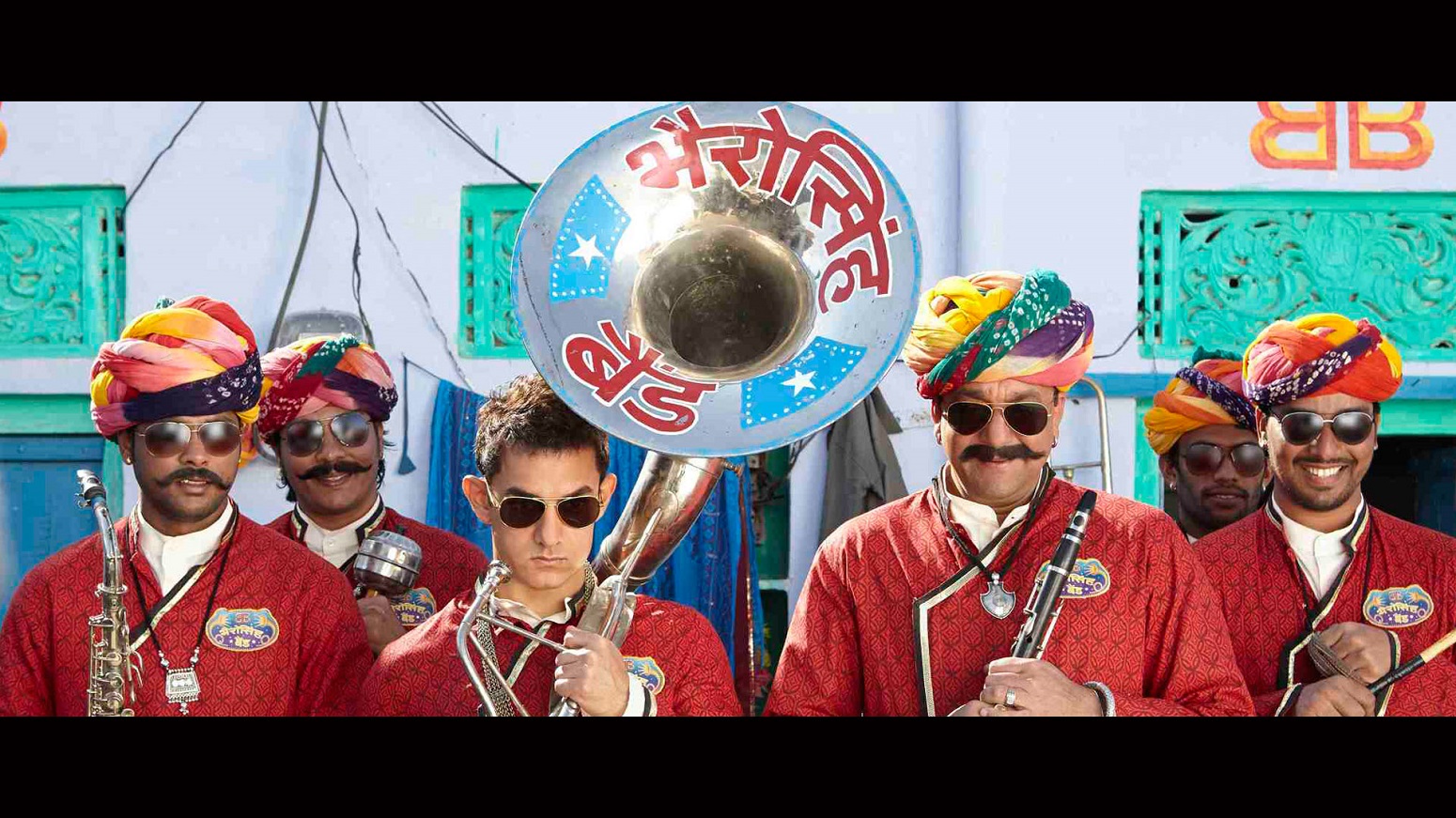 A still from the movie "P.K." shows characters in Rajasthani attire. (Publicity Photo)
"However good a Western film may be, it can't answer all the cultural needs, especially for Asian audiences," Huang cited people's demands for diverse culture, "we love the unique cultural expression in the movies, and we are very pleased to see Hindi films passing down traditional belief and values in such a successful manner."
"It's quite inspiring that the film industry doesn't need to conform to the Western style to achieve a real grip on the market. Indian movies have made their way out by telling a good story of its own country in its own way," said Zhang Yun, a Shanghai-based film industry worker.
In a broader sense, Indian cinema belongs to one of the many daily-life mediums to help bridge the culturally grounded engagement between the two countries. As a Quora user wrote, "more Chinese are willing to understand Indian culture. I noticed more friends of mine are taking classes of yoga, Indian dances. And many of the Indian restaurants in big Chinese cities like Beijing and Shanghai are packed. Not just in first-tier cities, I even found two great Indian restaurants in Yangshuo, a town in southwest China. So I believe Bollywood movies will get more popular in China because our cultures interact more nowadays."
TRANSCENDING BORDERS THROUGH CINEMA
Indian film star Shah Rukh Khan once said in an interview with CGTN that: "…cinema is always going to be at the forefront…of people-to-people exchanges." Despite differences between Chinese and Indian cultures, the two countries communicate through films as a way to build connections, foster understandings, and engage in discussions that transcend borders with stories of shared social relevance and cultural values.
One reason Indian films have captured the hearts of Chinese audiences is the universal values that have resonated with Chinese moviegoers. For instance, we see love take center stage in various films, yet each film expresses the concept of love through a different angle. Paternal love can be seen in Dangal, as maternal love is illustrated in Mom. Whereas,Secret Superstar highlights the mutual love between mother and daughter, and Hichki illustrates the moving relationship between teacher and students. In 3 Idiots, the friendship Farhan and Raju forms with Rancho changes the course of their lives forever. Finally, in Bajrangi Bhaijaan, we witness a kind of love between two strangers that transcends conflicts and borders, that of an Indian man and a Pakistani child.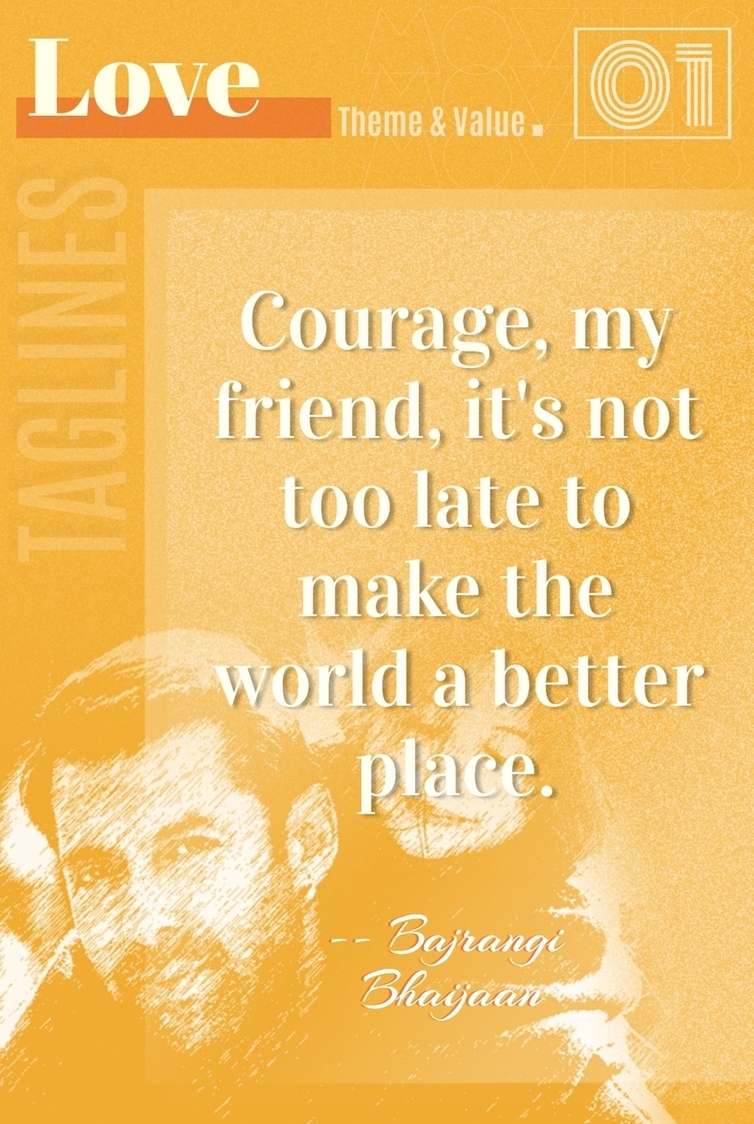 Behind these themes of love, however, lie deeper issues worthy of discussion. This is another reason why Indian films have gained traction in China, as these films do not shy away from portraying bigger social issues and inviting further discussions. One of the most prominent topics being discussed in films imported in China is gender equality. In Dangal, the two female protagonists chose to become professional wrestlers both out of their passion for the sport, and because they wanted to break free from the impending fate of an arranged marriage. Their determination to dominate the sport comes from a desire to set an example, so women from similar backgrounds have an additional alternative. Systemic discrimination against women is further revealed in Mom, as the film depicts the neglect and non-action of the Indian criminal system in treating sexual assault cases. The injustice pushes the mother to the extreme as she decides to take measures into her own hands. In Secret Superstar, unhappiness in the protagonist's family comes from the husband's abusive behavior towards his wife and children. Domestic violence and male chauvinism are heavy issues both being depicted on screen.
Another subject which many Bollywood films center on is education. While 3 Idiots and Hindi Medium offer criticism on the current education system in India, Hichki, with its signature quote "There are no bad students ... only bad teachers", discusses the role of the teacher in making students enjoy learning.3 Idiots criticizes India's education system of turning students into problem-solving machines that lack creative-thinking skills. It carries the belief that the pursuit of knowledge should come from a place of enjoyment, and laments that such ideal is lost in the current generation of students. Whereas, Hindi Medium criticizes Indian society for social stratification. As many parents are obsessed with sending their children to the best schools, the widening divide between rich and poor will further drive apart Indian society with social mobility becoming more and more stagnant.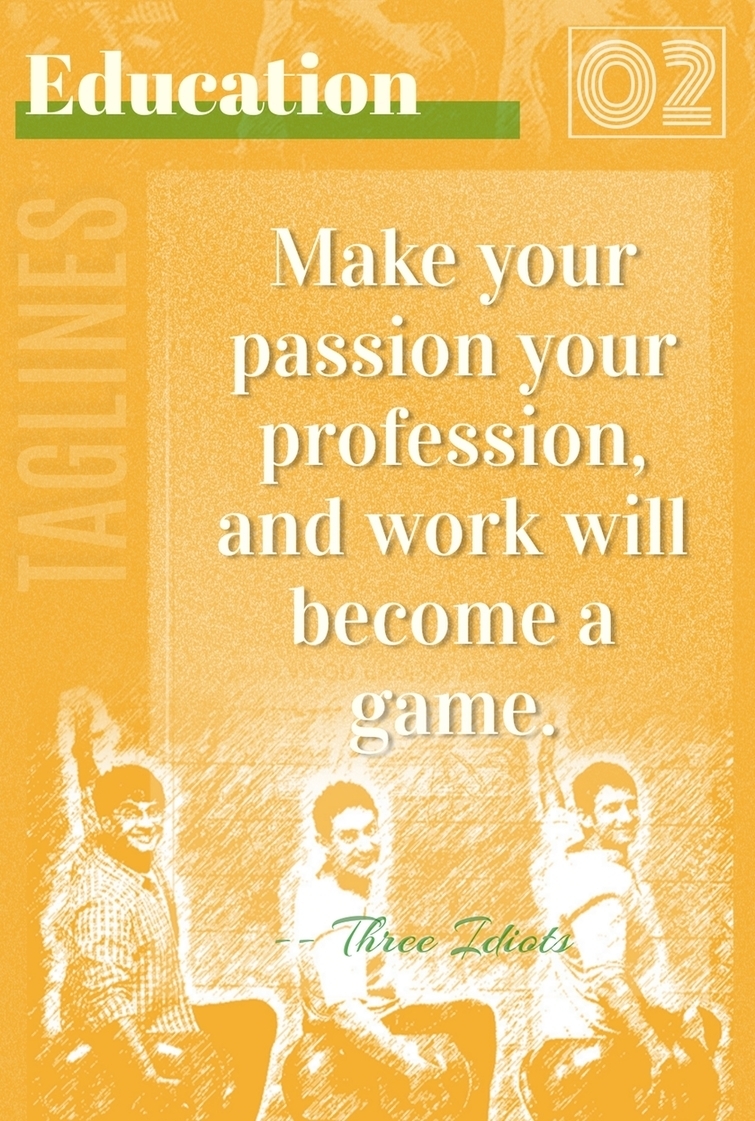 With good storytelling, a social message relevant to universal discussion, a third element is just as important to add to the appeal of Bollywood films: humor. Though these films touch upon heavy subjects, they do not preach in dogmatic ways. Instead, the films often use comedic moments to brush up the mood to avoid a prolonged solemn tone. Sometimes, these comedic scenes take form in a classic Bollywood song and dance, where one famous example is "All is Well" from 3 Idiots, where the protagonists dance in exaggerated ways to convey the message to not waste your life with excessive worrying.
The comedic element also speaks to the idealist mindset most Bollywood filmmakers seem to possess, as many offer their films a happy ending. These endings are not easy victories, as the protagonists tend to go through strenuous efforts to fight much bigger battles. At the end of the day, however, they always reach the end of the tunnel and find their light.
In films that touch upon gender equality, women are often victimized at the beginning of the films, being victims of sexual assault or domestic violence, or are simply powerless in their circumstances. However, as the sisters in Dangal become wrestling champions, the mother in Mom uses her own hands to punish the criminals, and as the mother-daughter duo use their own strengths to save each other from their abuser, these characters might once have been small, fragile, and vulnerable, but they transform into strong, determined, and powerful figures. In films that center on education, protagonists are often pitted against a much more authoritative force, but ultimately succeed in finding their own paths. In 3 Idiots, the three friends overcame family and societal pressures and chose to live based on passion. In Hichki, teacher Naina succeeded in turning the worse performing class around. Finally, in Hindi Medium, Pia's parents forgo the obsession to make her attend a private school, as they realize attending the best school does not equate to receiving the best education. It is these happy endings and the belief that change can take place even in dire situations that give audiences hope and make these stories satisfying journeys to go through.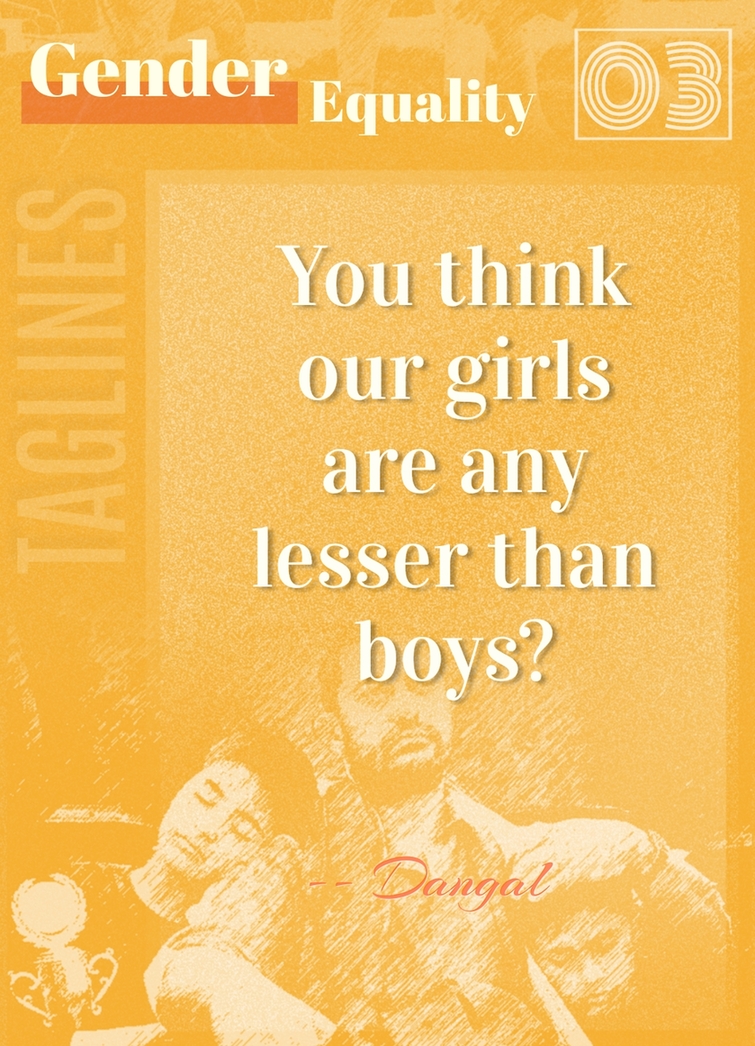 With the medium of film, Bollywood directors do not stop at simply showing what Indian society is, but hope to present what Indian society can become. Good storytelling, communicating a social message, and offering hope that the future will be better is a simplified summary of Bollywood's formula of success in China. Universal values in these films resonate with audiences from different cultural backgrounds, discussions of social issues can both make audiences learn more about Indian society and reflect upon social realities at home. Great storytelling that is both plot- and character-driven, with comedic elements that make people laugh out loud, added with a star-studded cast that commonly features fan-favorite Aamir Khan, have resulted in films celebrated by Chinese audiences of all ages and genders. After all, it is the purpose of filmmakers to transcend barriers, to find a common ground where mutual feelings of compassion, understanding, unity and joy can be brought together regardless of identity or border.
Conveying the message of "live and let live" is another Bollywood film, Bajrangi Bhaijaan. The film tells the touching story between Pawan, an Indian man, and Munni, a muted Pakistani girl. When Munni gets lost in India, Pawan embarks on a journey to send her home. Along the way, the duo encounter many difficulties due to differences in politics, nationality, and belief. However, what remains at the core of the two human beings is a kind of love that transcends all other barriers, an inclusiveness that embraces all differences and melts opposing views, and it is this open-mindedness that is all-accepting which guides the duo through all their hardships and brings them to their destination.
In one scene of the film, Pawan unintentionally wakes up in a mosque and rushes to exit the place as staying in goes against his belief. Soon, he gets approached by an Islamic scholar who comes to the mosque.
"Why do you stand outside?"
"I'm not Muslim."
"So what? My brother. This place is open for everyone."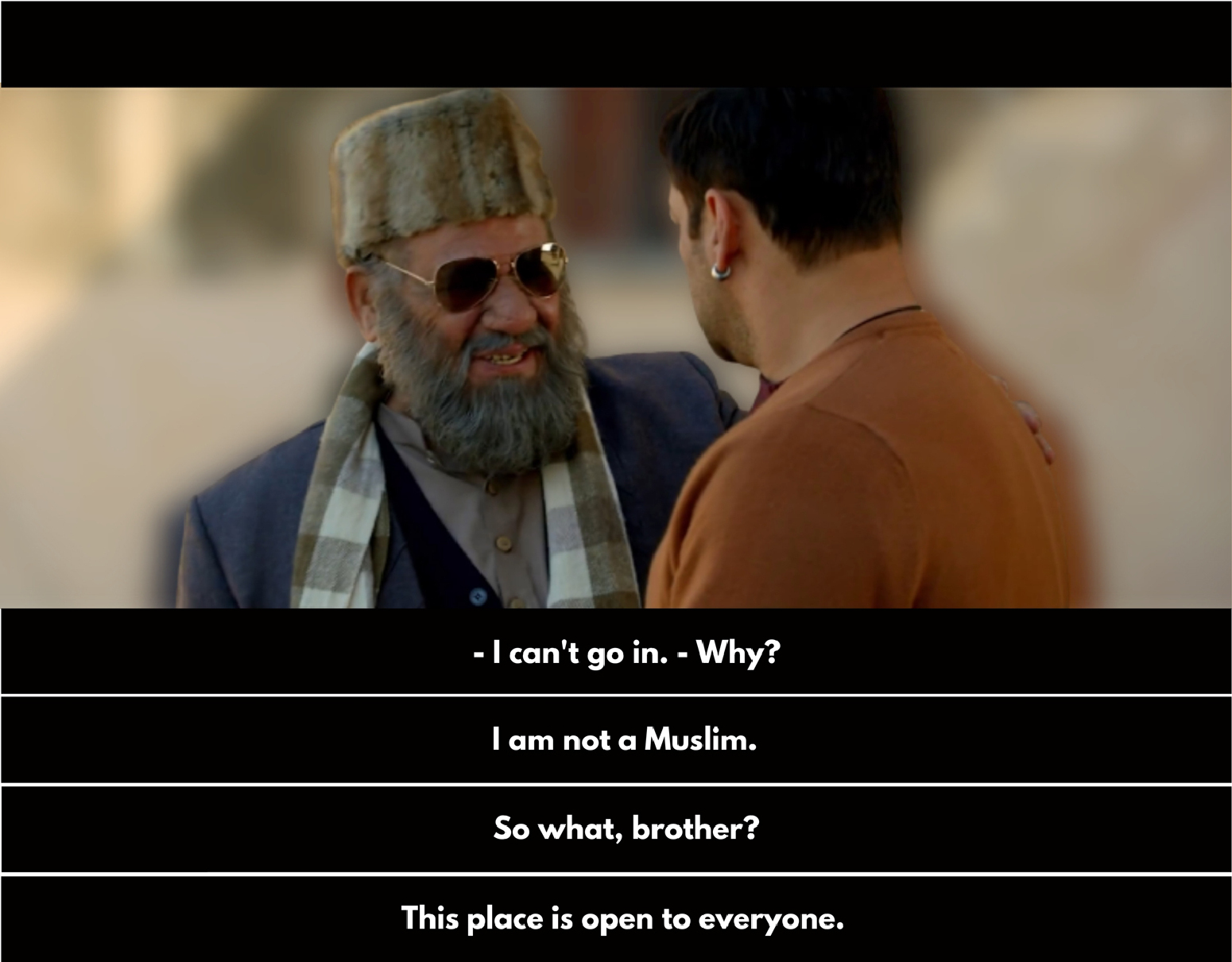 Still from Kabir Khan, "Bajrangi Bhaijaan" (1:35:35)
Video by Wu Xilu
Graphics by Gu Siyu
Article by Zhang Junye, Gu Siyu, Wu Xilu
Editor: WXL