It's hard to deny that Chinese traditional kite art has struck up a strong tie with the Olympics.
In 2008, Beijing's kite art impressed the public with the delicate design of Fuwa Nini, one of the five Beijing Summer Olympic mascots. 14 years later, Cao's Kites, as cultural exhibits and presents given to foreign guests, wowed people again during the 2022 Beijing Winter Olympics.
A cultural temple fair was held in the Great Hall of the People amid the Opening Ceremony of the Winter Olympics, showing the charm of China with thousands of years of culture for international guests. Among various Chinese cultural handicrafts, the kites presented were made by Zhang Lei.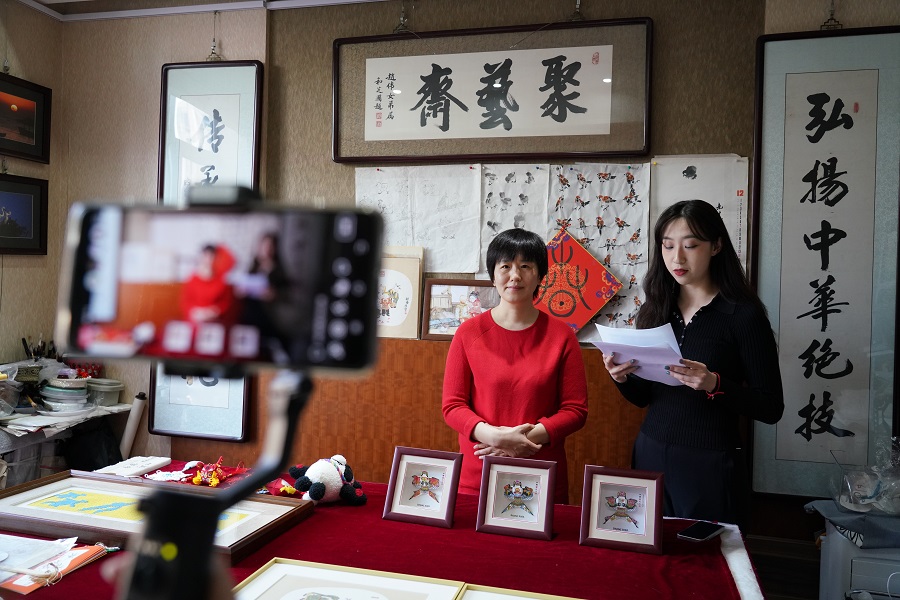 Zhang Lei was seen with three representatives of her work in the photo taken on Mar. 3, 2022. (Photo by Wang Ruoxin/Guangming Picture)
Zhang Lei from Beijing is a member of the Xicheng Folk Culture Association and an intangible cultural inheritor of the Cao's Kites. Zhang has studied painting since childhood and graduated from the Department of Fine Arts of Capital Normal University. In 2003, she started to learn kite making and in 2008, she obtained the skills of Cao's Kite making from Kong Lingmin, an intangible heritage-bearer of Cao's Kite, and became the third generation of Cao's Kite intangible heritage bearer.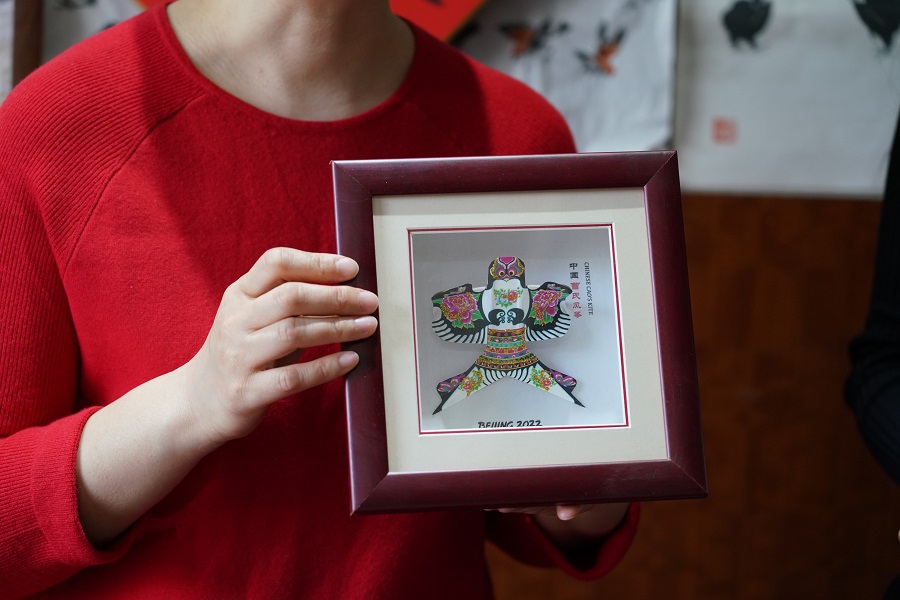 Photo taken on Mar. 3 shows Zhang Lei demonstrating one of her work to the camera. (Photo by Wang Ruoxin/Guangming Picture)
Talking about her work demonstrated at the fair and the meaning behind it, Zhang explained, "What I show is mainly the kite making skills. I brought a kite calledBlossoming Flowersto the Winter Olympics, and I hope that all countries can show their styles and blossom during the Winter Olympics."
When it comes to the moment that impressed her most during the cultural activity, Zhang shared her interesting interaction with foreign guests.
"We greeted many heads of state at the banquet, and we were impressed by Mr. Bach, the IOC president, who happily picked up a kite and flew it, saying he had found back his childhood memories again," Zhang said with excitement, "and Mr. Mohammad, the Crown Prince of Abu Dhabi, also flew the kite, and the picture was broadcasted on the news. Many dignitaries were interested and asked about the characteristics of kite craft."
Zhang also conveyed her wishes to the grand sports event with three representatives of her work -Blooming Flowers,Fish Jumpingthe Dragon Gate, andLongevity and Happiness, "I would like to use three pieces of work as my message: First of all, I hope all the athletes from different countries can shine in their distinctive styles. Second, I hope they can all jump to a higher platform. Last but not least, longevity and happiness to all the athletes. I hope they can bring home the blessings of China, and continue with their good luck."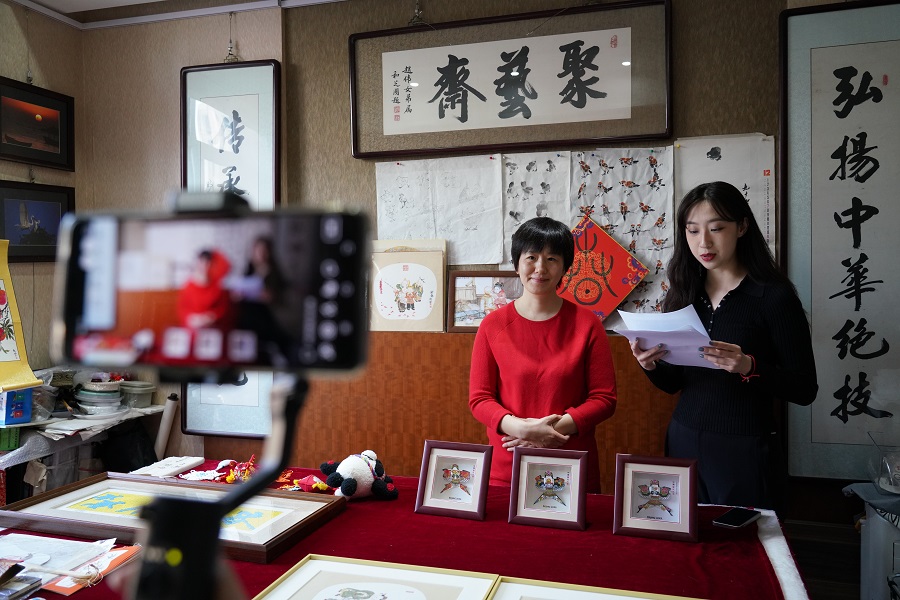 Photo taken on Mar. 3, 2022 shows Zhang Lei introducing the kite making technique during a bilingual live streaming show. (Photo by Wang Ruoxin/Guangming Picture)
Along with the role of a cultural promoter, Zhang Lei also works as a caring teacher dedicated to aesthetic education. She has participated in many art education activities at the community level. Now, Zhang is learning to offer school-based courses in Zhao Dengyu School and Tsinghua High School.
The path is highly related to Zhang's former work experiences. Zhang Lei used to be an art teacher and enjoyed being with children. Later on, she slowly came across the field of intangible cultural heritage in her work. Gradually, her career life turned into a combination of culture promotion and education.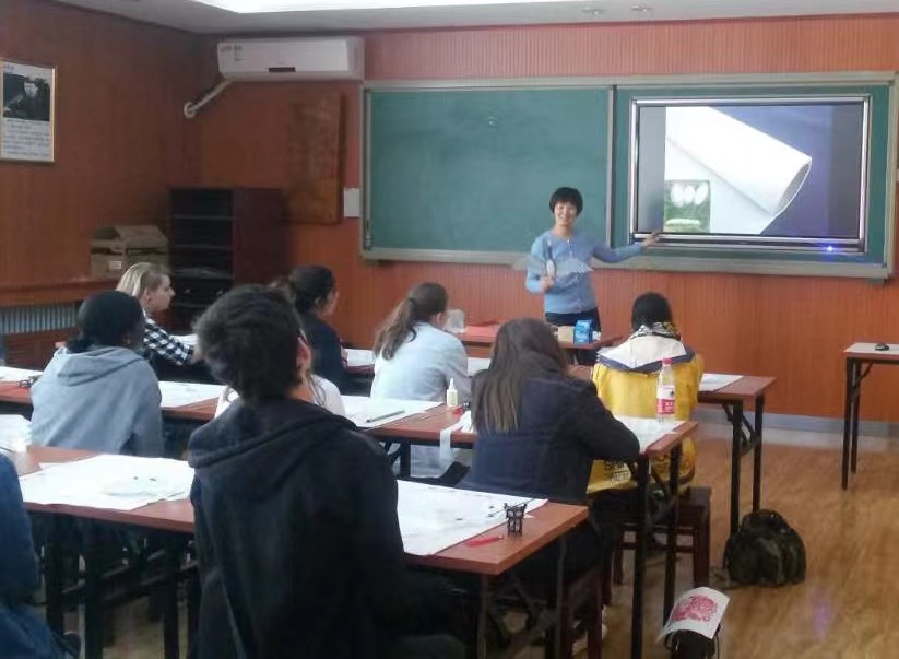 Zhang Lei was seen giving classes to international students in the photo. (Photo provided to GMW.cn)
"I deeply fell in love with Kite making and wanted to spread the culture among a larger audience. Therefore, I started to engage in public good activities at schools and communities. I hope that more young people can appreciate and enjoy our traditional crafts, and we want to act as good translators of traditional culture." said Zhang.
Editor: WXL