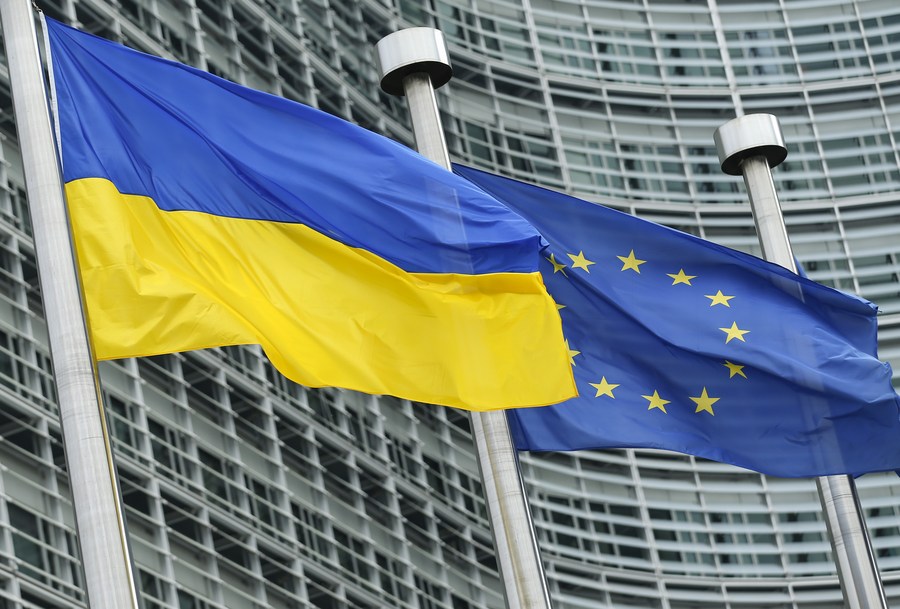 (Xinhua/Ye Pingfan)
Five days after the outbreak of the Ukraine crisis, President Volodymyr Zelensky signed a membership application formally requesting that Ukraine be allowed to join the European Union (EU). In the video conference of the European Parliament the following day, on March 1, Zelensky reaffirmed his county's willingness, "The EU will be stronger with us. Without you, Ukraine will be alone", he said, asking EU leaders to prove that they are with Ukraine.
Zelensky was inspired by the words of Ursula Von der Leyen, President of the European Commission, who told the media that "they (Ukrainians) belong to us, they are one of us, and we want them in". She also said at the European Parliament that she wanted to move on to the "next step" for Ukraine's accession to the EU. European Council President Charles Michel, who spoke after Zelenskiy, said the European Council "will not shirk from its responsibilities, we will analyze the request from Ukraine". Do such high-profile statements by two EU leaders mean that Ukraine will soon become the 28th member of the EU? Or, are they giving Ukraine another empty check?
Just a few days later, Von der Leyen said that the issue might be discussed at a summit of European leaders, and "right now we are concentrating on ending the war." Although Von der Leyen also expressed a positive outlook on Ukraine's EU membership, she herself cannot single-handedly decide whether a country can join. According to the rules, the European Council only has the mandate to prepare expert assessments for candidate membership of the EU, which alone may take 12 to18 months.
The fact is, even German officials with a positive stance on EU enlargement are annoyed by such an unrealistic proposal from some EU leaders. "We should not create any false hopes, because they will end up in disappointment", warned Norbert Röttgen, Chairman of the Committee on Foreign Affairs at the German Parliament, who used to serve as the Federal Minister for Environment, Nature Conservation and Nuclear Safety during Angela Merkel's administration. Röttgen frequently sat at the negotiating table for other members joining the EU and he understands fully what it's required of a candidate member. "There are no shortcuts here, no smooth paths," he said. Instead, "painful political and economic reforms are required, together with the rule of law and the fight against corruption", he added.
"Joining the EU is not something that can be done in a few months", said Annalena Baerbock, the German Federal Minister for Foreign Affairs. During an interview with ZDF on March 3, German Chancellor Olaf Scholz made it clear that now is not the time to look into the EU membership for Ukraine. The EU is a community with rules and there are conditions for accession. He said the priority at present is to prevent the Russian-Ukrainian conflict from further escalation.
It may appear to the Ukrainians that they can quickly become a EU member due to its strong political will and the ongoing conflict with Russia. In Brussels' eyes, however, special arrangement for Ukraine's accession is an unlikely option. The EU prides itself on treating each candidate member on an equal footing based on strict and precise rules. At present, the countries that have been listed by the EU as candidates for accession include Turkey and four Western Balkan countries - Serbia, Albania, North Macedonia and Montenegro, who have long been on the waiting list and are yet to become full members. Ukraine is not even a candidate country now.
So how long does a country usually have to wait before it's accepted by the EU? Croatia, the last country to join the EU, submitted its application back in 2003, and it wasn't until 2013 that the country was officially accepted. Now, even the strongest supporters of Ukraine, Poland and Slovenia, believe Ukraine's accession could be possible in 2030.
According to the 1993 EU Copenhagen criteria, EU candidate countries must meet the following essential conditions: stability of institutions guaranteeing democracy, the rule of law, human rights and respect for and protection of minorities; a functioning market economy; administrative and institutional capacity to effectively implement EU laws. Ukraine was far below these criteria even before the crisis, not to mention the fact that it was long accused by the EU of corruption. According to Transparency International's Corruption Perceptions Index, Ukraine ranked 122nd out of 180 countries in 2021, and was the second most corrupt in Europe.
EU countries today are far from reaching a consensus on expansion. France and the Netherlands, in particular, have been demanding for years that the EU be reformed before it admits new members - and that's only for small countries in the Western Balkans, not for Ukraine, a country with over 40 million people. Currently, politicians from rich European countries don't even speak publicly in favor of admitting new members to the EU, because voters worry it may spend up EU's subsidies in the years to come.
Moreover, each of the 27 EU member states has a veto power not only over the eventual admission of a candidate country, but also over when the negotiations will start. Bulgaria, for instance, has used its veto power to prevent the accession negotiations with North Macedonia. Ukraine today is supported only by the less wealthy Eastern European countries, such as Bulgaria, the Czech Republic, Estonia, Latvia, Lithuania, Poland, Slovakia and Slovenia, out of geopolitical considerations. Countries like France, Spain, the Netherlands and Germany clearly hold a different view.
Then why are Von der Leyen, Michel and Eastern European countries hyping up the prospect? A senior research fellow at the German Institute for International and Security Affairs (SWP) pointed out that Ukrainian and European leaders have no better option than to show some political gestures in the face of the current crisis. Analysts believe that perhaps Zelensky, with no hope of joining NATO, chose to propose EU membership to remind the EU to offer greater support to Ukraine. The Treaty of Lisbon, however, stipulates that "If a Member State is the victim of armed aggression on its territory, the other Member States shall have towards it an obligation of aid and assistance by all the means in their power".
Editor: WPY