During the 2022 Beijing Winter Olympics, intangible culture heritages have become an excellent ambassador of traditional Chinese culture, shining with a moving glow on the world stage. At the opening ceremony of the Winter Olympics, intangible cultural heritages were staged to bring the joy of Chinese culture to the world and present an immersive "temple fair" for the international guests to experience the taste of Chinese New Year.
Smart Lady Qi Yuejing is an inheritor of intangible culture - weaving technique from Beijing. As the founder of Beijing Qi Happiness Art Development Co., supervisor of Tongzhou District Smart Lady Association, Qi's workshop supports such traditional crafts as the Chinese Knotting, Embroidery, Fragrance Sachet and Fabric Dolls. Qi was invited to show the traditional Chinese technique to representatives of countries from all over the world to participate in the Olympics.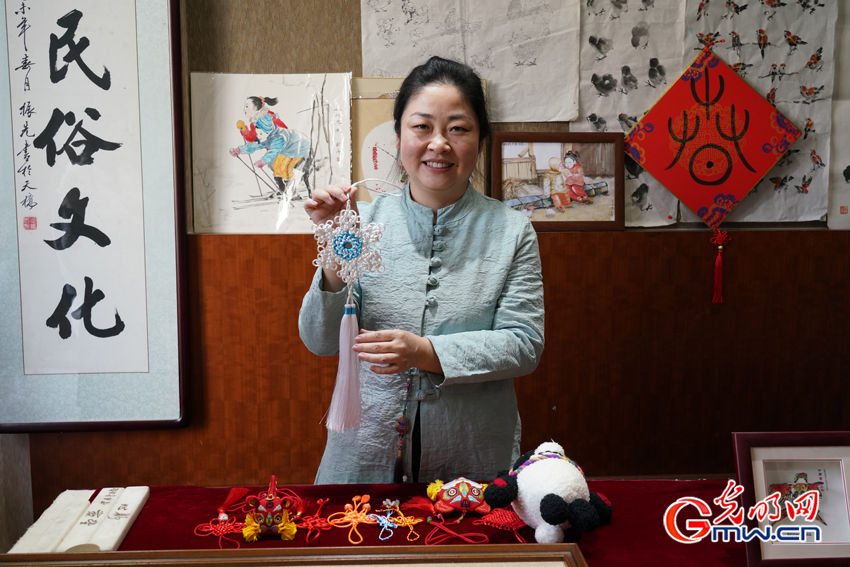 Photo taken on Mar. 3, 2022 shows Qi Yuejing presenting a Chinese knot handicraft in the 2022 Smart Lady Live Broadcast Series: Beijing's Smart Lady - Love for the Winter Olympics. (Photo by Wang Ruoxin/Guangming Photo)
Speaking of creations for the Winter Olympic Temple Fair, Qi also introduced her works with techniques applied and the designing period.
The "2022 Auspicious Winter Olympics" works, according to Qi, is created with Chinese knot knitting techniques and it features a drastic combination of colors. The weaving works series contains 6 pieces, and this is one of them. Together they symbolize the 24 sports of the 2022 Beijing Winter Olympics. A total of 6,510 meters of Chinese knotted thread, made up of 64,980 diagonally rolled knots, is used to compile the work, Qi said.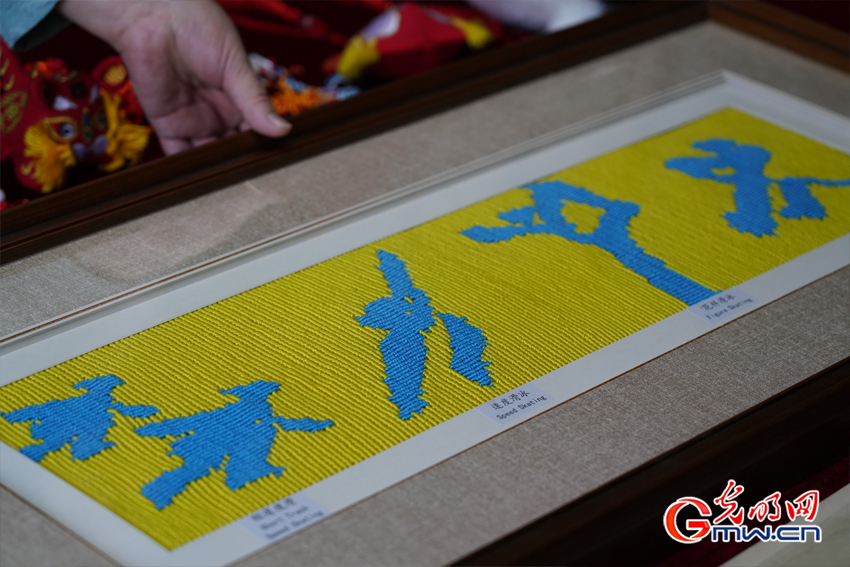 Photo taken on Mar. 3, 2022 shows one of the "2022 Auspicious Winter Olympics" works presented by Qi Yuejing. (Photo by Wang Ruoxin/Guangming Photo)
Qi also mentioned foreign dignitaries that were impressed by the exquisite handicrafts at the Winter Olympic Temple Fair.
"IOC President Mr. Bach came to my booth and watched carefully the different kinds of Chinese knots, he was so fascinated by them that I gave him a very sophisticated Chinese knot as a gift. I told him the knot was named after a traditional Chinese percussion instrument qing and the knot is used to express celebration and congratulations as qing pronounces exactly the same as celebration in Chinese", said Qi. Bach was interested in the tiger-shaped sachet displayed in my booth, Qi told him that Chinese carry it throughout the Year of Tiger for good luck. Then he said in great excitement "I need to put it under my pillow to bless myself".

Photo taken on Mar. 3, 2022 shows different kinds of Chinese knot handicrafts showcased in the 2022 Beijing Winter Olympics Temple Fair. (Photo by Wang Ruoxin/Guangming Photo)
Beautiful Chinese knot works designed by Qi also feature Bing Dwen Dwen's main color, white and sky blue, as well as the theme color of Shuey Rhon Rhon, red and gold. They were gifts for the prime ministers and officials with messages and wishes from the smart lady to the Winter Olympics and the world. "The traditional Chinese knot is made of a single thread, symbolizing unity. I wish the Winter Olympic athletes in this Year of the Tiger power, strength and great success", Qi noted.
Editor: GSY