By Gu Siyu, Wang Ruoxin and Wang Xinyuan
Editor's note: Abuse. Forced labor. Sexual assault. Unwarranted detention. Sub-standard conditions… US private prisons that have long faced charges of various kinds over the years still pose as a standing problem. Since the COVID-19 pandemic began, the already bursting private prison system in the US is becoming more problematic.
The US tops the list of countries with the highest prison population rate for the most years entering the 21st century. While the country makes up less than 5% of the total world population, it holds one fifth of the world's prison population. According to the 13th edition of The World Prison Population List released by the World Prison Brief (WPB), an evidence-backed database hosted by the Institute for Crime & Justice Policy Research (ICPR), by October 2021, the US had remained the world's No. 1 country that held the most prisoners, featuring a stunning number of 2 million.
The states find their way, by means fair or foul, to house such a large number of prisoners. Data compiled by the Bureau of Justice Statistics (BJS) finds that in 2019, 30 states and the federal government in the US incarcerated people in for-profit private facilities run by corporations including GEO Group, CoreCivic (formerly Corrections Corporation of America), LaSalle Corrections, and Management and Training Corporation.
The Federal Bureau of Prisons (BOP) appears to be the largest contributor to private prison contractors in the US, and private prisons, to what it is worth, makes up for the BOP's capacity.
"Private prisons in the United States incarcerated 115,428 people in 2019, representing 8% of the total state and federal prison population," The Sentencing Project, a research and advocacy center working for decarceration or to reduce the use of incarceration in the US, reported.
The trend in privatization keeps snowballing as the mode makes its gain. The Sentencing Project noted, "Since 2000, the number of people housed in private prisons has increased 32% compared to an overall rise in the prison population of 3%." Now the US at least hosts hundreds of private prisons, and that is the number of the traceable ones.
For-profit prisons' pace of expansion is alarming enough, but still not as much as its pace of depravity. Issues like inadequate standards, grave human rights violation, corruption, unwarranted detention of immigrants, etc. have been raised repeatedly over the years against the US government and its contractors.
The notorious example of private prisons in the US, namely the Guantanamo Bay prison, raised the attention of the UN Human Rights Council. On Jan. 10, 2022, an independent panel of experts on human rights issued a statement, demonstrating the prison's two decades of practicing arbitrary detention without trial accompanied by torture or ill treatment.
However, despite forceful, repeated and unequivocal condemnation of the private prison complex, the US continues to detain people many of whom have never been charged with any crime.
Is the world getting to know now, what's going on in America's private prisons?
Overcrowded and under-staffed
NewsNation reported in 2021 that the US federal prison system is running at 103% capacity. "Thousands of federal correctional offer jobs in the United States are vacant, which has forced prisons to use cooks, teachers, nurses and other workers to guard inmates," it said.

The US Department of Justice budgeted for 20,446 full-time correctional officer positions in 2020, but only about 13,762 officers were employed to run the federal prisons last year, while the BOP insisting it's unlikely that its facilities have a full complement of officers who focus solely on maintaining order.
The conditions of private prisons are only assumed to be worse. "While detention facilities run by the US Bureau of Prisons are far from pristine, what little we know about privately run detention facilities is that they are even worse," US Congressman Jamie Raskin commented. "Despite the fact these private, for-profit detention facilities receive federal funding, they are not subject to even the most basic transparency requirements."
Privatization within the US prison system has led to systemic irresponsibility and setbacks for criminal justice. Private prisons that are paid by the US government have been criticized for the way they cut costs to protect their profits, which leads to higher employee turnover, reduced security, and inadequate healthcare.
In 2017, the Department of Justice released a statement supporting an end to federal private prisons, citing unsafe conditions within private prisons and lack of adequate security. Federal private prisons were believed to be soon transferred to government regulation at that time, but now in 2022, the US government is still struggling to make it happen.
Trembling amid COVID-19
Incarcerated people are five times more likely than others to be infected, according to the Journal of the American Medical Association. As the COVID-19 pandemic keeps adding woes to the already appalling conditions of American prisons, priority of COVID-19 vaccination should be arranged given the extremely high case and death rates in prisons, but it was not.
According to the COVID Prison Project, there have been 779,184 cases of novel coronavirus reported among prisoners and staff as of Mar. 16, 2022, among which 582,171 COVID-19 cases are of people incarcerated in prisons, and 197,013 cases are of staff working in prisons. The Marshall Project, a nonprofit news organization focusing on the US criminal justice system, claimed that one in five prisoners in the US has had COVID-19.
Jails and prisons caused a majority of the largest, single-site outbreaks since the beginning of the pandemic, but numbers have told that not enough measures have been taken to contain the virus. The Prison Policy Initiative found that only 10 states put incarcerated people in phase 1 of vaccine distribution, and eight states didn't list them in any vaccine phase at all.
Though some prison systems in the US began publishing COVID-19 data under public demand, which helped to lift a tiny corner of the veil of secrecy, most private prisons provided very little data about the accessibility of vaccination and booster shots for those behind bars. As the Omicron variant threatens the states, the situation there can be worrying.
"Asylum" of false hope
"Today, privately run prisons have become the government's default detention centers for undocumented migrants," commented an article titled "For Private Prisons, Detaining Immigrants Is Big Business" published in The New York Times in 2018.
Privately detained immigrant population grew 739% from 2002 to January 2019. Corporations behind are making good money. GEO Group and CCA/CoreCivic, two companies that operate a majority of private prisons in the US, received more than $1 billion for immigration detention related service obligations in FY 2020. In both 2019 and 2020, about 28 percent of GEO's and CoreCivic's revenues came from ICE detention contracts, at a total of $1.28 billion and $1.2 billion, respectively.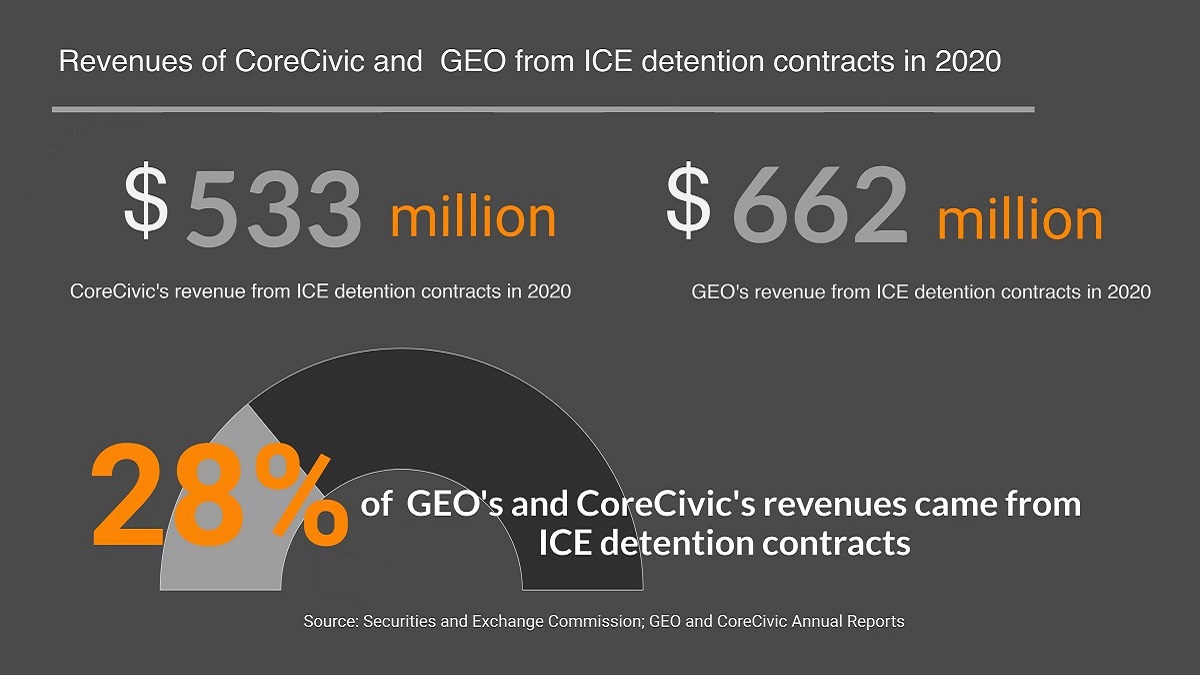 Meantime, immigrants are suffering in corners where nobody cares. For those undocumented immigrants or refugees misinterpreted as "drug dealers", "rapists" and "killers" in the famous slander against Latin American immigrants, they have, in fact, been made victims twice, not only in their own countries, but also in the US.
Many of them went to America to seek asylum, only ended up behind bars for fabricated causes, some even without any reason. People housed at immigrant detention centers were offered bad food, shabby health care and have little chance of being provided with proper educational programs or job training, since they are mostly destined for deportation.
Complaints about private prisons are not rare. In an interview with The New York Times, Cortez Diaz, after being freed by a detention center, said that the conditions in the detention center are bad, right down to the food. "They don't care if someone is sick, if the food goes bad."
"Abuse is rampant," Kate Lincoln-Goldfinch, an immigration attorney in Austin told The Progressive Magazine, "The food is terrible, if it comes at all. The lights are on 24/7. People are discouraged from claiming asylum. They're told if they claim asylum, they'll just be detained for weeks and weeks."
However, the fact is that over the last three decades, the US federal government has not limited private prison contracts with immigration detention at all.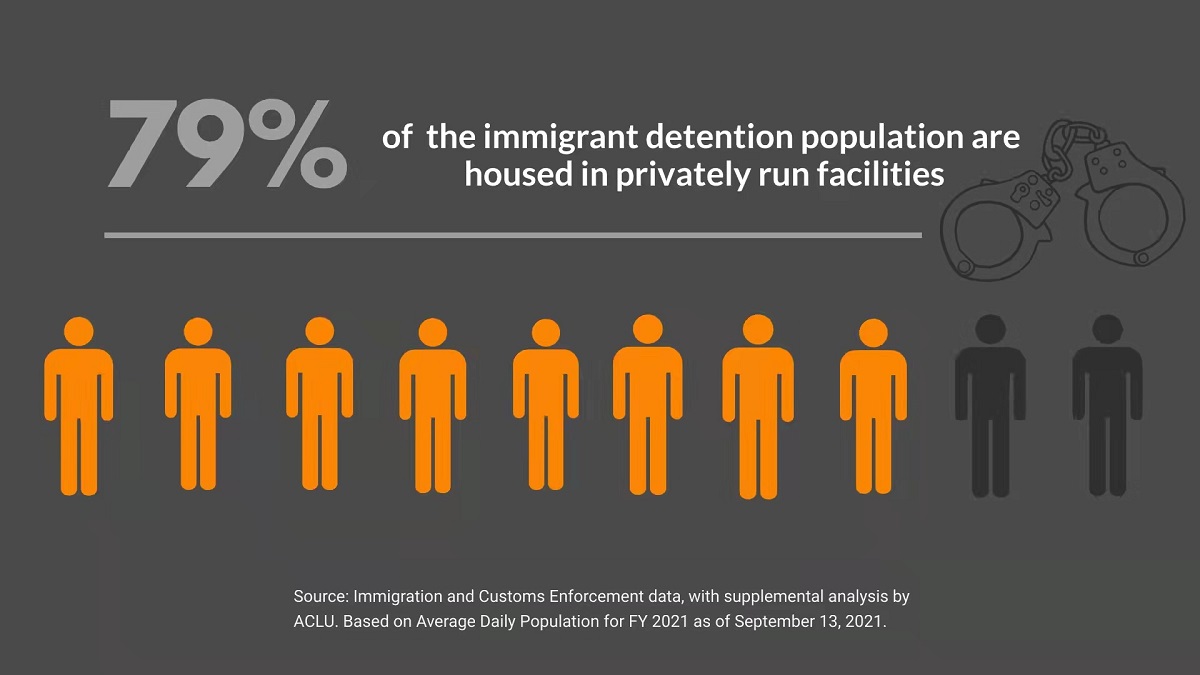 According to statistics, privately run facilities housed 81% of the immigrant detention population in 2020 under the Trump administration, and even last year, it housed 79% under the Biden administration.
Prison labor and modern slavery
Private prisons have for years flourished by exploiting the detainees' labor. Penal labor in the US is explicitly allowed by the 13th Amendment of the US Constitution: "Neither slavery nor involuntary servitude, except as a punishment for crime whereof the party shall have been duly convicted, shall exist within the United States, or any place subject to their jurisdiction."
Many believe that the 13th Amendment has kept slavery alive in modern days, and immigration detainees are at particular risk.
Freedom United, the world's largest community dedicated to ending modern slavery, is currently campaigning against CoreCivic, which has been the target of several lawsuits for subjecting detainees who have not been charged with any crimes to forced labor, sometimes even with the threat of solitary confinement.
Real situation of the detainees at private prisons gets revealed as more and more people speak out to the media. Wilhen Barrientos, an immigrant from Guatemala, told of his experience of being forced to work for CoreCivic during his incarceration. He worked in the facility's kitchen, making between $1 and $4 per day as part of the ironically named "Voluntary Work Program."
Barrientos explained that in prison, he faced an "impossible choice": he could either work for pennies, or attempt to live without necessities such as soap and toilet paper, which were not provided to detainees and had to be purchased.
Fueling violence and breeding crimes
"The use of excessive force against prisoners, from punches to chemical spraying, is an everyday occurrence that violates our constitution", Time observed in a recent report, where three US attorneys exposed pervasive use of excessive force against those incarcerated in privately operated prisons.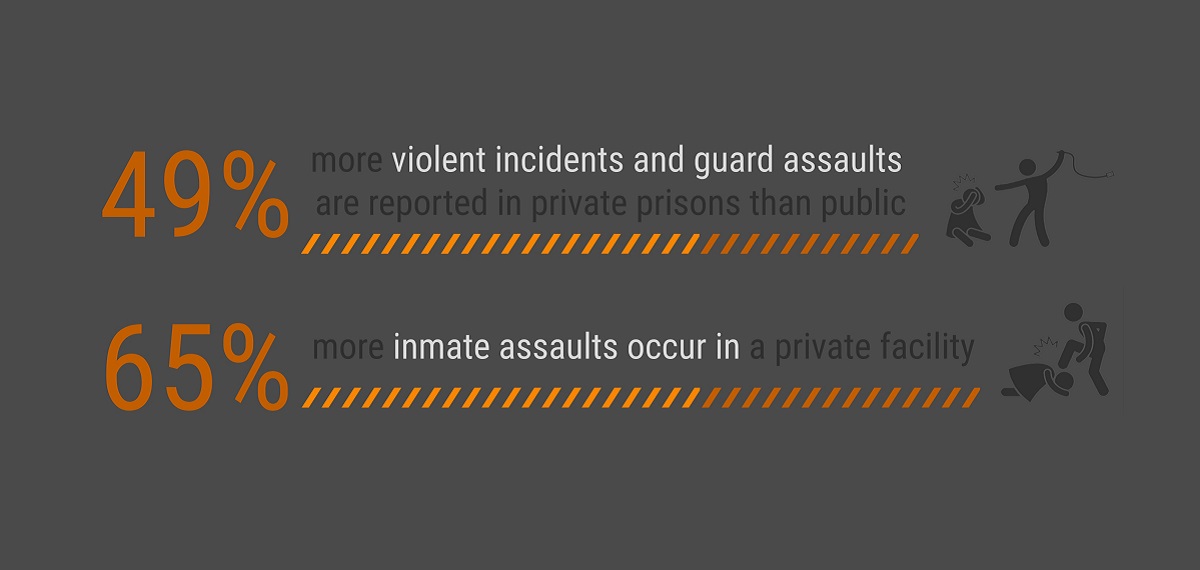 Private prisons routinely experience more inmate escapes and higher rates of violence due to chronically lax security and poorly trained, minimally paid staff. According to the US Department of Justice, an estimated 49% more violent incidents and guard assaults are reported in private prisons than in public ones, and inmate-on-inmate assaults occur 65% more in private facilities.
The increased rate of violence has only provided a glimpse into the cloistered world of privately operated prisons. Over the past three decades, allegations of inmate death, riots, rapes, assaults and medical neglect against private prisons have revealed that model remains a recipe for disaster.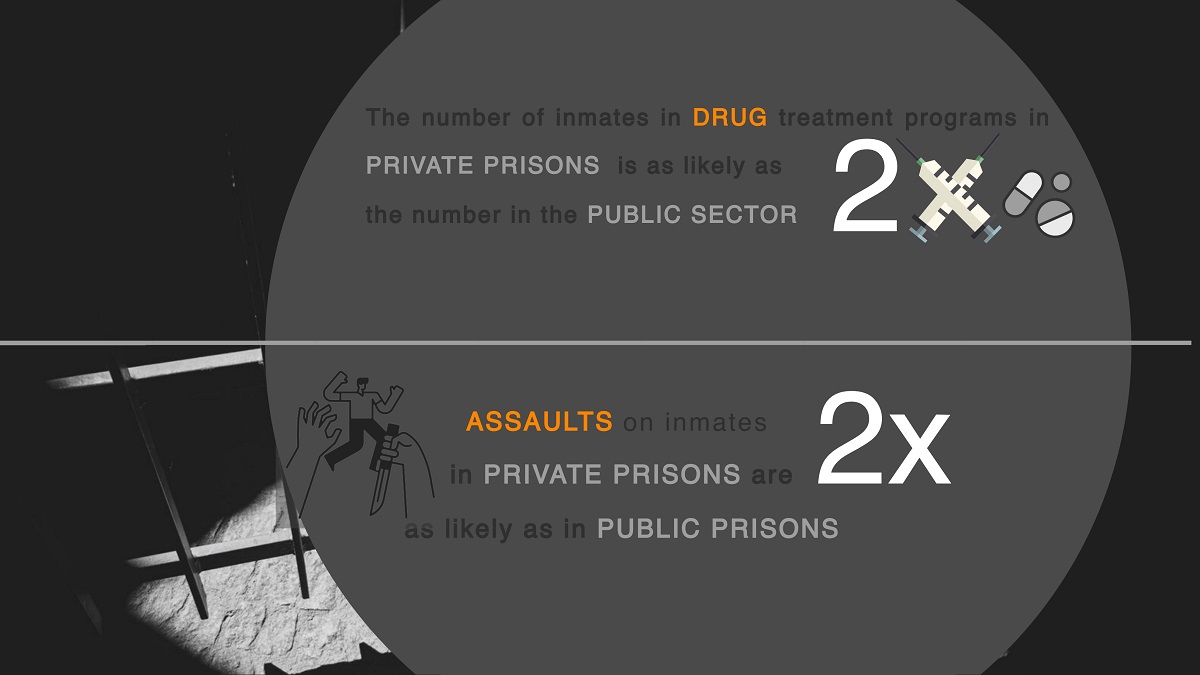 A 2019 US Federal Probation Study showed that the private sector reported an average of 40 assaults on inmates compared with 19 in public sectors, the number of inmate population participated in drug treatment programs in private prisons was also found twice the number in the public sector. Meanwhile, inmates of private prisons are about twice as likely to report sexual victimization by staff.
While the correctional system is originally designed to keep society safe at large and deter crimes, private prisons are instead breeding all kinds of crimes inside the industry. Over 30 years in business, they have been reduced to a hazard for local communities with higher levels of violence.
Editor: Zhang Zhou