By Wang Ruoxin, Wang Xinyuan and Gu Siyu
Harsher sentencing policies, increasing demand for jail space and limited budget fueled a perceived failure of the penal system in the US during the 1980s. The burden on the public sector has resulted in the modern emergence of for-profit private prisons in many states across the country and at the federal level as well.
Private prisons arose first as a solution to expanding prison capacity, their purpose also differs from the traditional ones. While a public prison's end goal is to house incarcerated individuals in an attempt to rehabilitate them, a private prison's end goal, on the other hand, is to profit by all means.
And that has altered the nature of the criminal justice system, making people question whether these for-profit prisons can be trusted to shoulder the responsibility they're given. Nevertheless, private prisons in the US have been notorious for violence and atrocious conditions. Yet for years, the number of inmates in private correctional facilities keeps outpacing federal prisons at an alarming rate.
According to The Sentencing Project, the number of people housed in private prisons increased five times faster than the total prison population from 2000 to 2016. Over a similar timeframe, the proportion of people detained in private immigration facilities increased by 442%.
What makes private prison an evil business
Private prisons make millions of dollars a year by making contracts with the government, in which they state the payment based on the size of the prison, a monthly or yearly set amount, or in most cases, the number of inmates that the prison houses, where a large prison population is always favored.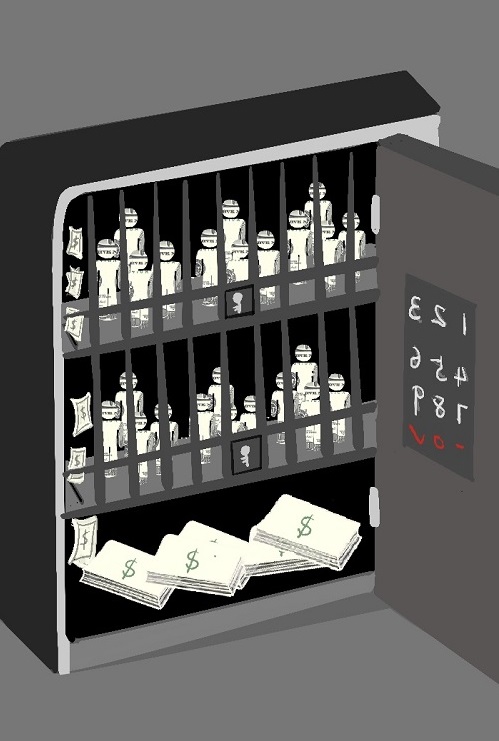 Since the business is for-profit, cutting costs is a primary approach. In other words, quality of inmates' living quarters and salary levels of staff members can be sacrificed for what it's worth, putting safety and security within prisons at risk.
Besides, to ensure a steady stream of new inmates, private prison corporations attach the most importance to the size and status of the country's criminal justice system, where law-making and judicatory are carefully structured in favor of prison privatization.
"Our growth is generally dependent upon our ability to obtain new contracts to develop and manage new correctional and detention facilities," industry giant CoreCivic admitted in its 2010 Annual Report. "This possible growth depends on a number of factors we cannot control, including crime rates and sentencing patterns in various jurisdictions and acceptance of privatization."
As they operate according to business models, privatized prisons have led to more inmates and longer sentences, studies have found. Undocumented immigrants, who're less protected by law, are thrown behind bars, some even based on charges of inadequate evidence, where they become forced labor and cash machine to keep the business going.
How its sphere of influence is formed
A tie is therefore revealed between private prison corporations and their expanding reach. The logic is quite simple. More money can be brought by more inmates, and more inmates can be brought by stricter laws.
Private prison corporations at times joined lawmakers, business partners, and interest groups to advocate for privatization through organizations funded by themselves like the American Legislative Exchange Council (ALEC), where they seek influence over public policy through campaign contributions to key legislators in the immigration reform debate and affect the drafting of legislations that impact sentencing policy and prison privatization.
Judicial corruption is detected where judges may be influenced to give out harsher sentences. The most prominent corruption scandal is the "kids for cash" case in Pennsylvania. Two judges were bribed by Mid-Atlantic Youth Services Corp, a private prison company, with $2.8 million to send 2,000 children to their prisons under harsher sentences.
Bribery scheme of bureaucratic institutions was also uncovered. According to Fusion's "Shadow prisons" report, three of the last four directors of the federal Bureau of Prisons joined the boards of large private prison corporations after leaving office.
Why private prison system in US can hardly be ended
On Jan. 25, 2021, US President Joe Biden issued an executive order to stop the US Department of Justice from renewing further contracts with private prisons. However, it could be too small a step for too long a journey.
Back in 2016, the Department of Justice announced that it would phase out private prisons. In reaction, Damon Hininger, CEO of Corrections Corporation of America, declared that the company would change its name to CoreCivic, seeking to represent the firm's changing status as a provider of "largely corrections and detention services" to a company that works on "a wider range of government solutions."
The company got its way. A year later, the Department of Justice decided to maintain contracts with for-profit prisons.
Years of lobbying and relationship-building have won the private prison corporations a place in the US money politics.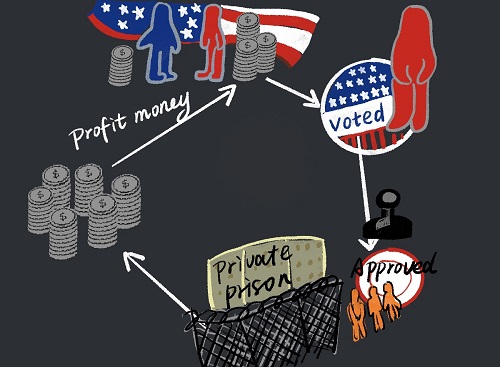 It is widely known that these companies contributed tens of thousands of dollars amid the 2016 US presidential election campaign to the Republicans (millions were dumped amid the 2020 election campaign). As the Republican assumed the office, policies were made against illegal immigration and in favor of strict enforcement of immigration laws, all in favor of the private prisons.
Private prison corporations are seeking to expand their influence with state governments as well. The non-profit organization Abolish Private Prisons pointed out that Biden's action can only affect less than 10% of people held in private for-profit prisons who are federal prisoners. Those state or local prisoners, which constitute a huge majority, are not touched. What it doesn't address is what is to be done regarding the over 70% of people who are held in immigration detention by private prison facilities.
It seems that the private prisons will not likely go out of business any time soon.
Editor: Zhang Zhou