By Wang Xinyuan
A new policy was implemented by Twitter since August 2020 to put labels on state-affiliated media accounts, which indicate that they are under control of certain official representatives of governments, state-affiliated media entities or individuals closely associated with them.
The policy was first applied to just the five permanent United Nations Security Council member countries, which are China, France, Russia, the UK and the US, expanded later to G7 countries, and to others including Cuba, Ecuador, Egypt, Honduras, Indonesia, Iran, Saudi Arabia, Serbia, Spain, Thailand, Turkey, and the United Arab Emirates.
Labels are supposed to cover relevant media accounts from those countries. Nevertheless, Twitter has its own definition of what is or is not "state-affiliated media".
State-financed media organizations from the Western world like BBC or NPR are largely pardoned by the platform, as Twitter claims that they still enjoy editorial independence, while the rule is strictly applied to media accounts from other countries, particularly Russia and China. Even accounts themed with wildlife like @iPanda, a Twitter account that shares panda photos, was labeled.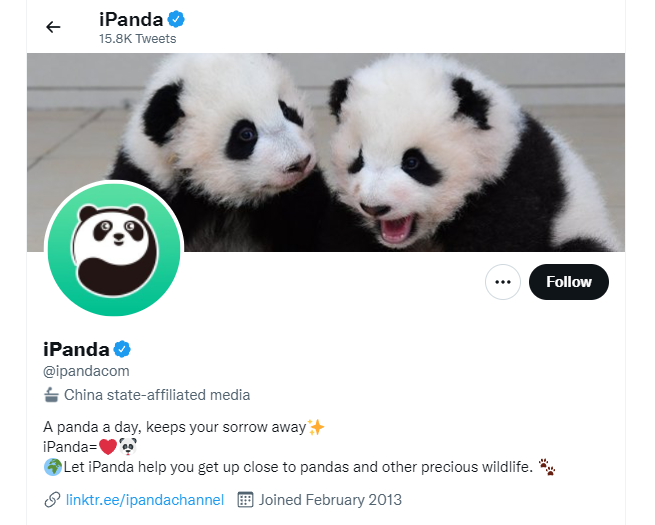 Screenshot of iPanda's Twitter account, labeled
Besides, Twitter's practice is deeply flawed. No criteria for designating certain media outlets as state-affiliated have ever been made public. There have since been calls for Twitter to clarify why and how certain media entities were included or excluded.
Small label, big implication
Twitter claimed the move is meant to "provide people with context so they can make informed decisions," but the label does not work as a friendly notice, it is a warning sign. Labeled accounts suffer consequences of Twitter's decision: the platform has since stopped recommending or amplifying the labeled accounts or their Tweets. Links shared by such accounts are also labeled to keep people away from clicking it.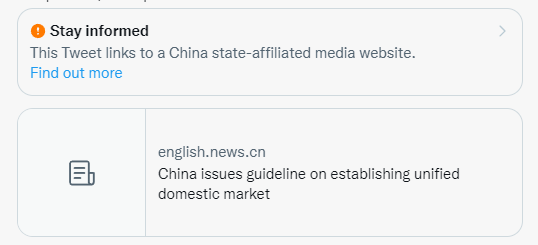 Sreenshot of labeled news link
By labeling media accounts and their contents, Twitter gives its users the wrong impression that the media accounts labeled by the platform have less credibility, or the unlabeled Western state-funded outlets have no connection with the power behind.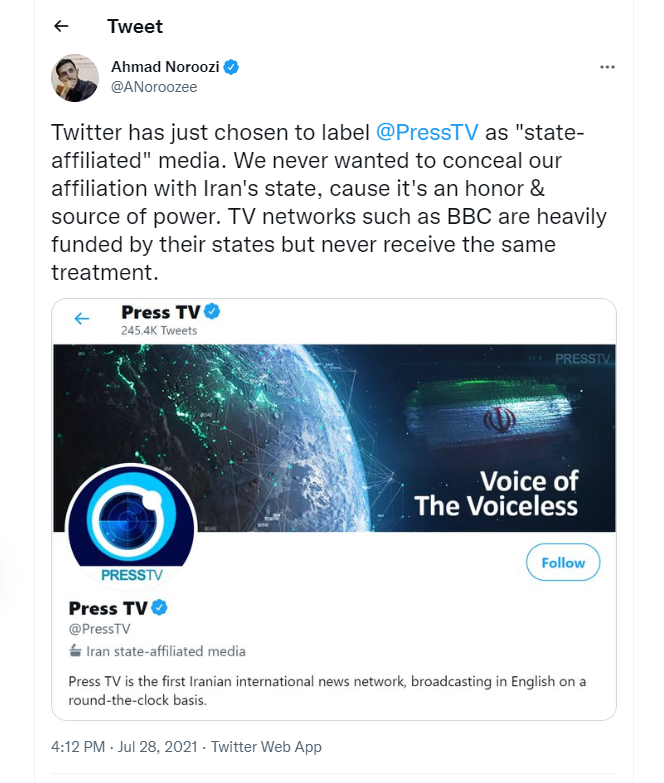 Screenshot of PressTV's CEO Ahmad Noroozi's tweet
PressTV CEO Ahmad Noroozi once criticized in his tweet, "We never wanted to conceal our affiliation with Iran's state, cause it's an honor & source of power. TV networks such as BBC are heavily funded by their states but never receive the same treatment."
Twitter's current policy is not allowing equal access to media sources of different countries. Whatever kinds of media Twitter finds them to be, they are media accounts in their own forms.
Giant at large
The First Amendment to the US Constitution prohibits censorship by government in protection of freedom of speech, but it does not prohibit censorship by private companies that run today's social media platforms. In other words, in the cyber world, social media giants can decide on their own what to moderate and filter.
Social media platforms like Facebook, Twitter, Instagram and YouTube rise up like giants in the virtual world. They are under broad protection online to moderate discussions, remove posts and suspend accounts, permanently or temporarily, from their social networking service. Those actions have long been controversial.
Their platform, their rules. But what they're ruling now gets to challenge the freedom of press that should be respected and protected by every individual, every country, and every social media company.
Though labels made by such social media companies may not likely be defined as a violation of free-speech rights, it surely has raised questions regarding the role of social media giants in regulating online communications.
Which accounts should be restricted or silenced? Who gets to decide which accounts should be restricted or silenced? Or should any account, especially those of media outlets', be restricted or silenced at all?
YouTube is now blocking Russian state-affiliated media globally. According to TechCrunch, this goes beyond any legal mandates, yet it is happening. "The blocking by YouTube is nothing but a new turn of an atrocious attack on one of the fundamental principles of a democratic society – that is freedom of the press," Sputnik said in a statement on March 11.
Editor: Zhang Zhou