By Gu Siyu
No country is an island on its own in solving the immune gap globally, argued Gao Fu, director of the Chinese Center for Disease Control and Prevention at a panel themed "Narrowing the Vaccine Gap" at the ongoing Boao Forum for Asia (BFA) annual conference.
The latest statistics released by Our World in Data show that with more than 11.3 billion vaccine doses administered globally, more than 80% of the world population has been vaccinated against COVID-19, an increase of nearly 50% from a year ago. Despite the increased pace of global vaccination rate, however, a wide gap in vaccination rates is observed among different countries and groups.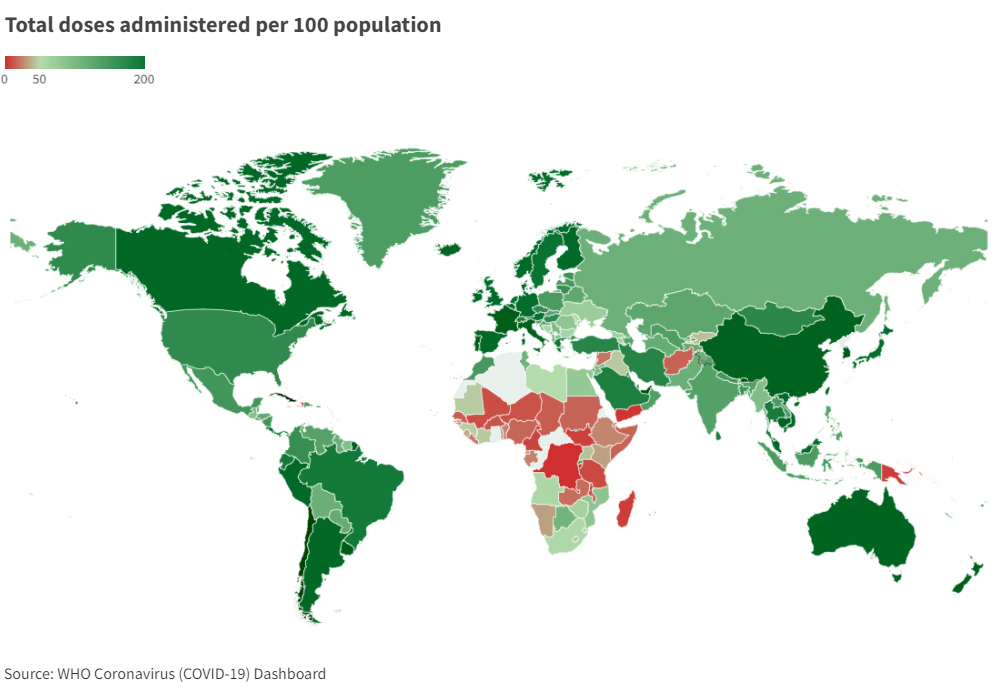 According to statistics from the World Health Organization (WHO), within the total number of doses administered worldwide, only 1% have been given out to low-income countries. This means that 2.8 billion people, or one third of the world's population, have yet to receive a single dose of vaccine.
The vulnerable countries are found in Sub-Saharan Africa, including Burundi, the Democratic Republic of the Congo, and Chad, where less than 1% of the populations are fully vaccinated. Outside of Africa, Haiti and Yemen are still to reach 3% coverage.
How accessibility differs among income groups
The disparities of vaccination coverage are also reflected significantly among different income groups. Chart below shows that generally richer and more developed countries have higher percentage of population given at least one dose of vaccine. Those countries boast better health care infrastructure to manufacture, acquire and administer doses, reported a Reuters analysis.
A slower and delayed vaccination rollout in low and middle-income countries has left them more vulnerable to COVID-19. Compared with more than 70% of the population who have received vaccines in high-income countries, 15.21% of people in low-income countries have been vaccinated with at least one dose, and just over 5% have been fully vaccinated.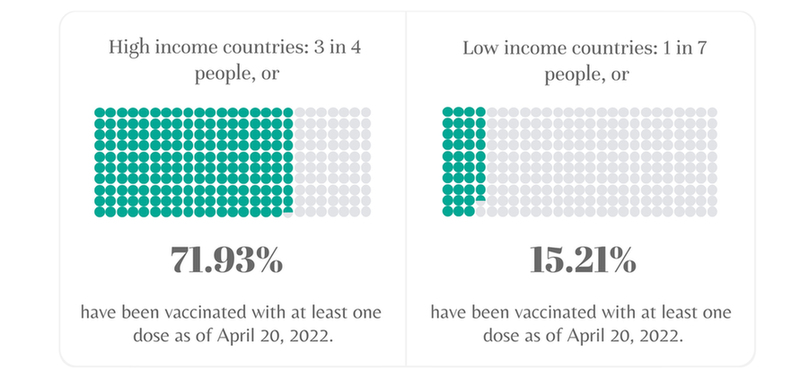 Meanwhile, Gordon Brown, fundraising envoy of the WHO and former UK prime minister, noted that only 30% of healthcare workers and only 20% of the most vulnerable population, aged 60 or older, have been vaccinated in low-income countries.
Implications leave none immune
The huge immunity gap featured by vaccine inequity has a lasting and profound impact on socio-economic recovery, jobs and welfare in low- and lower-middle income countries. Studies show that low-income countries would have increased their GDP by $16.27 billion in 2021 if they had the same vaccination rate as high-income countries in September last year.
"This potential lost could have been used to address other pressing development challenges in line with the Sustainable Development Goals (SDGs) that make up the UN's 2030 Agenda for Sustainable Development, the organization's blueprint for a future that is fair for people and the planet", studies noted.
"In an interconnected world, none of us is safe until all of us are safe", said UN Secretary-General António Guterres when describing the current situation in fighting against the pandemic.
Vaccine inequity could lead to escalated societal tensions and violence, which indiscriminately jeopardize the safety of everyone in the world. It's imperative to narrow the current immunization gap with greater cooperation between countries, called experts. For that to happen, more vaccination programs worldwide, especially in low- and middle-income countries, more equipment, facilities and materials, and a long-term goal to promote global access will be necessary.
Editor: GSY