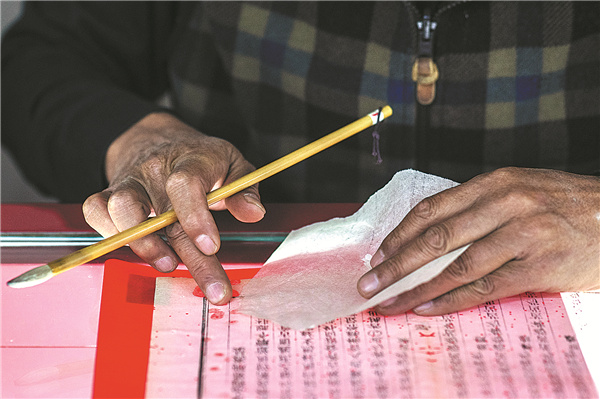 Yang Liqun, a 64-year-old restorer, at the Yunnan Ancient Books Preservation Center in April. [Photo/Xinhua]
"The restoration method prevents books from getting moldy or damaged by worms and is well recognized and widely used by other restorers," says Ji.
"Restoring ancient books is not just about patching paper, but also about preserving history and civilization," says Yang.
Yunnan Provincial Library has been organizing workshops on the restoration of ancient books since 2009. At those sessions, Yang demonstrated his skills and trained more than 800 people, over 30 of whom have become skilled restorers.
"Ancient books should be respected, but not feared," says Yang, encouraging students to accumulate experience via practice.
In April, the general offices of the Communist Party of China Central Committee and the State Council jointly issued a document stating that endangered ancient books, including those in ethnic-minority languages, will be thoroughly surveyed, restored and digitalized.
As of 2020, census takers had logged data on more than 2.7 million ancient books, with more than 3.6 million sheets repaired and 72,000 volumes of digital resources released.
Editor: WXY