By Wu Xilu
The US is expecting another COVID-19 wave driven by more infectious Omicron subvariants, New York Magazine reported last Sunday.
According to the data tracker run by Johns Hopkins University, the seven-day average of new COVID-19 cases has reached 100,000 for the first time since February. US Centers for Disease Control and Prevention estimated that the new subvariant, known as BA.2.12.1, has made up about 58 percent of all new cases.
The latest assessment of the COVID-19 community transmission level by the CDC indicates that over three-quarters of Americans live in communities with high and substantial transmission level, while less than 7 percent of those live in areas with low transmission risk.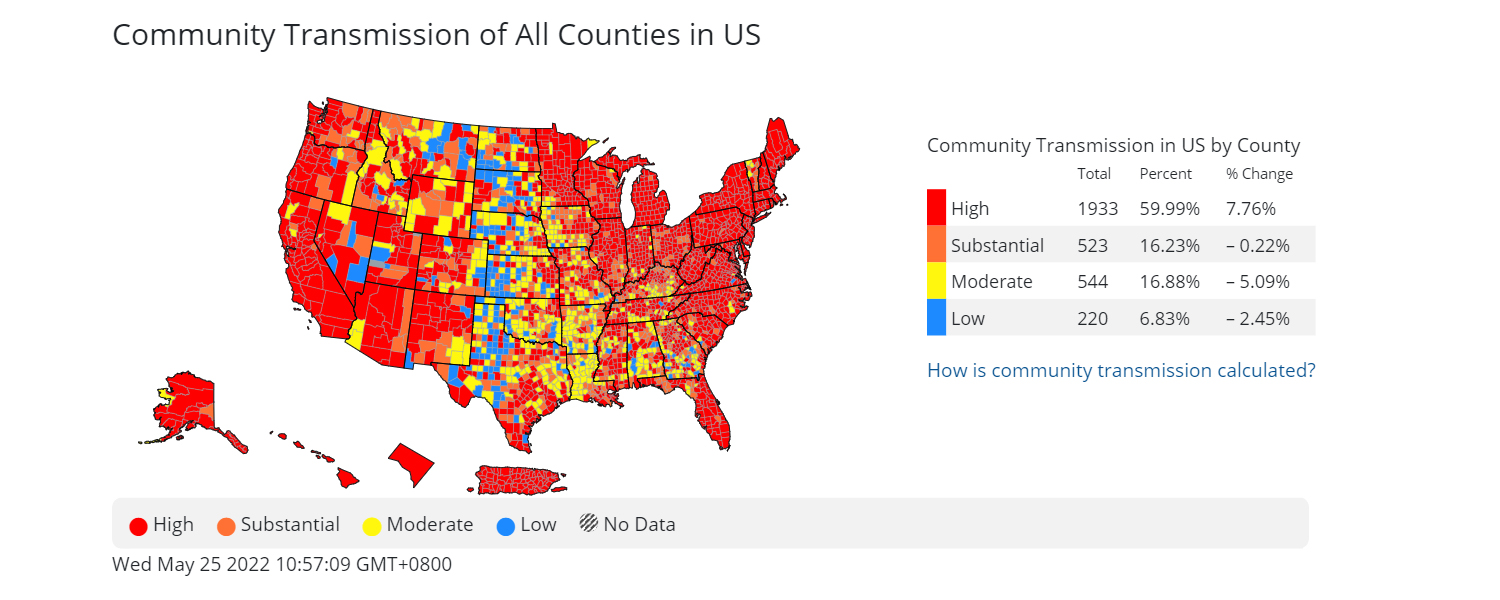 COVID map, released and kept updated by the CDC, reflects current COVID transmission levels, with the majority of counties at either substantial or high transmission.
Despite the significant surge in reported new COVID cases, concerns were raised that many infections might go uncounted due to the wide application of at-home test kits. Last week, the third round of free COVID rapid antigen tests have been made available by the US government to make sure that each household receives eight test kits.
"Many if not most cases are either being detected using at-home tests that are never reported or are asymptomatic and not being detected at all," said the article, "COVID experts suspect the number of new cases in communities across the US is actually five to ten times higher than official counts indicate."
As the number doesn't tell the full story, the new wave is also invisible in the US current pandemic response.
The surge of infections is rising at a time when the US deems itself out of the pandemic, the article wrote. The US Congress refused to fund a new round of COVID response. Politicians and public officials at every level of government have largely lifted mitigation measures.
"It has been clear for months that Americans are more and more on their own when it comes to avoiding COVID. Don't count on the return of mask mandates or 'stop the spread' initiatives or more yard signs professing the need to protect essential workers, " said the article.
The article noted that built-in risks to further large-scale infections can be obviously seen in former waves. There are "still-murky threat of developing long COVID, the possibility of recombinant strains, additional economic disruption, domestic political consequences, and further hardships and more dangerous health outcomes determined by comorbidity, age, race, ethnicity, and/or class," it said.
Editor: JYZ