By Gu Siyu
The COVID-19 pandemic is "most certainly not over", Director General of the World Health Organization, Tedros Adhanom, warned on the 75th World Health Assembly held on May 22. "Only 57 countries have vaccinated 70% of their population - almost all of them high-income countries", he noted.
As the world stumbles toward the WHO target to vaccinate 70% of the global population by mid-2022 to ward off Omicron, unequal distribution of vaccines remains a prominent issue that is widening the existing immunity gap across the world.
The WHO has constantly called for rollout of vaccines in low-income countries, as well as vaccine delivery and donation through international aid. However, developing countries have fallen victim to rich countries' broken promises, who are failing to deliver doses they promised while blocking the real solutions to vaccine inequality.
With the largest vaccine manufacturing capacity in the world, the US has vowed to be an "arsenal of vaccines for other countries". President Joe Biden has pledged to donate over 1.2 billion doses with countries around the world. However, the administration's effort is falling woefully short.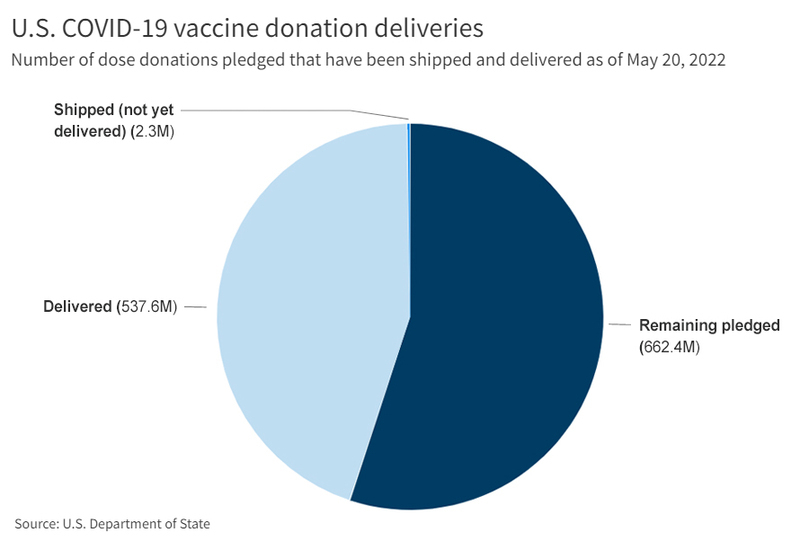 The US claims to have delivered some 537.6 million doses so far, which is less than half of the pledged total. According to the UNICEF database, the number of doses delivered includes only 189 million of donated doses, with the rest being facilitated doses that are cost-shared between the donor and the COVAX Facility.
The broken promises were also coupled with constant delivery delays. Experts noted that the US' donation pledge was made under pressure from criticism of the country's planned booster shots for fully vaccinated Americans while much of the developing world still had no access to vaccines. By dragging its feet on delivery, it has reduced vaccines to a mix of diplomatic action and political tool to serve the "Americans First" edict.
The empty promises are merely part of the US' disruptive moves that undermine global vaccine equity.
Vaccine apartheid in a game for highest bidder
The WHO has repeatedly warned against politicization and stressed the need to work together to defeat the pandemic. "Narrow nationalism and hoarding of health tools, including masks, therapeutics, diagnostics and vaccines, by a small number of countries undermined equity and created the ideal conditions for the emergence of new variants," Tedros pointed out.
Yet the US has not only forsaken its due responsibilities as a major power, but vigorously pursued hegemony, stunning the world with a series of unilateral acts during the pandemic.
It reportedly have stocked vaccines enough to vaccinate 750 million people. "Considering there are 260 million adults in the United States, that puts the United States way over the threshold needed to immunize the entire population who is eligible for vaccination", one Wall Street Journal report criticized. It has bought at least 1.2 billion doses from six different vaccine manufacturers.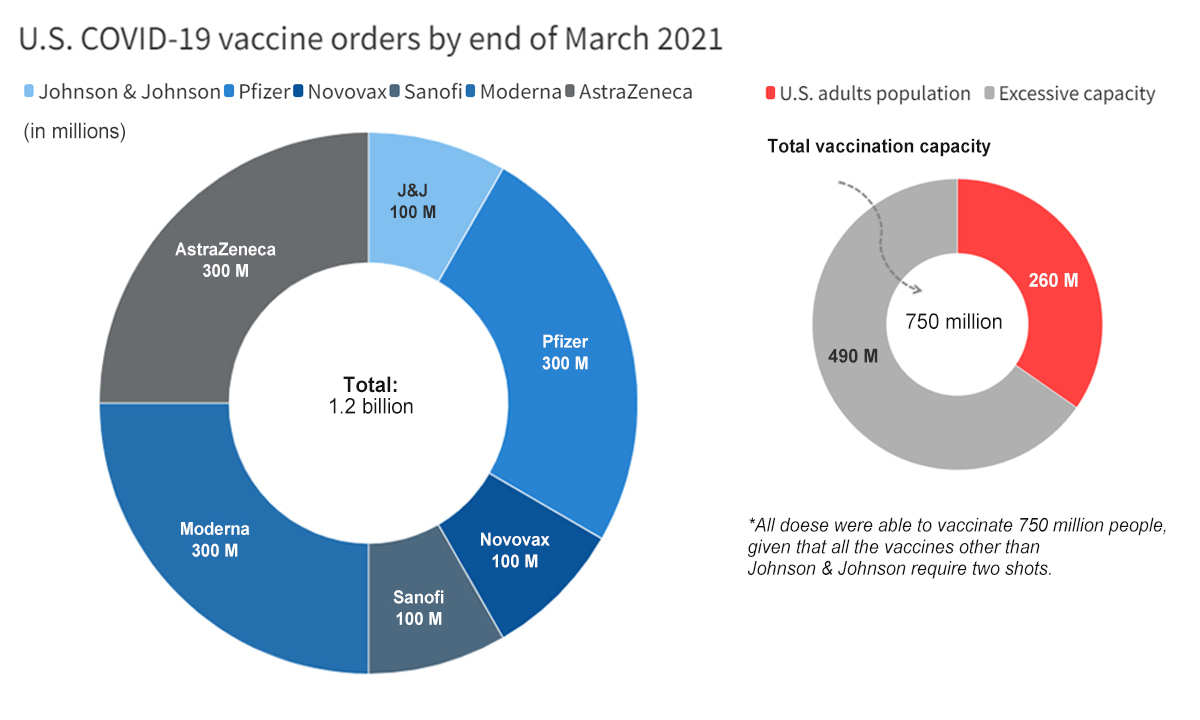 The contracts were signed even when AstraZeneca, Novovax and Sanofi hadn't yet had their vaccines approved in the United States. However, the media has also found that millions of the stockpiled doses had not ended up being injected, but instead left unused in refrigerators or discarded in trash cans across the country.
At the same time, the US government was denounced for allowing pharmaceutical corporations to deprioritize poor countries in vaccine allocation.
Amid the time of rapid rise in infections and deaths across the developing world, U.S. leading COVID-19 vaccine makers Pfizer/BioNTech and Moderna reportedly have sold over 90% of their vaccines so far to rich countries, charging up to 24 times the potential cost of production has directly accumulated. The chord chart shows vaccine supply by three U.S. leading COVID-19 vaccine manufacturers through bilateral trade since the pandemic.
Meanwhile, rich countries and economies that were able and willing to pay high prices, including the European Union, Britain, Australia, Canada and Japan, have together accumulated over 1 billion more doses than the 2.06 billion needed to give their entire populations two doses as early as the first half of 2021.
"This huge excess is the embodiment of vaccine nationalism," said Jenny Ottenhoff, senior director for policy of ONE Campaign, an international organization that fights extreme poverty and preventable diseases.
"Wealthy countries understandably hedged their bets on vaccines early in the pandemic but with these bets paying off in spades, a massive course correction is needed if we are going to protect billions of people around the world," she added.
Profits over lives
The broken promises of donations by rich countries and of equal vaccine distribution share the same root cause ― the control of vaccine supply was given to a small number of pharmaceutical companies, who were prioritizing their own profits, said Robbie Silverman, Senior Advocacy Manager in Oxfam America's Private Sector Department.
The world has probably witnessed one of the most lethal cases of profiteering in history as pharmaceutical companies held vulnerable groups to ransom at a time of unprecedented global crisis.
By supplying shots almost exclusively to wealthy nations, overcharging middle-income countries for the same products, and keeping poorer countries waiting, the US pharmaceutical giant Moderna has earned billions in profit during the pandemic. On The Forbes 400 2021 released last October, Moderna's CEO and two founding investors were among the latest to join the list of the richest Americans with a collective worth of $8.1 billion.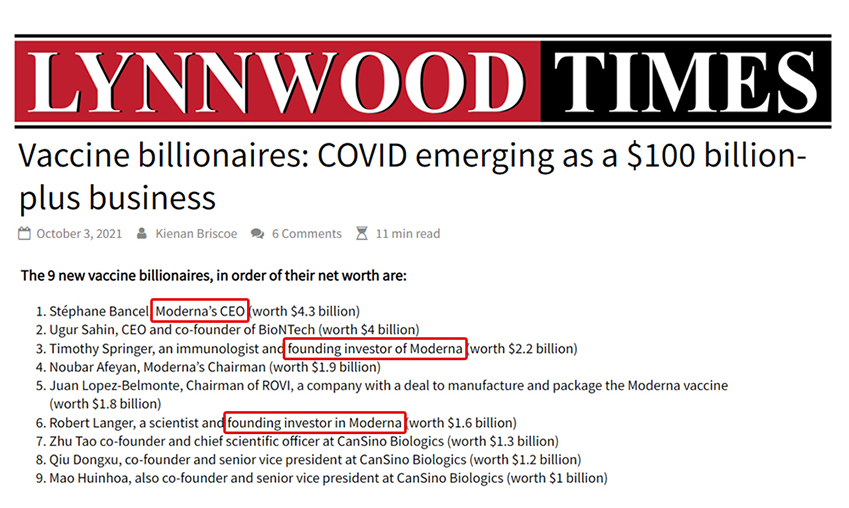 Screenshot of the Lynnwood Times report "Vaccine billionaires: COVID emerging as a $100 billion-plus business" published on Oct. 3, 2021
Not coincidentally, Moderna's counterpart, Pfizer, has made its COVID-19 vaccine the most lucrative medicine ever in its history. A Guardian article reported that the company grabbed a huge profit of $37 billion last year. It pointed out that Pfizer was clear that it wanted to make a lot of money from COVID right from the start, that's why it sold only a tiny proportion of its vaccines to low-income countries.
Corporations like Pfizer should never have been put in charge of a global vaccination rollout, because it was inevitable they would make life-and-death decisions based on what's in the short-term interest of their shareholders, the article commented.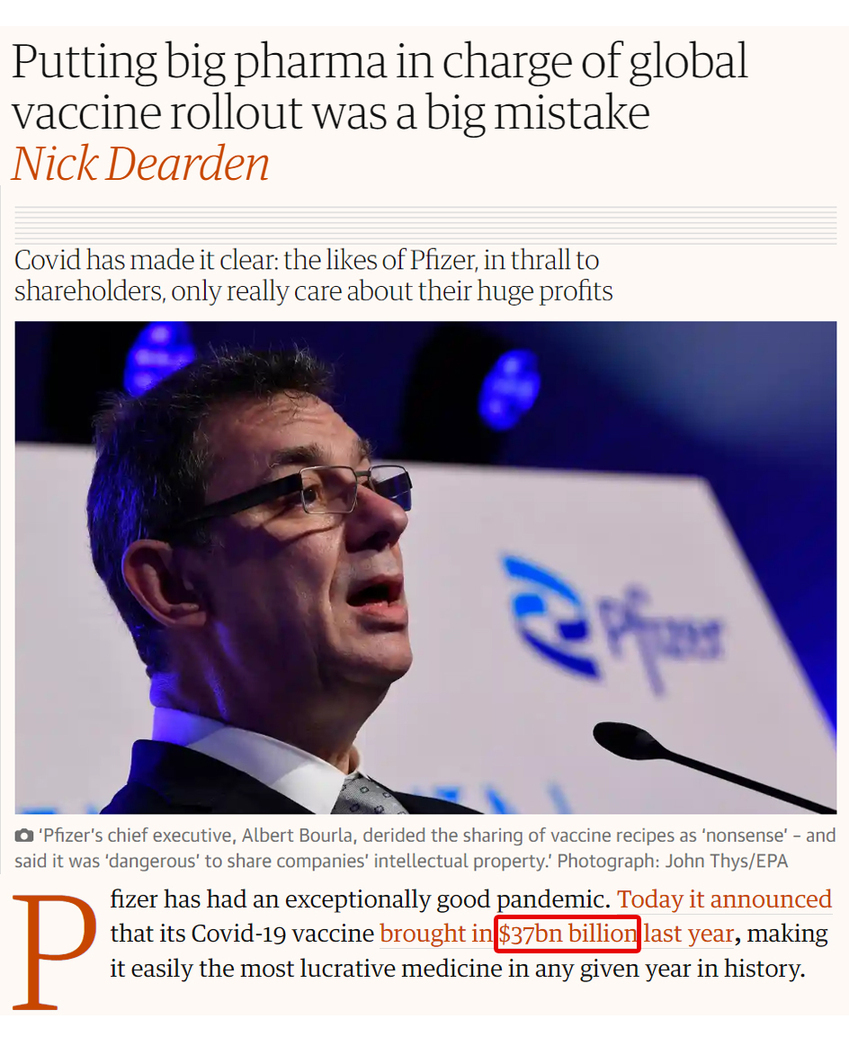 Screenshot of the Guardian article "Putting big pharma in charge of global vaccine rollout was a big mistake" published on Feb. 8, 2022
Early on, the WHO recognized that it was necessary to scale up vaccine production rapidly and urged companies to transfer vaccine technology, creating a sort of "patent pool" known as CTAP. However, neither company has agreed to share vaccine recipes and know-how with any capable producers in developing countries, as they wouldn't be able to restrict production through monopoly.
"These companies could have been the heroes of 2021. Instead, they turned their back on those who needed vaccine the most and just continued with business as usual, putting profits before people", said the senior director of Amnesty International.
People would probably remember when a band of activists deposited a fake mountain of bones outside the homes of Ron Klain, the White House chief of staff, and Stephane Bancel, chief executive officer of Moderna last September, to represent the lives that had been lost due to their failures to scale up coronavirus vaccine manufacturing for global use.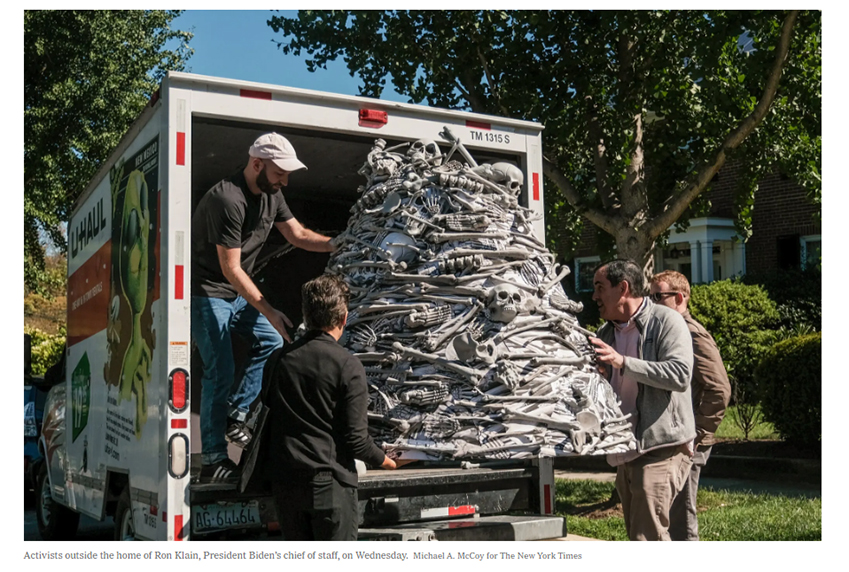 Screenshot of the WSJ report "Activists take vaccine demands, and a mountain of fake bones, to the home of Biden's chief of staff" published on Sept. 29, 2021
The US government's selfish vaccine hoarding driven by narrow nationalism and its inaction as pharmaceutical monopolies escalated vaccine inequity have aborted WHO's attempt to reach 40% global vaccination by the end of 2021, yet continue to shadow the 70% mid-2022 vaccination target. Confronted with the still-heavy challenge and the current monkeypox outbreak, world experts are calling for shifting the course and avoiding the same tragedy's repeat.
Editor: JYZ