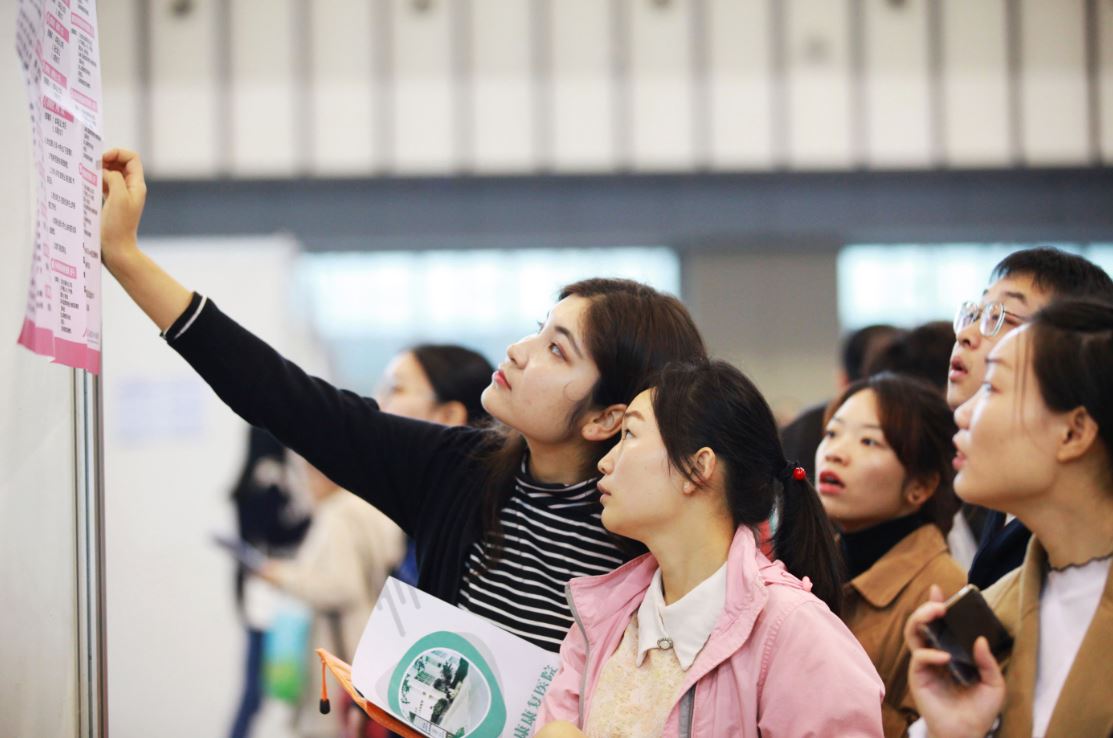 Candidates look at employment opportunities at a job fair in Nanjing, Jiangsu province. [Photo by Liu Jianhua/For China Daily]
At a recent executive meeting, the State Council, China's Cabinet, said that greater efforts will be made to stabilize market entities and employment and that unemployment insurance and training subsidies will be extended to more enterprises at this difficult time. An earlier meeting had pointed out that employment should be given higher priority and efforts should be made to support market players to stabilize jobs.
Employment is the bridge connecting social demand and supply, the bond linking production, trading, distribution and consumption, and one of the key fundamentals that support macro and micro economic operation. By stabilizing employment, China will be able to stabilize market entities, production and distribution, and industrial and supply chains, which will help its economy remain resilient and dynamic enough to withstand the impact of various risks.
As employment affects people's consumption willingness and the consumption capacity of the whole society, stabilizing employment will also stabilize people's livelihoods and promote social production and economic development.
China's economy is currently encountering the "triple pressures "of shrinking demand, supply shock and weakening expectations in the face of the COVID-19 outbreak and international geopolitical tensions. How to alleviate employment pressure, especially for some key groups, and continuously improve the quality of employment has thus become an important policy focus.
Development is the key to solving all problems in China. Epidemic prevention and control requires sufficient financial and material resources, and ensuring employment, guaranteeing people's livelihood and preventing risks all hinge on the country's development.
China is aware that it is at a critical juncture and must strive to bring its economy back on track. This is particularly important, given that since March, especially since April, some important indicators such as employment, industrial production, electricity and freight transport have dropped significantly, and the economic difficulties the country is encountering are even bigger than when the epidemic first struck in 2020.
This explains why at a national teleconference held by the State Council on Wednesday presided over by Premier Li Keqiang, the premier urged all government departments to stabilize the overall economy and have a stronger sense of urgency to ensure that the policies and measures set out in the Central Economic Work Conference and the Government Work Report are implemented in the first half of this year.
Editor: WRX