June in Xinjiang, flowers are blooming everywhere. For farmers, it's the harvest season for crops and fruit; while for bees, it's the harvest season for honey. Hu Jianhua, aged 40, was leading his team to collect honey at the bee breeding site in Hutubi County, Changji Hui Autonomous Prefecutre, northwest China's Xinjiang Uygur Autonomous Region.
In 1996, 14-year-old Hu Jianhua came to Xinjiang with his parents from Suining, southwest China's Sichuan Province. After graduating from college, Hu Jianhua engaged in construction project management in Hutubi County. By undertaking construction projects, he had a good income. Hu's father kept a box of bees at home in order to let his family taste delicious native honey. This inspired Hu Jianhua. "How can I bring our native honey to more people," he remembered thinking. In 2014, Hu gave up the construction industry and became a honey collector. Two years later, he set up Hu's Bee Breeding Farmers Professional Cooperative, and constructed more than 1,800 beehives in more than 50 locations in the county.
The cooperative business is getting better and better, driving more farmers to get richer through beekeeping. Since 2017, the local households that involved in the operation of Hu's cooperative have grown from the initial five households with more than ten people to the present fifteen households with more than fifty people. He is a little famous in the local area, and is affectionately called "Brother Bee" by the villagers. In order to develop rural tourism, the local government have borrowed a place in the village to Hu, which he changed into the Bee Kingdom Experience Hall that combined beekeeping with tourism. Visitors gained knowledge about bees while visiting for free.
Today, the number of beehives in Hu's professional cooperative has reached 4,500, and the beekeeping locations have also been extended to surrounding counties and cities like Altay, Tacheng and others. Hu Jianhua hopes that through his own efforts, more people will be engaged in beekeeping.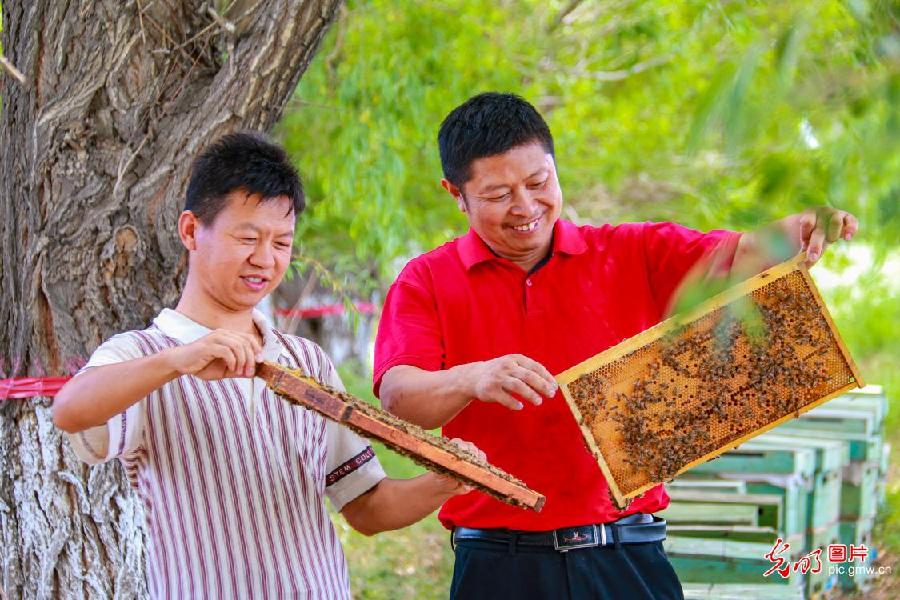 Photo taken on June 15, 2022 shows Hu Jianhua (right), the head of Hu's Bee Breeding Farmers Professional Cooperative, checking the honey collecting situation with staff members in Machanghu Village, Yuanhu Town, Hutubi County, Changji Hui Autonomous Prefecture, northwest China's Xinjiang Uygur Autonomous Region. (Tao Weiming/Guangming Picture)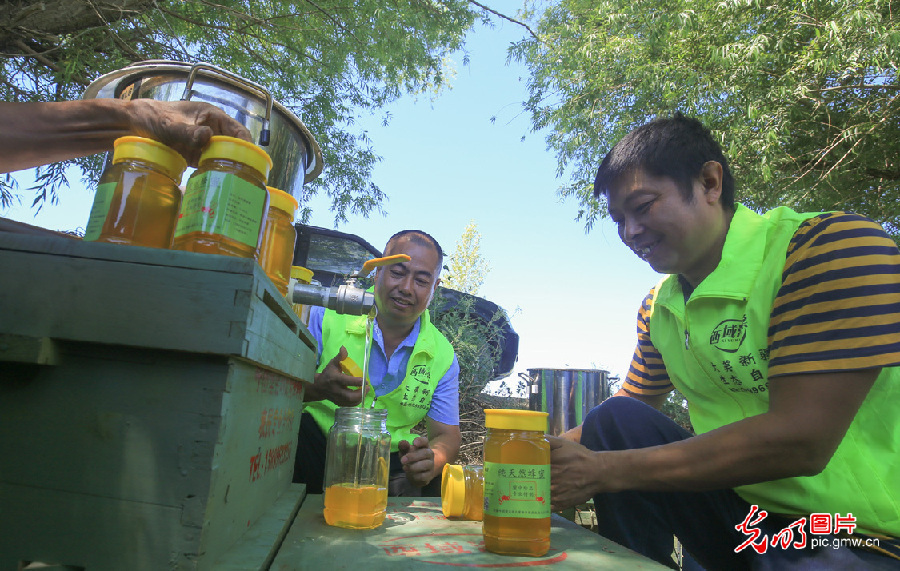 Photo taken on July 6, 2022 shows Hu Jianhua (right), the head of Hu's Bee Breeding Farmers Professional Cooperative, canning honey with staff members in Machanghu Village, Yuanhu Town, Hutubi County, Changji Hui Autonomous Prefecture, northwest China's Xinjiang Uygur Autonomous Region. (Tao Weiming/Guangming Picture)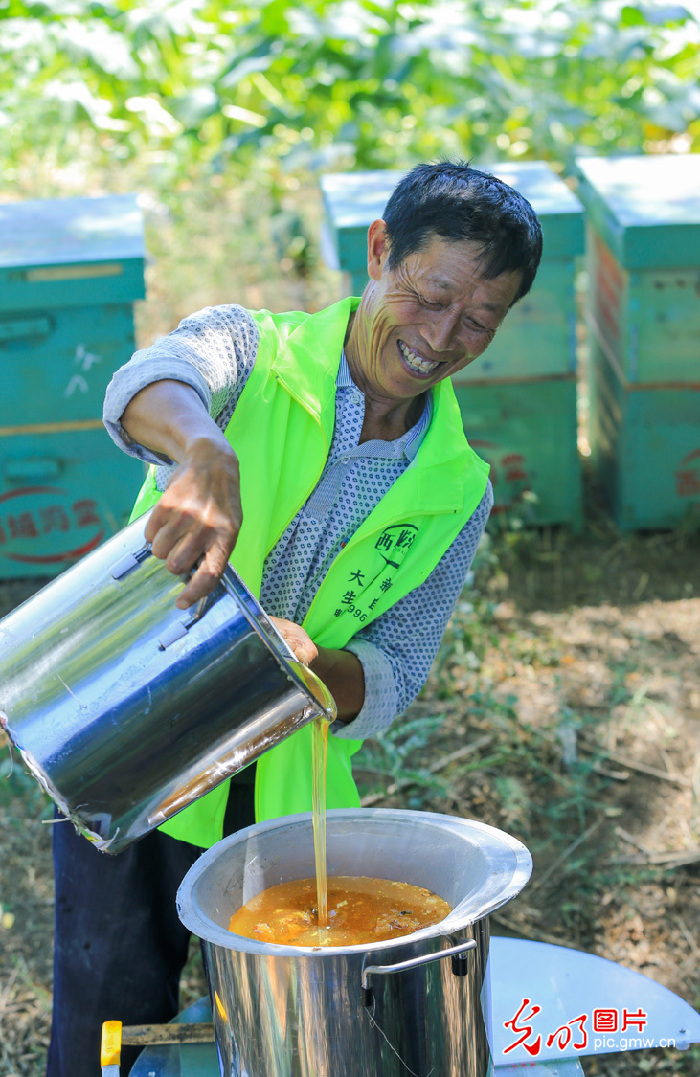 Photo taken on July 6, 2019 shows staff members filtering honey at Hu's Bee Breeding Farmers Professional Cooperative, Machanghu Village, Yuanhu Town, Hutubi County, Changji Hui Autonomous Prefecture, northwest China's Xinjiang Uygur Autonomous Region. (Tao Weiming/Guangming Picture)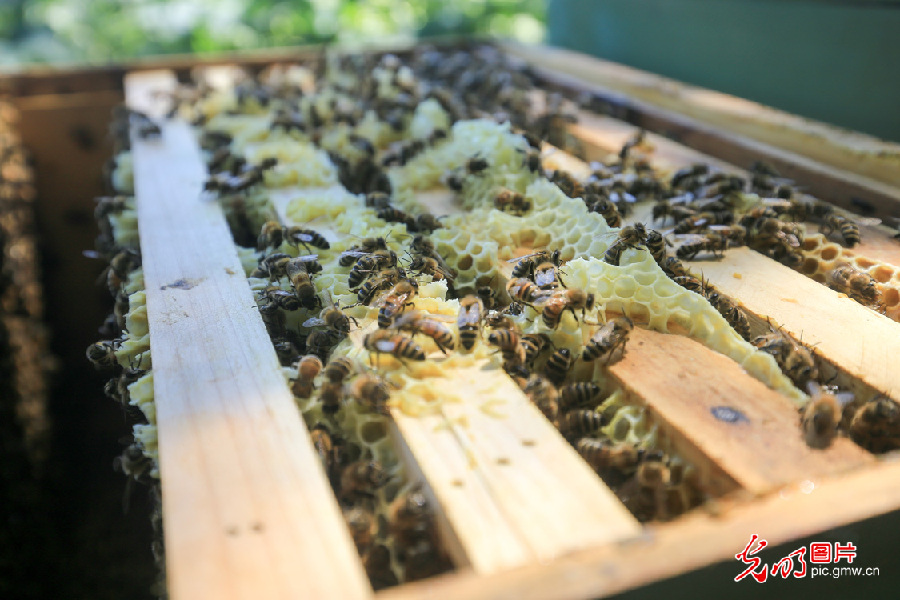 Photo taken on July 6, 2019 shows bees bred by Hu's Bee Breeding Farmers Professional Cooperative collecting honey in Machanghu Village, Yuanhu Town, Hutubi County, Changji Hui Autonomous Prefecture, northwest China's Xinjiang Uygur Autonomous Region. (Tao Weiming/Guangming Picture)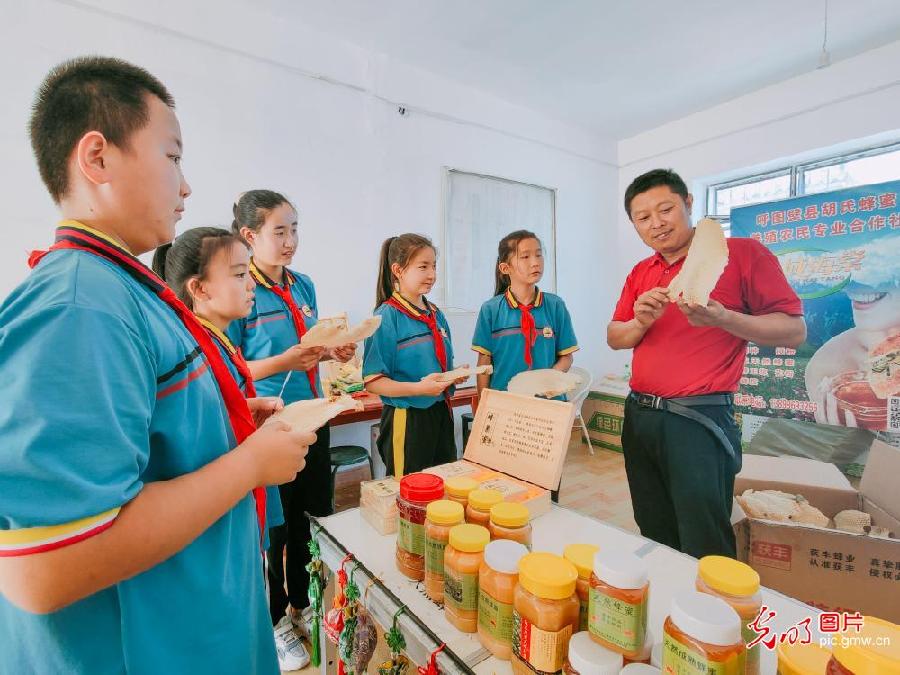 Photo taken on June 15, 2022 shows Hu Jianhua (first from right), the head of Hu's Bee Breeding Farmers Professional Cooperative, explaining the beehive to primary school students at the Bee Kingdom Experience Hall in Xingfu Village, Wugongtai Town, Hutubi County, Changji Hui Autonomous Prefecture, northwest China's Xinjiang Uygur Autonomous Region. (Tao Weiming/Guangming Picture)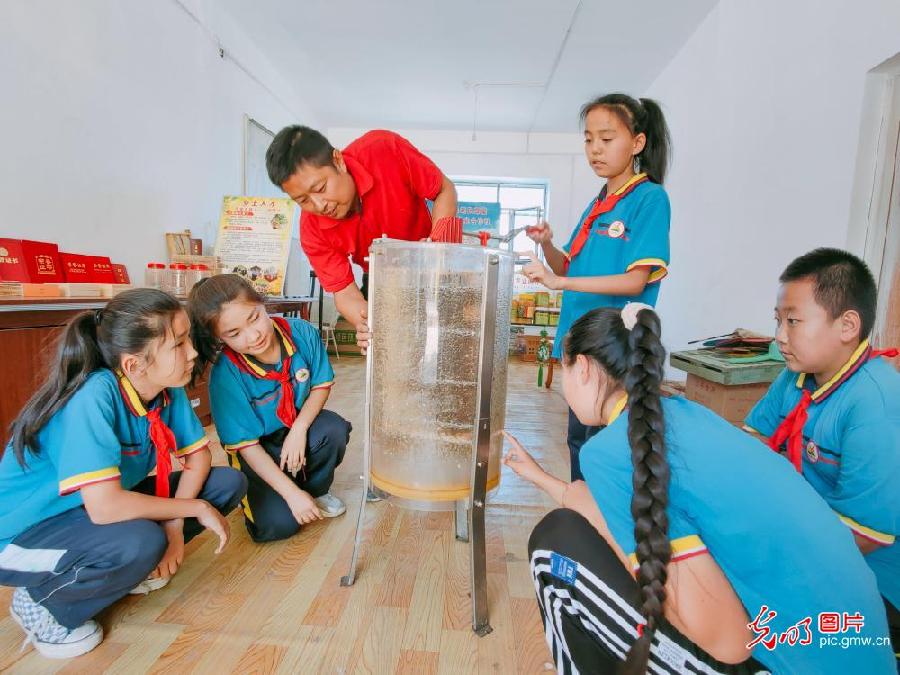 Photo taken on June 15, 2022 shows Hu Jianhua (third from left), the head of Hu's Bee Breeding Farmers Professional Cooperative, explaining the honey making and processing process to primary school students at the Bee Kingdom Experience Hall in Xingfu Village, Wugongtai Town, Hutubi County, Changji Hui Autonomous Prefecture, northwest China's Xinjiang Uygur Autonomous Region. (Tao Weiming/Guangming Picture)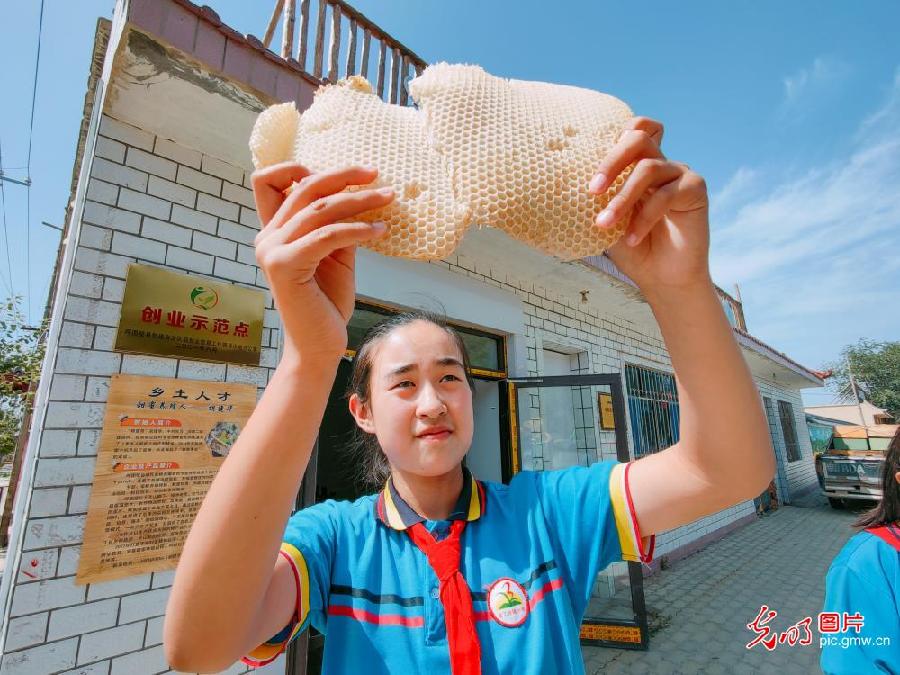 Photo taken on June 15, 2022 shows pupils observing the beehive at the Bee Kingdom Experience Hall in Xingfu Village, Wugongtai Town, Hutubi County, Changji Hui Autonomous Prefecture, northwest China's Xinjiang Uygur Autonomous Region. (Tao Weiming/Guangming Picture)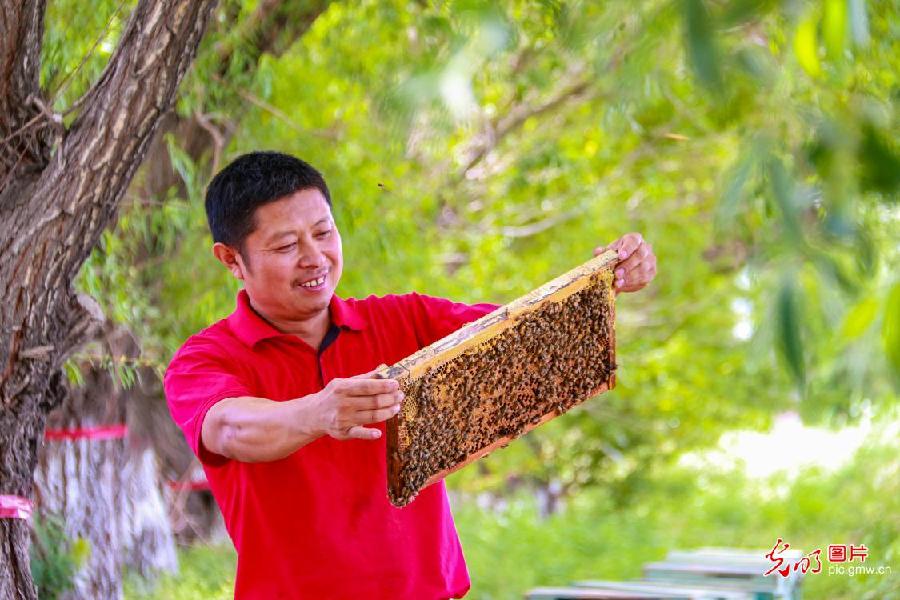 Photo taken on June 15, 2022 shows Hu Jianhua, the head of Hu's Bee Breeding Farmers Professional Cooperative, checking the honey collected in Machanghu Village, Yuanhu Town, Hutubi County, Changji Hui Autonomous Prefecture, northwest China's Xinjiang Uygur Autonomous Region. (Tao Weiming/Guangming Picture)
Editor: WXY