"Bohu Chili" is a local product of Bohu County, Bayigol Mongolian Autonomous Prefecture, northwest China's Xinjiang Uygur Autonomous Region. When entering the harvest season, chilies are dried in Gobi Desert, farmland and yards, forming beautiful red waves.
China's largest inland freshwater lake, the Bosten Lake, is located in Bohu County. The ecological environment here is beautiful and the land is flat and fertile. Due to the regulating effect of Bosten Lake on the microclimate, the local temperature changes are not drastic, the frost-free period is long, and the sunlight is abundant. Sufficient sunshine and the secondary refraction of the lake surface ensure the illumination needed by the chili seedlings, and benefit its flowering and fruiting periods as well. The local conditions also contribute to the nice colour of Bohu chilli.
However, due to restrictive factors like the cultivation mode dominated by retail investors, shortage of funds and many others, the chili industry in Bohu County was once weak, small and loose, with little development potential.
In order to optimize the structure of the chili industry and effectively help farmers to increase incomes, the county has explored three development models.
Firstly, a promotion mode of "experts to large households, large households to small households, small households to farmers" was implemented to give full play to the exemplary households in promoting agricultural technology, so as to steadily push forward the implementation of science and technology education projects and enhance farmers' technical skills by teaching, helping and leading exemplary households.
Secondly, an industrial operation mode of "enterprise + cooperative + order + farmer" was set, taking the establishment of cooperatives as a breakthrough, so as to achieve the standardization of producing and selling, build a tight connection between enterprises and farmers, and ensure real increase of farmers' income.
Finally, a special team was set up to develop the "red" industry including chili, tomatoes, etc., while extending the industrial chains, promoting industrial management, thus combining the development of leading enterprises, the expansion of rural economic organizations, the strengthening of base construction and the comprehensive implementation of environment friendly production, to form a relatively complete industrial system.
According to Zhao Fujun, a villager in Tawenjueken Village, Tawenjueken Township, Bohu County, chili farmers have not only enriched their experience, but also obtained refined management and sales mode after several years' exploration. "Now, the chili peppers are well grown with high yield and good price," Zhao said, "Last year, peppers grown by me was sold at a price of 9.7 yuan per kilogram." The little chili has now become the secret for the locals to increase income and get prosperous together.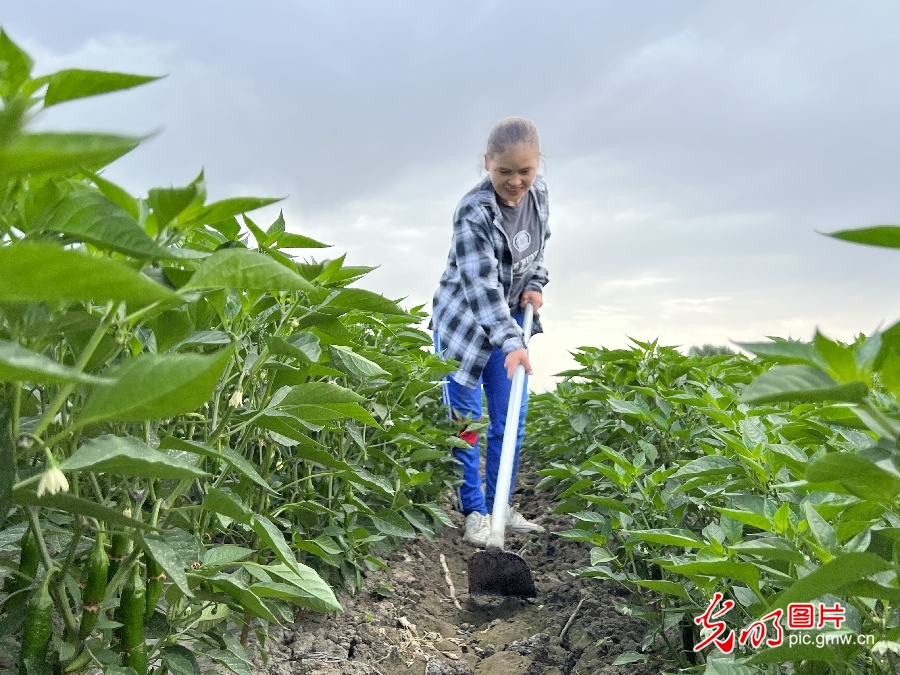 Photo taken on June 16, 2022 shows farmers carrying out weeding and other fields management in the chili pepper fields in Dundubuhu Village, Chagannuoer Township, Bohu County, northwest China's Xinjiang Autonomous Region. (Nian Lei/Guangming Picture)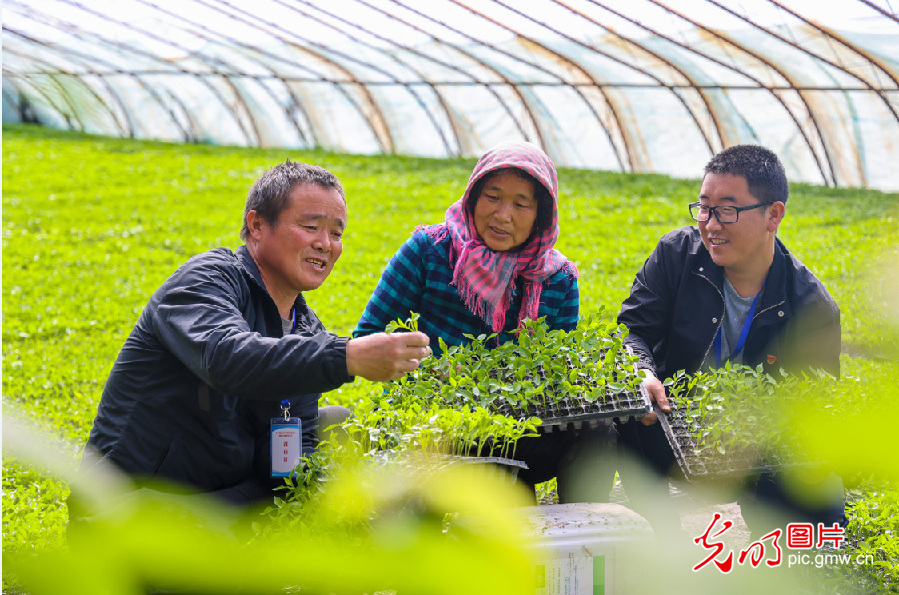 Photo taken on Apr. 11, 2022 shows staff members and technology commissioners explaining how to disinfect and sterilize the greenhouse for pepper seedlings in Wulanzaigesen Village, Wulanzaigesen Township, Bohu County, northwest China's Xinjiang Autonomous Region. (Nian Lei/Guangming Picture)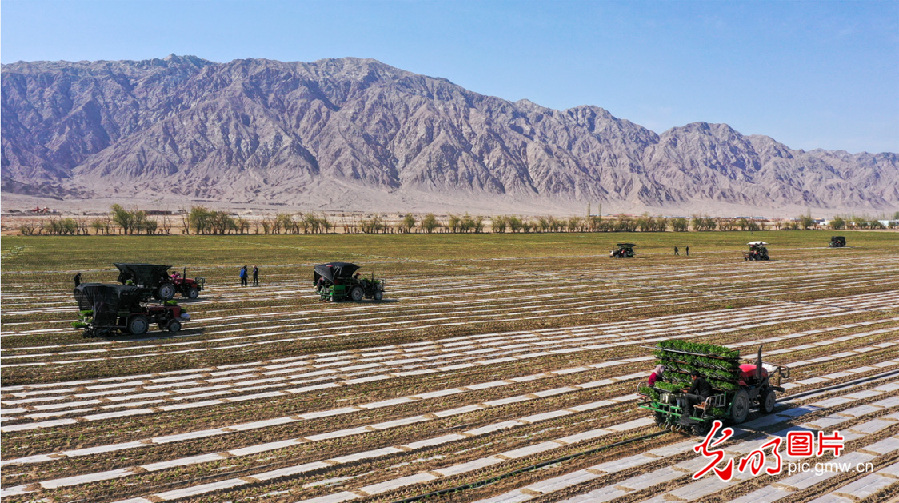 Photo taken on Apr. 14, 2021 shows farmers transplanting pepper seedlings with the help of machinery in Kudailik Village, Bosten Lake Township, Bohu County, northwest China's Xinjiang Autonomous Region. (Nian Lei/Guangming Picture)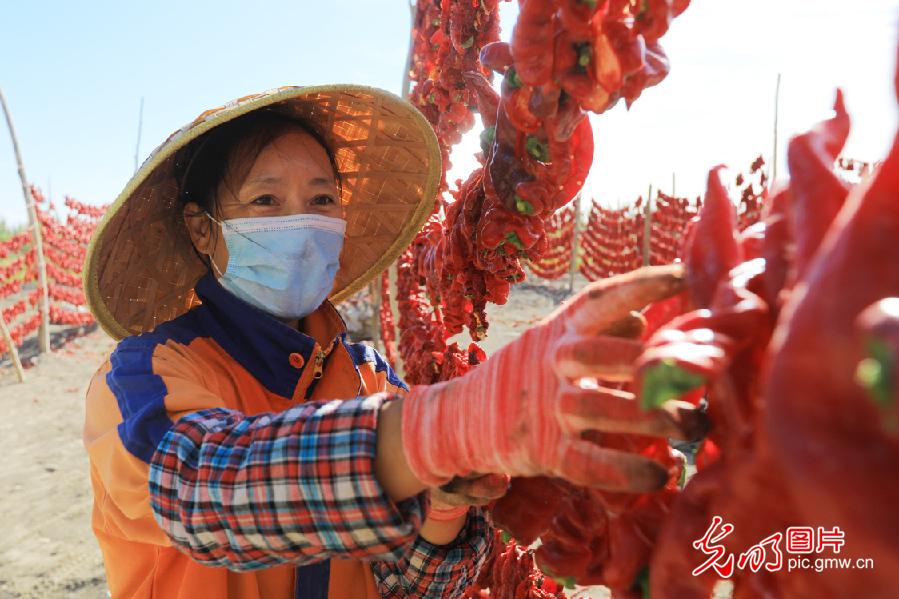 Photo taken on Sept. 29, 2020 shows farmers drying chili peppers at the drying field of Kekemodun Village, Tawenjueken Township, Bohu County, northwest China's Xinjiang Autonomous Region. (Nian Lei/Guangming Picture)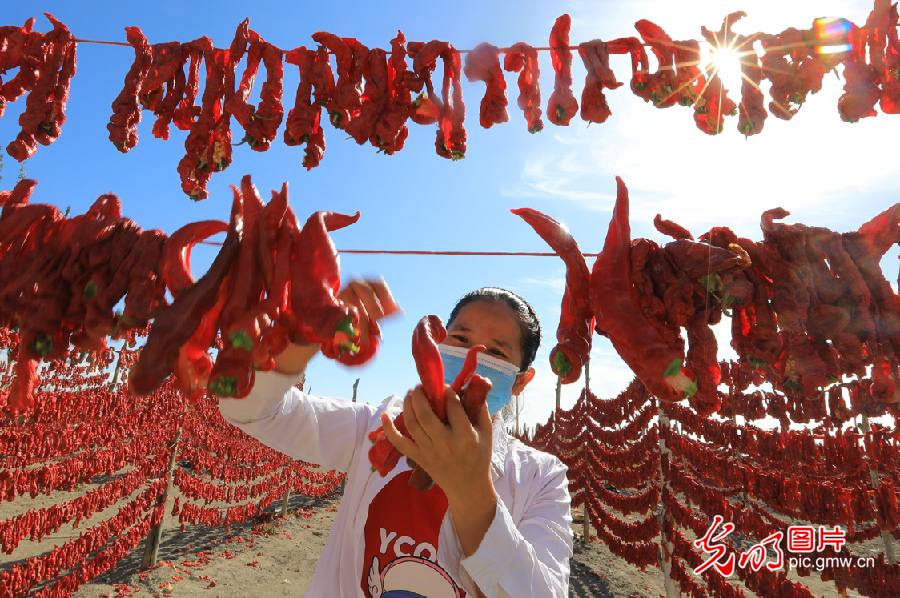 Photo taken on Sept. 29, 2020 shows farmers drying chili peppers at the drying field of Kekemodun Village, Tawenjueken Township, Bohu County, northwest China's Xinjiang Autonomous Region. (Nian Lei/Guangming Picture)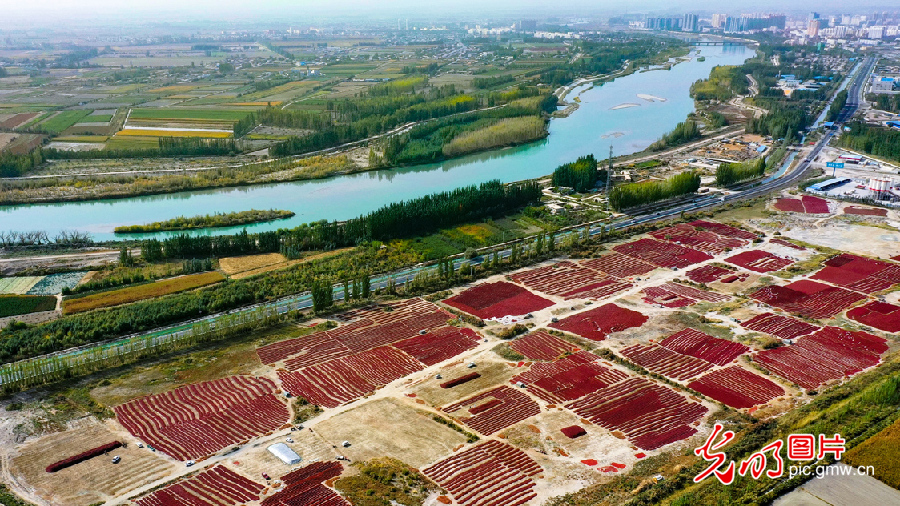 Photo taken on Sept. 29, 2020 shows farmers drying chili peppers at the drying field of Kekemodun Village, Tawenjueken Township, Bohu County, northwest China's Xinjiang Autonomous Region. (Nian Lei/Guangming Picture)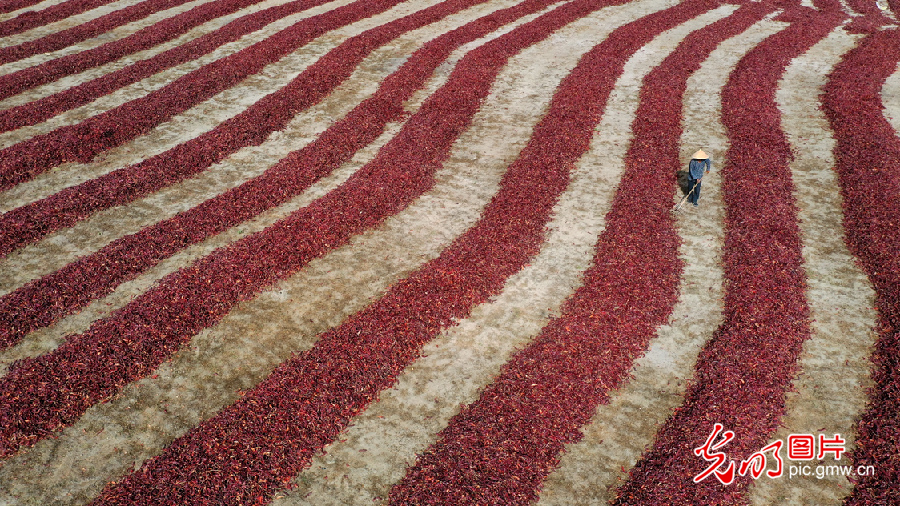 Photo taken on Sept. 29, 2020 shows farmers drying chili peppers at the drying field of Kekemodun Village, Tawenjueken Township, Bohu County, northwest China's Xinjiang Autonomous Region. (Nian Lei/Guangming Picture)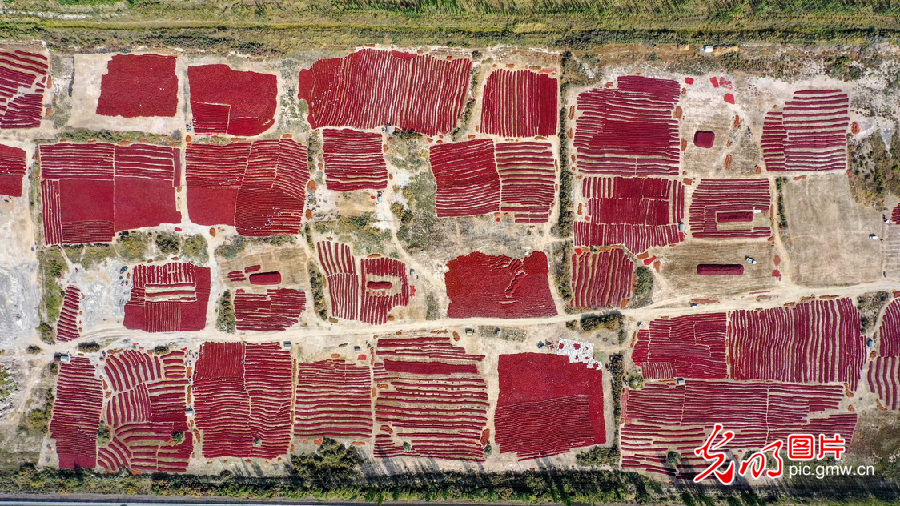 Photo taken on Sept. 29, 2020 shows farmers drying chili peppers at the drying field of Kekemodun Village, Tawenjueken Township, Bohu County, northwest China's Xinjiang Autonomous Region. (Nian Lei/Guangming Picture)
Editor: WXY