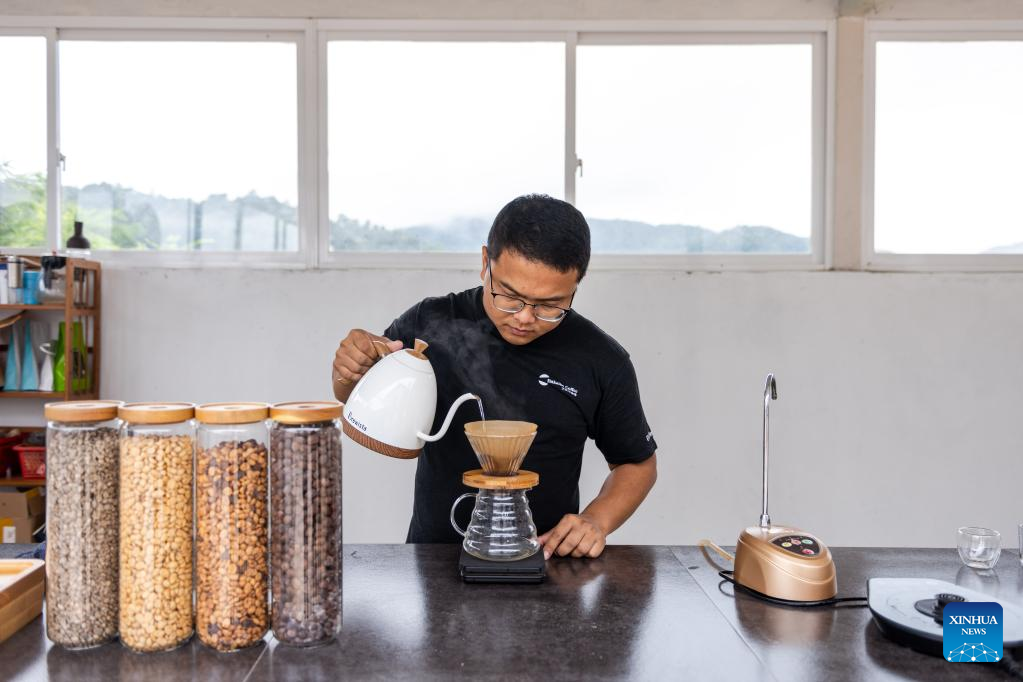 Yang Hongjian pours over drip coffee at his coffee farm in Dakaihe village of Pu'er City, southwest China's Yunnan Province, June 24, 2022. (Xinhua/Cao Mengyao)
by Xinhua writers Zheng Bofei, Cao Mengyao, Ma Huaizhao
KUNMING, July 7 (Xinhua) -- Yang Fan's cafe in Pu'er city, southwest China's Yunnan Province, offers guests a vivid window into ancient China.
Visitors to this old-fashioned coffeehouse facing an ancient alley can order coffee while seated on wooden stools at tables reminiscent of classic Chinese teahouses.
Famous for Pu'er tea, a deep-brewed tea with a sweet aroma, the city is making a name for itself as China's coffee capital. The development of the coffee industry has also drawn a flock of young entrepreneurs to make the best of the city's history and coffee plantation.
Yang, who majored in history, has a particular interest in blending local history with specialty industries, and he, therefore, found the century-old building in one of the oldest historic blocks of Pu'er suitable for his future cafe.
"The city was a choke point of the ancient north-south tea-horse trade route, and this building served as a resting place for caravans where people used to have tea," said Yang. "We retained everything as before so that tourists can discern the history of the city's past."
Instead of serving tea, the ancient dwelling is now a refurbished cafe serving quality coffee, adding cultural values to the beverage.
"To ensure quality, we directly procure coffee beans from farmers and sent them to specific factories for processing," Yang said, adding that he now plans to develop coffee tourism by giving tourists the opportunity to pick coffee beans and watch the processing in coffee factories.
Yang Hongjian, a third-generation coffee farmer, is also looking to add more value to the coffee production techniques inherited from his ancestors.
As early as the 1980s, Yang Hongjian's coffee farm in Dakaihe village was selected as the first batch of farmlands in Pu'er to produce coffee beans for Nestle, and his family had provided beans for the beverage company ever since.
However, due to the price volatility of coffee futures, farmers could easily lose their profits. Yang Hongjian wanted to make changes to that and ride the wave of the coffee fever in the Chinese market, so he resigned from his previous job as a teacher.
It is believed that next to his farm is where China's last wild rhinoceros was shot to death, Yang Hongjian noted, explaining why he chose to use the portrait of a rhinoceros as the logo of his farm.
For ecological restoration, Yang Hongjian and his team planted trees such as acacia confusa and fruit trees in-between farmlands of his village, and they are using water-efficient equipment to wash the coffee beans.
"We increased the number of natural sundried and honey processed coffee beans. The river near our village is now clean enough for camping and we are planning to set up a camping site," Yang Hongjian said.
The family farm also recruited close to 200 volunteers through its own website and social media, most of whom were professional baristas and attracted to the farm for its coffee history and pristine environment. These baristas helped not only Yang Hongjian but also other coffee producers in the village enhance their coffee cultivation techniques.
"We have sold out half of our processed beans this year and increased the added value by 10 times," Yang Hongjian said.
The coffee plantation encompasses over 1,400 mu (around 93 hectares), of which 380 mu were transformed into high-quality coffee farms and 200 mu received certification from the European Union as organic farmlands.
Both Yang Fan and Yang Hongjian are striving to promote the coffee production in a place famous for its traditional tea plantations.
"We retained the teahouse aura in our cafe because we want more people to consume coffee daily, similar to how people drank Pu'er tea a century ago," Yang Fan said.
"I hope that in the future, more people will realize that Yunnan is not only the biggest producer of coffee beans in China but also produces excellent-quality coffee beans in the world," said Yang Hongjian. ■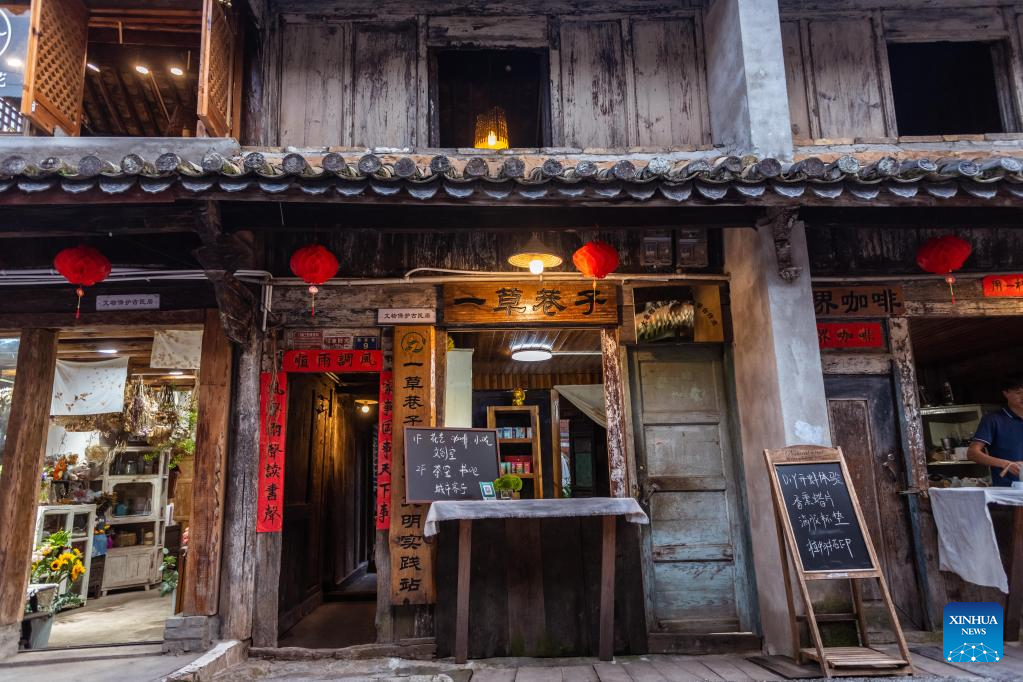 Photo taken on June 24, 2022 shows an exterior view of Yang Fan's cafe in Pu'er City, southwest China's Yunnan Province. (Xinhua/Cao Mengyao)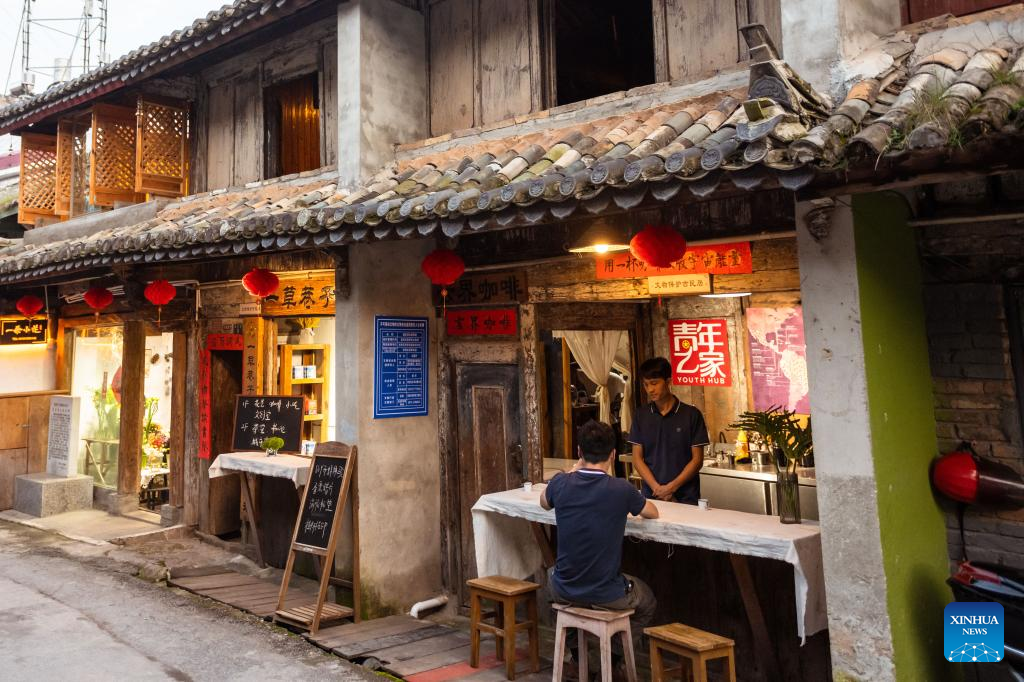 A visitor enjoys a cup of coffee at Yang Fan's cafe in Pu'er City, southwest China's Yunnan Province, June 24, 2022. (Xinhua/Cao Mengyao)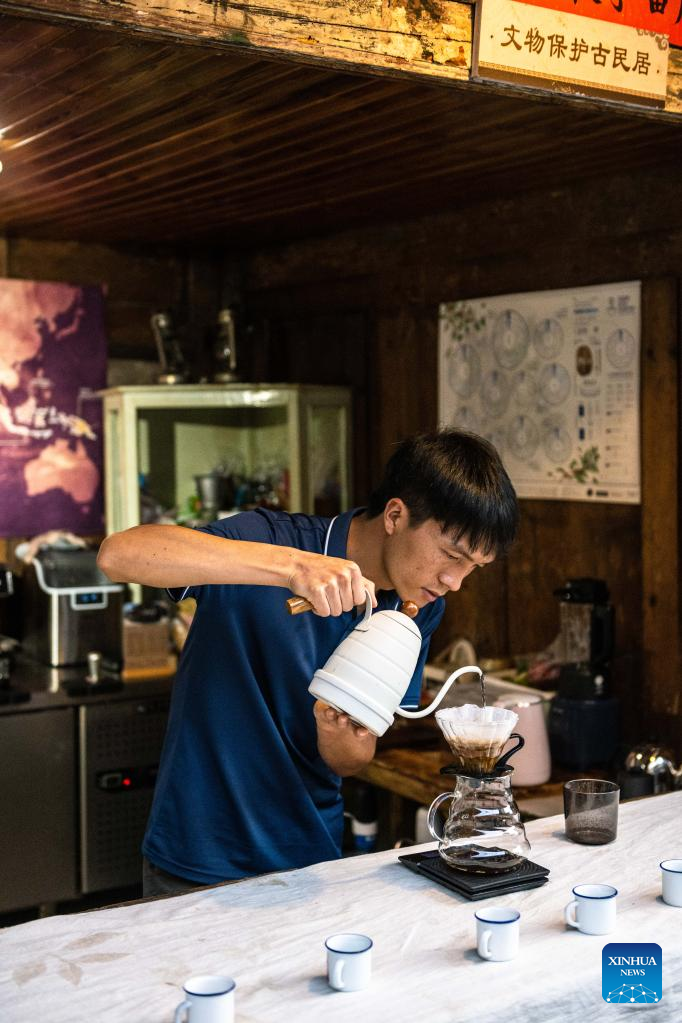 Yang Fan makes coffee at his cafe in Pu'er City, southwest China's Yunnan Province, June 24, 2022. (Xinhua/Cao Mengyao)
Editor: JYZ