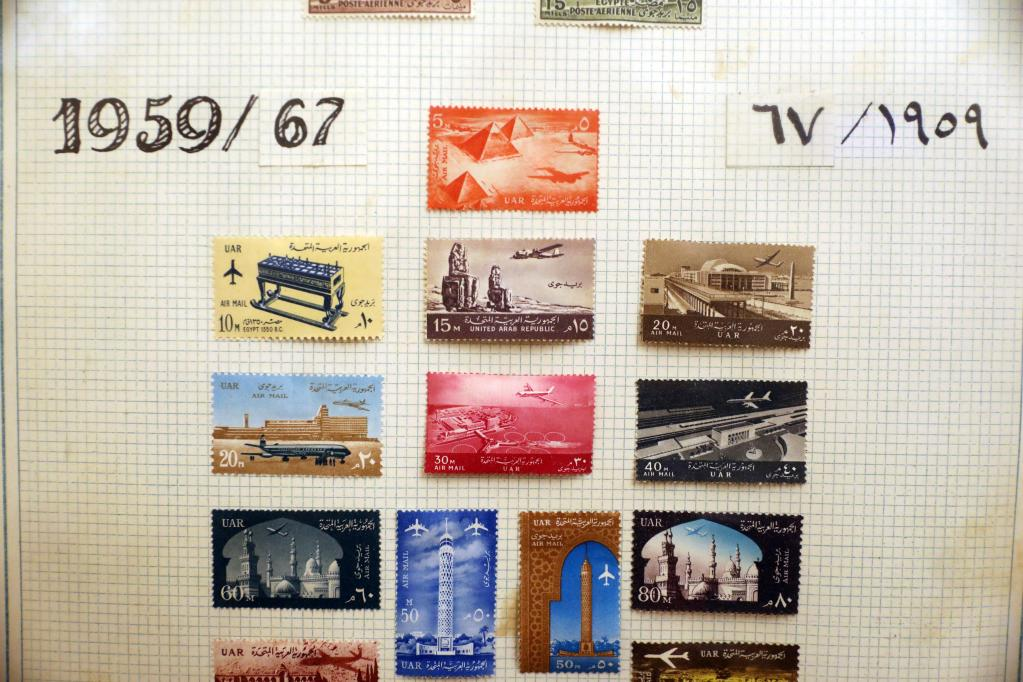 Photo taken on July 7, 2022 shows stamps exhibited at the renovated Egyptian Postal Museum in Cairo, Egypt. The old-style, palace-like building of the renovated Egyptian Postal Museum in the heart of downtown Cairo is home to thousands of items recounting the country's postal history from the times of ancient Egypt until the modern Egyptian mail service established in the 19th century.(Xinhua/Ahmed Gomaa)
by Mahmoud Fouly
CAIRO, July 8 (Xinhua) -- The old-style, palace-like building of the renovated Egyptian Postal Museum in the heart of downtown Cairo is home to thousands of items recounting the country's postal history from the times of ancient Egypt until the modern Egyptian mail service established in the 19th century.
When the museum was officially inaugurated by King Farouk of Egypt in 1940, it was only one hall and a passage with 1,250 exhibited items in this very same building of Egypt's first postal authority, which was established in 1865. But today after its renovation and development over the past three years, the museum has been expanded to include 15 halls with more than 3,000 items.
The whole building dedicated to the museum is now run by the National Postal Authority (Egypt Post), which belongs to the Egyptian Ministry of Communications and Information Technology.
"We set a plan in 2019 to develop the Egyptian National Postal Authority as a whole. The development of the iconic post office building was part of the development plan," said Minister of Communications and Information Technology Amr Talaat.
"We renovated the museum and increased its items, unveiling unique old items from the storehouses, restoring them and exhibiting them in the museum," the minister told Xinhua on Thursday, a day after the renovated museum was inaugurated by President Abdel-Fattah al-Sisi.
Once a visitor reaches the first floor of the museum, they encounter a bust of Egypt's ruler Khedive Ismail, who bought Posta Europea, an Italian company operating in Egypt then, and established Egypt's first postal authority in 1865.
Each hall of the museum tells a story of the development of Egypt's postal history and philately. There is a wide range of exhibits: a mummified carrier pigeon, ancient writing tools that date back to the pharaonic era, postage stamps and mailboxes from the 19th century, and postmen's uniforms.
"Among the most important items in the museum are the first editions of Egyptian postage stamps, because this is the pride of every country. The first Egyptian stamps were issued in the 1866 and they were the first to be issued in Africa and the Arab world," said Heba Barakat, adviser to the head of Egypt's postal authority for museum affairs.
The museum also has an exhibition hall showing postage stamps from different parts of the world gifted to Egypt during the Universal Postal Union's 10th Conference hosted by the North African country in 1934.
It displays old postage stamps from almost all countries of the world including Australia, New Zealand, the Netherlands, Germany, Russia, Ireland, Turkey, Morocco, Iraq, Saudi Arabia, Iran, the Philippines, and China.
Speaking of China, Barakat said the Egyptian Postal Museum eyes cooperation with its Chinese counterpart, the China National Post and Postage Stamp Museum in Beijing.
"We're planning fruitful cooperation with the Chinese side to know more about each other's cultures and share the history of our postal services and stamps," the postal authority's adviser told Xinhua, adding Egypt Post has been in touch with the Egyptian ambassador to China for future arrangements. ■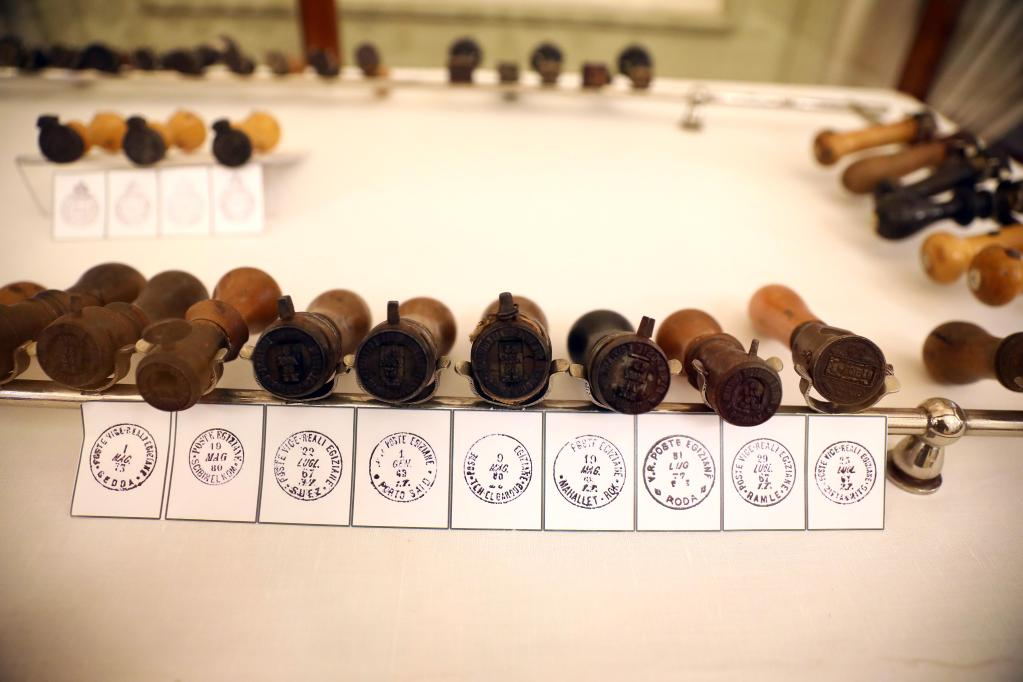 Photo taken on July 7, 2022 shows stamp seals exhibited at the renovated Egyptian Postal Museum in Cairo, Egypt. The old-style, palace-like building of the renovated Egyptian Postal Museum in the heart of downtown Cairo is home to thousands of items recounting the country's postal history from the times of ancient Egypt until the modern Egyptian mail service established in the 19th century.(Xinhua/Ahmed Gomaa)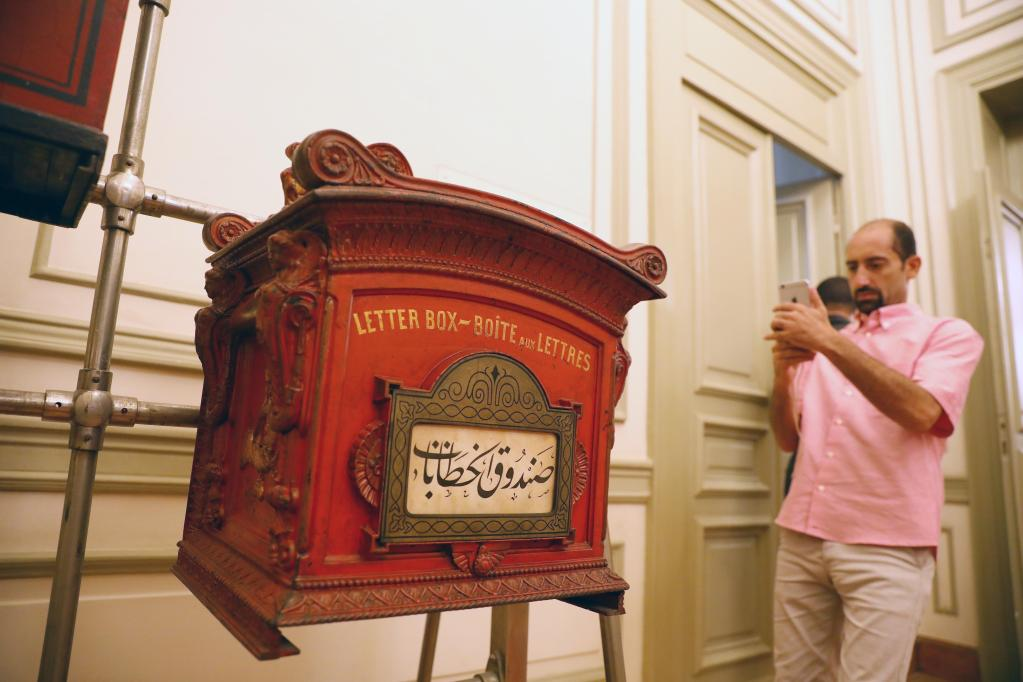 A visitor takes photo of a letter box exhibited at the renovated Egyptian Postal Museum in Cairo, Egypt, July 7, 2022. The old-style, palace-like building of the renovated Egyptian Postal Museum in the heart of downtown Cairo is home to thousands of items recounting the country's postal history from the times of ancient Egypt until the modern Egyptian mail service established in the 19th century. (Xinhua/Ahmed Gomaa)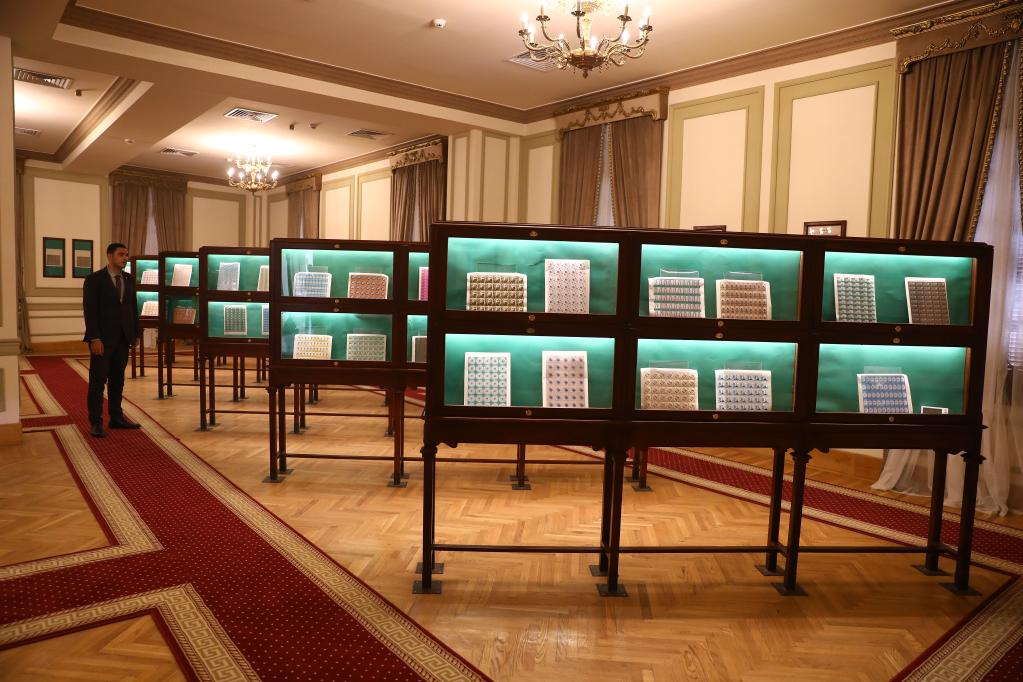 Photo taken on July 7, 2022 shows stamps exhibited at the renovated Egyptian Postal Museum in Cairo, Egypt. The old-style, palace-like building of the renovated Egyptian Postal Museum in the heart of downtown Cairo is home to thousands of items recounting the country's postal history from the times of ancient Egypt until the modern Egyptian mail service established in the 19th century. (Xinhua/Ahmed Gomaa)
Editor: JYZ