The Taiwan Affairs Office of the State Council and the State Council Information Office of the People's Republic of China published a white paper titled "The Taiwan Question and China's Reunification in the New Era" on August 10, 2022. The first part themed with "Taiwan Is Part of China - This Is an Indisputable Fact" of the white paper gives an introduction to Taiwan's history, highlighting historical details that evidence China's sovereignty over Taiwan.
Divided into three sections, the following timeline will walk you through all of the relevant historical events and documents included in the paper.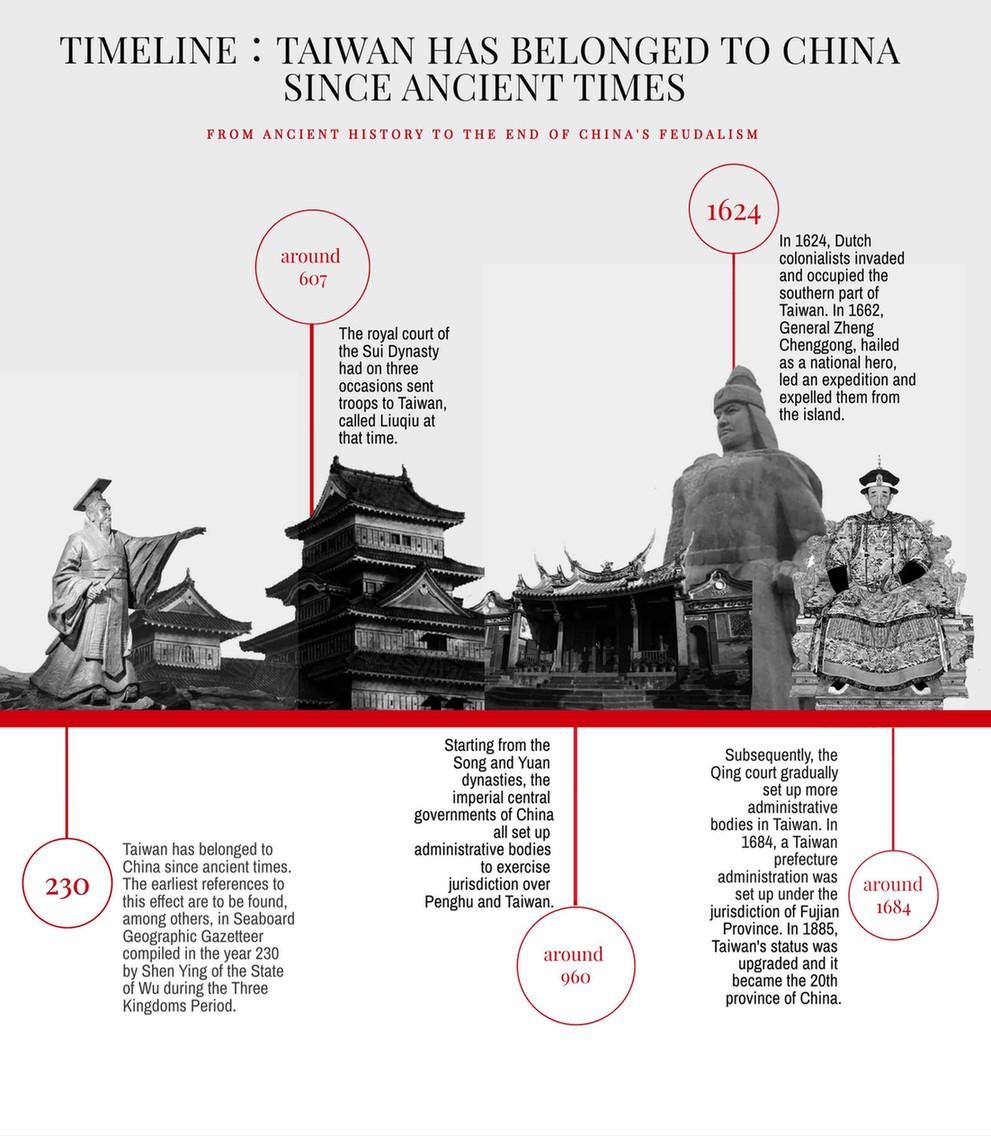 -From ancient history to the end of China's feudalism
New archeological discoveries and research findings regularly attest to the profound historical and cultural ties between the two sides of the Taiwan Straits. A large number of historical records and annals document the development of Taiwan by the Chinese people in earlier periods. The following timeline presents the history of Taiwan from its ancient history to the end of China's feudal period.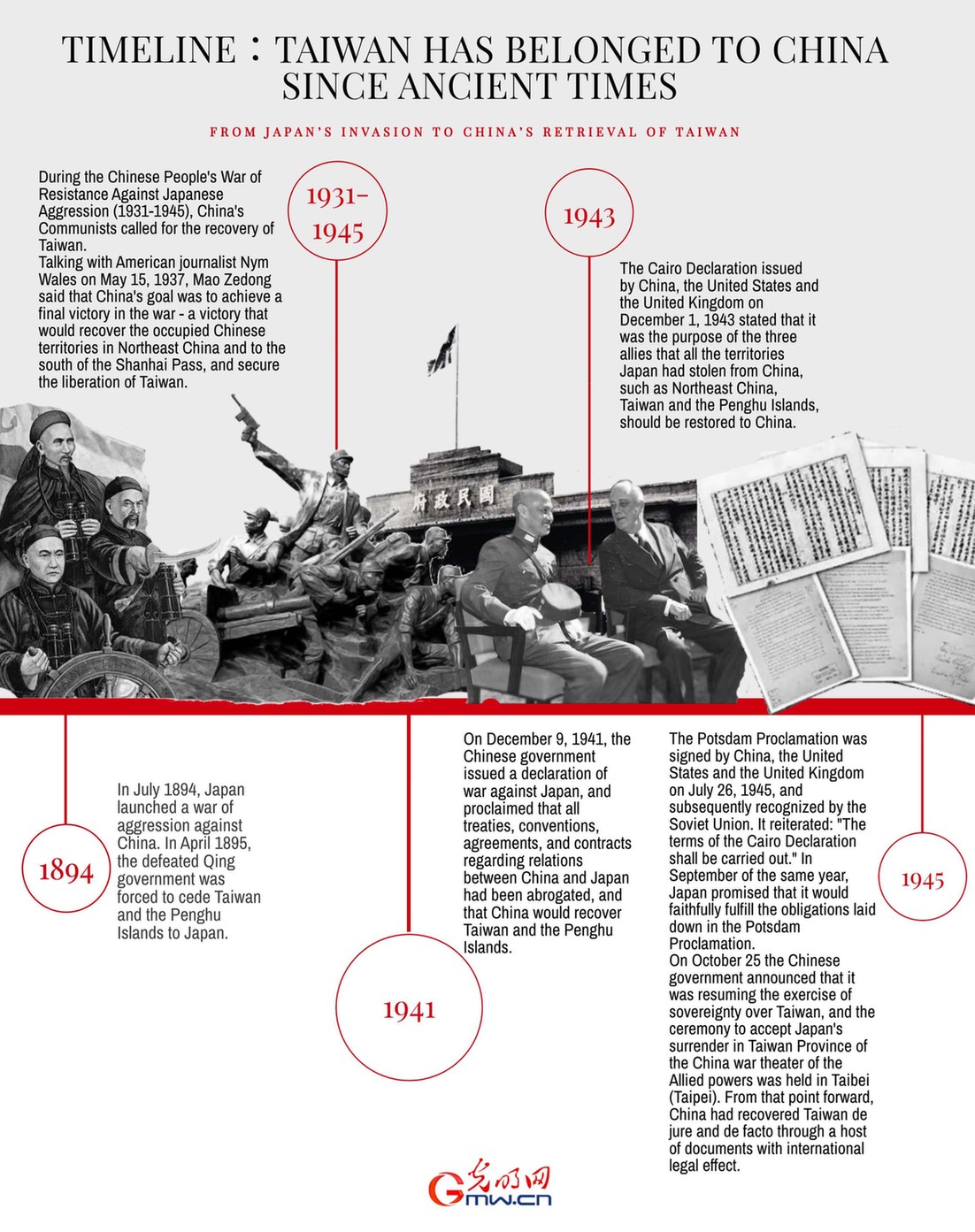 -From Japan's Invasion to China's Retrieval of Taiwan
After Japan launched a war of aggression into China in 1894, Taiwan and the Penghu Islands were briefly ceded to Japan but eventually retrieved by China after the WW II. This part of the timeline follows this particular period in Taiwan's history.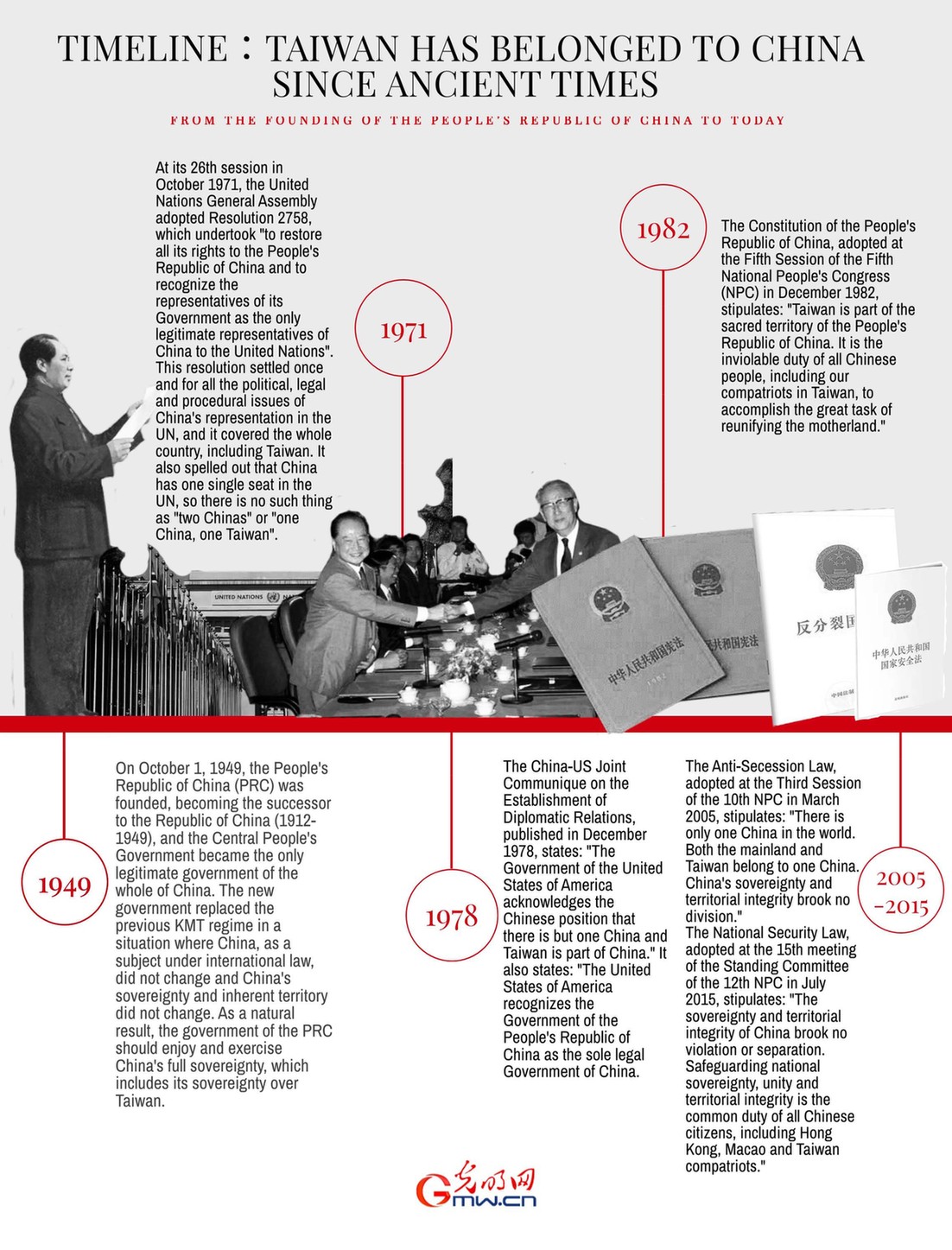 -From the Founding of People's Republic of China to Today
On October 1, 1949, the People's Republic of China (PRC) was founded, becoming the successor to the Republic of China (1912-1949), and the Central People's Government became the only legitimate government of the whole of China. The new government replaced the previous KMT regime in a situation where China, as a subject under international law, did not change and China's sovereignty and inherent territory did not change. As a natural result, the government of the PRC should enjoy and exercise China's full sovereignty, which includes its sovereignty over Taiwan.
The last part of the timeline illustrates China and the international community's efforts since 1949 to crush ambiguities about Taiwan, which has always been exploited by separatist forces around the world to achieve their ulterior purposes.
We are one China, and Taiwan is part of China. This is an indisputable fact supported by history and the law. Taiwan has never been a state; its status as part of China is unalterable. Any attempt to distort these facts and dispute or deny the one-China principle will end in failure.
Editor: WJH