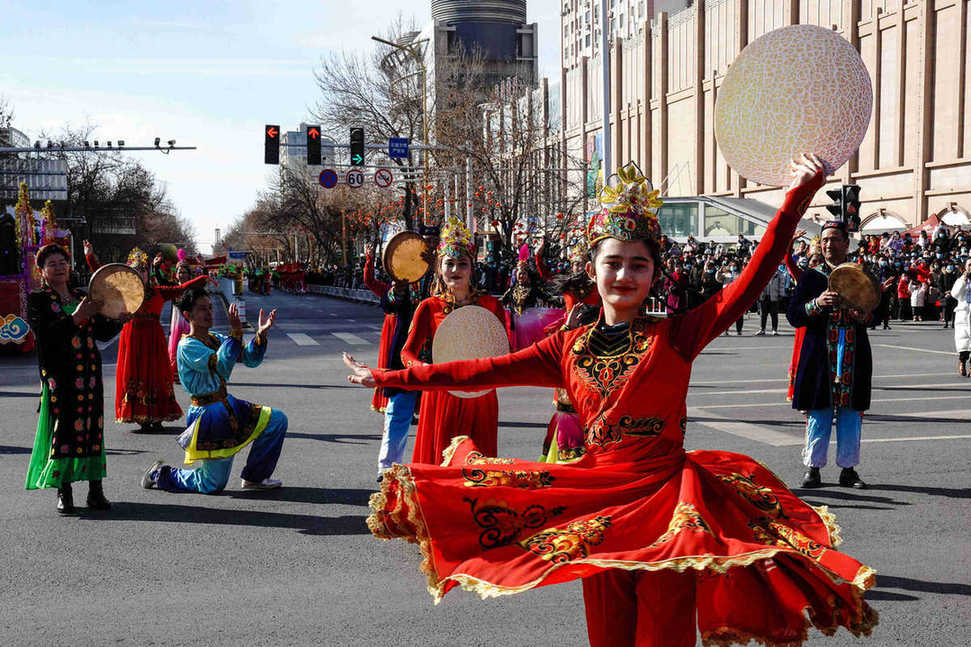 Uygurs perform at a festival in Hami, Xinjiang Uygur autonomous region, in February. PURAT NYAZ/FOR CHINA DAILY
Raised living standards prioritized in poverty alleviation and prosperity drive
Editor's note: China Daily is publishing a series of stories reviewing President Xi Jinping's visits at home and abroad in the past decade to showcase his vision for development in China and the world.
Born to a family of herders, Mei Hua grew up learning several languages and living with people from different ethnic groups.
Now principal of Yimin Primary School in Hulunbuir, Inner Mongolia autonomous region, she said mutual learning and harmony between ethnic groups has long been a tradition in her hometown.
Mei comes from the Ewenki ethnic group, and her grandfather and brothers all married spouses from other such groups.
As a deputy to the National People's Congress since 2018, Mei has applied the inclusive spirit she fostered at her school, which is located on grasslands about a two-hour drive from the Chinese border with Mongolia.
She said: "Our children learn songs in Mandarin, Mongolian and the Ewenki language, as well as their own ethnic dances and musical instruments. They also join interest groups to learn about languages."
Over the past decade, Mei's school has seen significant improvements, including a new heating system, internet access, a new playground, and renovated buildings, with funding provided by the authorities.
The improved conditions at the school have resulted in the number of its pupils rising from just eight in 2009 to more than 120 this year.
The development at Mei's school and the harmony among ethnic groups in Hulunbuir epitomizes China's progress in promoting growth in ethnic areas and unity among such groups.
The nation's top leadership, led by President Xi Jinping, has put forward an agenda aimed at forging a strong sense of community among the nation's 56 ethnic groups-pledging to leave none of them behind in the drive to build a moderately prosperous society and promote common prosperity.
Over the past decade, Xi, who is also general secretary of the Communist Party of China Central Committee, has visited the nation's regions that are home to ethnic groups-Xinjiang Uygur, Tibet, Ningxia Hui, Inner Mongolia and Guangxi Zhuang autonomous regions, and Yunnan, Guizhou and Sichuan provinces.
Chen Pu, deputy director of the Institute of Economic Strategy at the Tibetan Academy of Social Sciences, said, "Learning about the living conditions of people from ethnic groups has been a key part of President Xi's fact-finding tours to different regions, and raising the living standards for them has been prioritized in China's poverty alleviation and common prosperity drive."
Xi's visits have resulted in blueprints being drawn up and directions given for the development of these regions, Chen said.
China's success in lifting the 31.21 million people living in regions that are home to ethnic groups out of poverty by 2020 was a landmark achievement, he added.
Chen said Xi's call for the 56 ethnic groups to "remain tightly united like seeds in a pomegranate" has resulted in stronger exchanges and interaction among different groups.
"China's ethnic unity has now reached the best level to date," Chen said.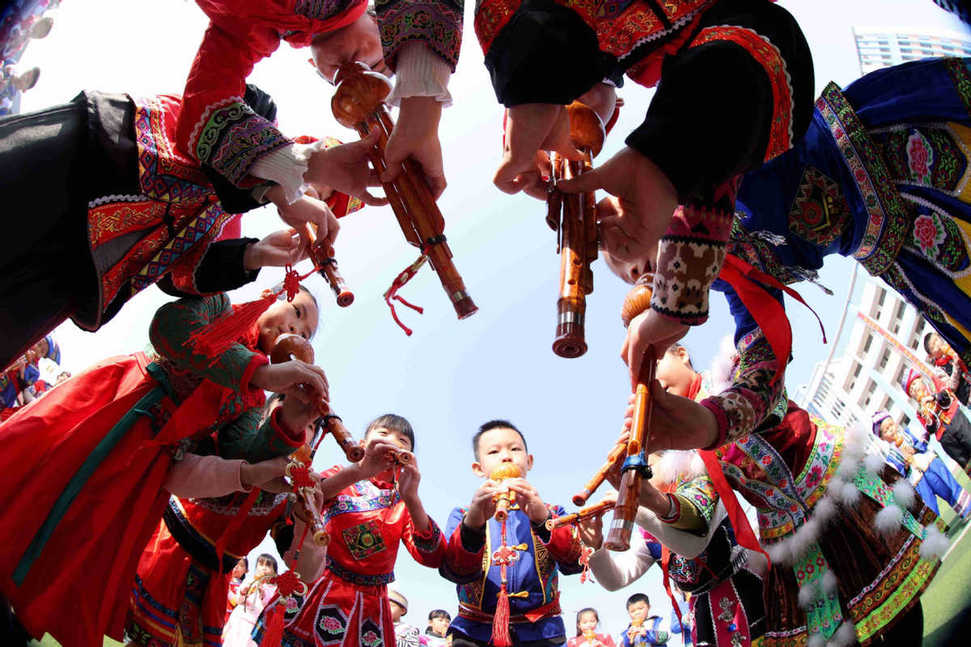 Students at a primary school in Rongan county, Liuzhou, Guangxi Zhuang autonomous region, play the hulusi, a traditional instrument among members of the Zhuang ethnic group. HUANG XIAOBANG/XINHUA
Leading the way
During his visits to families, Xi has long stressed the need for the nation's ethnic groups to share the benefits of China's development.
In freezing winter temperatures in 2014, he visited the family of Guo Yongcai, a 71-year-old retired logger living in a rundown home in Arxan, Inner Mongolia. Xi urged the local authorities to speed up efforts to renovate shantytown areas so that struggling households such as Guo's could live in better housing.
Xi also sat down with the family members of herdswoman Majig, 81, in their yurt, asking about their income, schooling for their children, and healthcare.
After learning that local herdsmen still had difficulties accessing electricity and road transportation, Xi urged the local authorities to improve urban planning to solve such problems.
Mei, the school principal, said she has witnessed a noticeable improvement in infrastructure and living conditions in her region. As an NPC deputy, she has traveled extensively in her area, where herders' homes are now being connected with paved roads, and electricity is being supplied.
"As a lawmaker, I often explain national policies to the herdsmen, telling them how they will improve their lives," she said.
"At first, they said the policies were too good to be true, but when I visited some of the herdsmen years later, they told me I had been right, as their lives had changed for the better."
In May 2020, Mei had the chance to share the improvements she had seen over the past decade when Xi, who is also a deputy to the NPC from Inner Mongolia, joined a panel discussion during the NPC session.
The improvements brought to the lives of ethnic groups have been backed by increased input from the central government over the past 10 years.
According to the Ministry of Finance, annual transfer payments from the central budget to regions populated by ethnic groups rose from 42 billion yuan in 2012 to 110.7 billion yuan (about $16 billion) this year.
Over the past decade, 15,800 kilometers of track has been added to rail lines in the eight regions populated by ethnic groups, and numerous industrial parks and programs are being developed to create job opportunities, according to the National Ethnic Affairs Commission.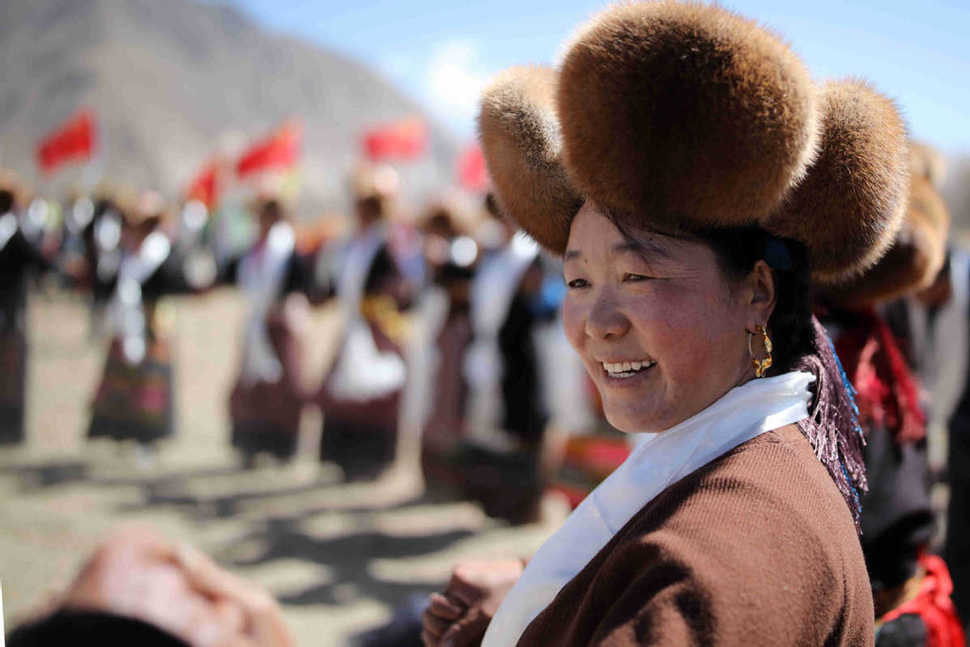 Villagers celebrate the start of spring plowing in Quxu, Lhasa, Tibet autonomous region, in March. JIANG FAN/XINHUA
Building unity
During his inspection trips, Xi has also stressed the need for stability and to enhance unity among ethnic groups.
On a visit to Xinjiang in April 2014, he called for unwavering efforts to promote economic development in the region, which he said should center on improving public wellbeing, winning public support and boosting ethnic unity.
Xi said the region's social stability and long-term law and order are related to national unity, national security and the great rejuvenation of the Chinese nation.
He highlighted the importance of combating terrorism, describing such action as a fight to protect national unity, social stability and people's happiness.
Xi told officials that Xinjiang must continue to step up pressure against terrorism to maintain the rule of law and deal terrorists a heavy blow.
With a host of measures to counter terrorism and radicalization introduced in recent years, the region has witnessed a major security transformation, as there have been no violent terrorist incidents in Xinjiang during the past five years.
The region has also made steady progress in enhancing public well-being, with residents' per capita disposable income reaching 26,075 yuan last year, up from 13,700 yuan in 2013.
Xi also visited Xinjiang in July, when he stressed that public support is the most important factor in ensuring the region's long-term stability.
He urged various sectors in Xinjiang to unite and look to the future to maximize efforts made by officials and the public to ensure stability, seek growth and promote reform, adding that the authorities should give priority to heeding advice from various sectors of society.
Xi said that with strong unity among its ethnic groups, China will be invincible and embrace a bright future. The nation's second centenary goal will also be reached, and the great rejuvenation of the Chinese nation will be realized, he said.
Han Qiang, dean of the School of Marxism at Beijing Foreign Studies University, said that if China is to achieve rejuvenation, it is vital for it to forge a strong sense of national community and enable ethnic groups to stick closely together.
"Only when its ethnic groups stick together and jointly go through thick and thin can China prosper and respond to various risks and challenges," he said.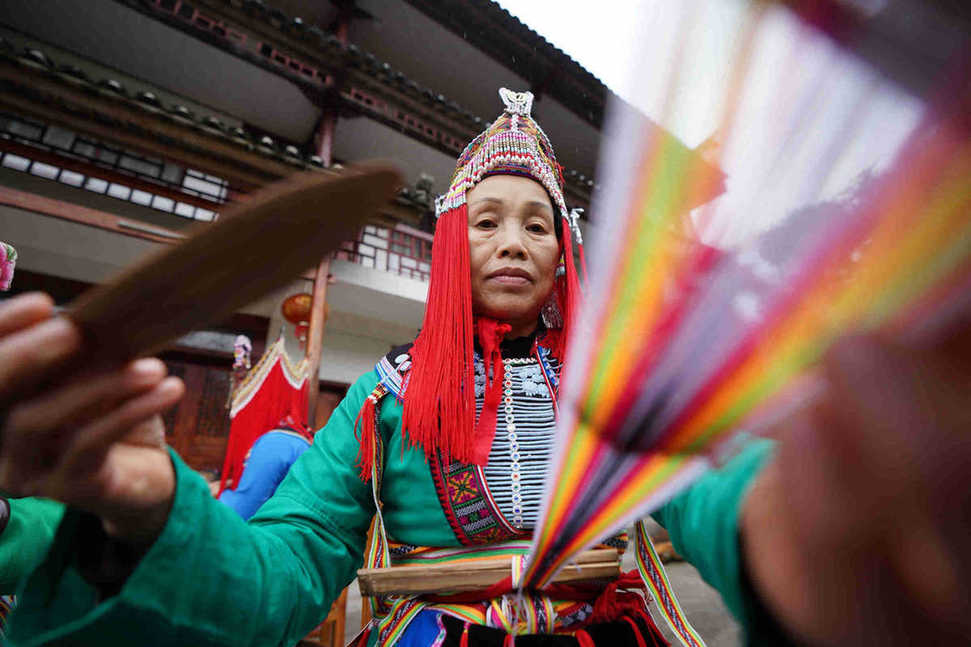 A woman from the Yao ethnic group makes traditional cloth to celebrate Spring Festival in Guangxi, in January. HUANG YONGDAN/FOR CHINA DAILY
Inheriting culture
Xi has also stressed on a number of occasions the need to ensure the preservation of ethnic groups and for their culture to be handed down.
During his trip to Xinjiang in July, he watched Epic of Manas, a performance by the Kirgiz ethnic group staged at the regional museum.
Xi said the show was emotionally touching, and that such examples of cultural heritage are precious treasures for ethnic groups and for China. More work must be done to safeguard the show and ensure it continues, he said.
Addressing a high-level conference on ethnic affairs last year, Xi highlighted the need to ensure that languages are protected, including those of different ethnic groups, and to respect and ensure the rights of such groups in learning and using their own languages.
Zhao Yong, deputy head of the National Ethnic Affairs Commission, said at a news briefing this month that it is common practice for primary and high schools in areas populated by ethnic groups to set up classes to teach the languages spoken by these groups.
"People should be able to learn and use their own languages freely," he said.
Of China's 56 ethnic groups, 53 have their own languages, while 22 groups use a total of 28 written languages. To better preserve and promote ethnic languages, a special database has been created to record and study them, Zhao added.
China will focus on developing industries, infrastructure and environmental protection in promoting high-quality development in regions inhabited by ethnic groups, Zhao said.
These regions will continue to pose difficult challenges to the nation's modernization drive, just as the poverty alleviation campaign did in the past, he said, adding, "But we have the confidence and capacity to tackle such challenges."
Editor: GSY