Qinghai Lake, located in the northeast of Qinghai Province with an altitude of 3,196 meters, is the largest inland lake and saltwater lake in China. Looking from the space, it looks like a huge sapphire embedded in the Qinghai-Tibet Plateau, which is quite magnificent, setting off with the Qilian Mountains.
Every August, with the end of another migration season, Huangyu, a unique and precious fish species in Qinghai Lake, ushered in a new batch of life. The upstream fish schools have formed a spectacular scene of fish in the river, which is an important link to maintain the safety and biodiversity of the "water-fish-bird" ecological chain in Qinghai Lake Basin. In the past, due to the excessive fishing and other reasons, the number of Huangyu once dropped sharply and was on the verge of extinction. In order to strengthen protection, local dams were demolished, seven migratory passages were modified and built, and artificial propagation and release were carried out to help the yellow croaker population multiply. Now, the content of Huangyu fish has exceeded 100,000 tons, which is 38 times higher than that in the early stage of protection. The beautiful scenery of waterfowl gathering and fish flying in shallow water can be seen everywhere, and the picture of "fish-bird symbiosis" is constantly being staged.
Qinghai Lake is not only magnificent in scenery and rich in biological resources, but also a sacred place in the hearts of many cycling enthusiasts. Every July, an international road cycling race is held by Qinghai Lake. From 2002 to 2022, it has been successfully held for 20 times. As the longest-held, highest-altitude and most difficult road cycling benchmark race in China, Lake Tour adheres to the theme of green, humanity, harmony and experience, shows the unique charm of cycling with the characteristics of high altitude, high intensity and high difficulty, and attracts the attention of the world. With the increasing influence of Qinghai Lake events year by year, a large number of tourists come here with group tours or go on road trip, which makes a qualitative leap in local tourism.
The gorgeous "butterfly change" of "plateau sapphire" witnessed the determination and action of ecological improvement, ecological civilization practice and green development in Qinghai-Tibet Plateau. According to satellite remote sensing monitoring, by the end of September 2021, the water area of Qinghai Lake was 4,625.6 square kilometers, an increase of 36.8 square kilometers over the same period in 2020. "beautiful qinghai" has become the most beautiful green business card, showing people all over the world new achievements in ecological development and construction.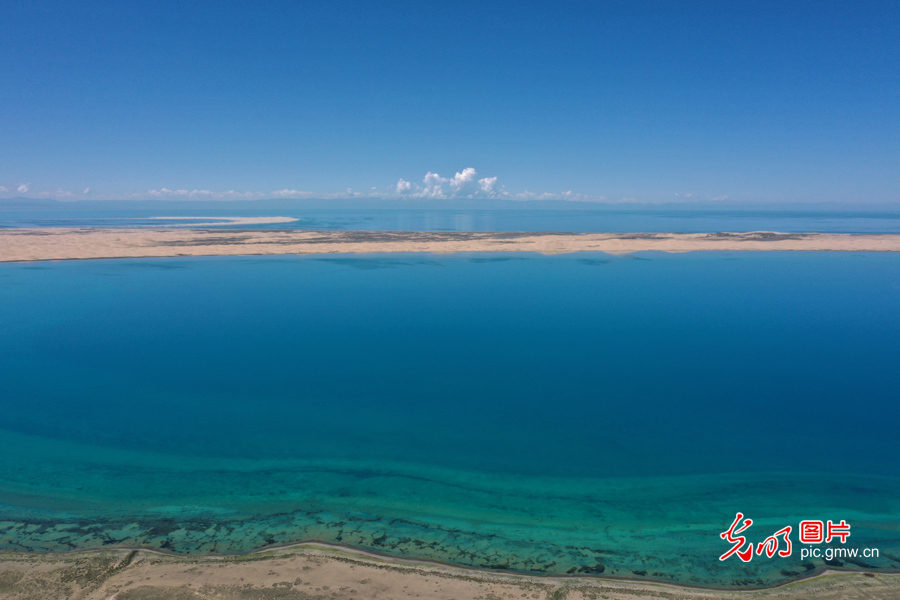 Photo taken on July 30, 2021 shows an unmanned aerial vehicle (UAV) taking an aerial photograph of Qinghai Lake surrounded by green shade and sea and sky. (Ji Chunhong/Guangming Picture)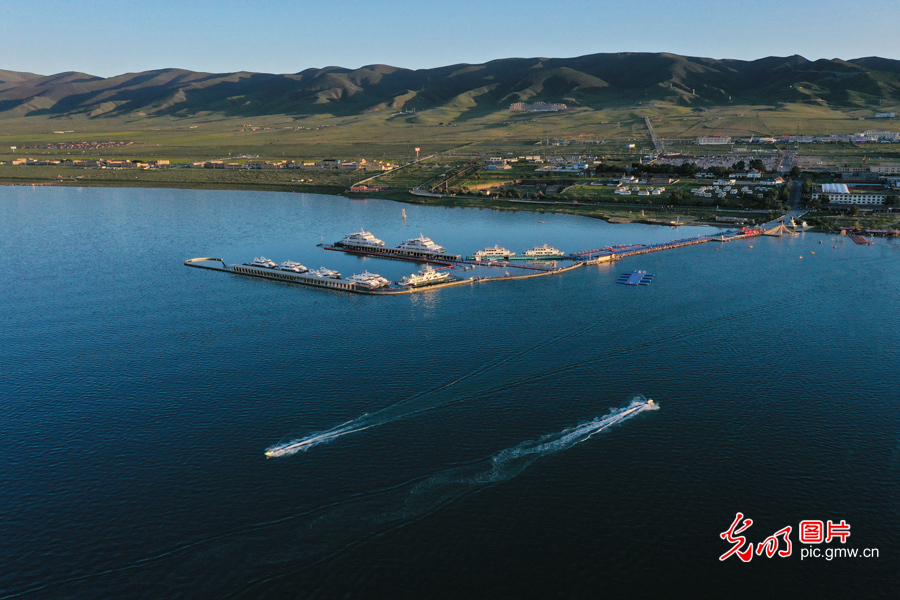 Photo taken on July 30, 2021 shows an unmanned aerial vehicle (UAV) took an aerial photograph of Qinghai Lake surrounded by green shade and sea and sky. (Ji Chunhong/Guangming Picture)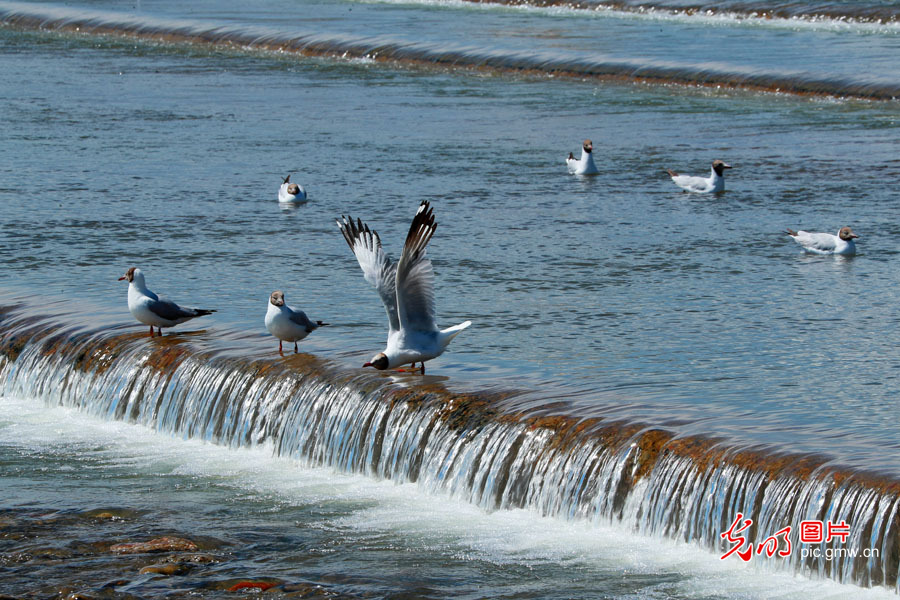 Photo taken on July 30, 2021 shows waterfowl flying in the migration channel of Huangyu in Shaliu River, Gangcha County, northwest China's Qinghai Province. (Ji Chunhong/Guangming Picture)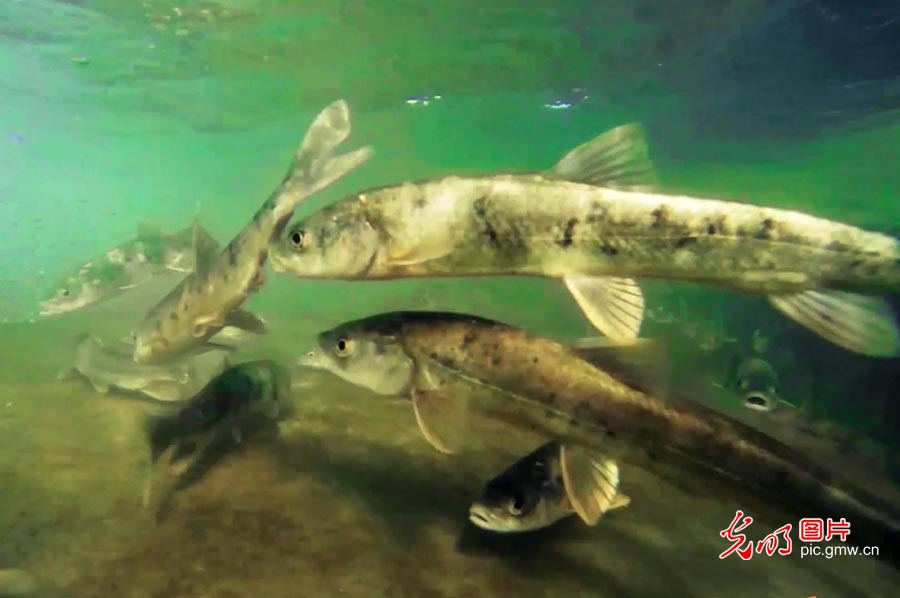 Photo taken on July 30, 2021 shows an underwater camera photographing the migration channel of Huangyu in Shaliu River, Gangcha County, northwest China's Qinghai Province. (Ji Chunhong/Guangming Picture)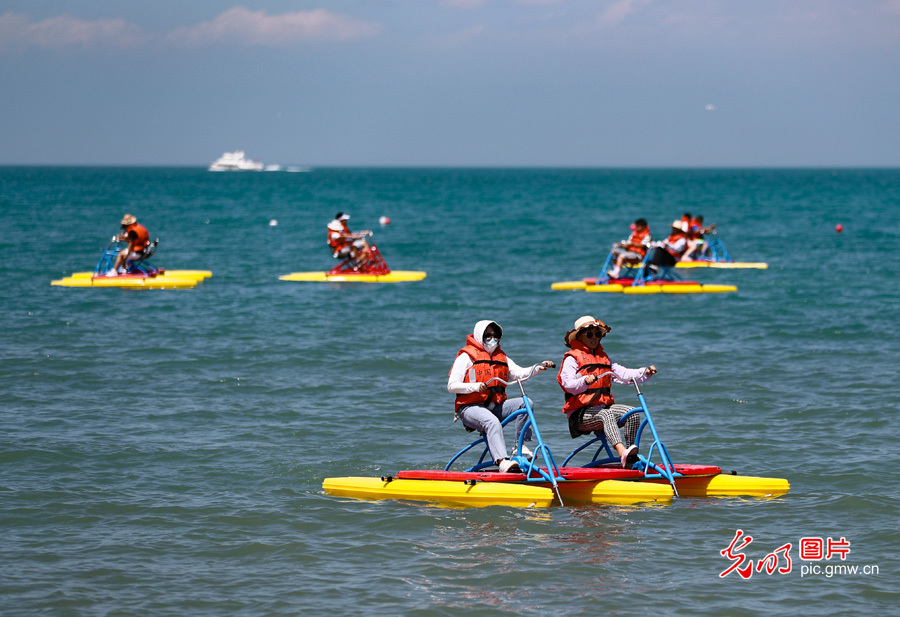 Photo taken on Aug. 8, 2022 shows tourists riding on the surface of Qinghai Lake. (Zhang Jingang/Guangming Picture)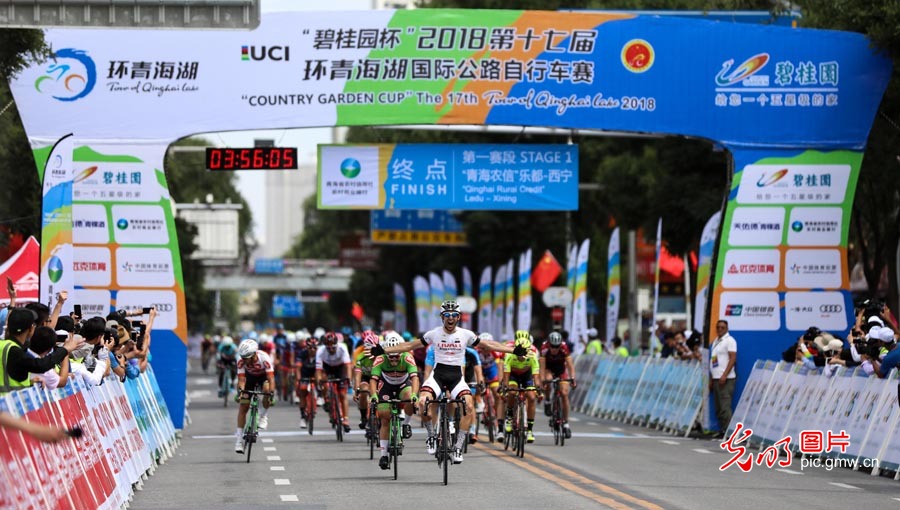 Photo taken on July 22, 2018, shows the "Country Garden Cup" 2018 17th International Road Cycling Race around Qinghai Lake kicking off in northwest China's Qinghai Province. (Wan Majia/Guangming Picture)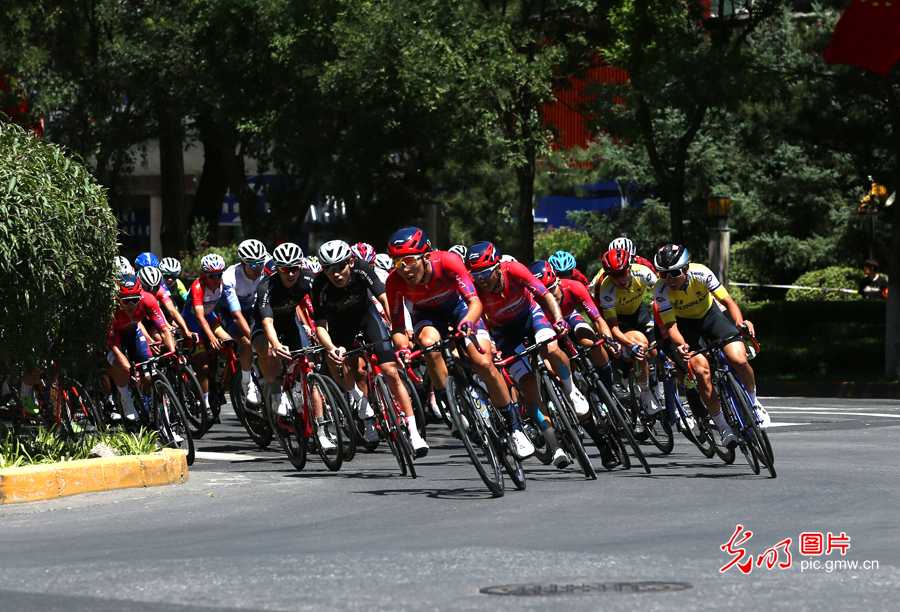 Photo taken on July 27, 2022, shows the 2022 "Tianyoude Cup", the first stage of the 21st International Road Cycling Race around Qinghai Lake, starting the Xining Circle Race. (Zhang Zhongping/ Guangming Picture)
Editor: WXY