Nanjishan Wetland Nature Reserve is located about 60 kilometers northeast of Nanchang City, Jiangxi Province, with a total area of more than 30,000 hectares. It was formed by sediment deposition after the Ganjiang River was injected into Poyang Lake, and it was named after Nanshan Mountain and Jishan Mountain in the wetland. The natural cross-section of the Prince River separates Nanji Mountain from the outside world.
The special climatic conditions give birth to a good ecological environment, and animals and plants can grow wantonly. The wetland scenery is pleasant all the year round, with different interests in spring, summer, autumn and winter. It has the amorous feelings of green grass in spring, a vast expanse of green water, the artistic conception of vast smoke waves and fishing boats singing late in summer, the charm of blooming flowers and flying snow in autumn, and the splendor of birds covering the clouds and the setting sun in the long river in winter.
Good ecology attracts countless birds to live and play. Every year from October to April of the following year, Nanjishan Wetland is in a "dry season", where rivers and lakes crisscross the floodplain, and hundreds of thousands of migratory birds migrate here to live and raise their offspring in the winter. When flying, the clouds and the moon are covered, and when falling, the grass by the lake is not seen, which is a true portrayal of birds. Overlooking from space, the water level of Nanji Mountain wetland drops, herons flock together, some are foraging and playing in the oasis with abundant aquatic plants, and some are soaring freely in the vast sky, which is full of vitality.
Relying on mountains and water, people in Nanji Township have been fishing for generations. In order to protect the diversity of wetland species, a 10-year total ban on fishing began in Poyang Lake area in 2020, and the lifestyle of local people changed accordingly. Fishermen abandoned their boats and landed to change their careers, and instead engaged in catering, selling specialty products and other service industries.
According to Wan Songxian, director of Nanshan Management Station of Nanjishan Wetland National Nature Reserve Administration in Poyang Lake, Jiangxi Province, the wetland reserve administration and the local people have implemented the "agreement to manage the lake". The funds from the reserve set the direction, and the people took specific measures manually to jointly regulate the water level, manage the environment, and regulate the ecological impact of human activities.
People try their best to store wet water by repairing the low embankment broken by flood and the damaged gate, so that the lake can also play the role of waterfowl habitat in the dry season, making great contributions to the sustainable development of the local ecological environment.
Nowadays, Nanjishan wetland is full of vitality, which plays an increasingly important role in the ecological security pattern of Poyang Lake and even the middle and lower reaches of the Yangtze River.

Photo taken on Aug. 26, 2022 shows the spectacular sunny view of Nanji Mountain, Nanchang City, east China's Jiangxi Province. (Bao Gansheng/Guangming Picture)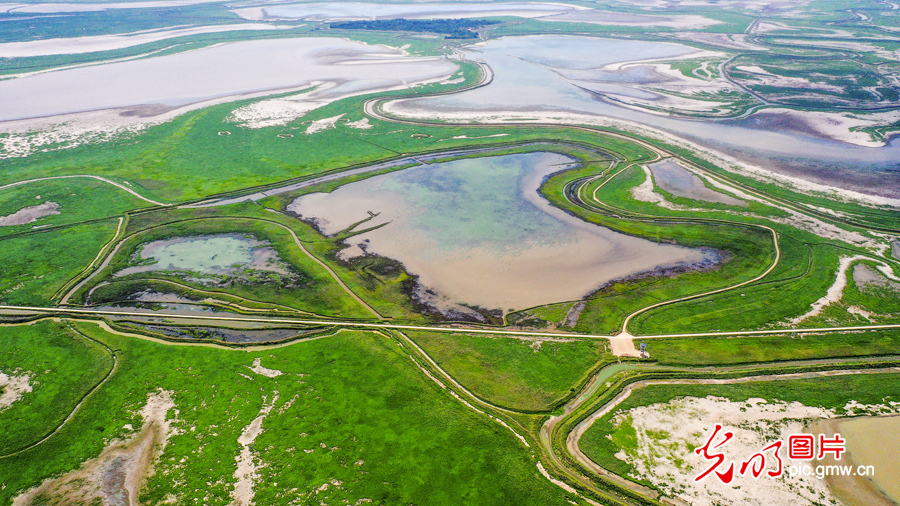 Photo taken on Aug. 26, 2022 shows the ecological view of the wetland in Nanji Mountain, Nanchang City, east China's Jiangxi Province. (Bao Gansheng/Guangming Picture)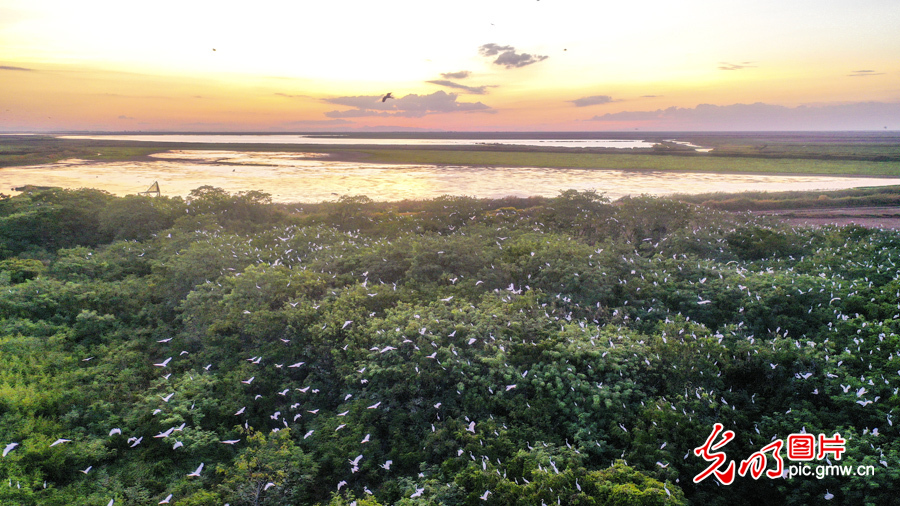 Photo taken on Aug. 26, 2022 shows many birds flying over the forest in Nanji Mountain, Nanchang City, east China's Jiangxi Province. (Bao Gansheng/Guangming Picture)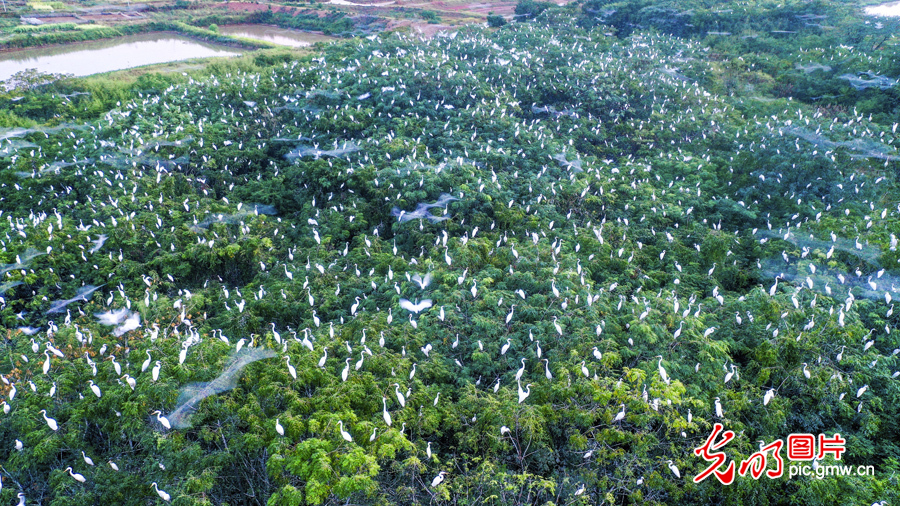 Photo taken on Aug. 26, 2022 shows many birds flying over the forest in Nanji Mountain, Nanchang City, east China's Jiangxi Province. (Bao Gansheng/Guangming Picture)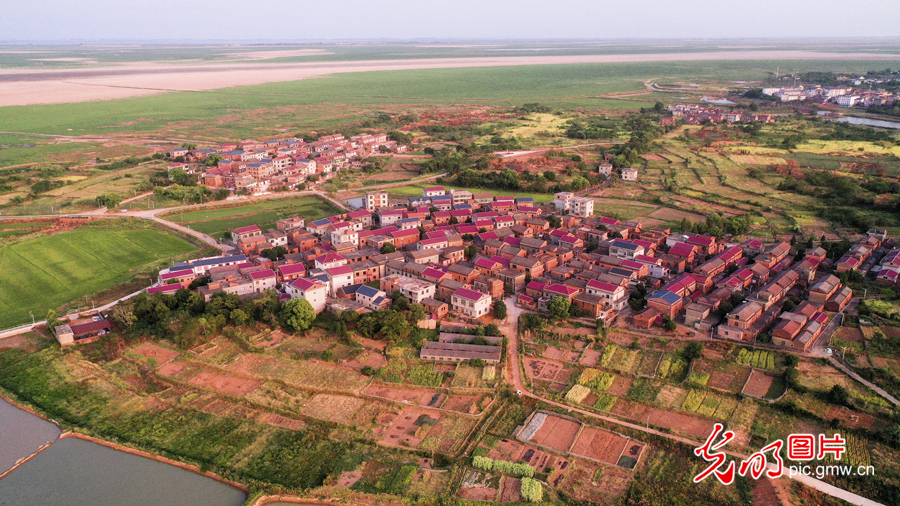 Photo taken on Aug. 26, 2022 shows village houses with red roofs dotted the wetland in Nanji Mountain, Nanchang City, east China's Jiangxi Province. (Bao Gansheng/Guangming Picture)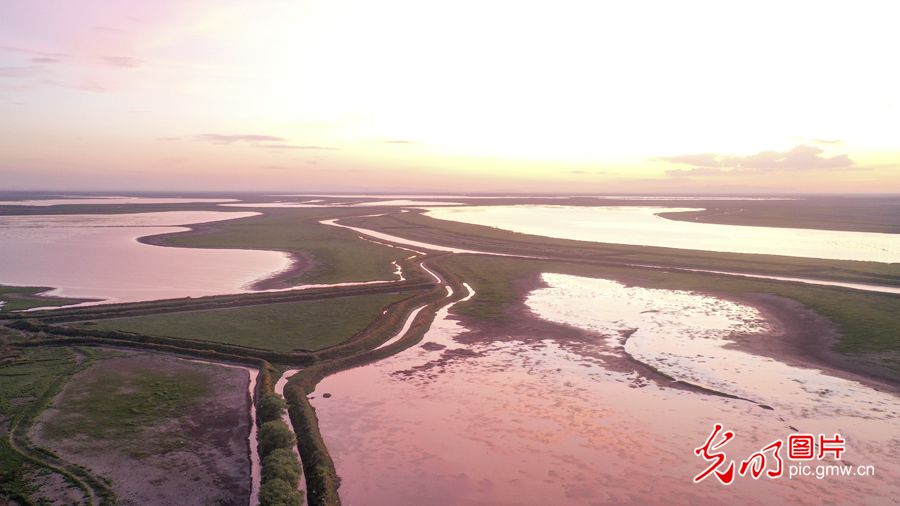 Photo taken on Aug. 26, 2022 shows the beautiful sunset scenery of wetland in Nanji Mountain, Nanchang City, east China's Jiangxi Province. (Bao Gansheng/Guangming Picture)
Editor: WXY