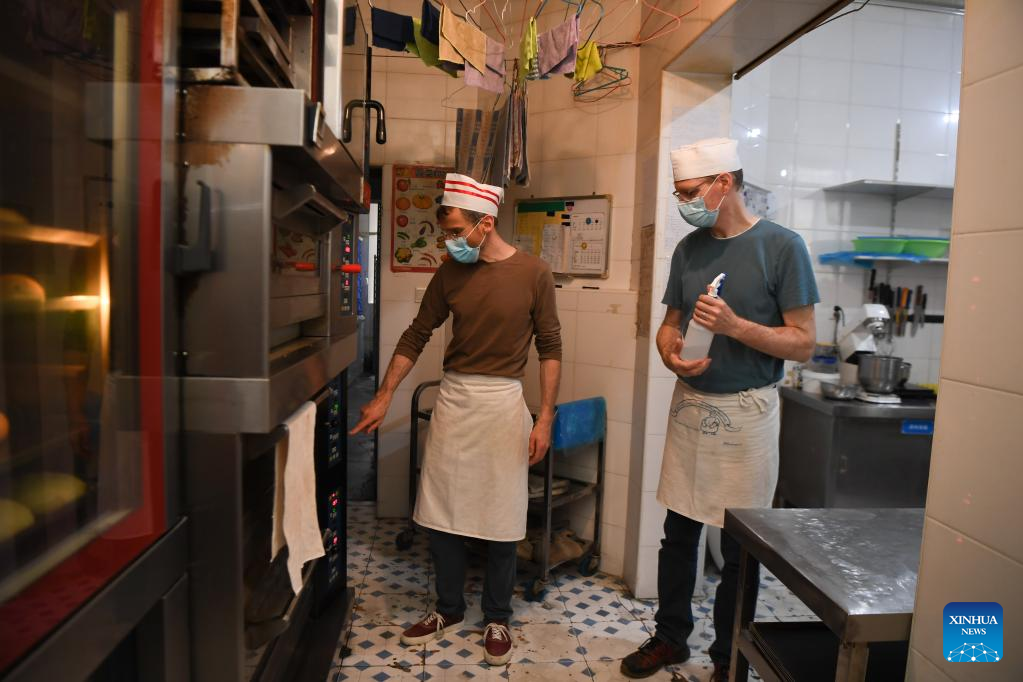 Markus Hofmuller (L) and Uwe Brutzer work at Bach's Bakery in Changsha, capital of central China's Hunan Province, May 20, 2022. (Xinhua/Xue Yuge)
CHANGSHA, Sept. 14 (Xinhua) -- Bach's Bakery in Changsha, capital of central China's Hunan Province, ushered in a moment of leisure in the afternoon.
The new manager Markus Hofmuller was in a heated discussion about the upcoming test of new bakers scheduled in a week. Yet the room is strangely quiet, as most employees here are deaf and mute, and the manager is communicating in sign language.
Bach's Bakery, situated on a small lane in the city, was founded by a German couple Uwe Brutzer and Dorothee Brutzer.
The couple came to Changsha in 2002 to work for a charitable project for deaf-mute children funded by a German non-governmental charitable organization.
"It's better to teach someone fishing than give them a fish," the couple said. So, they turned their attention to German pastry, and in 2011, the "silent bakery" was born, opening its doors to provide the deaf-mute community with a new means of financial independence.
"We named the shop after Johann Sebastian Bach, a well-known German composer. We hoped to make the best-baked goods, just like Bach composed the best music," said Uwe Brutzer in a previous interview with Women of China.
Over the past 11 years, Bach's Bakery trained 25 hearing-impaired bakers, many of whom have graduated and pursued careers as bakers.
Due to their old age, the couple chose to return to Germany late last year and published a shop transfer notice.
A relay of love began here. Markus Hofmuller, 45, who is also a German, officially took over the bakery in May this year.
Markus Hofmuller has a doctorate in Sinology from Leipzig University in Germany, and his wife is from north China's Tianjin Municipality. In 2019, the couple, along with their two daughters, settled down in Yinchuan, capital city of northwest China's Ningxia Hui Autonomous Region.
When the notice was released, Markus Hofmuller had just finished his teaching work at a primary school in Yinchuan. "I've always been more interested in food and crafts, and it made perfect sense to teach hearing-impaired people how to make bread," he said.
After getting in touch with Uwe Brutzer and traveling to Changsha for an on-site visit, Markus Hofmuller decided to move to Changsha with his entire family in March.
"As soon as I walked into the bakery, I was attracted by the warm, cozy atmosphere of the shop and decided to take it over," he said.
The torch has now been transferred to Markus Hofmuller and he has to learn to make pastries from scratch, sign language and run a store.
"I'm actually the student, and even the two current apprentices came to the bakery before me," Markus Hofmuller said on a lighter note.
The bakery will continue to hire and train deaf-mute bakers in order to provide them with new career opportunities.
"We have to train a few new bakers every year, which I think is the core work of our shop," said Markus Hofmuller, noting that he considers himself a manager rather than the owner of the bakery.
"There are now many vocational education schools in China that specialize in training people with disabilities, and once they've mastered their skills, they have equal job opportunities as any other able-bodied people," Uwe Brutzer said.
Bach's Bakery has not expanded over the years, and Markus Hofmuller intends to continue running the bakery in this current form.
"Although it's small, Bach's Bakery is now a brand for the hearing-impaired community," he said, adding that it is also a role model for other companies that hearing-impaired employees are focused, efficient and have great potential.
"That's what it is all about running the shop, it brings more possibilities to the lives of people with hearing difficulties, and allows society to have more awareness and acceptance of the disabled," he added. ■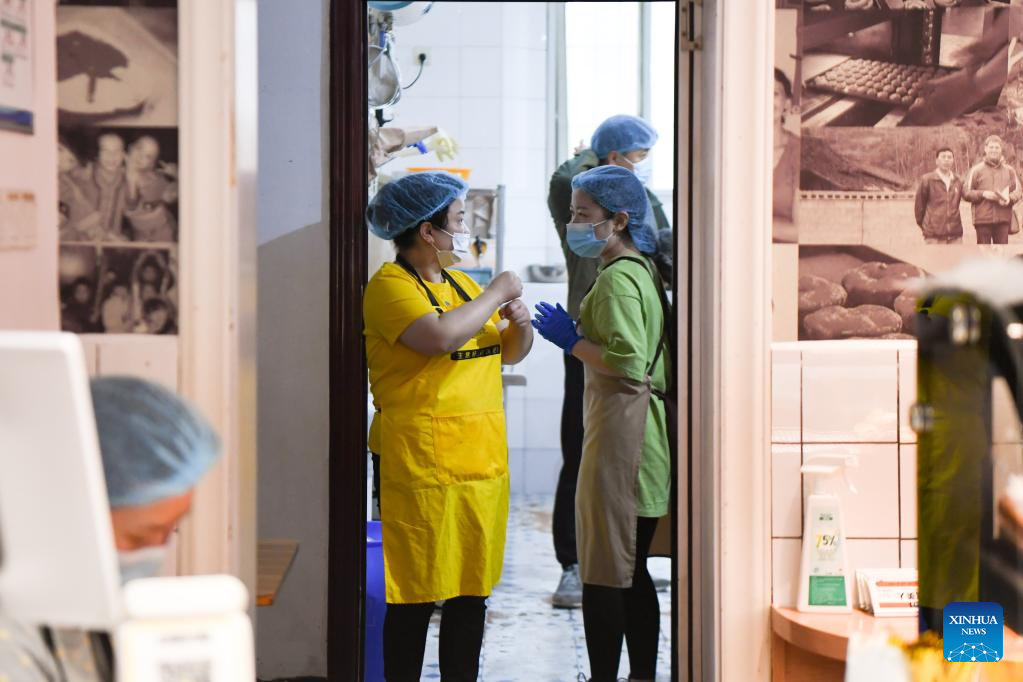 Hearing-impaired bakers communicate in sign language at Bach's Bakery in Changsha, capital of central China's Hunan Province, May 20, 2022. (Xinhua/Xue Yuge)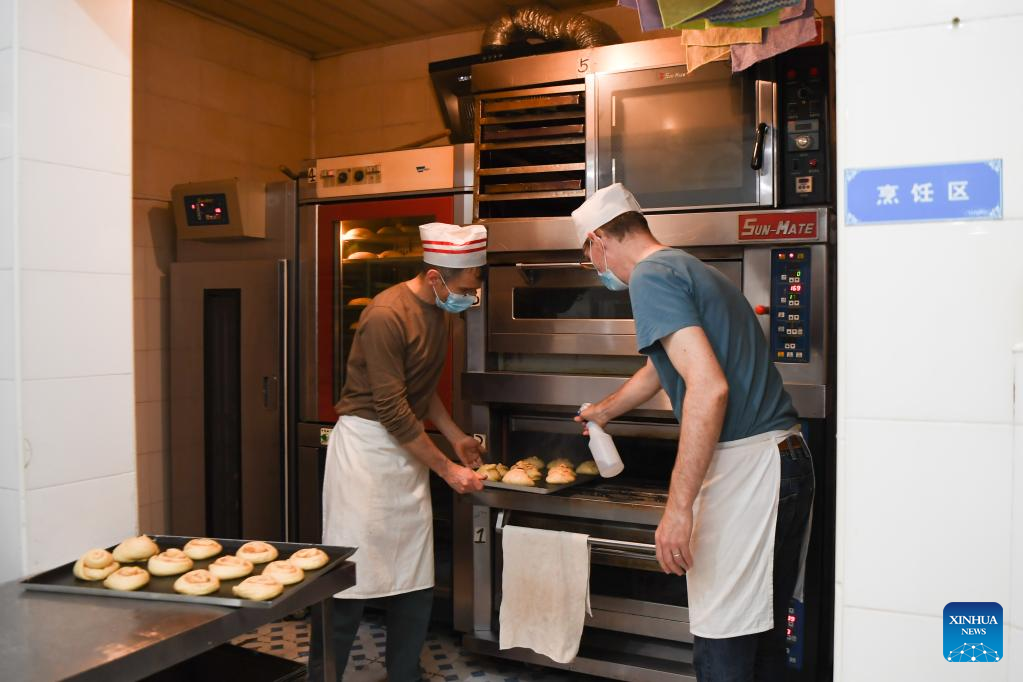 Markus Hofmuller (L) and Uwe Brutzer make pastries at Bach's Bakery in Changsha, capital of central China's Hunan Province, May 20, 2022. (Xinhua/Xue Yuge)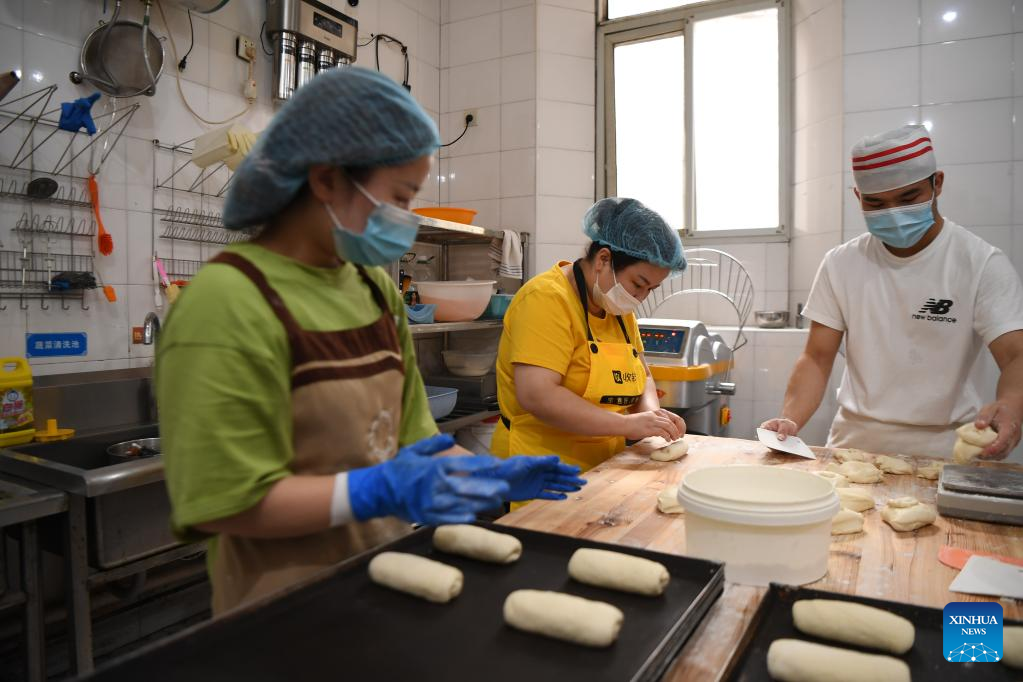 Hearing-impaired bakers make pastries at Bach's Bakery in Changsha, capital of central China's Hunan Province, May 20, 2022. (Xinhua/Xue Yuge)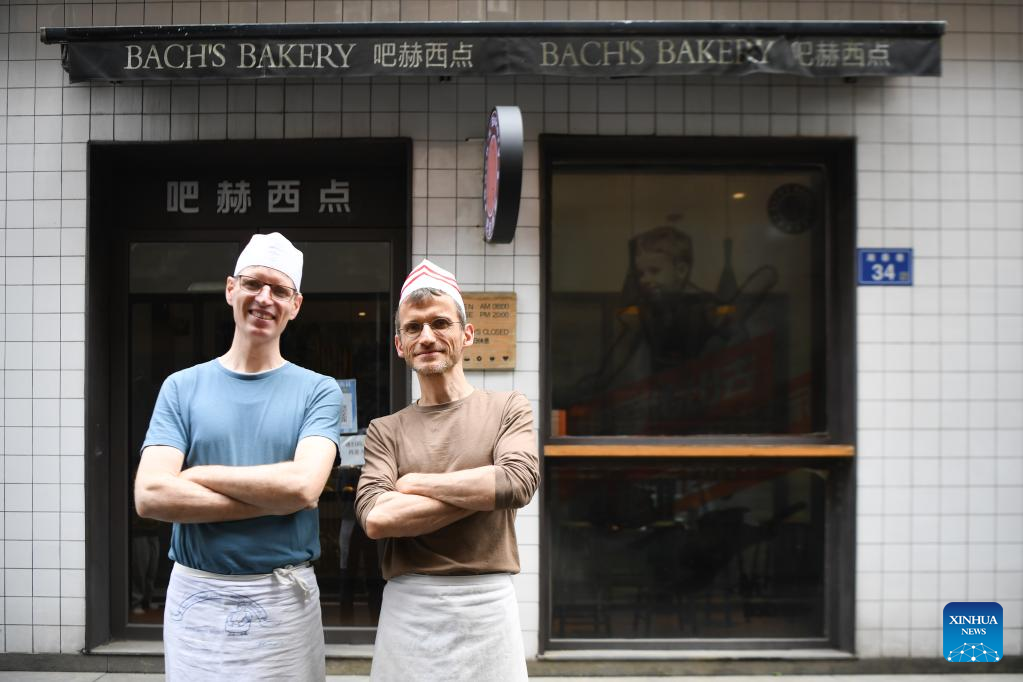 Markus Hofmuller (R) and Uwe Brutzer pose for a photo in front of Bach's Bakery in Changsha, capital of central China's Hunan Province, May 20, 2022. (Xinhua/Xue Yuge)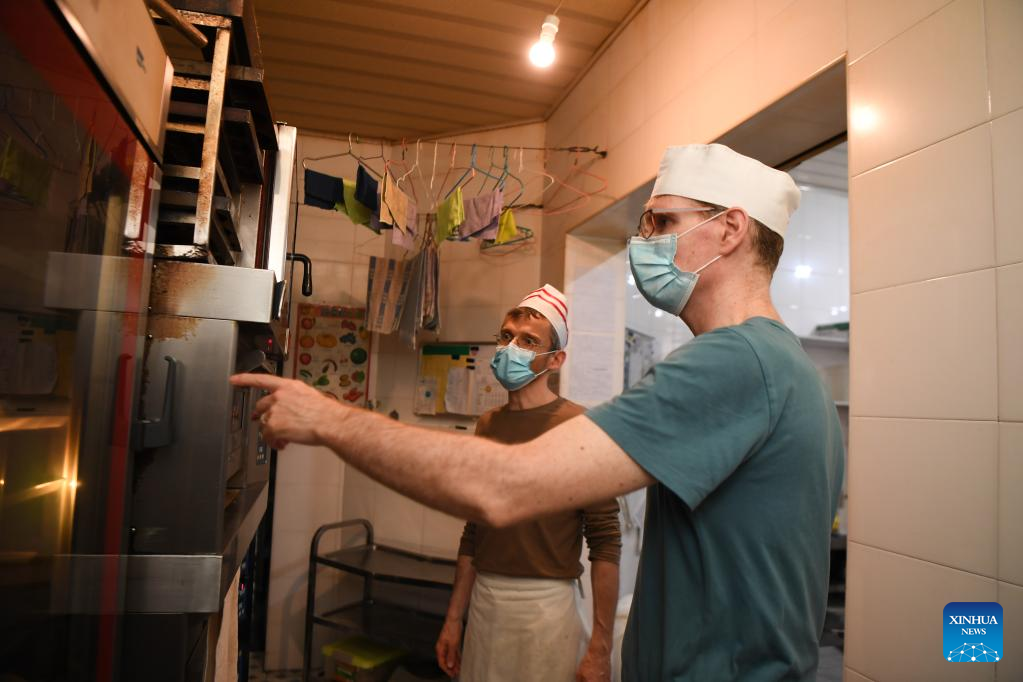 Markus Hofmuller (L) and Uwe Brutzer work at Bach's Bakery in Changsha, capital of central China's Hunan Province, May 20, 2022. (Xinhua/Xue Yuge)
Editor: JYZ