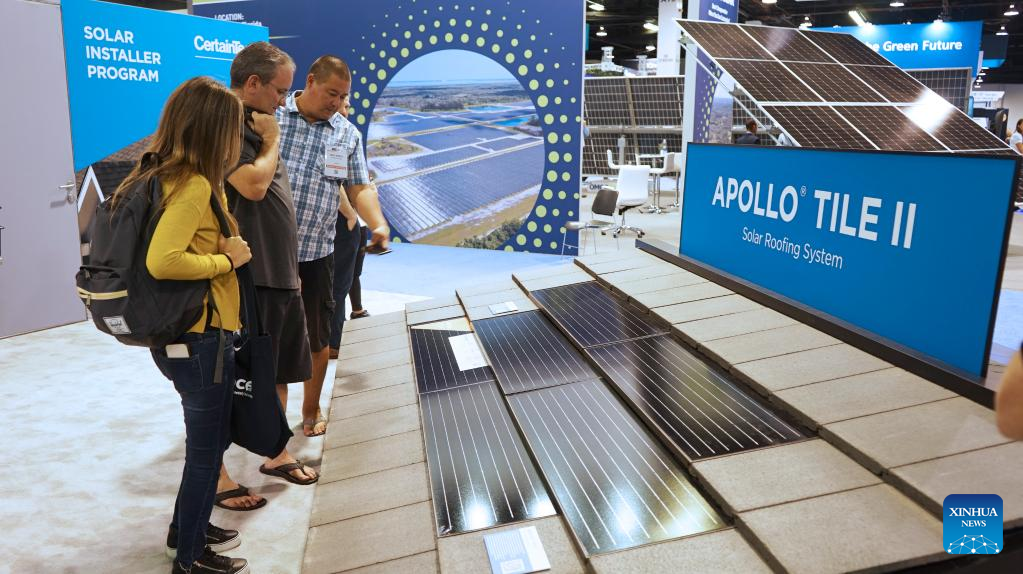 People visit "RE+ 2022" show held at the Anaheim Convention Center in Orange County, California, the United States on Sept. 21, 2022. (Photo by Zeng Hui/Xinhua)
by Xinhua writer Tan Jingjing
LOS ANGELES, Sept. 21 (Xinhua) -- North America's leading clean energy show is held at the Anaheim Convention Center in Southern California this week, focusing on innovative ways and business opportunities to move the clean energy industry forward.
The show, named "RE+ 2022", brings together clean energy industry experts, leaders and professionals across the United States and overseas to expand business prospects and share best practices.
The events focus on sustainable solutions in such areas as solar and wind power, energy storage, green hydrogen, electric vehicles, microgrids and more, to promote business opportunities among participants and identify ways to facilitate the clean energy industry.
Mission Solar, an American company headquartered in San Antonio, Texas, exhibited their solar energy modules at the show.
Jae Y. Yang, president and CEO of Mission Solar, told Xinhua that climate change poses increasing challenges to the whole world. Texas has seen severe heat wave and drought this year. Extreme weather has happened more frequently than before.
Global warming calls for urgent efforts for promoting renewable energy, which offers significant opportunities for the clean energy industry, he said.
The company plans to expand its current capacity and reach out to more distributors in the U.S. residential market at the show, Yang told Xinhua.
"The world needs to make a right choice for promoting renewable energy consumption, and needs joint cooperation to meet the goal for emission reduction," Mauricio Ochoa, director of plant operation at Mission Solar, told Xinhua.
REPT Energy, headquartered in Wenzhou in east China's Zhejiang Province, is one of the Chinese companies participating in the four-day show. A series of the company's battery pack, battery system and cell are on show, attracting lots of visitors.
Jason Hong, overseas sales director of REPT Energy, told Xinhua that during the pandemic, cell production in China had seen great development, while the consumption markets overseas also grew a lot.
Face-to-face interactions with overseas markets were caught by the pandemic for nearly three years, he said.
"We hope to reach out to more customers at the expo, better understand North American market and explore more opportunities," Hong told Xinhua.
A series of workshops were held at the show, addressing topics such as innovative solutions to enable faster, simpler, and fairer interconnection of solar energy, wind energy, and energy storage; the latest emerging technologies in clean energy industry; and preparations for the transition to a carbon-free future.
More than 80 exhibitors have participated in the show running from Monday to Thursday.
"RE+" held its inaugural show as "Solar Power International" in 2004 to bring together people, products, and professional development opportunities that drive the solar marketplace.
The event has since evolved alongside the industry, bringing together an extensive alliance of clean energy professionals to become a leading gathering in the clean energy industry in North America.
Editor: ZAD