Chinese State Councilor and Foreign Minister Wang Yi on Sept. 24, 2022 called on the international community to make every effort for peace and development, and shoulder the responsibility for solidarity and progress.
While delivering a speech at the general debate of the 77th session of the United Nations (UN) General Assembly, Wang said the world is at a time fraught with challenges.
The world has entered a new phase of turbulence and transformation, and changes unseen in a century are accelerating, Wang said, adding that this era, however, is also full of hope.
Peace and development remain the underlying trend of the times, and around the world, the people's call for progress and cooperation is getting louder than ever before, Wang said.
China's answer, Wang said, is firm and clear on how to respond to the call of the times and ride on the trend of history to build a community with a shared future for mankind advocated by Chinese President Xi Jinping.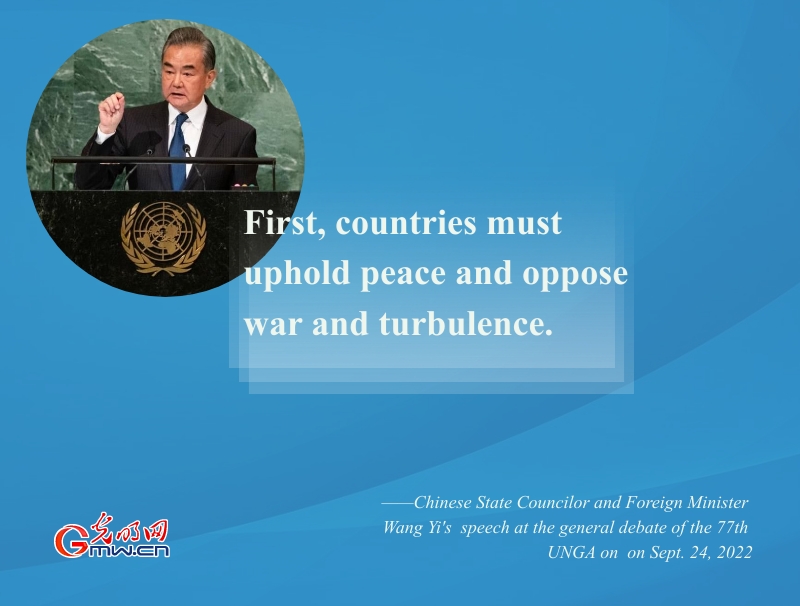 First, countries must uphold peace and oppose war and turbulence, Wang said, calling on all countries to remain committed to addressing differences through peaceful means and resolving disputes through dialogue and consultation.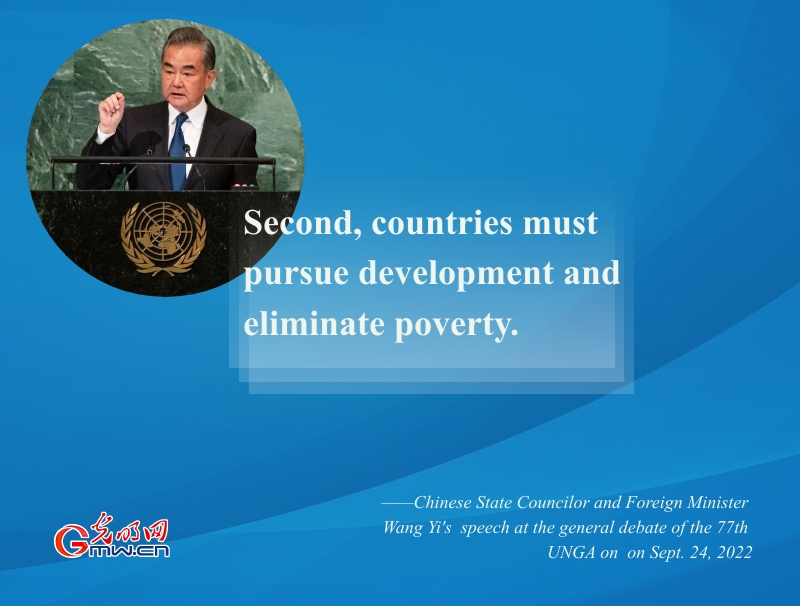 Second, countries must pursue development and eliminate poverty, Wang said. Noting the world should place development at the center of the international agenda and build international consensus on promoting development, Wang said that the world should see that everyone in every country benefits more from the fruits of development in a more equitable way.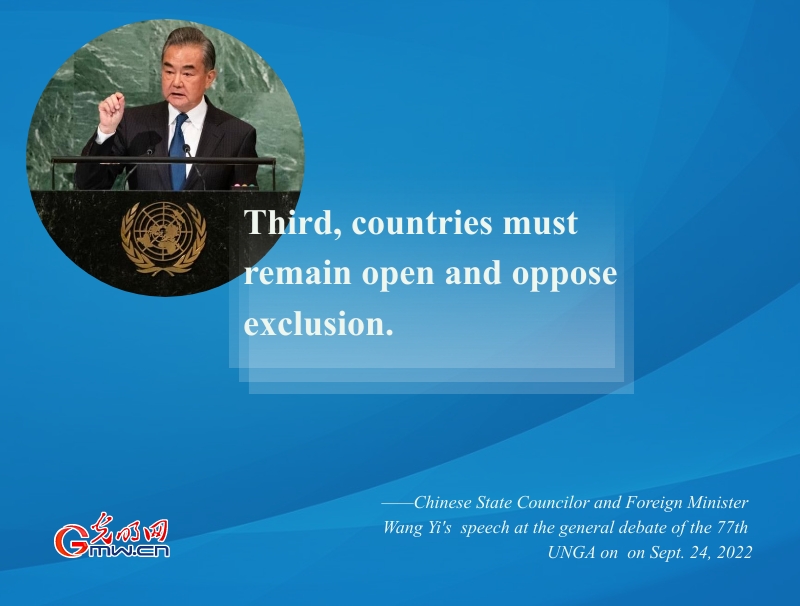 Third, countries must remain open and oppose exclusion, Wang said, adding that countries should stay true to openness and inclusiveness, uphold the multilateral trading system with the World Trade Organization at its core and endeavor to build an open world economy.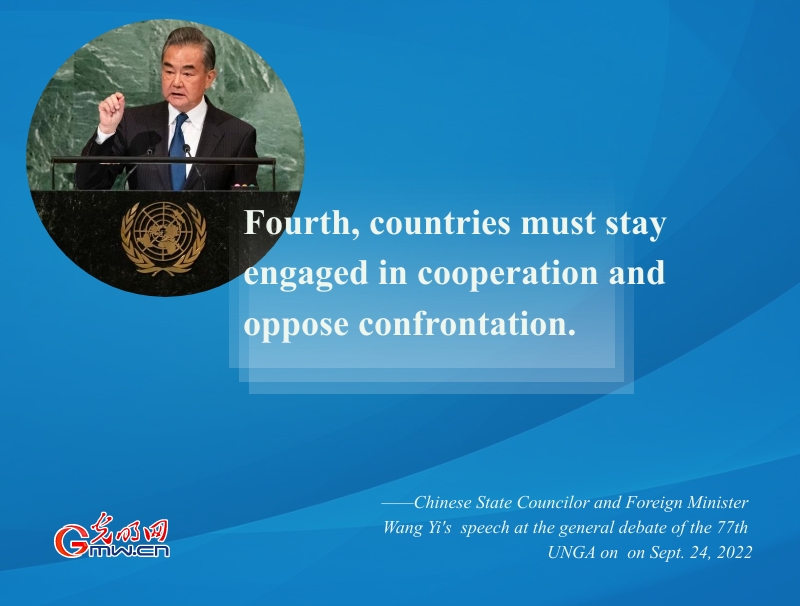 Fourth, countries must stay engaged in cooperation and oppose confrontation, Wang said. Urging countries to engage in dialogue, consultation and win-win cooperation, and reject conflict, coercion and zero-sum game, Wang stressed that countries should jointly oppose group politics and bloc confrontation.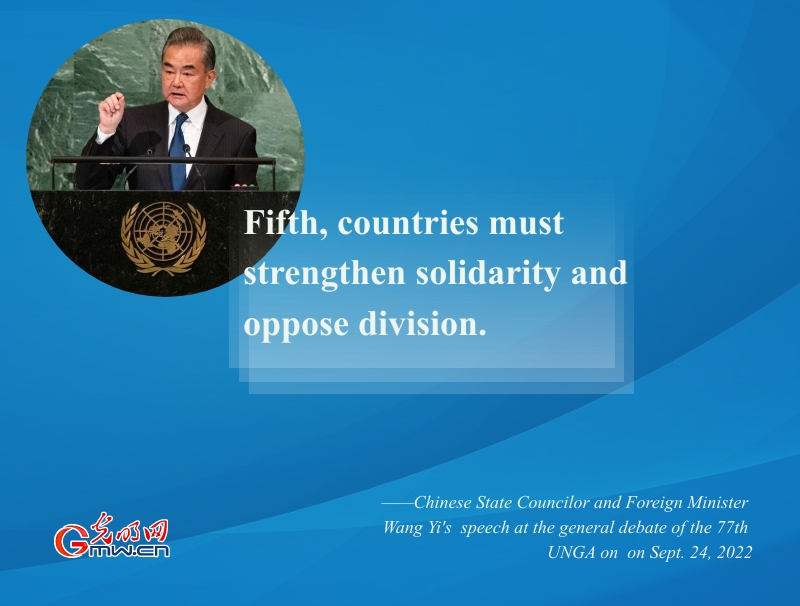 Fifth, countries must strengthen solidarity and oppose division, Wang said, calling on the international community to stand against drawing lines on ideological grounds, and work together to expand common ground and convergence of interests to promote world peace and development.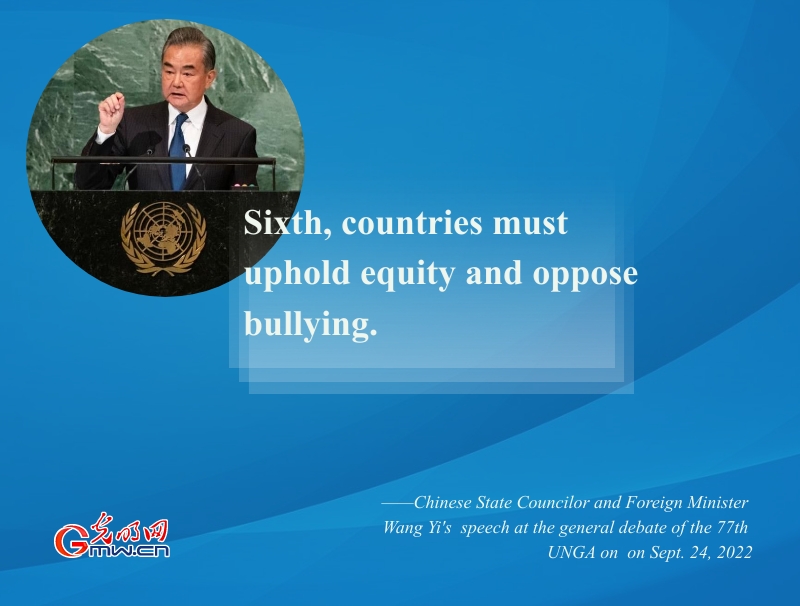 Sixth, countries must uphold equity and oppose bullying, Wang said, adding that countries should promote and practice true multilateralism, promote equality of all countries in terms of rights, rules and opportunities, and build a new type of international relations featuring mutual respect, equity and justice, and win-win cooperation.
Editor: Zhang Zhou