By Wang Xinyuan
Since the 18th National Congress of the CPC, the Party Central Committee with Comrade Xi Jinping at its core has attached great importance to cities and proposed the new urbanization strategy that is people-centered and quality-oriented. The new urbanization strategy serves as a guidance for historic achievement of city development in the new era, helping to unleash cities' potential and vitality. Chinese cities across the country have continuously improved their public services, living environment, and development quality.
I. Optimized development pattern with a higher urbanization rate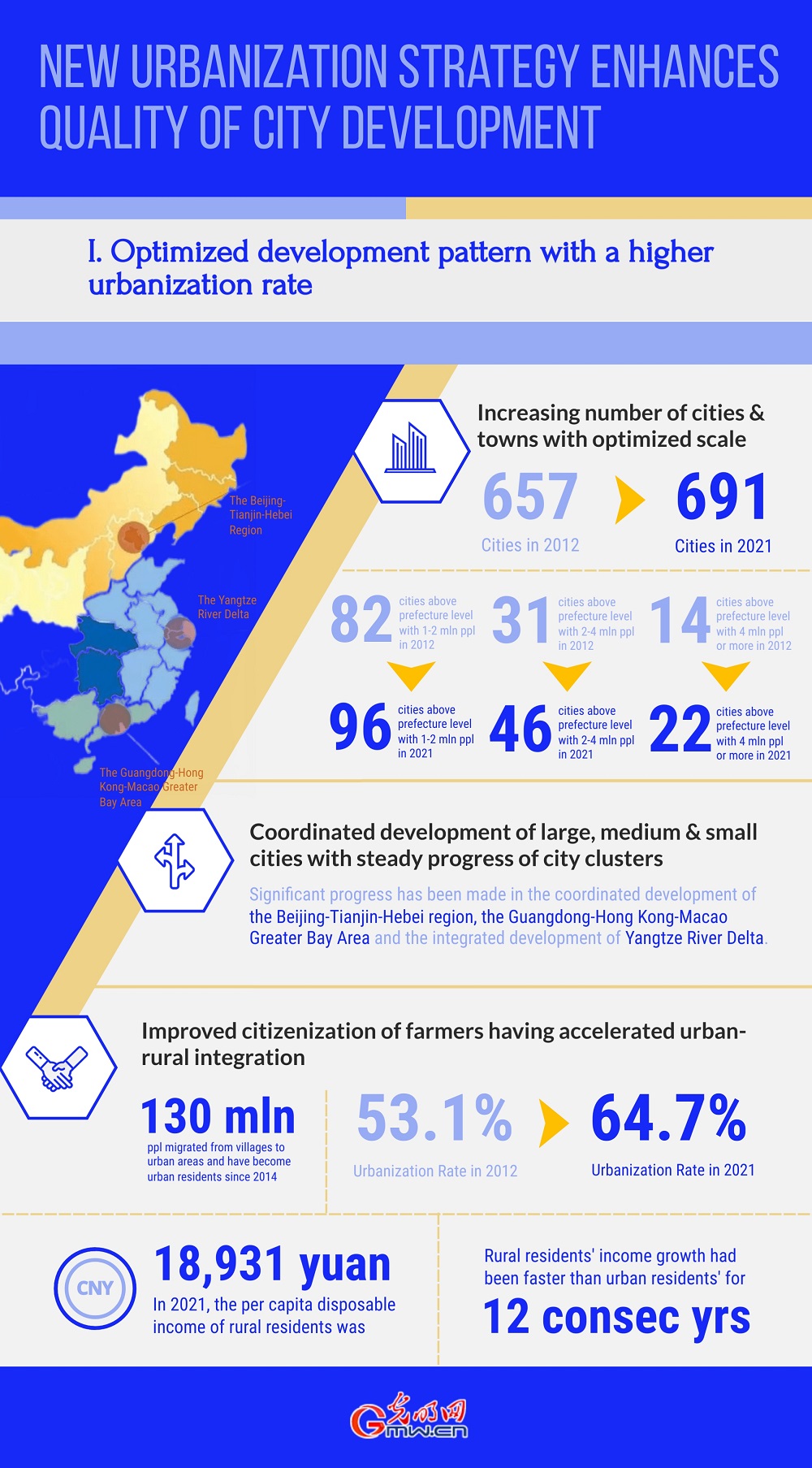 1. Increasing number of cities and towns with an optimized scale
As of end 2021, there were 691 cities across the country, 34 more than the end of 2012. Among them, 297 cities were above prefecture level, an increase of 8; there were also 394 county-level cities, an increase of 26 over 2012. The scale of urban population is expanding. According to the surveyed population at the end of 2020, there were 96, 46 and 22 cities above prefecture level with a population of 1-2 million, 2-4 million and 4 million or more respectively, which was 14, 15 and 8 more than the end of 2012.
2. Coordinated development of large, medium, and small cities with steady progress of city clusters
China has made important headways in building city clusters. The overall layout of "19+2" city clusters has been established, significant progress has been made in the coordinated development of the Beijing-Tianjin-Hebei region, the Guangdong-Hong Kong-Macao Greater Bay Area and the integrated development of Yangtze River Delta, the Chengdu-Chongqing region has entered the fast lane of growth, and the agglomeration of cities in the middle reaches of Yangtze River, Beibu Gulf and Guanzhong Plain has been steadily enhanced.
3. Improved citizenization of farmers has accelerated urban-rural integration
Since 2014, 130 million people migrated from villages to urban areas and have become urban residents. As of end 2021, the urbanization rate of China had reached 64.7%, 11.6 percentage points higher than that of the end of 2012.
The income gap between urban and rural residents continues to narrow. In 2021, the per capita disposable income of rural residents was 18,931 yuan, up 9.7% year-on-year in real terms, 2.6 percentage points faster than the income growth of urban residents, and the income growth of rural residents had been faster than that of urban residents for 12 consecutive years.
Editor: Zhang Zhou