By Zhang Zhou
Since the "Belt and Road Initiative" (BRI) was launched, under the strong leadership of the CPC Central Committee with Comrade Xi Jinping at its core, China has promoted quality growth, built a new development pattern, and advanced the BRI under the principle of extensive consultation, wide contribution, and shared benefit. The BRI focuses on building interconnected infrastructures, improving existing rules and standards, and deepening people-to-people exchanges with a view to achieving quality growth and yielding tangible benefit to participating countries.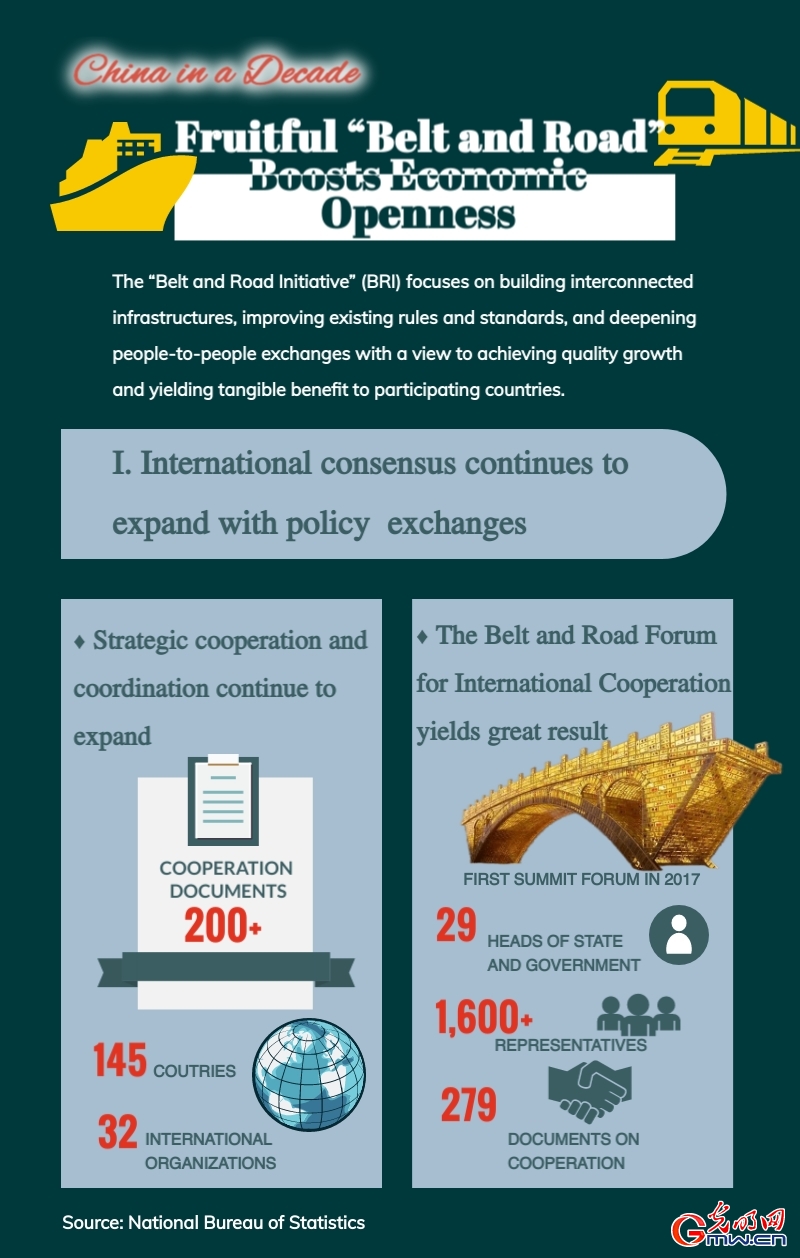 I. International consensus continues to expand with policy exchanges
Policy exchanges serve as the trailblazer of BRI actions. Since the initiative was introduced, China has deepened coordination and communication with relevant countries and international organizations, winning wide support globally.
1. Strategic cooperation and coordination continue to expand
The BRI has received positive responses from more and more countries and international organizations and become a popular public product and cooperation platform in the world. As of end 2021, China had signed more than 200 cooperation documents with 145 countries and 32 international organizations under the BRI framework, covering investment, trade, finance, science and technology, people-to-people exchanges, livelihood and other fields.
2. The Belt and Road Forum for International Cooperation yields great result
Under the principle of extensive consultation, wide contribution and shared benefit, the Belt and Road Forum for International Cooperation has become the highest platform for global cooperation.
The first Summit Forum attracted 29 heads of state and government, more than 1,600 representatives from more than 140 countries and over 80 international organizations, yielding 279 documents on cooperation in 5 categories.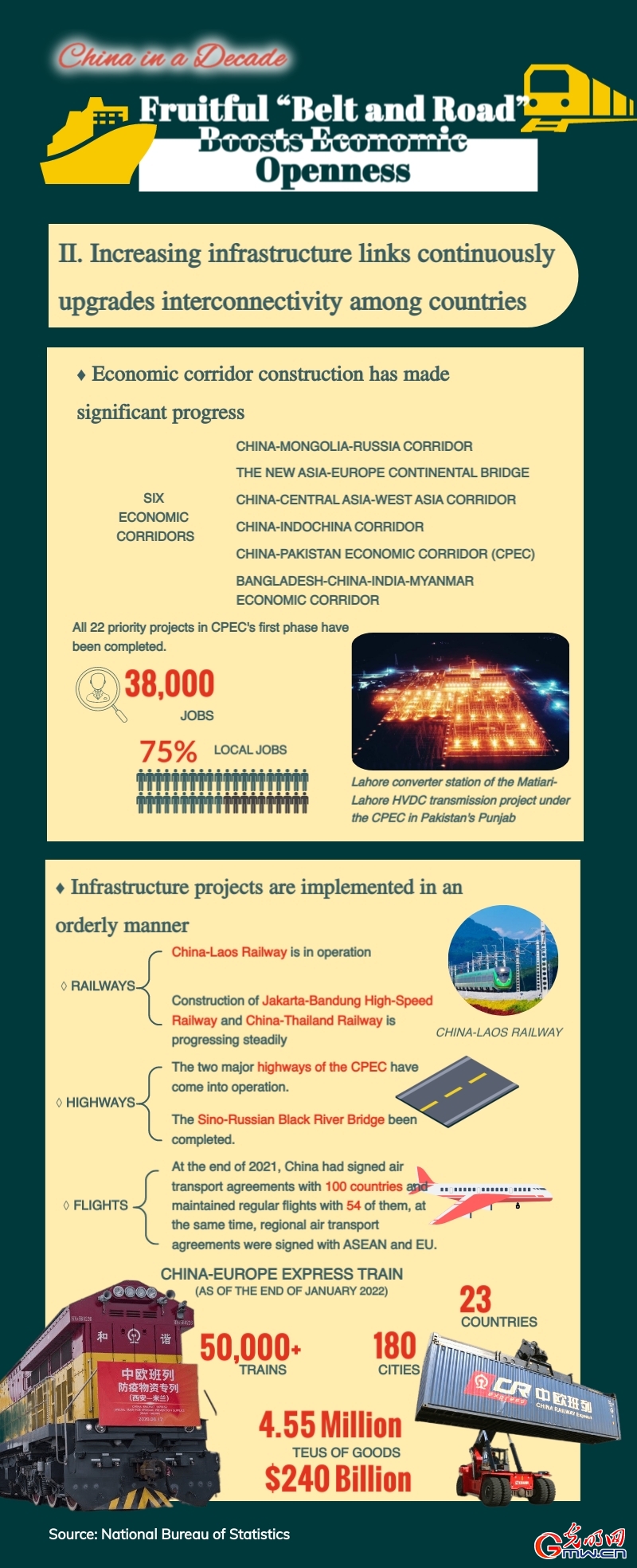 II. Increasing infrastructure links continuously upgrades interconnectivity among countries
Infrastructure is the cornerstone of interconnection, and a key BRI priority.
1. Economic corridor construction has made significant progress
The BRI is underpinned by six economic corridors, namely the China-Mongolia-Russia Corridor, the New Asia-Europe Continental Bridge, China-Central Asia-West Asia Corridor, China-Indochina Corridor, China-Pakistan Economic Corridor and Bangladesh-China-India-Myanmar Economic Corridor.
The China-Pakistan Economic Corridor (CPEC) is the flagship project of the BRI, which was one of the earliest projects and has proceeded fast. Today, all 22 priority projects in the first phase have been completed, generating about 38,000 jobs, more than 75% of which are local jobs, including 16,000 Pakistani workers and engineers in energy projects and 13,000 jobs in transportation infrastructure construction. Since 2021, the CPEC has entered its second phase, unleashing greater opportunities for bilateral cooperation in multiple fields.
2. Infrastructure projects are implemented in an orderly manner
Focusing on the main structure of "Six Corridors, Six Roads, and Multiple Ports in Multiple Countries", some landmark projects have made substantial progress: China-Laos Railway is in operation, and construction of Jakarta-Bandung High-Speed Railway and China-Thailand Railway is progressing steadily. The two major highways of the CPEC have come into operation, and the Sino-Russian Black River Bridge been completed. At the end of 2021, China had signed air transport agreements with 100 countries and maintained regular flights with 54 of them, at the same time, regional air transport agreements were signed with ASEAN and EU.
As an important channel of interconnection between China and "Belt and Road" countries, the role of the China-Europe Express Train has been further highlighted. As of the end of January 2022, over 50,000 trains had been dispatched, carrying more than 4.55 million TEUs of goods worth $240 billion, reaching 180 cities in 23 European countries, making a positive contribution to the quality growth of the BRI.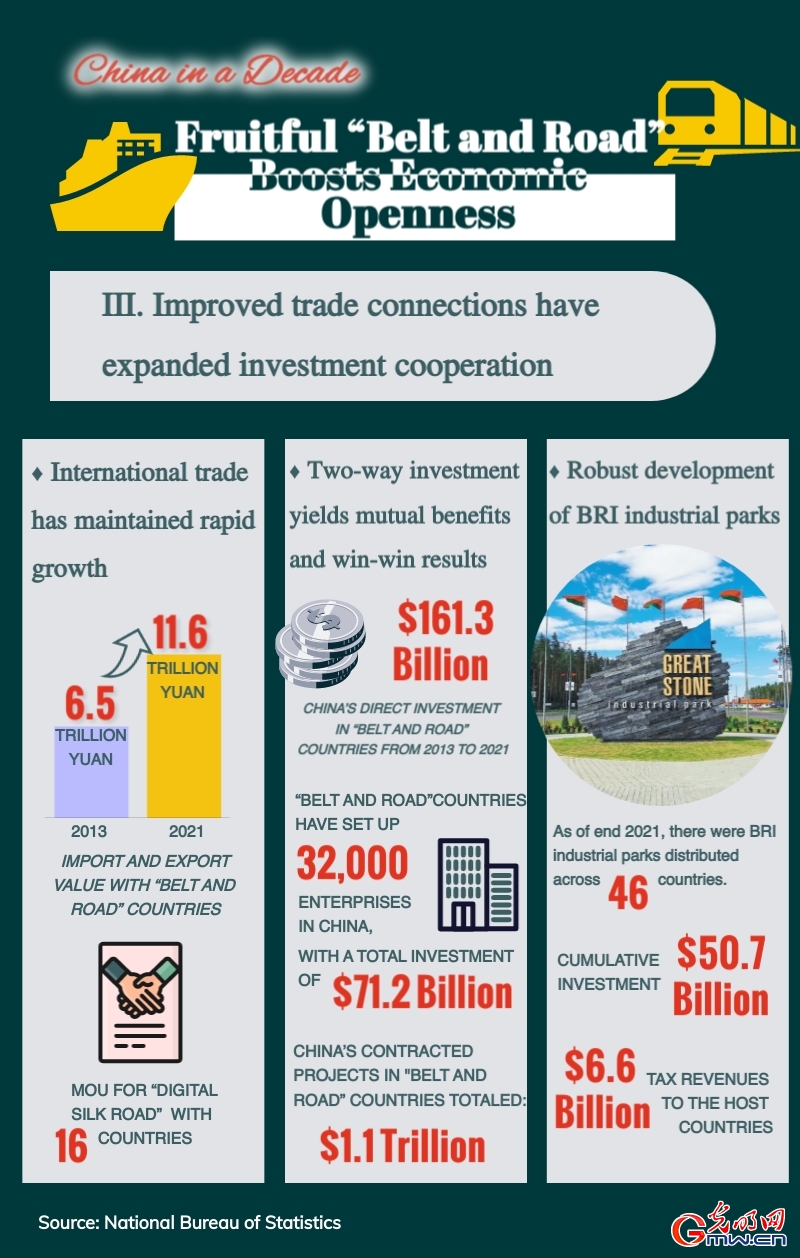 III. Improved trade connections have expanded investment cooperation
Smooth flow of trade is the focus of the BRI and an important driver of sustainable economic growth. Over the past eight years, innovative trade forms keep emerging, and trade liberalization and facilitation have risen to a new level.
1. International trade has maintained rapid growth
Since the BRI was proposed, China's trade with "Belt and Road" countries has increasingly expanded, and China has become the largest trading partner of 25 countries along the "Belt and Road".
From 2013 to 2021, import and export value with "Belt and Road" countries increased from 6.5 trillion yuan to 11.6 trillion yuan, with an average annual growth of 7.5%, higher than China's average annual growth of trade in goods during the same period; its proportion in China's total foreign trade increased from 25% in 2013 to 29.7% in 2021.
In addition, e-commerce has become a new engine of economic and trade cooperation. As of end 2020, China had signed MOU for "Digital Silk Road" with 16 countries, and established mechanism with 22 countries for "Silk Road e-commerce" cooperation.
2. Two-way investment yields mutual benefits and win-win results
Two-way investment has maintained stable growth thanks to various cooperation mechanisms. Between 2013 and 2021, China's direct investment in "Belt and Road" countries had amounted to $161.3 billion, with an average annual growth of 5.4%, and "Belt and Road" countries have become the first choice of Chinese enterprises for foreign investment. "Belt and Road" countries have set up 32,000 enterprises in China, with a total investment of $71.2 billion; China's contracted projects in "Belt and Road" countries totaled about $1.1 trillion, with a completed turnover of $728.6 billion covering transportation, electricity, and other fields.
3.Robust development of BRI industrial parks
The industrial parks China jointly built with "Belt and Road" countries have grown quickly into a main embodiment of economic and trade cooperation. As of end 2021, there were BRI industrial parks distributed across 46 countries, with a cumulative investment of $50.7 billion, contributing a total of $6.6 billion in tax revenues to the host countries, and creating 392,000 jobs for local communities.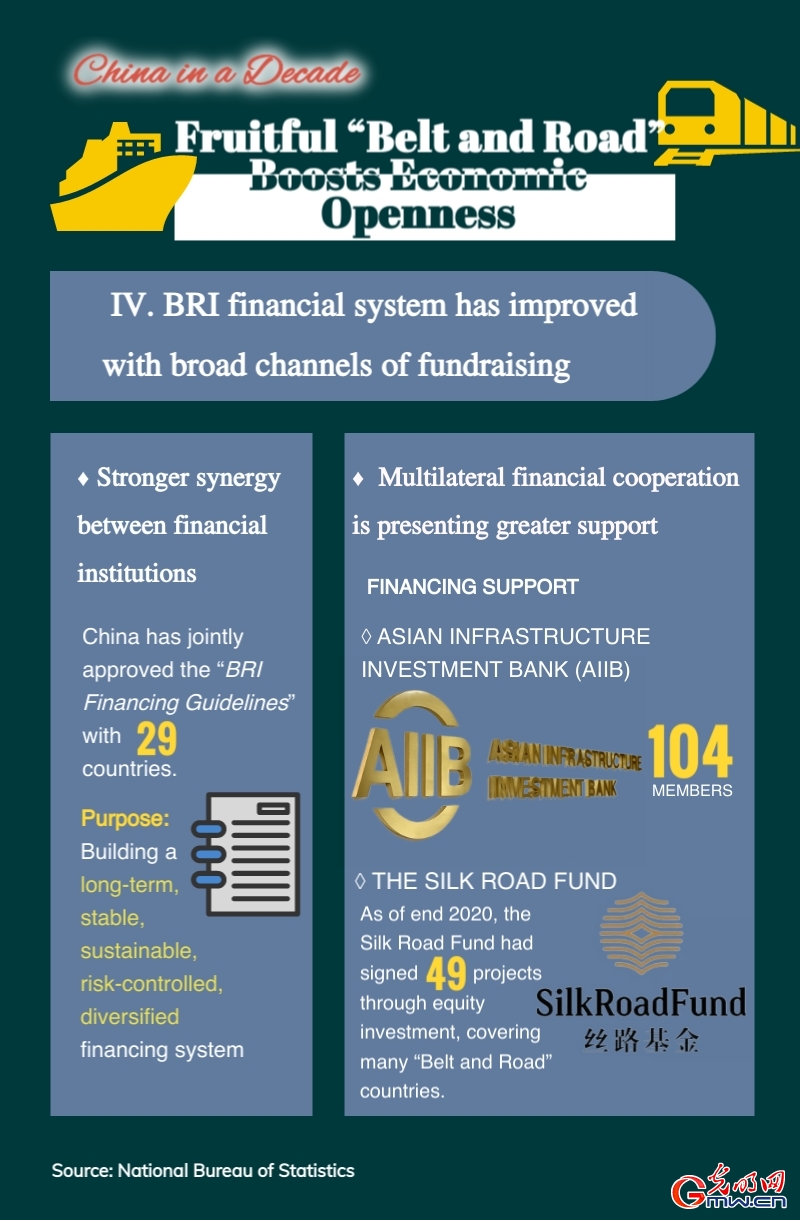 IV. BRI financial system has improved with broad channels of fundraising
Finance is an important pillar of the BRI. China has actively carried out financial cooperation with "Belt and Road" countries and built a multi-level financial services system to provide diversified financial support.
1. Stronger synergy between financial institutions
China has jointly approved the "BRI Financing Guidelines" with 29 countries, the purpose of which is to combine the force of both government and market to build a long-term, stable, sustainable, risk-controlled, diversified financing system in association with "Belt and Road" countries, international organizations, and financial institutions as well as investors.
2. Multilateral financial cooperation is presenting greater support
With the joint efforts of all parties, the Asian Infrastructure Investment Bank (AIIB), the Silk Road Fund and other multilateral institutions have been established one after another to provide investment and financing support for the BRI and bilateral and multilateral cooperation.
As of October 2021, AIIB members had increased from 57 in the early days to 104, second only to the World Bank, covering the six continents of Asia, Europe, Africa, North America, South America and Oceania.
As of end 2020, the Silk Road Fund had signed 49 projects through equity investment, covering many "Belt and Road" countries, and 70% of the funds were used for large-scale international projects such as power plants, infrastructure, ports, and high-end manufacturing.
V. People-to-people exchanges have deepened
People-to-people exchanges hold the key to the joint construction of the BRI. In recent years, numerous exchanges have been conducted in culture, education, tourism, sci-tech innovation, and pandemic containment, which have consolidated the foundation of the BRI.
1. Frequent cultural exchanges and interactions
The BRI has created conditions for cooperation in talent training. As of end 2019, China had signed mutual recognition agreements on higher education degrees with 24 "Belt and Road" countries, a total of 60 Chinese colleges had set up educational institutions in 23 "Belt and Road" countries, and 16 had established 17 joint laboratories with "Belt and Road" countries.
2. New highlights of cooperation in sci-tech innovation cooperation
Since the BRI sci-tech innovation action plan was launched in 2017, China has deepened cooperation with "Belt and Road" countries in talents exchanges, joint laboratories, sci-tech parks, and technology transfers with a view to driving the new round of technological and industrial revolution. As of end 2021, China had established sci-tech cooperation with 84 countries, supported 1,118 joint research projects, invested a total of 2.99 billion yuan, and launched 53 joint laboratories in agriculture, new energy, and health.
3. Steady progress of aid programs
China has vigorously assisted "Belt and Road" countries in their fight against poverty through all forms of skills training. According to the World Bank, the BRI is expected to lift 7.6 million people out of extreme poverty and 32 million people out of moderate poverty in "Belt and Road" countries.
China's achievements in coordinating Covid-19 containment with economic growth have been recognized by the international community, and it has launched the Initiative for Belt and Road Partnership on Covid-19 Vaccines with 31 countries.
In 2020, China provided a huge number of medical materials such as protective clothing, masks and ventilators to 150 countries and 13 international organizations and dispatched 37 medical teams to 34 countries for the fight against Covid-19. As of end 2021, China had provided more than 2 billion doses of vaccine to more than 120 countries and international organizations, and a great part of the vaccines went to "Belt and Road" countries. The joint fight against Covid-19 has added new connotations to the BRI and deepened the friendship among "Belt and Road" countries.
Source: National Bureau of Statistics
Editor: JYZ