II. Innovation and trade in services are injecting new momentum to opening-up
Since the 18th CPC National Congress, China has continued to deepen the reform and opening-up of its service industry, accelerated structural reform on the supply side, and improved the institutional mechanism of trade in services and increased its contribution to foreign trade growth. Trade in services has become an important pillar for the transformation and upgrading of China's foreign trade.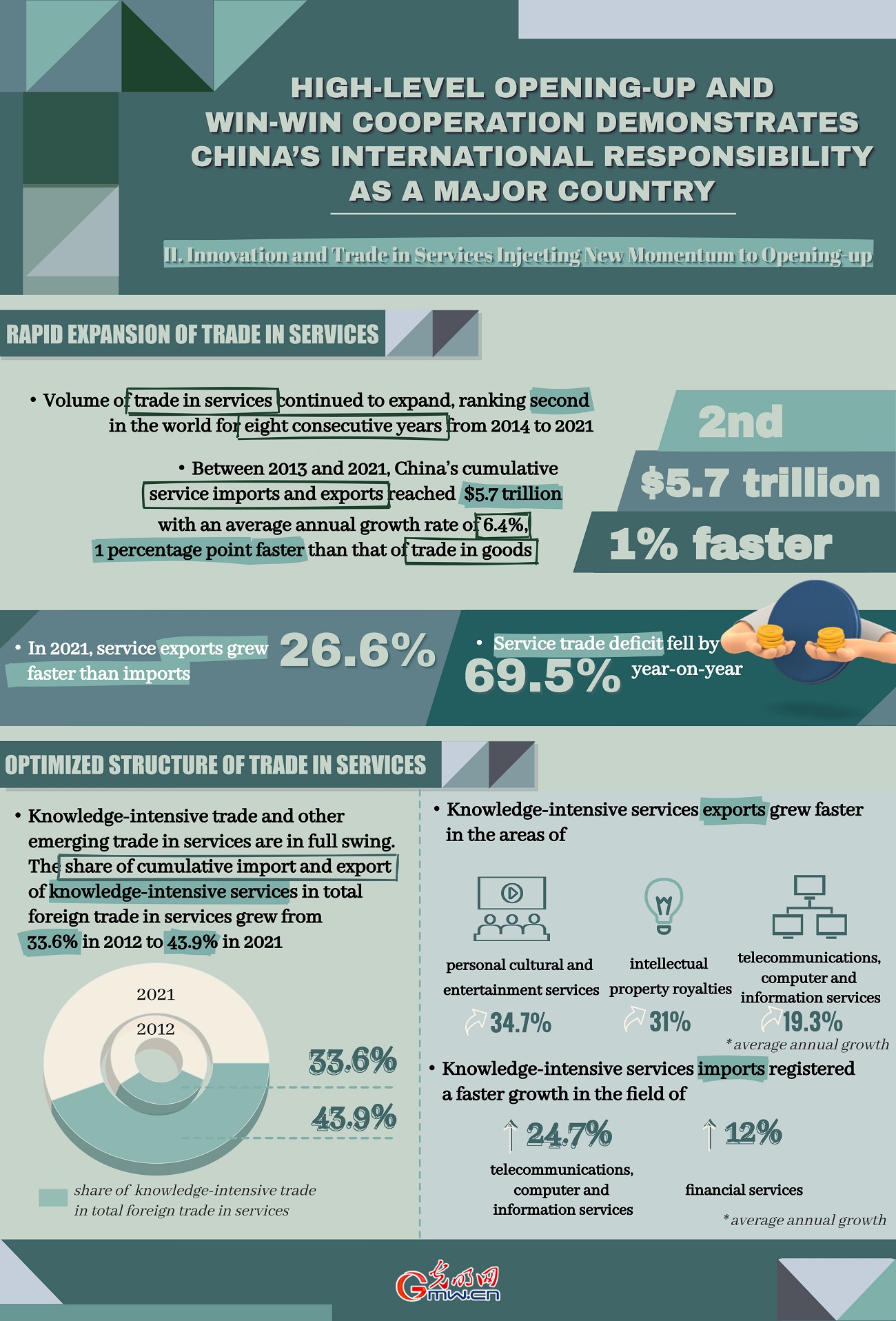 1. Rapid expansion of trade in services
Volume of trade in services continued to expand, ranking second in the world for eight consecutive years from 2014 to 2021. Between 2013 and 2021, China's cumulative service imports and exports reached 41.1 trillion yuan, an average annual growth rate of 6.4%, 1 percentage point faster than that of trade in goods. The growing competitiveness of service exports has led to a significant narrowing of the service trade deficit. In 2021, service exports grew 26.6 percentage points faster than imports, and service trade deficit fell by 69.5% year-on-year, reaching a record low since 2011.
2. Optimized structure of trade in services
Knowledge-intensive and other emerging trade in services are in full swing. From 2013 to 2021, China's cumulative import and export of knowledge-intensive services hit $2.1 trillion, with an average annual growth of 9.3%, and its share in total foreign trade in services grew from 33.6% in 2012 to 43.9% in 2021. Knowledge-intensive services exports grew faster in the areas of personal cultural and entertainment services, intellectual property royalties, computer and information and telecommunications services, with an average annual growth of 34.7%, 31% and 19.3% respectively. Knowledge-intensive services imports registered a faster growth in the field of telecommunications, computer and information services, and financial services, with an average annual growth of 24.7% and 12%, respectively.
III. New economic vitality unleashed by growing foreign investment
With full implementation of the pre-entry national treatment plus negative list system, market entry has become easier for foreign investors. The legal interests of foreign investors are better protected with growing expansion of openness in the service sector. China's utilization of foreign investment is increasingly focused on structural upgrading and coordinated development, and open and harmonized economic and trade rules have become key factors attracting foreign investment to China.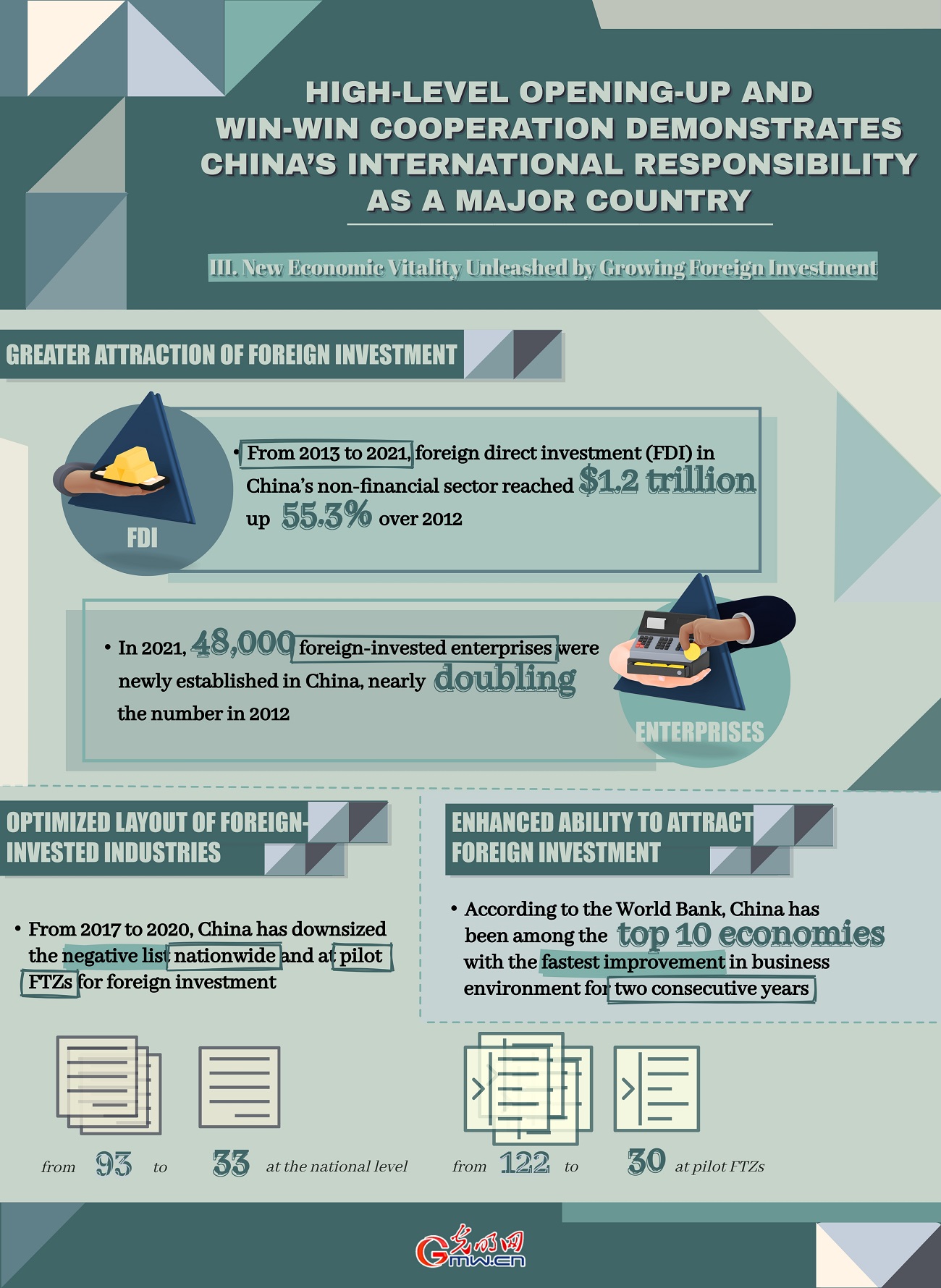 1. Greater attraction of foreign investment
From 2013 to 2021, foreign direct investment (FDI) in China's non-financial sector reached $1.2 trillion, up 55.3% over 2012 with an average annual growth of 5%. In 2021, 48,000 foreign-invested enterprises were newly established in China, nearly doubling the number in 2012.
2. Optimized layout of foreign-invested industries
China has constantly guided investment to hi-tech industries, strategic emerging industries, modern services, and other industries. From 2017 to 2020, the negative list nationwide and at pilot FTZs for foreign investment had been reduced from 93 and 122 items to 33 and 30 items, respectively. At the same time, entry thresholds were further relaxed for foreign capital in financial services, high-end manufacturing, and electronic information services.
3. Enhanced ability to attract foreign investment
In 2020, China introduced the Law of the People's Republic of China on Foreign Investment, refined its legal framework and implemented the pre-entry national treatment plus negative list system for foreign investment, which has become an important legal guarantee for high-level opening-up to the outside world. According to the World Bank, China has been among the top 10 economies with the fastest improvement in business environment for two consecutive years.
IV. China has fine-tuned its economy to deepen cooperation in foreign investment
Since the 18th CPC National Congress, China has built a new system of open economy, implemented a more proactive open strategy, simplified the FDI management mode from approval to filing, and deepened international economic cooperation through bilateral and multilateral FTAs. At the same time, cooperation projects under the Belt and Road Initiative have expanded, and the number of multinational companies is continuously increasing.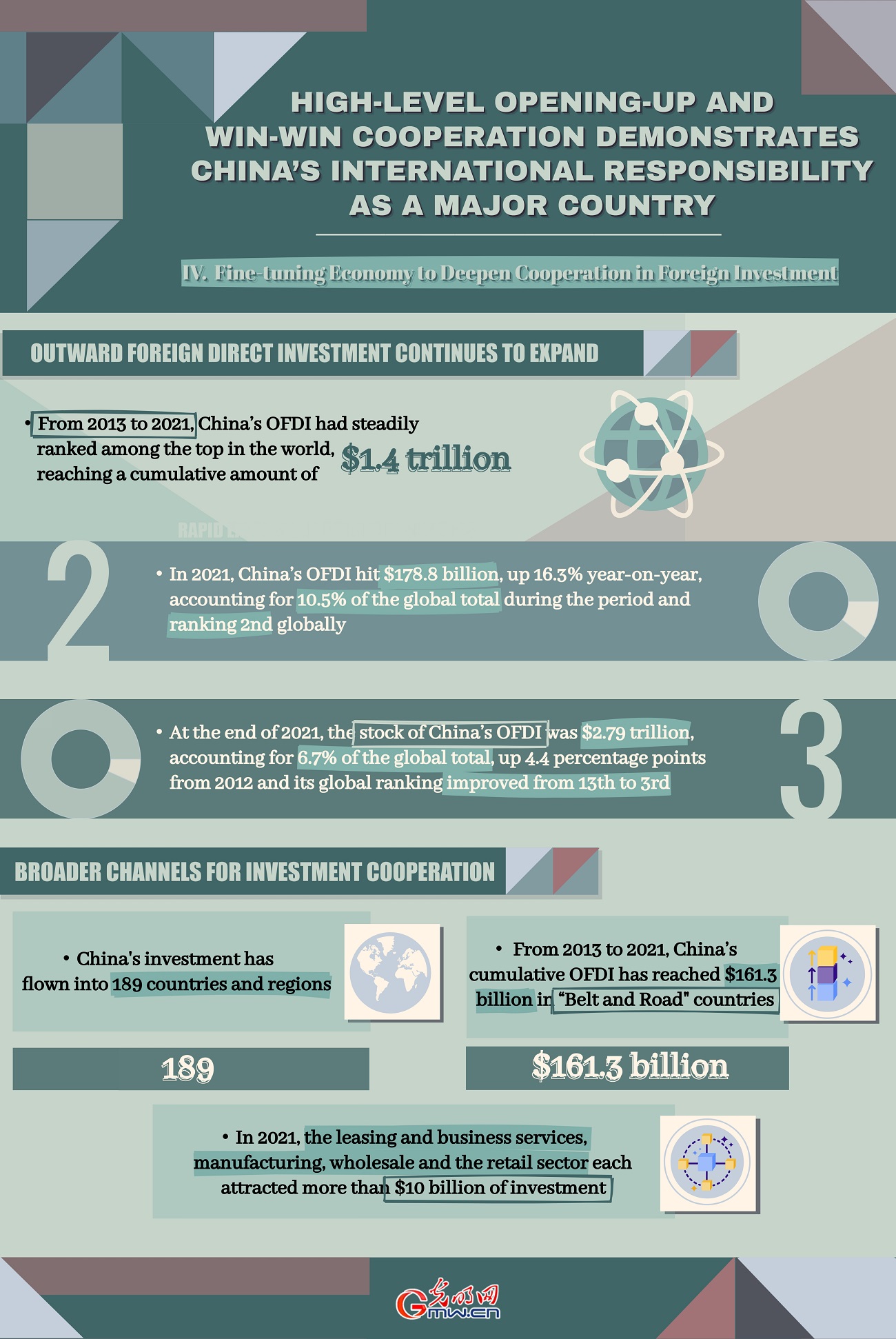 1. Outward foreign direct investment (OFDI) continues to expand
From 2013 to 2021, China's OFDI had steadily ranked among the top in the world, reaching a cumulative amount of $1.4 trillion with an average annual growth of 8.2%. Despite the outbreak of Covid-19, in 2021, China's OFDI hit $178.8 billion, up 16.3% year-on-year, accounting for 10.5% of the global total during the period and ranking 2nd globally. At the end of 2021, the stock of China's OFDI was $2.79 trillion, accounting for 6.7% of the global total, up 4.4 percentage points from 2012 and its global ranking improved from 13th to 3rd.
2. Broader channels for investment cooperation
China's investment has flown into 189 countries and regions. From 2013 to 2021, China's outward investment in countries along the Belt and Road had grown rapidly, with cumulative OFDI reaching $161.3 billion in Belt and Road countries, making positive contributions to the economic growth of host countries.
At the same time, China's outward investment has expanded in a wide range of areas with an optimized structure. In 2021, the leasing and business services, manufacturing, wholesale and the retail sector each attracted more than $10 billion of investment, with the leasing and business service industry ranking first, followed by manufacturing.
V. Greater achievements in multilateral economic and trade cooperation
Since the 18th CPC National Congress, China's pilot FTZs have dovetailed economic and trade rules with the world and expanded free trade cooperation with the outside. The expansion of FTAs and the level of openness in many areas have gone beyond the commitment China made while joining the WTO.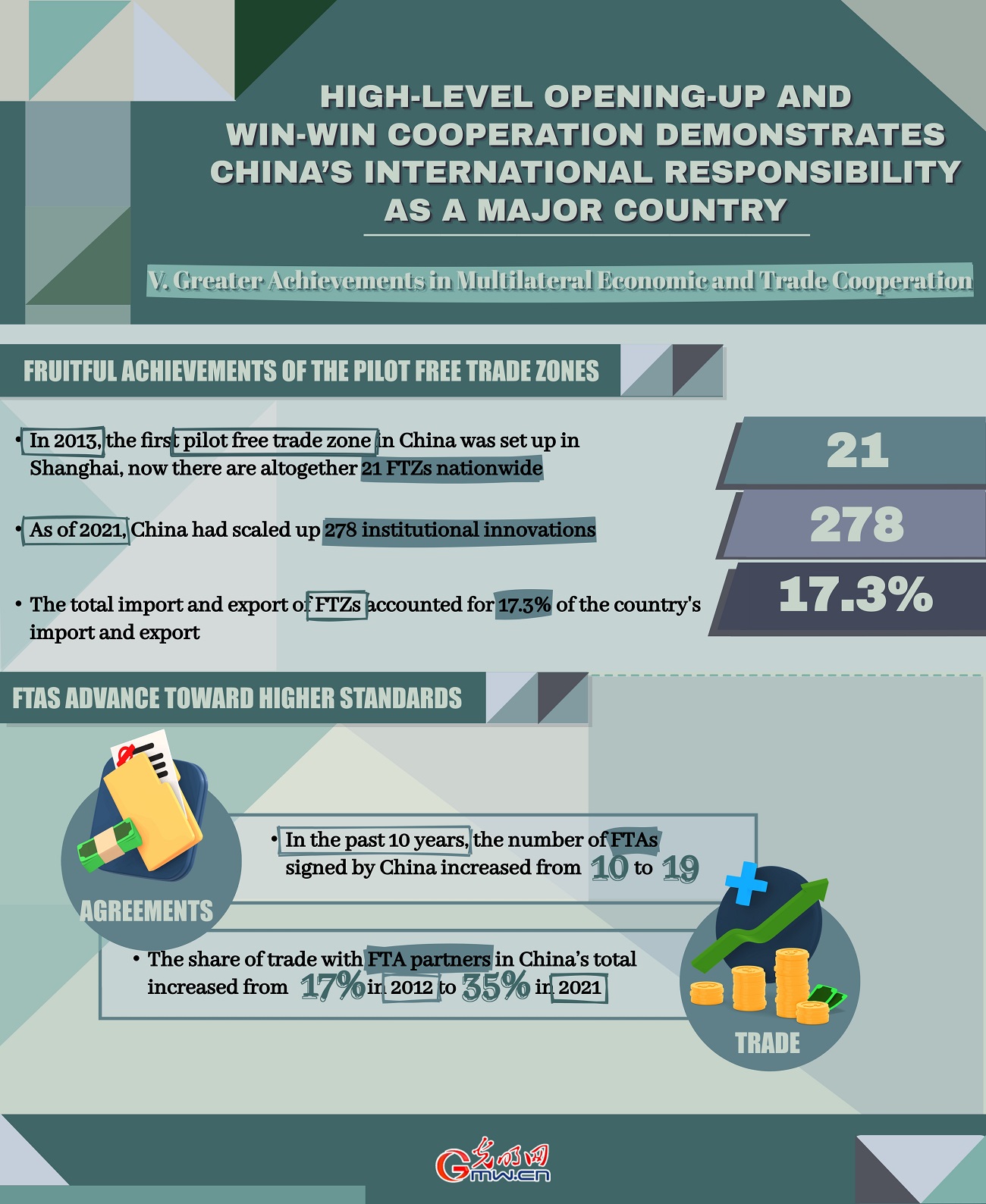 1. Fruitful achievements of the Pilot Free Trade Zones
In 2013, the first pilot free trade zone in China was set up in Shanghai, now there are altogether 21 FTZs nationwide. As of 2021, China had scaled up 278 institutional innovations nationwide, and the total import and export of FTZs accounted for 17.3% of the country's and the FDI they received accounted for 18.5% of China's total. In 2021, China issued the "Special Management Measures for Cross-border Trade in Services in Hainan Free Trade Port (Negative List) (2021 Edition)", which was the first negative list in China's cross-border trade in services and represented the highest level of openness to the outside world.
2. FTAs advance toward higher standards
In the past 10 years, the number of FTAs signed by China increased from 10 to 19, and the share of trade with FTA partners in China's total increased from 17% in 2012 to 35% in 2021. On January 1, 2022, the Regional Comprehensive Economic Partnership Agreement (RCEP) came into effect, marking the launch of the world's largest FTA in terms of economic and trade scale and population. China is also actively participating in FTA negotiations on digital economy and environmental protection, and has taken new steps toward the goal of a high-standard FTA by advancing negotiations of the Comprehensive and Progressive Trans-Pacific Partnership (CPTPP) and the Digital Economy Partnership Agreement (DEPA).
Source: National Bureau of Statistics