Since the 18th Party Congress, under the strong leadership of the Party Central Committee with Comrade Xi Jinping at its core, China has adhered to the people-centered philosophy, improved people's livelihood, and achieved the strategic goal of building a well-off society. Thanks to a series of policies and measures in the field of livelihood, resident's income has grown faster with an improved structure; the income gap between urban and rural areas has constantly narrowed, resulting in a steady improvement of consumer consumption and a better quality of life.
I. Rapid increase of resident's income with an optimized structure
Since the 18th Party Congress, China has intensified its supportive measures for employment expansion and income growth, and residents have shared more dividends from the country's socio-economic development, harvesting faster growth of incomes with a more reasonable structure.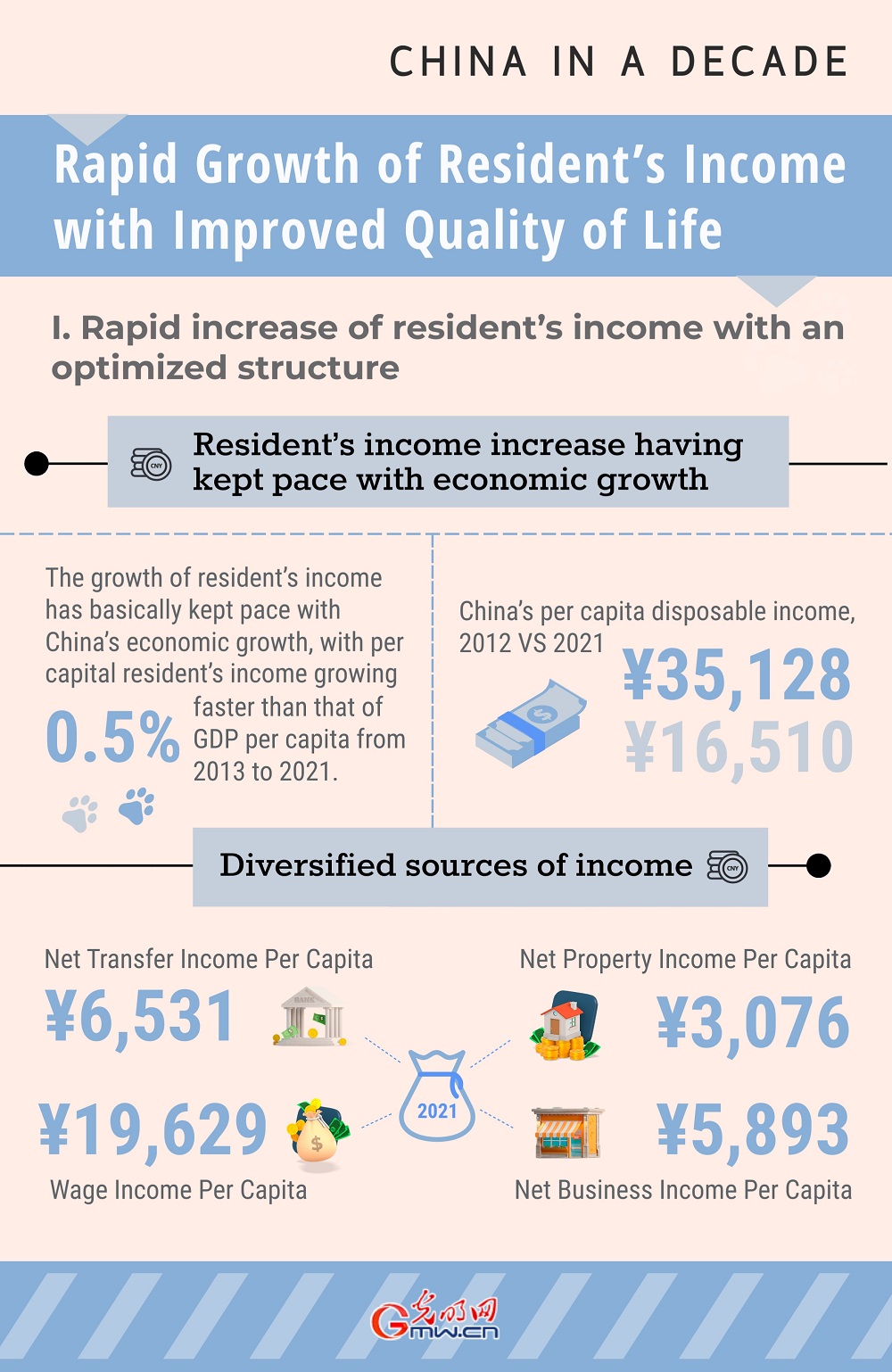 1. Resident's income increase has kept pace with economic growth
In 2021, China's per capita disposable income reached 35,128 yuan, an increase of 18,618 yuan from the 16,510 yuan mark in 2012, with a cumulative nominal growth of 112.8% and an average annual nominal growth of 8.8%, and a cumulative real growth of 78.0% and an annual real growth of 6.6% after deducting the price factor. The growth of resident's income has basically kept pace with China's economic growth, with per capital resident's income growing at 0.5% faster than that of GDP per capita from 2013 to 2021.
2. Diversified sources of income with rising proportion of net transfer income and net property income
In 2021, the per capita net transfer income reached 6,531 yuan of, an increase of 139.4% over 2012 with an average annual growth of 10.2%, accounting for 18.6% of disposable income per capita in 2021, up from 16.5% in 2012; Net property income per capita reached 3,076 yuan in 2021, up 149.8% over 2012 with an average annual growth of 10.7%, and its proportion in disposable income per capita increased from 7.5% in 2012 to 8.8% in 2021. The wage income and net business income of residents kept a fast growth. In 2021, wage income per capita reached 19,629 yuan, up 109.3% over 2012 with an average annual growth of 8.6%; per capita net business income of residents hit 5,893 yuan, up 85.8% over 2012 with an average annual growth of 7.1%.
Editor: WXY