By Gu Siyu
Since the 18th CPC National Congress, Xinjiang has fully leveraged its advantages of being located in the hinterland of Eurasia that connects two large markets, and spared no efforts to build itself into a core area of the "Silk Road Economic Belt". By strengthening its economic ties with neighboring countries and other Chinese provinces, Xinjiang has evolved from a landlocked region into a highland of greater openness.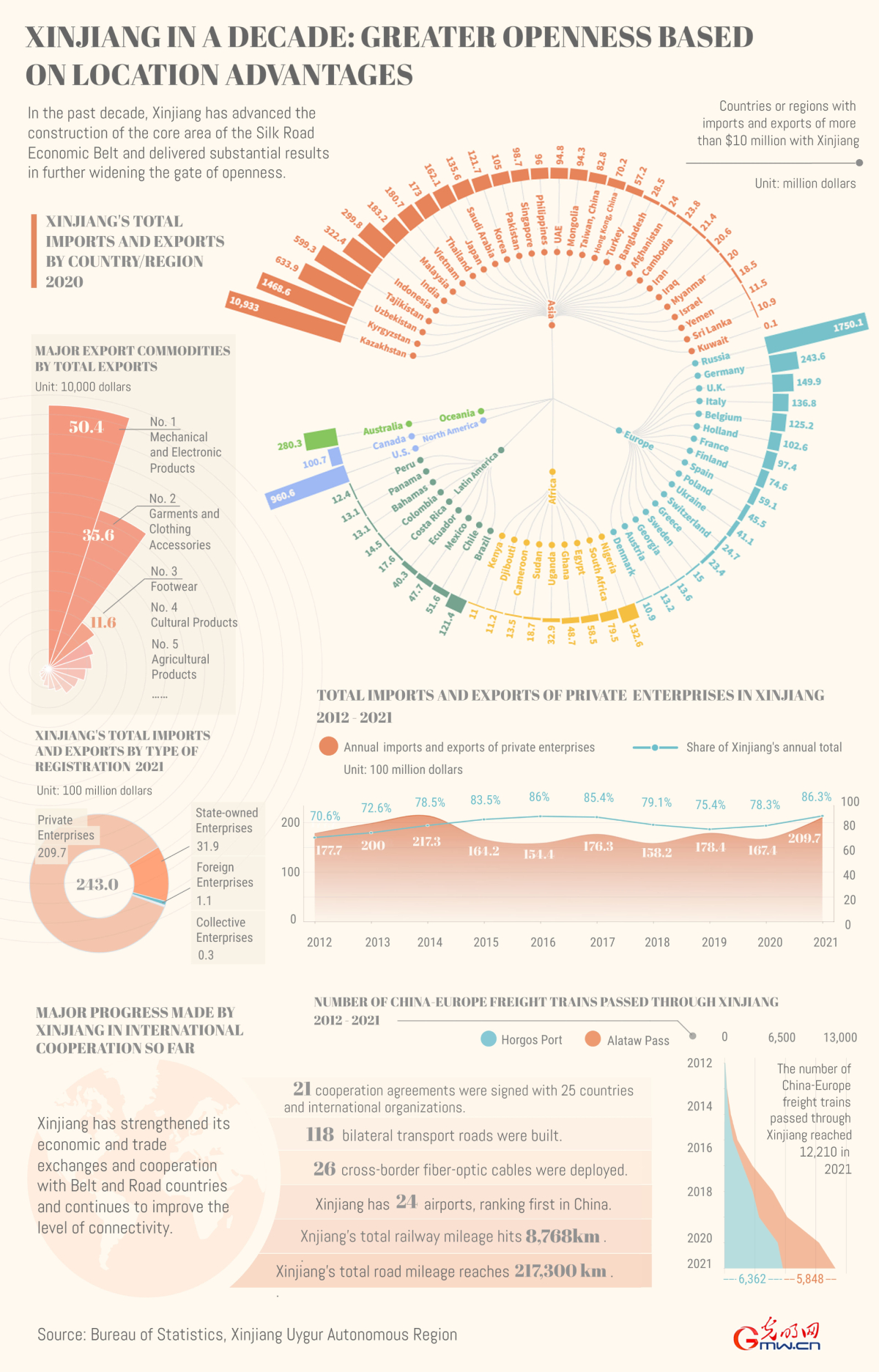 Over the past 10 years, foreign trade in Xinjiang has been expanding with an optimized structure. According to the Bureau of Statistics of Xinjiang Uygur Autonomous Region, in 2021, Xinjiang's total import and export of goods amounted to $24.298 billion, an increase of 13.7% over the previous year. The surplus of trade in goods hit US$15.125 billion, an increase of $4.84 billion over the previous year. Xinjiang's foreign trade is showing a momentum of rapid and steady growth.
Xinjiang is trading with a diverse range of countries. In 2021, Xinjiang established economic and trade relations with 176 countries and regions, trade with Kyrgyzstan, Kazakhstan and Tajikistan, its top three trading partners, reached $10.535 billion, $5.465 billion and $981 million respectively.
With continuous reform of foreign trade system comes ever-increasing number of business entities year by year. From 2012 to 2021, the share of foreign trade done by private enterprises in Xinjiang grew from 70.6% to 86.3%, making the private sector a significant contributor to trade expansion, job growth and tax revenue increase in Xinjiang.
Steady progress has been made in international cooperation. Over the past 10 years, Xinjiang has deepened reform and opening-up, and advanced the construction of the core area of the "Silk Road Economic Belt", further widening openness. Xinjiang has also strengthened economic and trade exchanges and cooperation with "Belt and Road" countries, signing 21 cooperation agreements with 25 countries and international organizations, and concluding 45 pairs of sister cities – the "friends circle" of Xinjiang has never been greater.
At the same time, Xinjiang has continued to improve connectivity with countries along the "Silk Road Economic Belt", opening 118 bilateral transport roads, accounting for one-third of China's total. All sections of the Xinjiang-Europe highway have become operational, the second railway to Kazakhstan was also opened, a total of 26 cross-border fiber-optic cables were deployed, and the "5-in-1" network of roads, railways, flights, pipelines, and telecommunications has basically taken shape.
Up to now, Xinjiang's railway mileage has hit 8,768 km, total road mileage has reached 217,300 km, and all prefectures and cities in Xinjiang have highway access. The region also boasts 24 airports, ranking first nationwide. Xinjiang has dispatched altogether 6,242 China-Europe freight trains to Central Asia and Europe, with an average annual growth of 55.1% over the past decade.
Editor: Zhang Zhou