Ethnic Unity Like Overlapping Petals
The people that have been through storms are those who feel most dearly the value of ethnic unity.
The Tacheng Prefecture in northern Xinjiang was officially established during the Qianlong period of Qing Dynasty and was a multi-ethnic settlement from the very beginning. Now, out of 330,000 families in the prefecture, 11,000 are made up of two or more ethnicities.
At the home of Halidan Yilahun, a role model of ethnic unity in the Haldun neighborhood, we met the team of Prof. Luo Yi from Xinjiang Normal University who were conducting a field survey.
One of his team members, Uygur student Alifeire Momin, told our reporter that Haldun is a multi-ethnic neighborhood formed after hundreds of years of interracial exchanges and cultural, economic and social mingling. The team called it the "Tacheng Model" of ethnic unity, nicknamed "overlapping petals".
On September 20, 2020, a special wedding was held in the courtyard of Halydan Yilahun, where her daughter Muharam Mijti and her childhood friend Parmuk Tarati tied the knot. Relatives celebrated the wedding with folk songs and dances, expressing their best wishes to the bride and groom.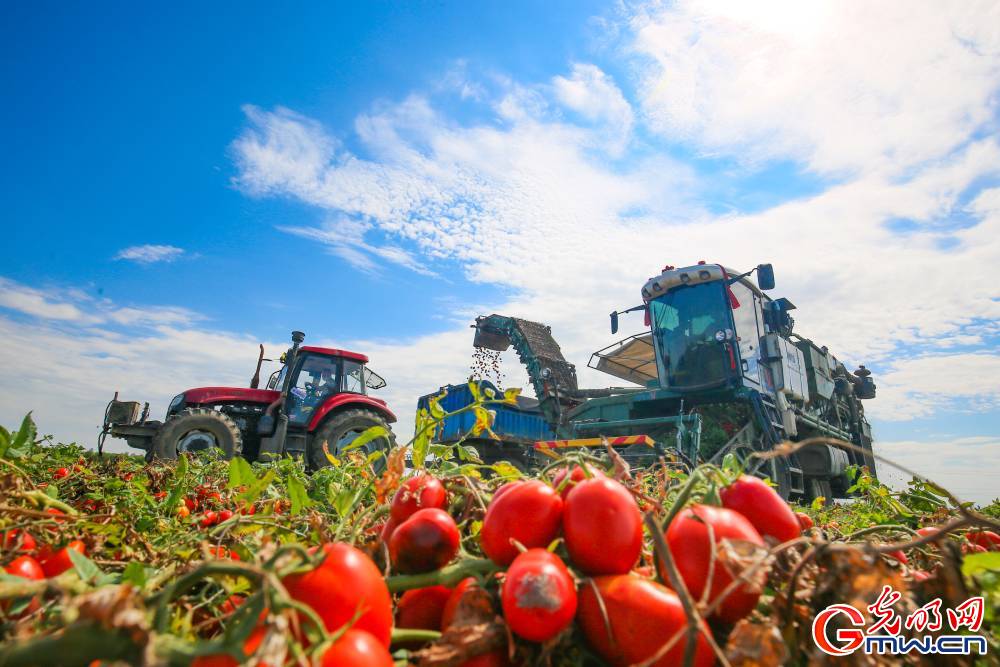 Farmers use tomato harvesters to harvest tomatoes in Xihu Village, Wugongtai Town, Hutubi County, Changji Hui Autonomous Prefecture, northwest China's Xinjiang Uygur Autonomous Region, Aug. 27, 2022. (Photo/Guangming Picture)
We saw a group photo of the wedding in the exquisitely decorated Russian-style house of Halidan, whose 19 family members come from six ethnic groups: the Uygur aunt, the Uzbek uncle, the Tatar brother-in-law, the Kazakh brother-in-law, the Russian son-in-law, and her Han brother whom her father adopted many years ago. Everyone's face is full of love and affection. One can imagine the countless touching stories behind this picture.
Aunt Halidan told us that she really likes the multi-ethnic community of Haldun, where people live together and care for each other. They'd send each other vegetables and fruits, just like what good neighbors and friends would do.
In Tacheng, we paid a visit to Wuhas Suleiman, a doctor whose benevolence is felt in the pasture for more than 40 years, and Shalekjon Yiming, who has been raising the national flag in his yard for 12 years – their stories have touched people of all ethnicities living on this vast land.
Along the streets of the Haldun neighborhood, we saw many "pomegranate signs" hang outside the courtyards, the number of pomegranates indicates the number of ethnicities the family involves. It's a small design that expresses the locals' support for ethnic unity.
The Aksu Prefecture in southern Xinjiang has shown an astonishing speed of socio-economic development in recent years. More than 70% of its 2.71 million people are from minority ethnic groups, where unity and stability are like the two wings of the fast-flying region.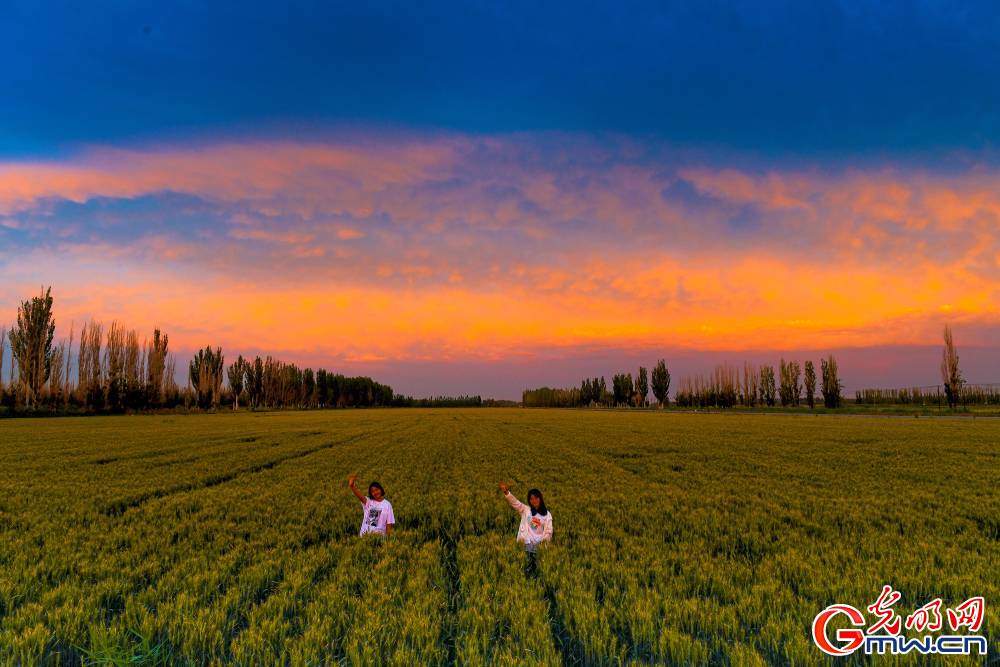 Photo taken on June 17, 2022 shows happy teenagers singing in the rosy fields of hope at the 24th Regiment of Yanqi Reclamation Area of Tiemenguan City, the Second Division of Xinjiang Production and Construction Corps. (Photo/Guangming Picture)
The "Wang San Street" in Aksu City is an example of ethnic unity. In late Qing Dynasty, a Uygur couple from Kashgar came here for business but fell ill and were treated by Wang Fucai, a doctor from Tianjin who was practicing medicine in Aksu, and they later became sworn brothers. Wang Fucai later adopted the couple's son, named him Wang San and taught him medicine. Later, Wang San became a famous local doctor, and people named the street "Wang San Street" in his honor.
In January 2018, the "One Family Restaurant" was officially opened on Wang San Street with 88 shareholders from 7 ethnic groups. Wang San's grandson, Mehmet Toghuti, is one of the shareholders, who also has a Han Chinese name Wang Weihan. The shareholders agreed at the very beginning to designate 5% of the restaurant's profit to helping people in need, a decision made to pass on the spirit of ethnic unity of Wang San's family.
The dining area has more than 1,400 square meters on two floors, and guests are treated everyday with boiled lamb, baked buns and other folk dishes, and traditional Han dishes such as braised fish and hotpot are increasingly popular with Uygur gourmets, making the restaurant a bond of ethnic integration.
It has now become the consensus of Aksu people that only by striding ahead hand in hand and with one mind can they create a better future. Among the locals, there is never a shortage of such stories.
Zhao Wuzhong was a migrant worker who came to Aksu's Wensu County from Sichuan's Nanchong some 20 years ago. He later started his own orchard business but soon ran into operational problems. At the hardest moment, a Uygur friend named Mohetar lent him 10,000 yuan and bailed him out of his difficulties. The two then partnered and created a successful walnut business. Today, they are known among locals as the "walnut brothers".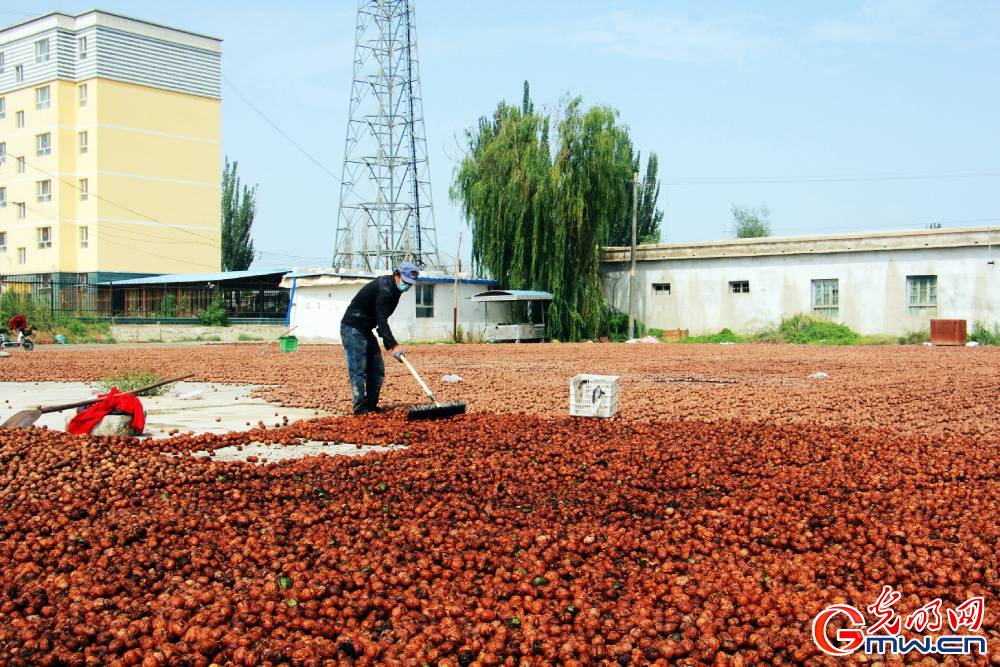 Fruit farmer drys peeled and cleaned walnuts in Kalkujak Village, Bagtoglak Township, Awati County, Aksu Prefecture, northwest China's Xinjiang Uygur Autonomous Region, Aug 27, 2022. (Photo/Guangming Picture)
Liu Daohao is a young fellow from Bengbu of Anhui Province who loves to eat roast lamb. Seven years ago, he met Yasen, a Uygur barbecue peddler, and they moved to Aksu's Kuche City and started a barbecue restaurant. Today the restaurant has become a must-go place in the city's night market. The locals call the owners of the restaurant "barbecue brothers".
Ethnic unity stands at the very core of the successful joint-venture business of these two pairs of brothers.
At 6 o'clock in the afternoon before the sun sets behind the hills of Ili City, the Kazakh song "Moonlight on the Ili River" comes into your ears with a fresh breeze. The lilting accordion sound goes along with the beautiful lyric, "by the banks of the Ili River stand small poplars, the leaves rustle in bright moonlight".
Following the beautiful melody, we entered the Alexander Accordion Museum in Yining, Ili Kazak Autonomous Prefecture. Its owner, Alexander Sergeevich Zazorin, is an ethnic Russian whose family has lived in Yining since his grandfather's generation. He learned accordion at the age of 10 and started to repair it at the age of 15, and has collected more than 800 accordions from all over the world over the past four decades. In Ili City, there is an accordion band consisting of 20 members from 13 ethnic groups.
The performance that we saw that afternoon was presented by Alexander and musicians from seven ethnic groups, including the Xibo, Kazakh, Kirgiz and Mongolian. Nostalgic and affectionate songs such as "Me and My Motherland", "The Girl from Darbancheng", "Flower and the Lad", "Gadamerlin", and "Black Walking Horse" attracted a huge crowd and won loud applauses.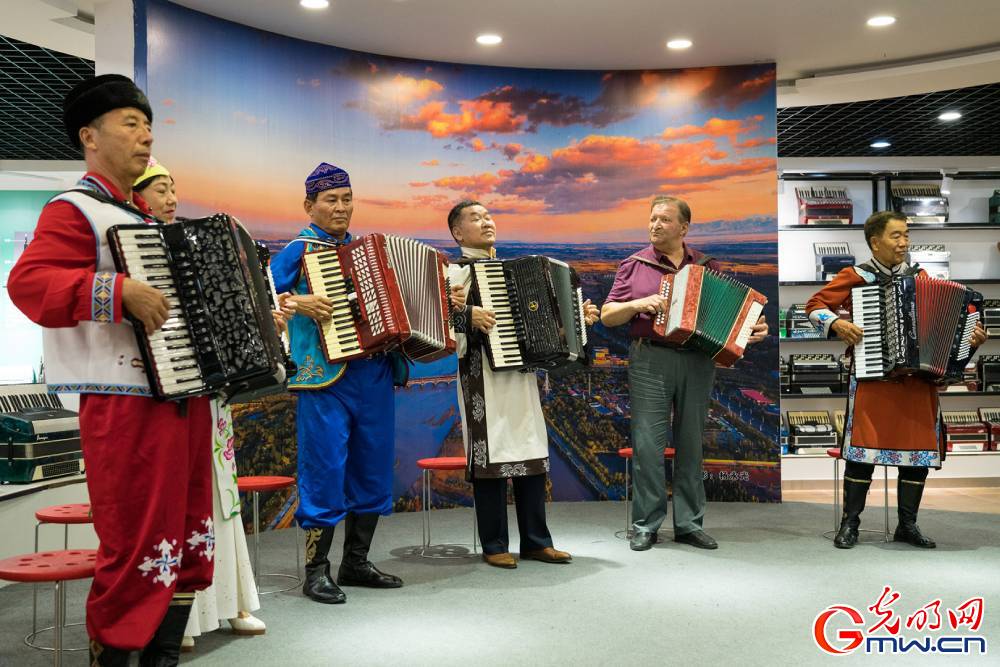 Photo taken on July 21, 2022 shows musicians from seven ethnic groups playing accordions at the Alexander Accordion Museum in Yining, Ili Kazak Autonomous Prefecture, northwest China's Xinjiang Uygur Autonomous Region. (Zhang Andi/Guangming Picture)
Band leader and Xibo musician Guo Shunmin said, "The accordion has a beautiful tone, and we wish to play the song of national unity for more people with the accordion."
Immersed in the enchanting melody, we applaud not only their great performance but also the hospitable Aunt Halidan, the "walnut brothers" and the "barbecue brothers", as well as the analogy of "overlapping petals" drawn by Prof. Luo Yi's team. Indeed. The ethnic unity in Xinjiang deserves a long and loud applause.
Editor: ZAD