Magnificent yet Distinctive Beauty
Which region of the world is the farthest from the ocean? It is the great desert of Xinjiang!
The Taklamakan Desert is known as the "Sea of Death". More than half a century ago, a Swiss expedition stepped into this intimidating, barren land, in the end, all died of hunger and thirst except one survivor.
That was then. Today, one would be shocked by the magnificent greenery in this place.
Along the northwest edge of the Taklamakan Desert, there are endless, lush man-made forests that are like giant, green waves. Generations of efforts have turned the Kekeya area of Arksu Prefecture into an oasis.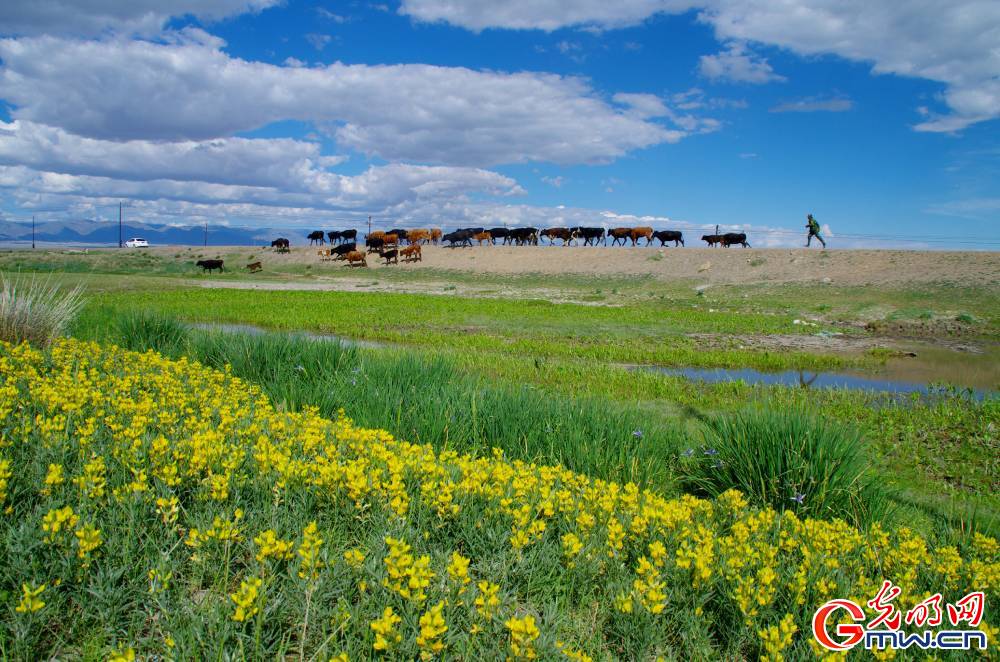 Photo taken on June 7, 2016 shows cattle herd on the Barkol grassland in Barkol Kazakh Autonomous County, northwest China's Xinjiang Uygur Autonomous Region. (Photo/Guangming Picture)
The people in town told us that "Kekeya" means "green cliff" in the Uygur language, which represents the locals' desire for green oasis. It was here that for thousands of years peoples suffered from strong gales that blew with yellow sands.
More than 30 years ago, the cadres and the people of all ethnic groups in Aksu defied the odds – they dug river channels and planted trees on the barren land despite logistic difficulties. Little by little, the color of green spread out in the desert.
In the Kekeya Memorial Hall, we gained an idea of the amount of investment over the years: 255 million yuan spent from 1986 to 2012, resulting in an afforestation area of 269,700 mu (17,980 hectares); 2.612 billion yuan spent from 2013 to 2020, resulting in 932,900 mu (62,193 hectares) of forest.
The large area of greenery has greatly benefited the Aksu region: annual dusty weather has been reduced from more than 100 days to less than 30, annual precipitation increased from 60 mm to 120 mm, and local farmers' per capita income from forestry and fruit business has increased from 48 yuan to 5,292 yuan.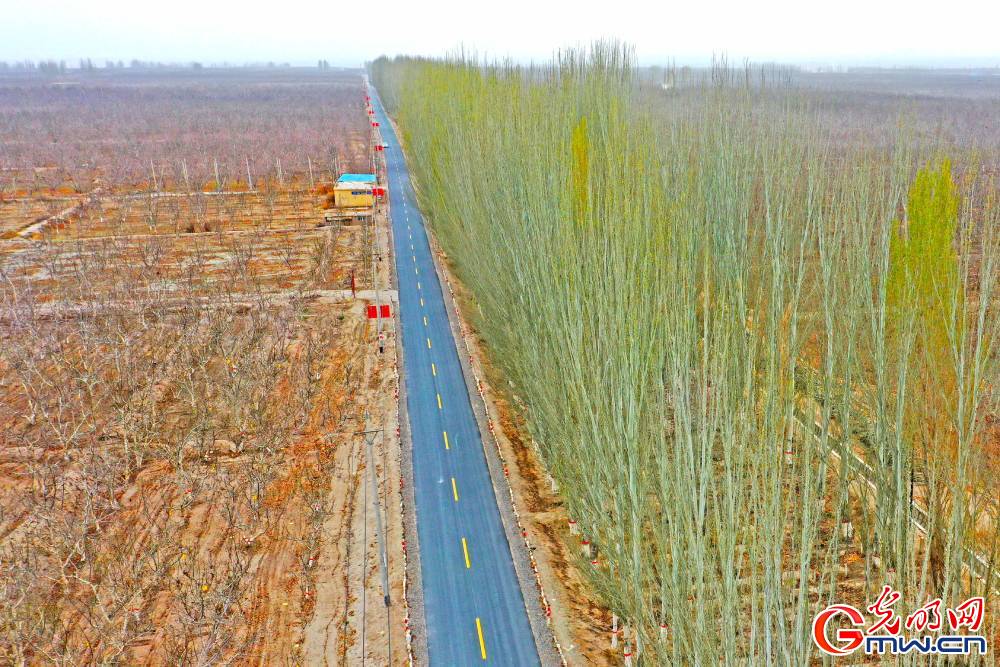 Photo taken on April 5, 2021 shows a greening project in Kekeya Town of Wensu County, northwest China's Xinjiang Uygur Autonomous Region. (Photo/Guangming Picture)
Life has a thousand forms, so do culture and civilization. The green saga of Kekeya is an inspiring example that so long as people respect and take care of Nature, Nature will return the favor with blessings for the people. It is in this way that the Chinese explain its long-cherished belief that "men are an integral part of Nature".
Hou Xinyu, a senior reporter of Hotan Daily who went with us along the trip, said that in many people's impression, Xinjiang is just a Gobi land with barely any life. But we've seen with our own eyes that those who help themselves get helped.
Seated deep in the hinterland of the Eurasia Continent, Xinjiang has a dry climate with very low precipitation, and a drastic temperature difference between day and night, as well as long sunshine hours. The sunshine of Xinjiang could reach 2,600 to 3,400 hours per year. The excessive sunlight may make people feel uncomfortable, but it provides ample energy for plant growth.
Xinjiang is also characterized by windy days with strong gales that blow with yellow sand. But the wind helps pollinate the flowers and thus enables plants to grow better.
The snowcapped mountains are not only a beautiful scenery decorating Xinjiang's skyline, but also the water source that moistens more than 143,000 square kilometers of oasis and 1 billion mu (66.67 million hectares) of agricultural, forestry and husbandry land. The closer we get to the mountains, the more grandiose and selfless it looks, and the better we understand that people are just part of this gigantic ecosystem.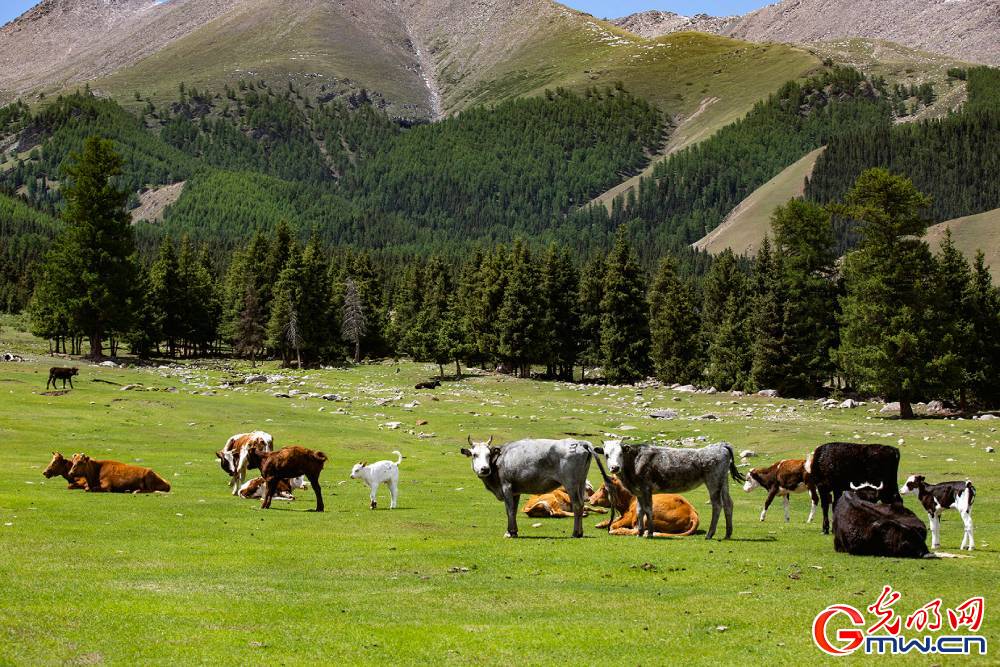 Photo taken on June 4, 2022 shows a picturesque view of Tianshan grassland in Barkol Kazakh Autonomous County, northwest China's Xinjiang Uygur Autonomous region. (Photo/Guangming Picture)
The people of Xinjiang have embraced nature with open arms and created a different scenery with tenacity and unremitting efforts. Today, the lavender in the Ili Valley alone accounts for more than 97% of the country's total planting area, and together with Provence of France and Hokkaido of Japan, it has become one of the three main producers of lavender in the world. The bazaars of Xinjiang sell over 300 types of fruits such as red dates, walnuts, watermelons and the raisins with the sugar content of 60%. Today, Xinjiang has already become one of the 6 major fruit producers of the world. It's also a key producer of quality wheat thanks to its ample sunshine and snow water. In 2021, the total wheat yield hit 6.4 million tons. Xinjiang is China's largest production base of high-quality cotton, and the country's only producer of long-staple cotton. With a cotton output of 5.13 million tons in 2021, it accounted for nearly 90% of China's total. Xinjiang also ranks third globally in tomato production and processing, its tomato products are sold to over 100 countries and regions. Besides, Xinjiang is one of China's five major pastoral areas, delivering top-notch livestock products such as beef and lamb.
No wonder the locals praise their homeland with such lines: "The sky is extremely blue, the flowers are in full blossom, and the girls are stunningly gorgeous".
Editor: ZAD