Happiness with Passion
Along the trip, we were impressed by the simple wisdom of the people in Xinjiang. Juman Khudaybaygen, a Kazakh man on the Tulgaliao grassland, told us that "Labor brings joy, and solidarity brings victory."
This is a proverb known to the Kazakh people but was especially felt by Juman Khudaybaygen, who lives in the small county of Yumin, in a herding and farming area. Thanks to the tenacity and solidarity of the locals, today it's a well-off county where people are leading happy lives. Let the figures speak: with a little more than 50,000 people, the county's total savings deposits have hit 2.2 billion yuan.
The 66-year-old Juman has moved from the yurt home of Tulgaliao grassland into the town of Aktikche village in Jiangers Township. Herding sheep on the grassland all his life, he told reporters that his family had more than 80 sheep, 8 cattle, and more than 3,000 yuan of monthly pension. "Life is so good these days that I'm also working as a volunteer in my village, I tell the young folks that happiness is the result of hard work." When asked what else he wished for, he said emotionally, "My biggest wish is to say to the General Secretary myself that the Kazakh people can't thank him enough!"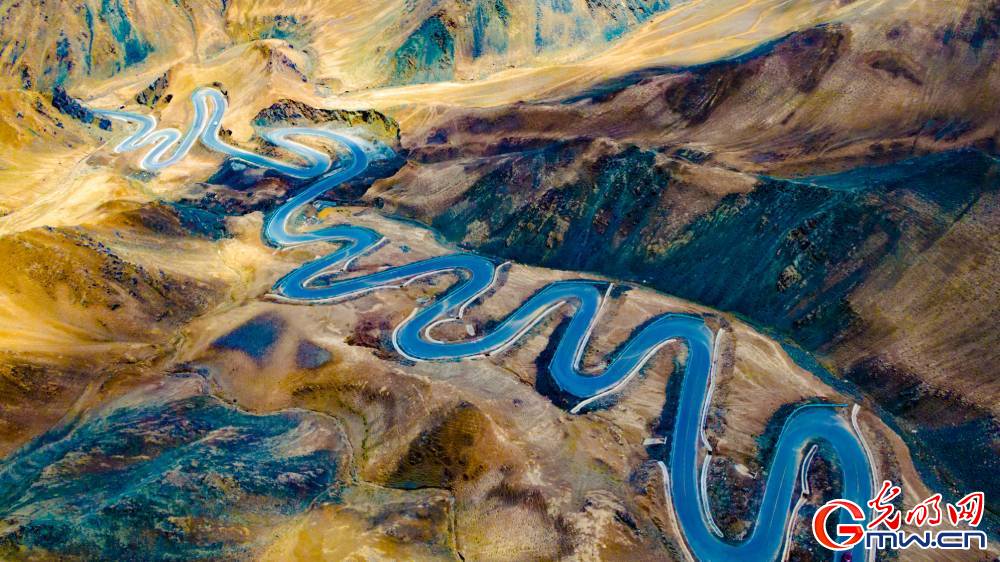 Photo taken on June 11, 2022 shows the magnificent Panlong Ancient Road running through the mountains of the Pamir Plateau like a giant dragon at Kashgar, northwest China's Xinjiang Uygur Autonomous region. (Photo/Guangming Picture)
Walking around Xinjiang, we felt the surging passion of solidarity and tenacity of its people.
To the east is the huge domestic market of 1.4 billion people, and to the west is a large Eurasian market of another 1.4 billion people – Xinjiang enjoys unprecedented development opportunities at a time when China decides to transform its hinterland into the next frontier of domestic development.
In 2020, Xinjiang was given a big "gift package" – a national pilot zone for economic openness was to be built in Tacheng. We drove to the site and was astonished to see the super-large construction scene with roaring machines and high crane towers. Workers from the 15th Division of China Railway Construction Corporation and Sany Group were busy changing the looks of the city.
According to Xiao Zuwen, director of the construction program, a cross-border international land port is being built, which will become a large transportation hub and a modern logistics park in China's northwest; a new energy innovation park is being built, too, and the super-large wind panels it produces will be exported to Central Asia.
As of the end of July, the pilot zone had signed contracts for 99 projects, worth 84.703 billion yuan, and 51 construction projects had been kicked off.
Yang Liu, member of the CPC Tacheng Committee and its publicity director, said with pride that "In a few years, this will become another Shenzhen, only without the sound of sea waves."
In southern Xinjiang, leveraging the geo-connectivity advantage and boasting five land ports, the city of Kashgar is a gateway of the Silk Road Economic Belt. Its Special Economic Development Zone has been around for 12 years, and its Comprehensive Bonded Zone has been operational for 8 years, and that's why the city today boasts a well-developed open economy.
The locals are more than proud of their city, "There is Shenzhen in the east and Kashgar in the west". Today, Tacheng and Kashgar have taken Shenzhen, vanguard of China's reform and opening-up, as their benchmark, which shows the determination and ambition of the people of Xinjiang in catching up.
Entrepreneurs in Khorgos are equally, if not more, passionate and enthusiastic about their future.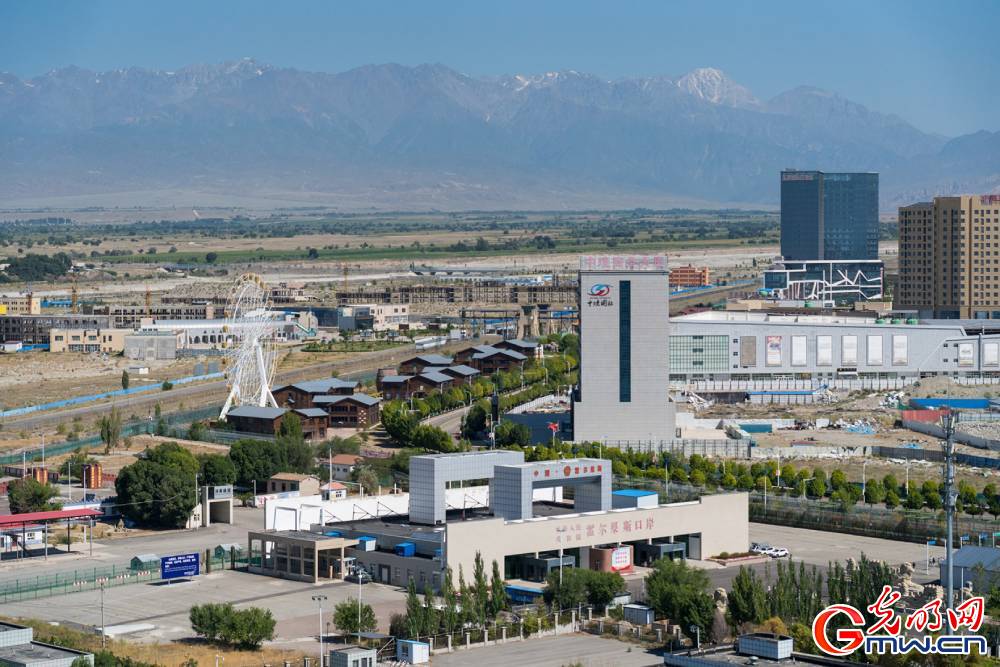 The photo taken on July 22, 2022 shows the Khorgos Port Museum on the China-Kazakhstan border. (Zhang Andi/Guangming Picture)
The 25-year-old Ren Yali serves as the deputy general manager of a digital logistics company in the Comprehensive Bonded Zone responsible for shipping goods from Hangzhou, Yiwu and Shenzhen to Malaszewicz, Poland, via the China-Europe Express Train. Every eight days, containers on the train would come back with made-in-Europe cars. By her calculation, this year's revenue may hit 2 billion yuan. This modern trade company with only 100 people is writing its own legend thanks to the Belt and Road Initiative.
The 35-year-old Zhang Xiaofeng is the manager of a 3.2-hectare modern greenhouse in the Khorgos Agriculture Industrial Park. The persimmons his greenhouse produces are organic, pollution-free. Four persimmons would weigh 1 kilo, and the harvest season comes three months after planting. According to Zhang, the persimmons are sold not only locally, but also to Sichuan, Shanghai and Fujian, with an annual sales revenue of 40 million yuan.
In Hotan's Yutian County, we went into the Kulban Tulagi Memorial Hall and met with Kulban's great-granddaughter, a 27-year-old woman named Rukyamu Maitisai.
The story of Uncle Kulban riding a donkey to Beijing has been extolled for generations. Kulban, a Uygur farmer who survived the hardships of the old society, was able to live in his own house and harvest his own farm immediately after the founding of New China. Kulban was so grateful to Chairman Mao that he handpicked the best dry-fruits and carried them to Mao riding his donkey. The photo of his handshake with Chairman Mao was later known by the entire nation.
"That journey of my great-grandfather-in-law was filled with twists and turns. In the autumn of 1955, he took hundreds of naan bread with him and set out on a donkey journey to Beijing, but after seven days and nights, he realized he was still in the Hotan area", Rukyamu Maitisai told our reporters.
Rukyam Maitisai became one of the first passengers of the Hotan-Ruoqiang Railway after the line was put into operation in 2022. She said to her great-grandfather-in-law in her heart that "Yutian county today is much closer to Beijing".
With a total length of 825 kilometers, the Hotan-Ruoqiang Railway stretches along the southern edge of the Taklamakan Desert, and 534 kilometers of the railway line are in windy desert areas, making it the world's first railroad along a desert. Chairman of the railway line Wang Jinzhong said that after more 1,300 days of working in extreme conditions against harsh gales and scorching sun, the line was eventually opened in June this year. It marks yet another miracle written on the "Sea of Death".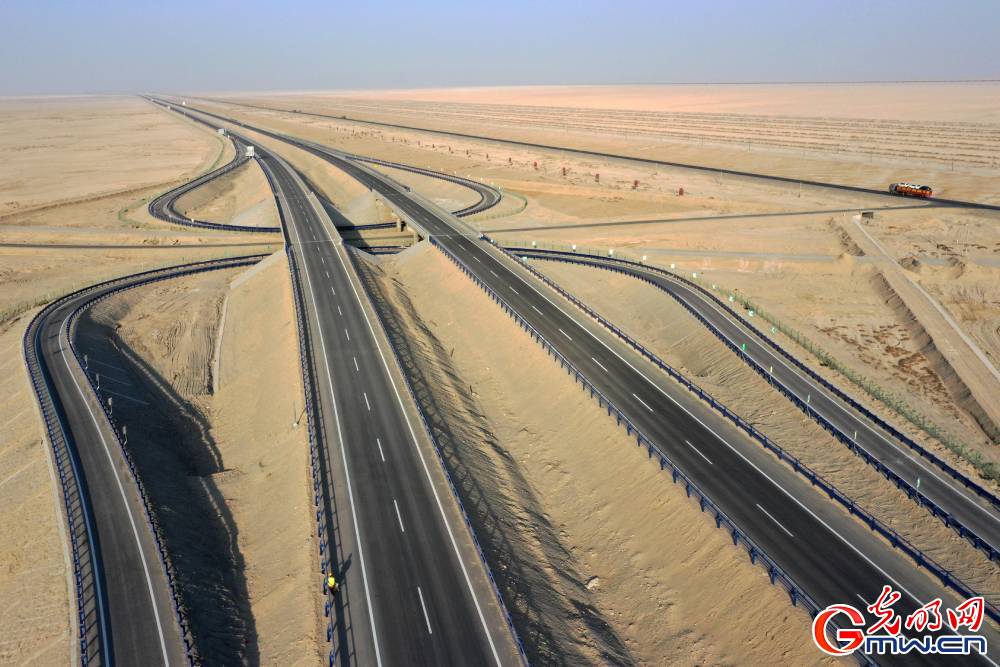 Photo taken on Dec 29, 2021 shows G0711 Yuruo highway in Ruoqiang County, Bayingoling Mongolian Autonomous Prefecture, northwest China's Xinjiang Uygur Autonomous Region. (Photo/Guangming Picture)
The development of Xinjiang is the result of the successive struggles of the people of all ethnic groups in Xinjiang, as well as the sincere and staunch support from 19 other provinces and cities. During the 13th Five-Year Plan period, 19 provinces and cities invested a total of 75.965 billion yuan in Xinjiang, 8,519 assistance projects were carried out, and more than 13,000 officials and professionals were dispatched to help Xinjiang.
At the Shandong Provincial Aid Command in Kashgar, we met with general director Zhang Chengwei and his team. Zhang was very familiar with Shandong's assistance to Xinjiang: Since the 13th Five-Year Plan, Shandong has invested 9.66 billion yuan in aid to Xinjiang. Shandong has built 27,800 houses, benefiting more than 111,000 people; Shandong Water Development Group invested 1.06 billion yuan in Shule County and set up the 5,000-mu (333.33-hectare) modern vegetable park in Southern Xinjiang. Zhang is especially proud of the Shandong watermelons re-planted in Kashgar. The famous "Guo watermelon" is sold at 100 yuan per kilo, and its annual output is expected to reach 136 million yuan. Zhang has been working in Xinjiang for four years, he enjoys his work despite his tanned face. The Uygur elder sister he befriended was once bedridden, and after his enthusiastic help, she was able to walk again. Members of his team have befriended Uygur people and they're truly like one family.
Not all stories in Xinjiang are grand ones like what we've just told. Many ordinary folks are pursuing their dreams here, and they are the beautiful scenery of this great era.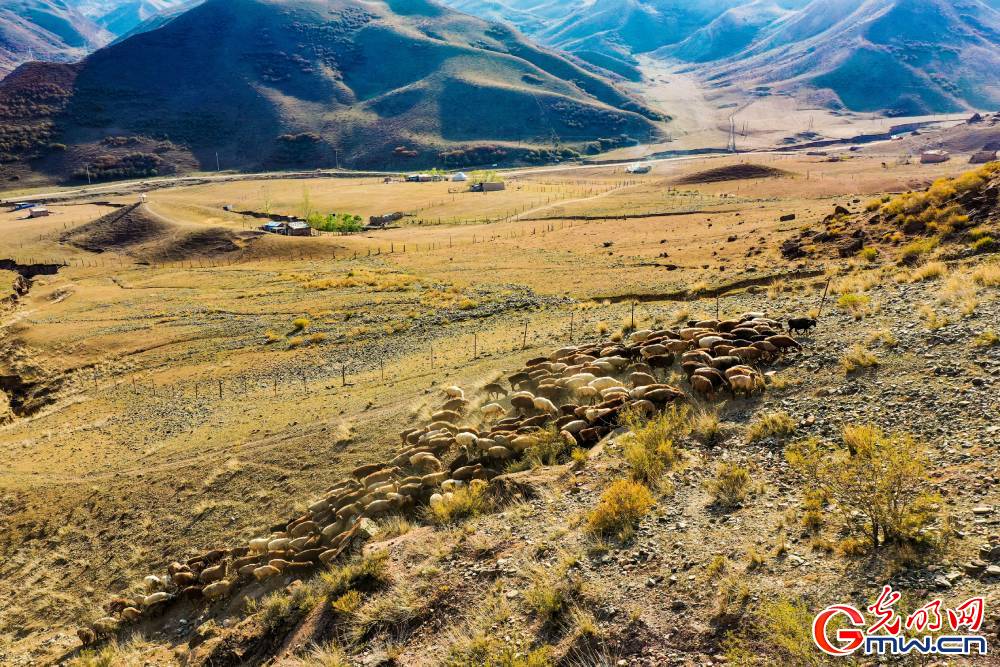 Photo taken on Sept 19, 2022 shows a large number of sheep are moving in the southern mountains of Hutubi County, Changji Hui Autonomous Prefecture, northwest China's Xinjiang Uygur Autonomous region. (Photo/Guangming Picture)
Story 1: 30-year-old Duoleti Tursunyaz is a happy young man because Re is a farmer-turned-worker. His hometown, Luopu County, is located at the southern end of the Taklamakan Desert, which was once one of the most impoverished counties in Xinjiang. Things changed a few years ago when the county built an industrial park, allowing more than 8,000 people to work near their homes, and Duoleti was one of them, earning nearly 3,000 yuan a month. His biggest wish is to send his children to a good school.
Story 2: 42-year-old Yakov Tuldi was a down-to-earth herdsman. His hometown, Taglak Village of Aksu's Wensu County, is located at the foot of the main peak of the Tianshan Mountains – the Tomur Peak. Though bestowed with beautiful natural scenery, villagers had long been begging for food. In 2019, Wensu County and Aksu Cultural Tourism Group co-invested hundreds of millions of yuan there to build a train theme park, a ski resort, and a pedestrian street with restaurants on both sides. Entertainment programs such as helicopters, hot air balloons, powered parachutes were also introduced to the complex. Today, the annual tourism revenue has reached 40 million yuan. Yakov has become a ticket inspector at the tourism compound, earning 4,200 yuan per month. The biggest wish of Yakov is to start his own homestay business.
Story 3: 36-year-old Mabeckli looks much younger than his age, which he says is because the Xinjiang lamb nurtures people well. Twelve years ago, Mabeckli migrated to Ilitex County from Gansu Province. With skills and experience in the catering industry, he opened a small restaurant in a street corner specializing in sliced lamb and noodles. He picks the best lamb every morning and constantly improves his recipe. Before long, he was well recognized by gourmets. During the peak tourist season, his restaurant could receive more than 1,000 customers each day, with daily revenue exceeding 80,000 yuan. Today, the restaurant is shorthanded even with over 30 staff members. Mabeckli's biggest dream is to scale up the restaurant by one fold, and open a few branches.
Story 4: Wang Wei is a millennial who likes poem-writing. Three years ago, she and her friends came to Kashgar on a trip and fell in love with the city immediately. She rented two houses along the streets the day she finished the trip. A few months later, she quit her job and returned to Kashgar, where she opened the "Moonlight Hostel" and "Moonlight Coffee" – she has since developed a deep bond with the local residents. Wang Wei just harvested a successful business season this summer. She wishes to see her business grow a little bigger in the future. …………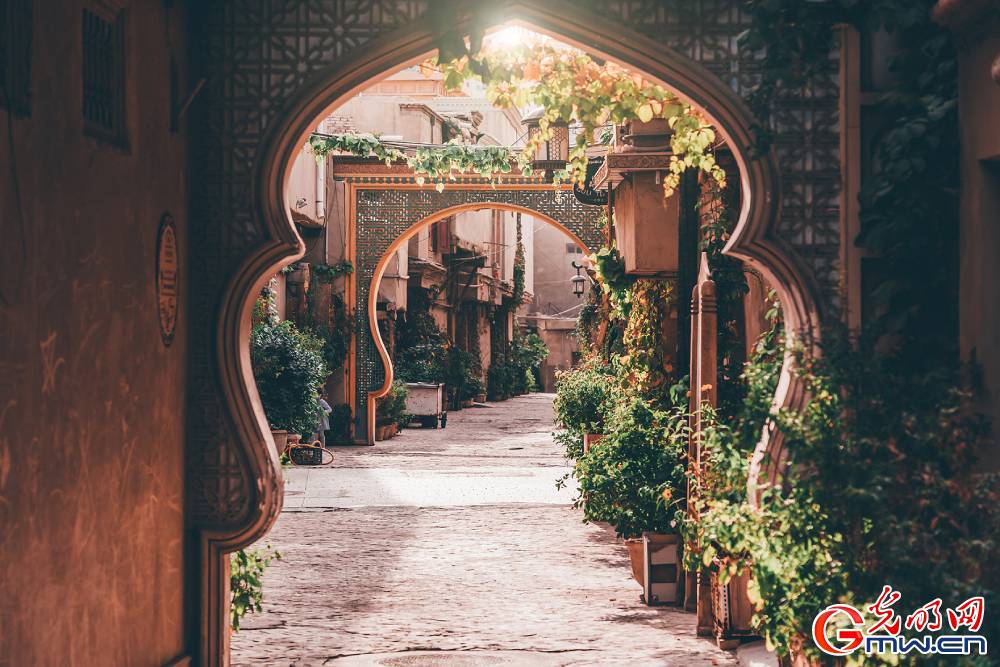 Photo shows the ancient city of Kashgar, northwest China's Xinjiang Uygur Autonomous Region. (Photo/Guangming Picture)
After more than 10 days of separate trips, the research team re-assembled in Kashgar when its 10,000-mu pomegranate orchard entered its harvest season. It's the shared belief of all members of the team that the people living in the land of Xinjiang will realize their dreams and have better lives!
(The Guangming Daily Research Team is composed of reporters Wang Huimin, Zhao Jianguo, Bo Jieping, Guo Lin, Li Hui, Shang Jie, Zhao Minghao, Wang Yizhao, Wang Jin, Zhong Chao, Liu Jiangwei, Bai Xuelei, Lin Ziyou, Liu Lu, and GMW.cn reporters Liu Jiaming and Zhang Andi)
Editor: ZAD