China's State Council Information Office issued a white paper titled "China's BeiDou Navigation Satellite System in the New Era" on Nov. 4, 2022.
The white paper said that the BeiDou Navigation Satellite System (BDS) has been built into a world-class navigation system. It laid out how China plans to refine the system by improving its operation management, promoting sustainable development of BDS-based applications, and upgrading its governance in the coming years.
Below highlight the three-step strategy taken to build BDS, the three segments of BDS, and the fast growing BDS applications industry shown by the numbers.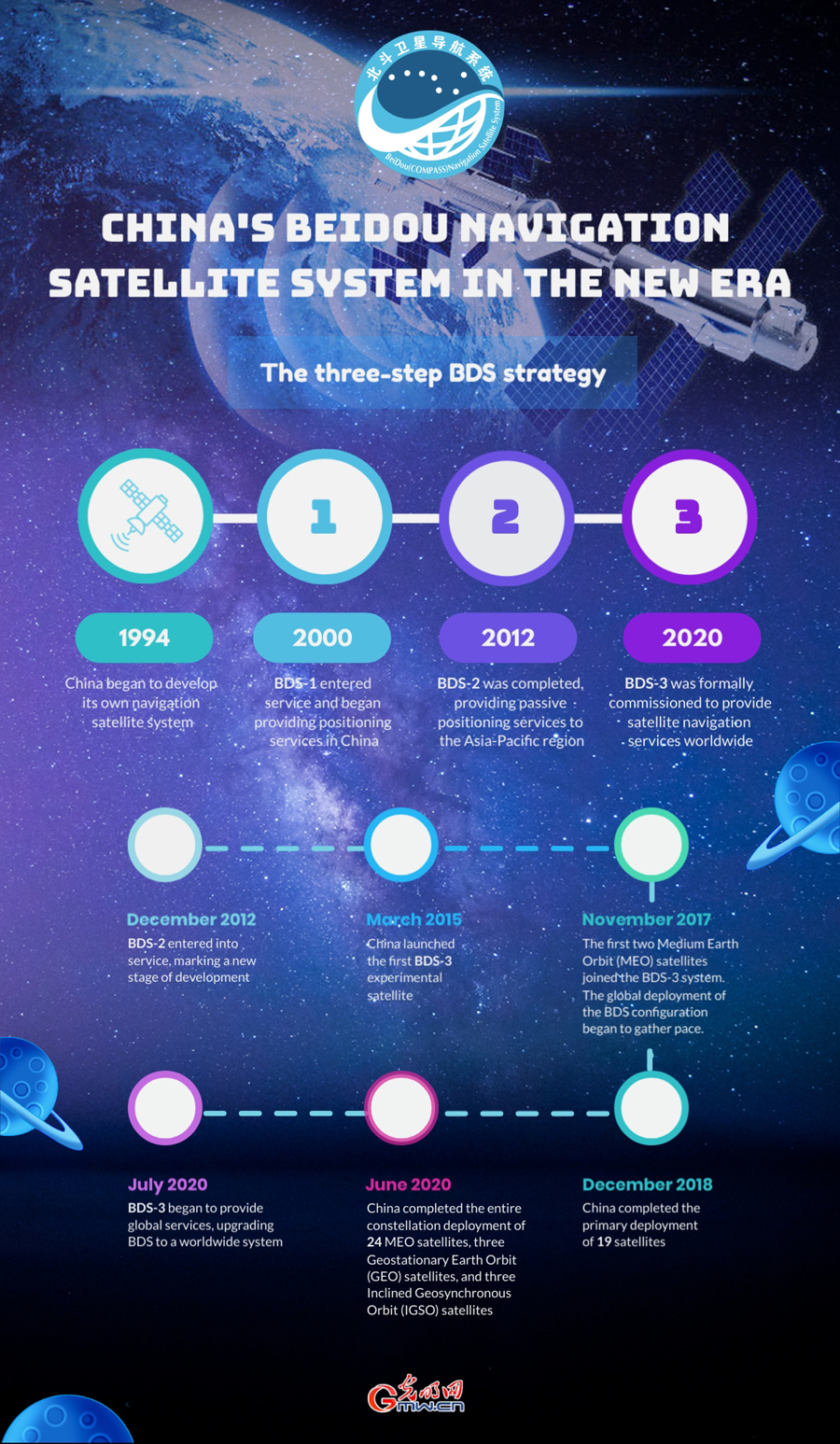 China has explored its navigation satellite system in a three-step strategy.
The BDS-1 project got official approval in 1994 and was completed in 2000. The BDS-2 was completed in 2012.
The completion and official launch of the system in 2020 marks the success of the three-step strategy. China has become the third country in the world to independently own a global navigation satellite system.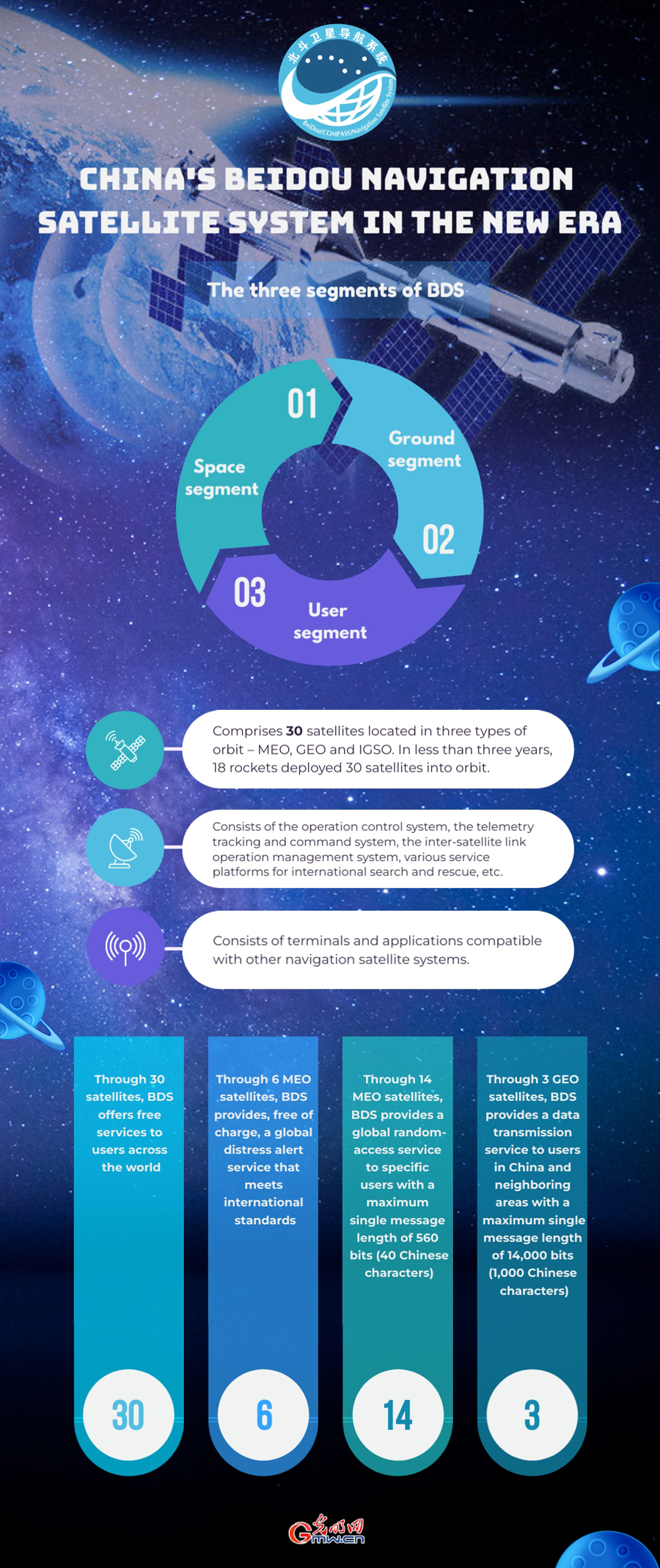 BDS is composed of a space segment, a ground segment, and a user segment.
BDS mainly provides positioning, navigation, timing, international search and rescue, and short message communication services to global users, while it offers short message communication, satellite-based augmentation, precise point positioning, and ground-based augmentation services to users in the Asia-Pacific.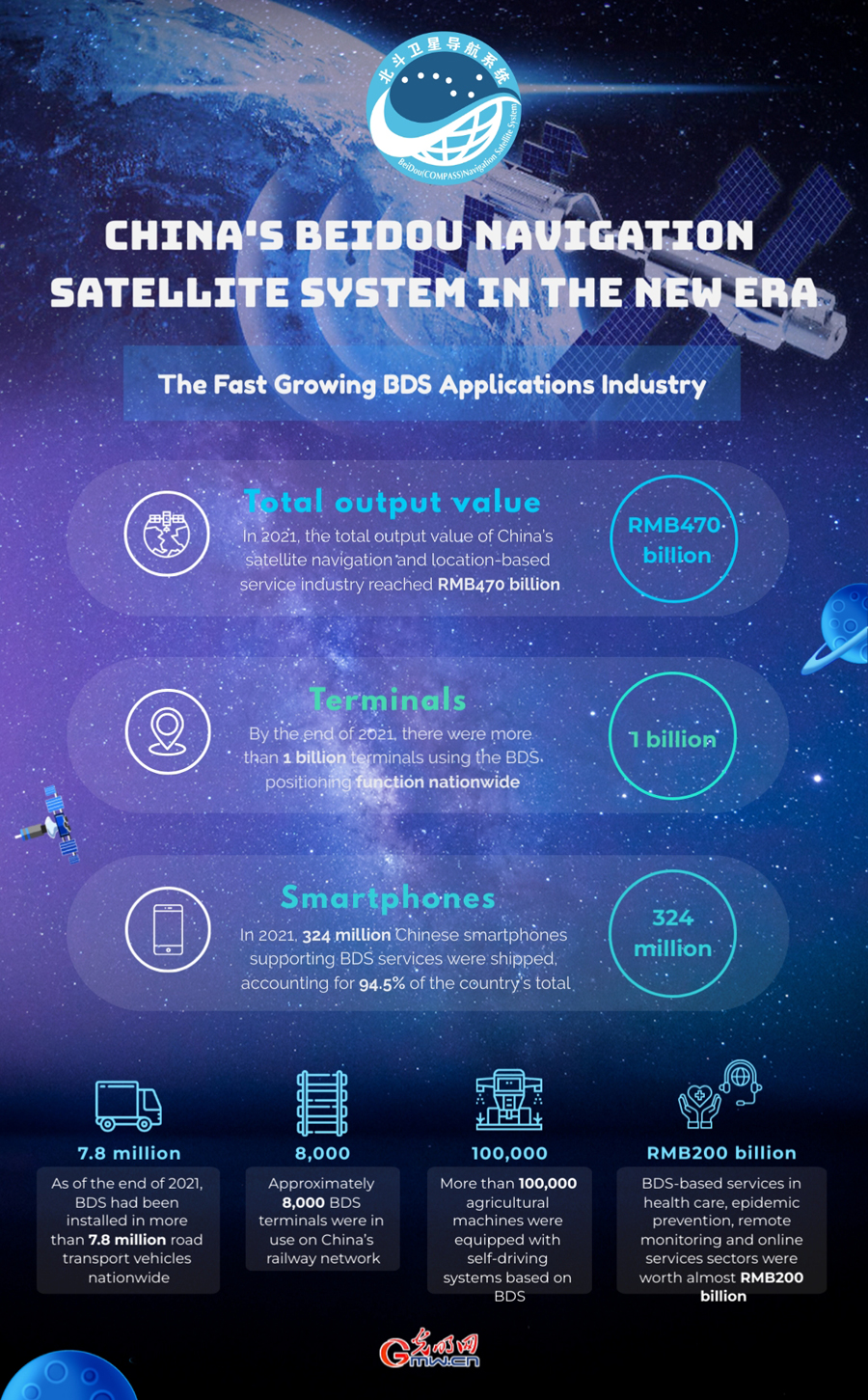 In 2021, the total output value of China's satellite navigation and location-based service industry reached RMB470 billion.
In terms of product manufacturing, breakthroughs have been made in a series of key BDS technologies such as chips and modules, which has effectively driven up the shipment volume. By the end of 2021, there were more than 1 billion terminals using the BDS positioning function nationwide.
In terms of its applications, BDS has been widely applied to various industries and sectors, generating significant socioeconomic benefits. As of the end of 2021, BDS had been installed in more than 7.8 million road transport vehicles nationwide. Approximately 8,000 BDS terminals were in use on the country's railway network, and more than 100,000 agricultural machines were equipped with self-driving systems based on BDS. BDS-based services in health care, epidemic prevention, remote monitoring and online services sectors were worth almost RMB200 billion.
BDS-based applications have shown their growing relevance in scenarios closely related to daily life, notably in smartphones and smart wearable devices. BDS has been widely supported by products from international mainstream chip manufacturers, including smartphone device suppliers. In 2021, 324 million Chinese smartphones supporting BDS services were shipped, accounting for 94.5 percent of the country's total.
Editor: JYZ