China's State Council Information Office issued a white paper titled "Jointly Build a Community with a Shared Future in Cyberspace" on Nov. 7, 2022. Here are the highlights of the third part of the white paper: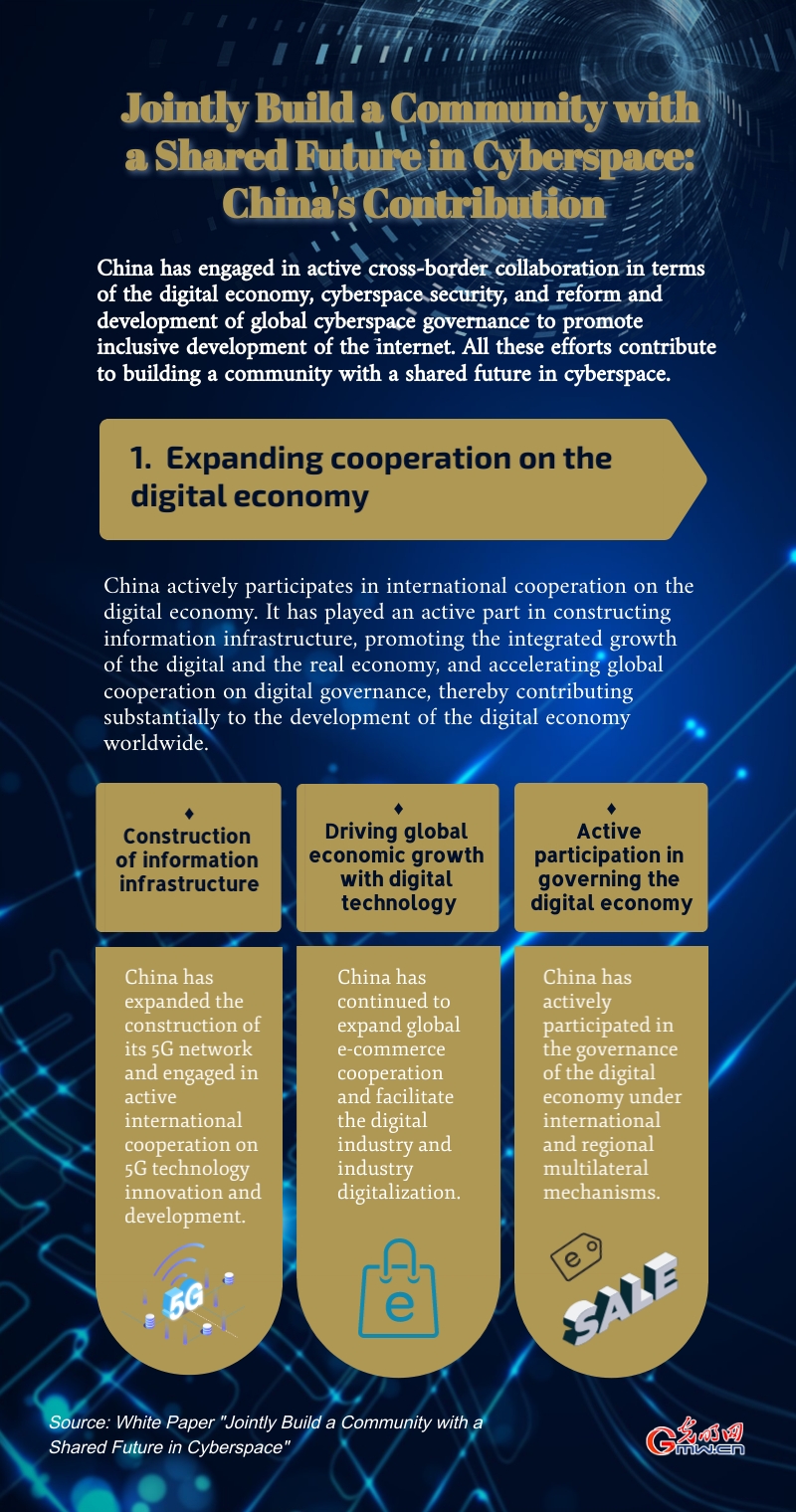 Upholding the principle of extensive consultation, joint contribution, and shared benefits, China has continued to strengthen bilateral, regional and international dialogue and cooperation in cyberspace, and committed itself to forming extensive partnerships with parties throughout the international community. It has engaged in active cross-border collaboration in terms of the digital economy, cyberspace security, and reform and development of global cyberspace governance to promote inclusive development of the internet. All these efforts contribute to building a community with a shared future in cyberspace.
1. Expanding cooperation on the digital economy
China actively participates in international cooperation on the digital economy. It has played an active part in constructing information infrastructure, promoting the integrated growth of the digital and the real economy, and accelerating global cooperation on digital governance, thereby contributing substantially to the development of the digital economy worldwide.
(1) Construction of information infrastructure
Along with the international community, China has played an active part in constructing information infrastructure and expanding internet coverage and application, for greater connectivity of global digital infrastructure.
China has contributed to the laying of optical cables and submarine cables worldwide. Chinese enterprises have provided support for many countries in constructing information and communications infrastructure, opening up digital information expressways for other developing countries.
(2) Driving global economic growth with digital technology
Fully leveraging digital technology to boost the economy, China has continued to expand global e-commerce cooperation and facilitate the digital industry and industry digitalization. It calls for joint efforts to coordinate the transformation towards digitalization and green growth.
Silk Road e-commerce cooperation has been fruitful. Since 2016, China has set up bilateral e-commerce cooperation mechanisms with 23 countries across five continents, and e-commerce cooperation dialogue mechanisms with Central and Eastern European countries and five Central Asian countries.
(3) Active participation in governing the digital economy
China has actively participated in the governance of the digital economy under international and regional multilateral mechanisms, raising and advancing initiatives, declarations, and proposals in the interest of most participating countries. It has also strengthened cooperation with specialized international organizations to contribute to governing the global digital economy.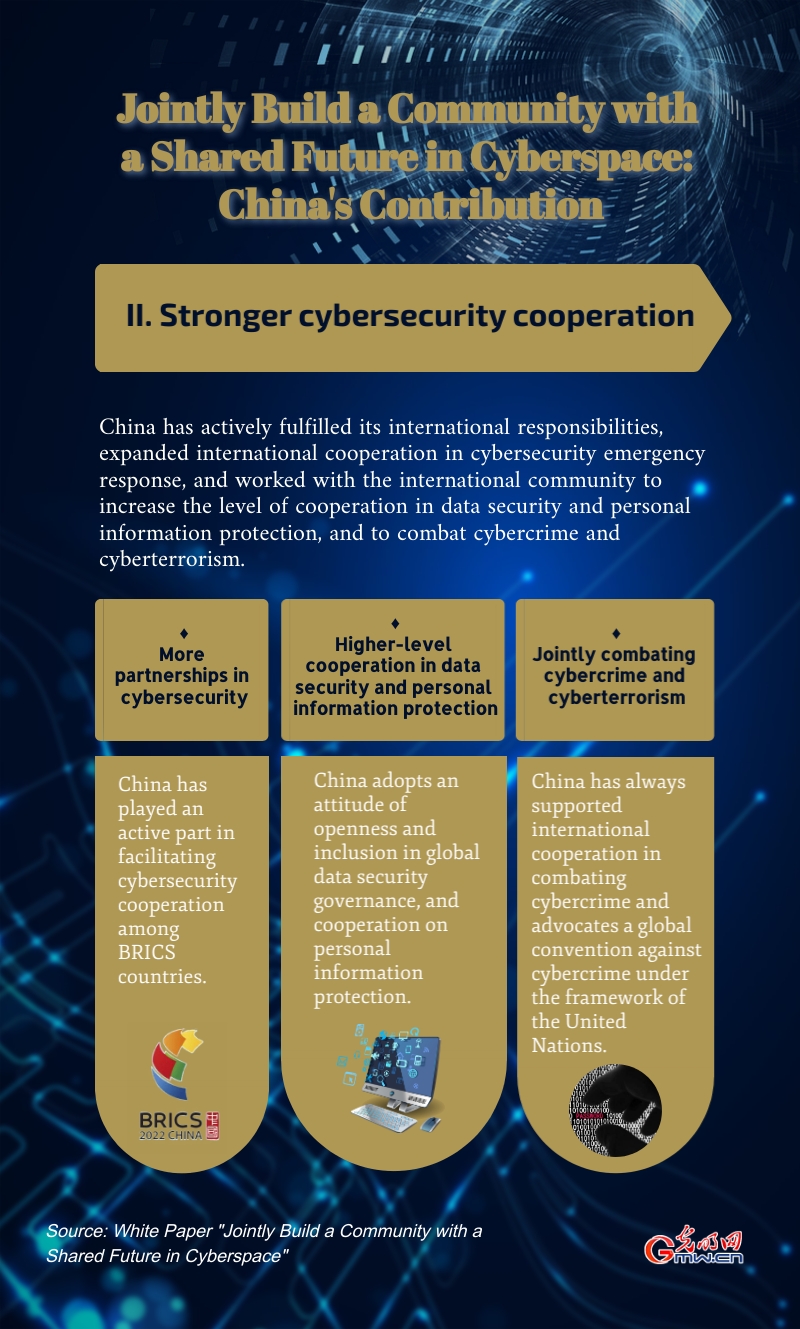 2. Stronger cybersecurity cooperation
Cybersecurity is the shared responsibility of the international community. China has actively fulfilled its international responsibilities, expanded international cooperation in cybersecurity emergency response, and worked with the international community to increase the level of cooperation in data security and personal information protection, and to combat cybercrime and cyberterrorism.
(1) More partnerships in cybersecurity
China has played an active part in facilitating cybersecurity cooperation among BRICS countries. In 2017, BRICS countries agreed on the Roadmap of Practical Cooperation on Ensuring Security in the Use of ICTs. At its eighth meeting in 2022, the BRICS Working Group on Security in the Use of ICTs unanimously adopted the report on the implementation of the roadmap, which summed up the lessons learned and progress made over the past five years and reached consensus on the direction of future cooperation.
(2) Higher-level cooperation in data security and personal information protection
China adopts an attitude of openness and inclusion in global data security governance, and cooperation on personal information protection. It works to achieve a reasonable balance between data security and the orderly flow of data. Conditional on maintaining the security of personal information and important data, China has carried out exchanges and cooperation with countries throughout the world and jointly explored rules on data security and personal information protection that reflect the common concerns and meet the common interests of the international community.
(3) Jointly combating cybercrime and cyberterrorism
China has always supported international cooperation in combating cybercrime and advocates a global convention against cybercrime under the framework of the United Nations. From 2011 to 2021, China facilitated seven meetings of the United Nations Open-Ended Intergovernmental Expert Group on Cybercrime, making a significant contribution to the adoption of relevant resolutions on the drafting of a United Nations convention on cybercrime.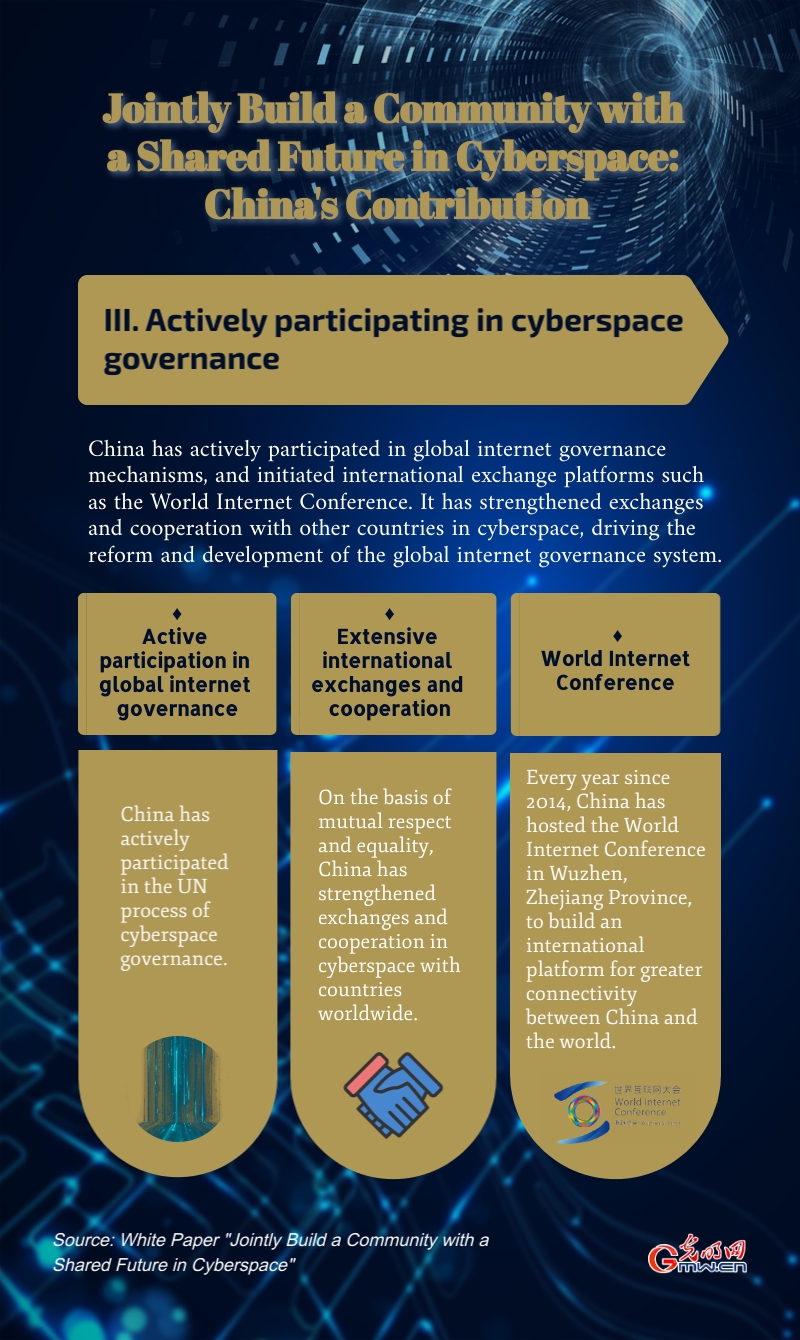 3. Actively participating in cyberspace governance
Cyberspace is a shared space for human activities; it needs to be developed and managed by all countries. China has actively participated in global internet governance mechanisms, and initiated international exchange platforms such as the World Internet Conference. It has strengthened exchanges and cooperation with other countries in cyberspace, driving the reform and development of the global internet governance system.
(1) Active participation in global internet governance
China firmly safeguards the international system with the United Nations at its core, the international order underpinned by international law, the basic norms governing international relations based on the purposes and principles of the UN Charter, and on these foundations, the formulation of universally agreed international rules in cyberspace.
(2) Extensive international exchanges and cooperation
On the basis of mutual respect and equality, China has strengthened exchanges and cooperation in cyberspace with countries worldwide. With common progress and win-win results as the goals, it has championed mutual confidence and shared governance.
(3) World Internet Conference
Every year since 2014, China has hosted the World Internet Conference in Wuzhen, Zhejiang Province, to build an international platform for greater connectivity between China and the world, and a Chinese platform for all to benefit from a global internet. Representatives from governments, international organizations, internet companies, think tanks, industry associations, and technology communities have come together to share their views on the further development of the global internet.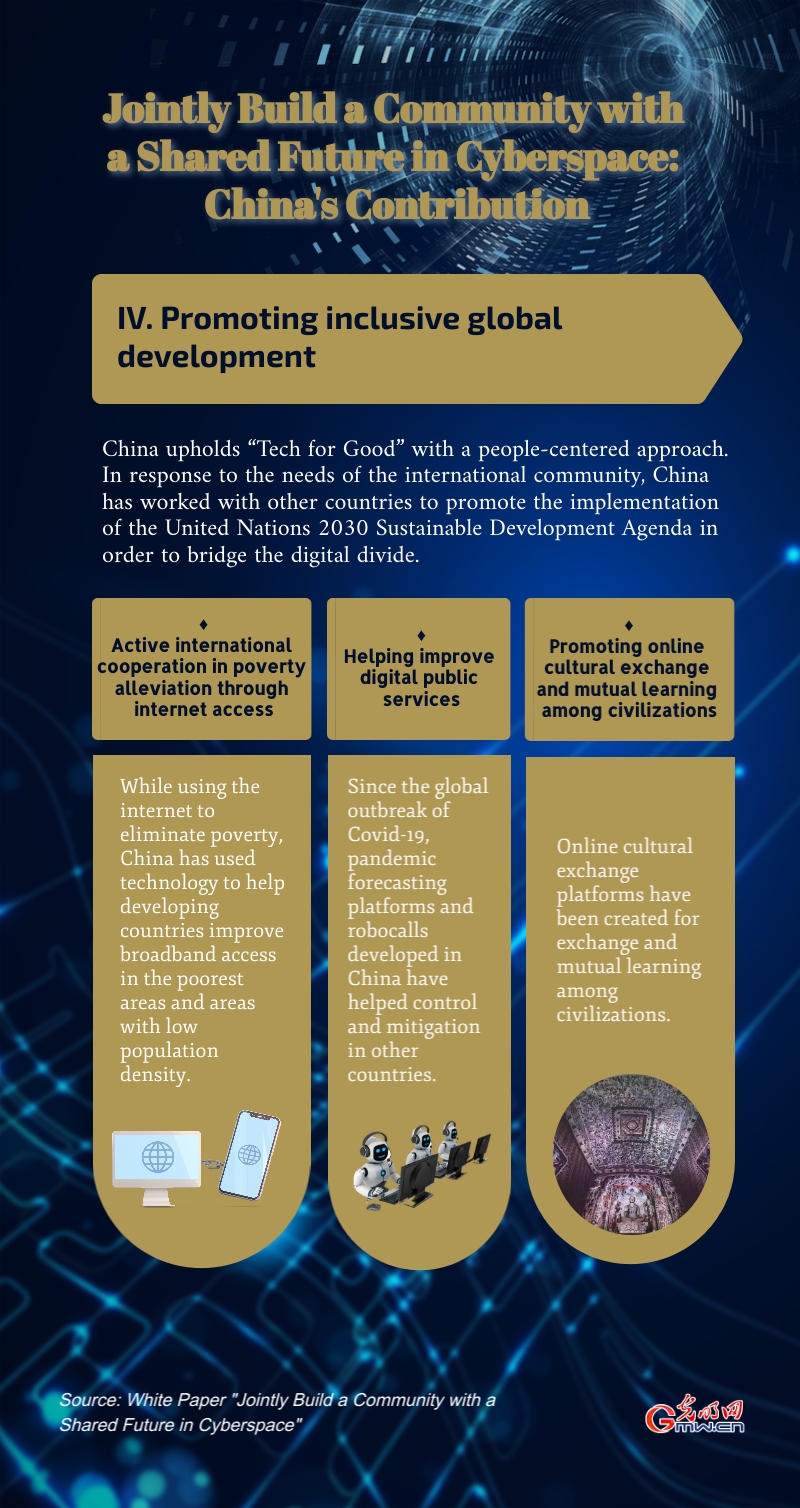 4.Promoting inclusive global development
China upholds "Tech for Good" with a people-centered approach. In response to the needs of the international community, China has worked with other countries to promote the implementation of the United Nations 2030 Sustainable Development Agenda in order to bridge the digital divide. It has promoted online cultural exchanges and mutual learning among civilizations and strengthened support for vulnerable groups to help people in different countries and regions share the benefits of the internet.
(1) Active international cooperation in poverty alleviation through internet access
China has always associated its own future with that of the peoples of the world. It has consistently advocated, promoted, and contributed to international poverty reduction. While using the internet to eliminate poverty, China has used technology to help developing countries improve broadband access in the poorest areas and areas with low population density.
(2) Helping improve digital public services
China has actively developed digital public products and expanded cooperation in digital public services. The Arab-China Digital Library project, a joint initiative, provides digital resources and cultural services in Chinese and Arabic for Chinese and LAS users. Since the global outbreak of Covid-19, pandemic forecasting platforms and robocalls developed in China have helped control and mitigation in other countries.
(3) Promoting online cultural exchange and mutual learning among civilizations
Online cultural exchange platforms have been created for exchange and mutual learning among civilizations. To promote the digital presentation and dissemination of Dunhuang culture, an online symposium – Sino-French Cultural Talk: the Digital Effort and Communication for Dunhuang Studies – was held in May 2021 in conjunction with a French museum. Its goal was to identify new directions, models and plans for the digital protection and dissemination of Dunhuang cultural heritage preserved in France.

Editor: Zhang Zhou