China's State Council Information Office issued a white paper titled "Jointly Build a Community with a Shared Future in Cyberspace" on Nov. 7, 2022.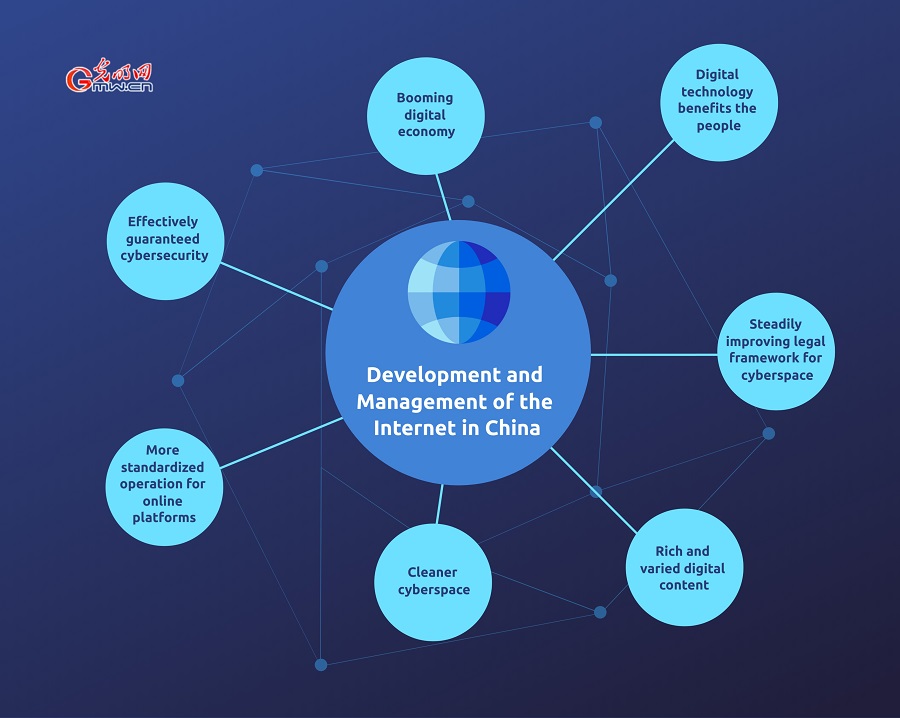 According to the white paper, China regards the internet as a platform for opening up and cooperation, where good order and positive energy benefit the people. In the new development stage and guided by the new development philosophy, the country is building a new development dynamic. It is set to build up its strength in cyberspace and digital technologies. Progress has been made in boosting the digital economy, building a clean and sound online environment, and guarding against risks to cyberspace security. This has provided sound services, support and a guarantee for high-quality development, and laid solid foundations for building a community with a shared future in cyberspace.
1. Booming digital economy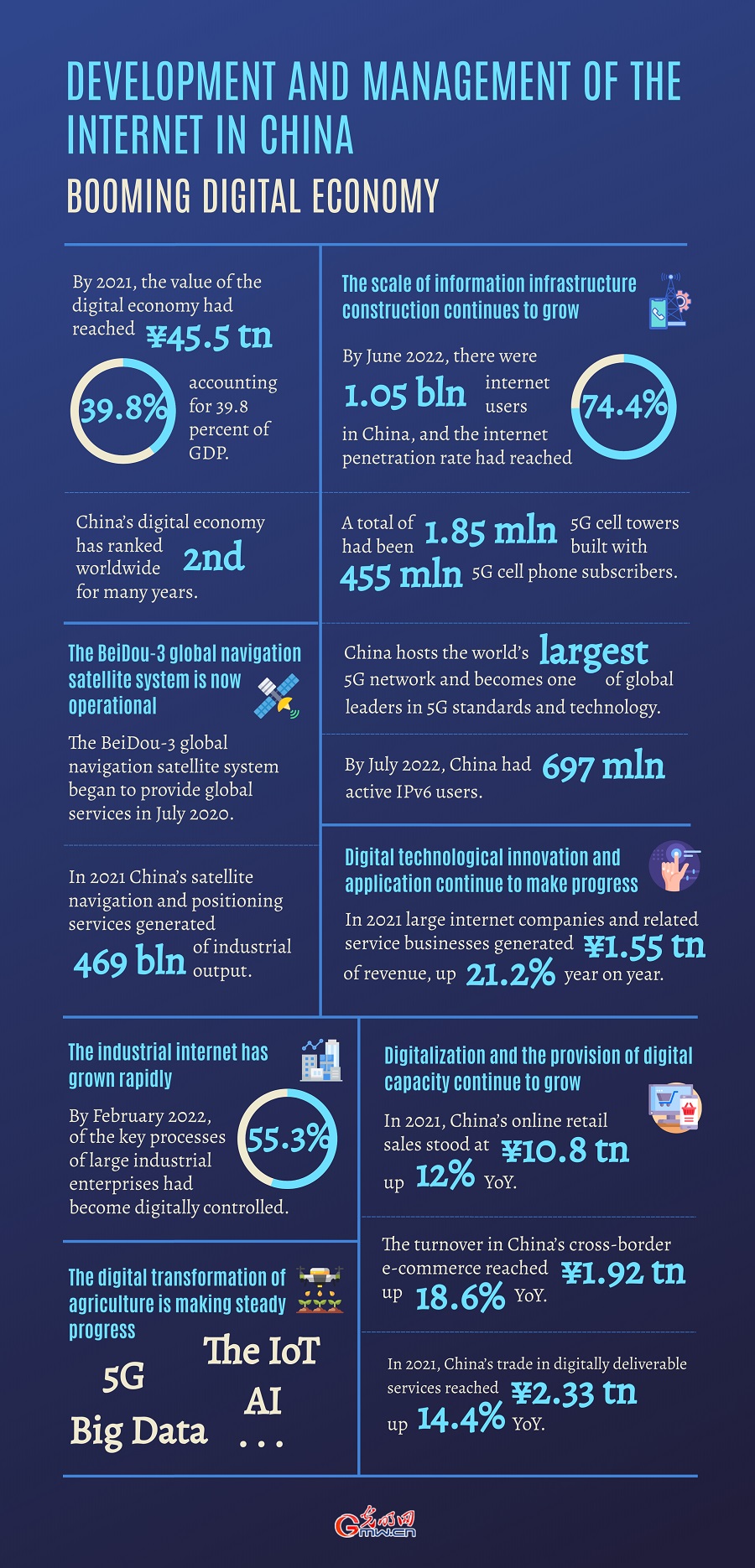 China has advanced the construction of information infrastructure and spread the application of the internet. Driven by information technology (IT) innovation, it is growing new industries, new business forms, and new business models, and moving faster to develop the digital economy for deeper integration with the real economy, and to foster new growth drivers for new development. According to the statistics provided by research agencies, by 2021, the value of the digital economy had reached 45.5 trillion yuan, accounting for 39.8 percent of GDP and becoming a major growth engine. China's digital economy has ranked second worldwide for many years.
The scale of information infrastructure construction continues to grow. By June 2022, there were 1.05 billion internet users in China, and the internet penetration rate had reached 74.4 percent. A total of 1.85 million 5G cell towers had been built with 455 million 5G cell phone subscribers. China hosts the world's largest 5G network and becomes one of global leaders in 5G standards and technology. China also takes the lead in realizing the large-scale commercial use of standalone (SA) 5G. China has conducted international cooperation in 5G technological innovation, development, and construction, and made important contributions to global 5G penetration. It has updated the Internet Protocol Version 6 (IPv6) on its backbone networks, metropolitan area networks, and LTE networks, and increased the IPv6 support of main internet websites and applications. By July 2022, China had 697 million active IPv6 users.
The BeiDou-3 global navigation satellite system is now operational, and began to provide global services in July 2020. In 2021 China's satellite navigation and positioning services generated 469 billion yuan of industrial output. By year end there were more than one billion terminal products with BeiDou positioning functions in use, and more than 7.9 million automobiles and 100,000 automatic driving farming vehicles had installed the BeiDou system. Moreover, medical and health devices, remote monitoring, online services and other downstream service sectors reported nearly 200 billion yuan of output value. The BeiDou industrial system is in place and provides notable economic and social benefits.
Digital technological innovation and application continue to make progress. China vigorously cultivates new technologies and applications such as artificial intelligence (AI), Internet of Things (IoT) and next-generation communication networks to accelerate the transformation from digitalization and network-based service to artificial intelligence in various economic and social sectors. Innovation has become a defining feature in the country. The big data industry is growing swiftly, with a compound annual growth rate exceeding 30 percent during the 13th Five-year Plan period (2016-2020). In 2021 large internet companies and related service businesses generated 1.55 trillion yuan of revenue, up 21.2 percent year on year. The fields such as smart industry, smart transport, intelligent health, and smart energy have become areas of rapid growth in the number of industrial IoT connections.
The industrial internet has grown rapidly, and the digital transformation of manufacturing industry continues. By February 2022, 55.3 percent of the key processes of large industrial enterprises had become digitally controlled, and the application of digital R&D tools was as high as 74.7 percent. The Action Plan for Industrial Internet Development (2018-2020) was formulated, and an innovation and development initiative for the industrial internet has been carried out, stimulating nearly 70 billion yuan of investment and incubating four national industrial internet demonstration bases and 258 pilot projects. The Action Plan for Innovation and Development of the Industrial Internet (2021-2023) is now being implemented. Compatible industrial internet infrastructure has boosted the connectivity between enterprises, equipment, and products, as well as contacts between people.
The digital transformation of agriculture is making steady progress. 5G, the IoT, big data and AI have been applied in agricultural production and management, and key technological development and innovative application research for intelligent agriculture and farming machinery have been strengthened. China has launched pilot agricultural IoT projects, carried out smart irrigation projects, digital management and smart renovation of public irrigation infrastructure, promoted big data application in agriculture and rural areas, and built an information service system covering the whole agricultural production process. China has built the world's second largest databank and information system of species resources, developed the "golden seeding platform", and spread digital management services for agricultural equipment.
Digitalization and the provision of digital capacity continue to grow. E-commerce is flourishing. In 2021, China's online retail sales stood at 10.8 trillion yuan, up 12 percent year-on-year and accounting for 24.5 percent of the total retail sales of consumer goods. The turnover in China's cross-border e-commerce reached 1.92 trillion yuan, up 18.6 percent year-on-year. The scale of third-party payment transactions continues to expand. New methods have been introduced to upgrade commercial models of the service industry, and internet-based medical services, online education, and remote working have accelerated the digitalization of the service industry. The capacity in cross-border payment for digital services keeps increasing. In 2021, China's trade in digitally deliverable services reached 2.33 trillion yuan, up 14.4 percent year-on-year.
2. Digital technology benefits the people
China has developed the internet extensively, with the aim of benefiting the people. As part of its efforts to implement the UN 2030 Agenda for Sustainable Development, guided by the people-first development philosophy, China has promoted internet application in education, medical services, poverty alleviation, and other public services, improved digital technologies to make such services inclusive and benefit all, and extended the public's digital literacy and skills.
The internet has helped achieve good results in China's targeted poverty alleviation. The country implemented the Action Plan for Internet-Aided Poverty Alleviation, making extensive use of the internet in five poverty alleviation projects – internet coverage, rural e-commerce, raising education and skills, information services, and public welfare. China has extended internet access to all poverty-stricken areas. By the end of 2020, 98 percent of all poverty-stricken villages had access to optical services, and more than 12 million people in poverty had benefited from lower internet access fee. Online retail sales in rural areas amounted to 2.05 trillion yuan in 2021, up 11.3 percent year-on-year, and more than 2,400 county-level e-commerce public service and logistic delivery centers had been built across the country, with over 148,000 village e-commerce service outlets. An initial online information service system for poverty alleviation has been established. By the end of 2020, 454,000 information service outlets had been set up to provide services to villagers, remote medical services were available in the hospitals of all poor counties, and basic financial services covered 99.2 percent of all administrative villages. The online sales platform for farm and sideline products from poor regions covered all 832 poor counties across China, more than 90,000 products on the platform for sale, with a transaction value exceeding 9.97 billion yuan. The Social Assistance of China website has 65.34 million registered users, publishing 7.37 million notes of commodity demand, 5.84 million of which successfully matched.
IT application in education has improved. Focusing on information networks, platforms, digital resources, smart campus, innovative applications, and reliability and safety, the construction of new education infrastructure has been accelerated to build a high-quality education support system. The school network connectivity initiative had been completed. By the end of 2021, all primary and middle schools in China had internet access, 99.95 percent of which now have 100M bandwidth. More than 210,000 schools had wireless network services, and 99.5 percent of all schools had multi-media classrooms.
China has launched a national education digitalization initiative. Smart Education of China, an online public service platform, opened in March 2022. This platform merges the resources of national smart education platforms for primary and secondary education, vocational education, and higher education as well as the 24365 online platform that provides employment services for college graduates. To date it has connected 529,000 schools and colleges, reaching 18.44 million teachers, and 291 million students and other learners. It now provides 34,000 videos, articles and handbooks in basic education, 6,628 vocational training courses, and 27,000 higher education courses.
Better IT-based services for people with different needs. Barrier-free access to information services has been increased to help the elderly and people with disabilities enjoy a digital life. Diverse measures have been adopted to create barrier-free conditions for information exchanges among people with disabilities. Effective methods have been introduced to help the elderly with travel, medical services, shopping, cultural, and entertainment activities, and to handle other affairs in their daily life, solving their problems by using smart technology. The internet has also been utilized to protect women's rights and interests in relation to health, education, and the environment. Notable progress has been made with internet-related protection of minors.
3. Steadily improving legal framework for cyberspace
China governs cyberspace in accordance with the law, and applies the rule of law as a fundamental measure to develop a sound digital industry and build a standard-based and orderly online environment. It is steadfast in applying the law in governing, running and using the internet, to ensure that the internet develops within the bounds of the law.
A complete cyber law system. China has formulated and enforced a number of fundamental and comprehensive laws that affect the overall situation, including the Electronic Commerce Law of the People's Republic of China, Electronic Signature Law of the People's Republic of China, Cybersecurity Law of the People's Republic of China, Data Security Law of the People's Republic of China, and Personal Information Protection Law of the People's Republic of China. These laws serve as key pillars of the cyber legislation framework in which the Constitution plays a cardinal role, laws and administrative, divisional, and regional regulations serve as important support, traditional legislation lays the foundations, and specialized cyber laws governing online content management, information technology development, cybersecurity and other elements function as the backbone.
Rigorous cyber law enforcement. China has established a robust mechanism for coordinating cyber law enforcement to crack down on telecom and online fraud, online gambling, online pyramid selling, internet misinformation, cyberbullying, and other crimes. It has taken further steps to enforce the laws for protecting personal information, managing online information and content, and safeguarding cybersecurity and data safety. It always enforces laws in a precise and prompt manner to deter and curb illegal online activities and create an increasingly rule-based and orderly cyberspace.
Introducing new ideas and measures for cyber judiciary work. China actively employs information technology while furthering judiciary reform to make judiciary work more internet-based and transparent. Smart courts and smart procuratorates have been launched to serve the public, rules for online judicial proceedings are being improved, and a new mechanism for internet courts to adjudicate online cases online is becoming increasingly mature.
Spreading knowledge about cyber laws. China prioritizes its efforts to spread legal knowledge and takes law and order as a fundamental task for strengthening the rule of law. It consistently publicizes legal information through online channels. Information on the Constitution, the Cybersecurity Law, Data Security Law, and Personal Information Protection Law and other laws and regulations has been spread on various important occasions like the National Constitution Day, National Security Education Day, National Cybersecurity Week, and Intellectual Property Rights Week. Laws are clearly explained in the form of case studies to raise the public's legal awareness in cyberspace and web literacy and morality, especially among teenagers. A sound online and social atmosphere for respecting, learning, abiding by, and using the law is taking shape.
4. Rich and varied digital content
Positive and mainstream ideas and opinions are spreading online. New Marxist theories adapted to the context of contemporary China have struck their roots in the hearts of the people. The core socialist values guide online culture. The internet has become a new platform supporting cultural prosperity, a new spiritual home for the public, and a new place for building consensus and concentrating positive energy. Through the internet, China is presenting an accurate, multidimensional and panoramic image to the outside world.
Vigorous positive energy on the internet. Mainstream public opinion is growing in strength; positive and healthy content is increasing; popular views in support of the CPC, socialism, reform and opening up, our great country, and all ethnic groups are resonating among internet users; advanced cultural elements are filling cyberspace. The internet in China is open, harmonious and orderly. In cyberspace, more than one billion Chinese netizens learn what is happening across the world, express and exchange views, participate in state and social governance, build consensus, strength, and unity, and strive for a better future.
Diverse cyberculture. Online videos and audios, literature, music and interactive entertainment are expanding rapidly in China, producing huge volumes of cultural content, and providing the people with rich intellectual nourishment. Digital libraries, museums on "cloud", online theaters, exhibitions and concerts, VR travel – these high-quality cultural services allow people to enjoy themselves at their homes. A diverse cyberculture also gives birth to various new business modes.
Upgraded means of online communication. Big data, cloud computing, artificial intelligence, virtual reality, augmented reality and other information technologies are making great progress and expediting innovations in the means and channels of online communication. The public communication media are relying more on mobile devices, employing more engaging ways of expression, and diversifying in form. More and more integrated media products that employ advanced technologies and original designs have emerged. The Party's voice is spreading faster, farther, and wider, becoming the strongest on the internet in China, and winning wide popular support.
5. Cleaner cyberspace
Cyberspace is a common space for internet users. A clean and sound cyber environment is in the interests of the people, whereas a polluted and degenerate one is against the public interests. China is committed to creating a healthy, civilized, clean and righteous cyber ecosystem.
Launching Operation "Qinglang". China has launched the campaign to rectify the disorder in cyberspace, which has caused strong public concern. It has tightened regulation, taken rigorous action against online activities that violate the law and regulations, and striven to rein in chaotic fandom culture. The emphasis has been on cleaning up illegal and immoral content, including "porn, obnoxious, abnormal, fake, vulgar and gambling-related content", and on tackling chronic malpractice on online platforms, with a focus on live-streaming and short video platforms. Efforts have been made to bring under control "internet trolling", and suppress the operation of antisocial internet accounts. Through these efforts, online disorder has been contained and cyberspace has been cleansed.
Promoting internet civilization. China regulates the production, release, and dissemination of online content, as well as internet philanthropy. It has hosted the Internet Civilization Conference, and taken measures to build a civilized internet, so as to foster a wholesome, inspiring and righteous internet culture. We give full play to the main roles of government, platforms, social organizations, and internet users to jointly promote the civilized operation and use of the internet, share the achievements and build a healthy community online and offline.
6. More standardized operation for online platforms
In recent years, platform economy has been growing vigorously, with new business forms and models mushrooming in China. The platforms have played important roles in promoting quality social and economic development and meeting people's increasing desire for a better life. Meanwhile, problems such as monopoly and algorithm abuse have undermined fair competition and damaged consumers' rights and interests. China has been actively developing its legal system to make it compatible with the platform economy, improving its regulatory mechanism to boost business development, and fostering a sound environment for the digital economy so as to promote fair competition and orderly development on social media platforms.
Anti-monopoly review and supervision. A number of policies and regulations have been devised to provide clear guidance for the sound operation of the platforms, such as Guidelines of the Anti-monopoly Commission of the State Council for Anti-monopoly in the Field of Platform Economy, and Measures for the Supervision and Administration of Online Transactions. Investigations have been conducted on platform behaviors that hamper fair competitions and infringe upon the rights and interests of the consumers and employees, such as compelling platform users to choose one platform rather than another, engaging in big data-enabled price discrimination against existing customers, and blocking certain URL links. Administrative penalties have been imposed to protect the rights and interests of market players including small and medium-sized enterprises, employees and consumers.
Stepping up regulation related to new technologies and applications. China has steadily improved rules and regulations regarding new technologies and applications such as artificial intelligence, big data, and cloud computing. It has strengthened the regulation of services involving block chain and algorithm-based marketing and taken legal action against conduct such as algorithm abuse and illegal processing of personal information, so as to ensure that new technologies and applications better serve the people.
Advancing industry self-discipline. China's internet social organizations and industry associations have given full play to their roles in formulating self-discipline convention and guidance in urging internet companies to operate properly, actively take their social responsibilities, and accept public supervision, so as to create a healthy market order characterized by honest operation, positive interaction, and fair competition.
7. Effectively guaranteed cybersecurity
China has further consolidated its lines of defense against cyber threats. Top-level cybersecurity design has been strengthened, a basic legal framework including the Cybersecurity Law, Data Security Law, and Personal Information Protection Law is in place, and China's capacity to safeguard cybersecurity is improving steadily.
Intensifying efforts to protect critical information infrastructure. China has promulgated the Regulations on the Security and Protection of Critical Information Infrastructure. China coordinates the strengths of its government and social sectors through various measures so that all relevant sectors are working in synergy, taking on their respective responsibilities to protect critical information infrastructure in accordance with the law. It is intensifying risk assessment and safety inspection, increasing capacity in supervision and early-warning, establishing the mechanism for cybersecurity information sharing, identifying risks in a timely manner, conducting analysis and assessment, and engaging in emergency response at the earliest possible time.
Ensuring the regulated development of cyberspace. China balances internet development with law-based administration. It encourages online platforms to play a bigger role in technological innovation, increasing economic vitality, and benefiting the people with information technologies. At the same time, it is taking action against unfair competition by some platforms which abuse their strengths in data, technology, market share and capital, and it is making every effort to build a market environment for fair competition, inclusive development and open innovation.
Promoting the integrated development of cybersecurity studies, technology and industry. Cybersecurity studies have been categorized as a primary discipline. The country has selected a number of pilot colleges for cybersecurity studies, and established a special fund. More than 60 universities now have cybersecurity colleges, and over 200 have undergraduate courses in cybersecurity. The industrial ecosystem for cybersecurity is also improving. A basic industrial system has taken shape, and different cybersecurity products have been developed for different fields and so have different technologies to meet different needs. China has set up the National Cybersecurity Talent and Innovation Base and is building national cybersecurity industrial parks and pilot areas for integrating cybersecurity studies, technology, and industry, so as to create an environment for different sectors to reinforce each other.
Strengthening personal information protection. China continues to improve the legal framework protecting personal information. It promulgated the Personal Information Protection Law to address prominent problems like collecting excessive personal information and illegally obtaining or trading it, thereby providing an all-round and systematic legal guarantee for protecting personal information. To protect privacy, China has also taken firm action against mobile apps that illegally collect and use personal data, and other crimes.
Increasing the ability to ensure data safety. China has moved swiftly to handle the challenges to data safety posed by the digital transformation of the economy and society. It has promulgated the Data Security Law, setting out the legal framework for administration of data. It has established a sound basic system for categorized and tiered protection of data, supervision and early warning on risks, emergency response, data security review, and administration of cross-border data security. With increasing strength, it can effectively prevent and reduce threats to data security.
Combating cybercrimes and cyberterrorism. China has taken tough actions against cybercrimes in accordance with the law, and cut through the interest chains behind the criminality, so as to protect the netizens' legitimate rights and interests in cyberspace. It has launched the "Clean Cyberspace" campaign and other special campaigns against cybercrimes like hacking, telecom and online fraud, and online infringement and piracy, restricting the space available for internet crimes, and working to build a clean cyberspace. China is resolute in implementing relevant UN resolutions. It firmly fights against terrorist activities planned and executed online, eliminates audio and video files promoting terrorism from the internet, disseminates anti-terrorism information. The goal is to build an online counter-terrorism system in which the government serves to guide, internet enterprises assume the main responsibility, and social organizations and the public participate.

Editor: WXY