The internet is the shared home of all of humanity. It is the common responsibility of the international community to make this home cleaner, safer, and more prosperous. China will join other countries to build a community with a shared future in cyberspace so that the fruits of internet development can benefit everyone. As always, China will do so based on its national conditions and in the spirit of people-centered, open, and win-win cooperation.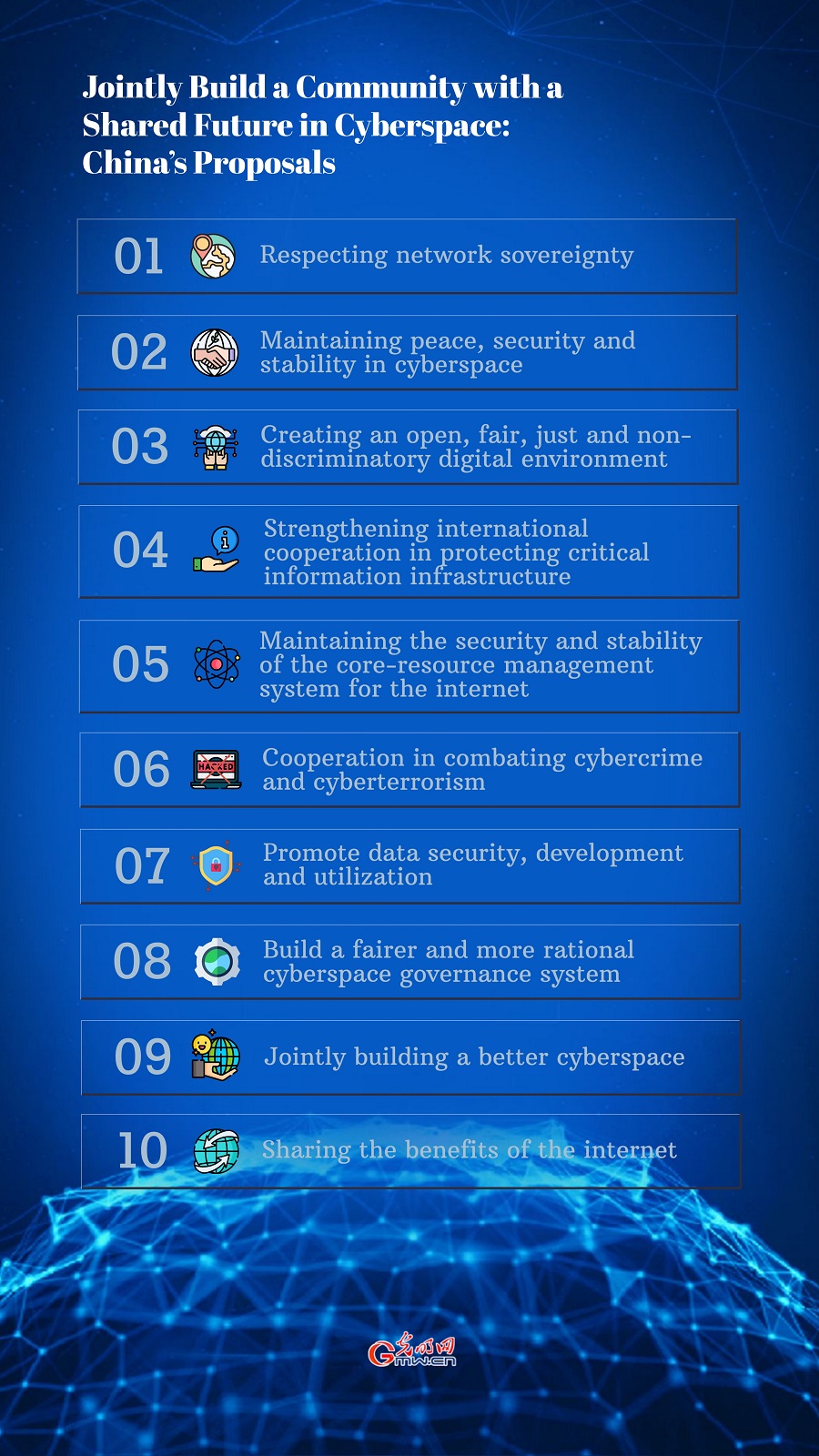 1. Respecting network sovereignty
China advocates respect for the cyber sovereignty of all countries. It respects the right of every country to independently choose its path of cyber development, model of network management, and public policy on internet issues, as well as its right to equal participation in international cyberspace governance. China firmly opposes all forms of hegemony and power politics, interference in other countries' internal affairs, and double standards. It does not support, engage in, or conspire around cyber activities that undermine national security in other countries. China advocates that the principle of sovereign equality established by the UN Charter be applied to cyberspace and that a just and rational international order in cyberspace be built on the basis of national sovereignty.
2. Maintaining peace, security and stability in cyberspace
Cyberspace is interconnected, resulting in the deep integration of the interests of all countries. Peace, security, and stability in cyberspace are the common wishes of people all over the world. China maintains that all governments should abide by the purposes and principles of the UN Charter, make peaceful use of the internet, and settle disputes by peaceful means. China opposes the so-called absolute security for some at the expense of the interests of others, and any form of arms race in cyberspace. China advocates that the cybersecurity concerns of all countries, large or small, strong or weak, rich or poor, should be noted and addressed, and that countries should make peaceful use of cyberspace to promote economic and social development and conduct cooperation and dialogue at all levels – global, bilateral, multilateral, and multiparty – to jointly safeguard peace and stability in cyberspace.
3. Creating an open, fair, just and non-discriminatory digital environment
The global digital economy is an open and closely connected whole. Those who build walls and barriers and call for decoupling and severing supply chains will hurt not only others but also themselves. Win-win cooperation is the only way forward. Creating an open, fair, just and non-discriminatory environment for digital development is a requirement for stronger global digital economic cooperation, which will promote the recovery and development of the global economy. China opposes the politicization of technological issues and the containment of other countries' enterprises by abusing state power and violating market principles and trading rules. China advocates that all governments should actively maintain open, secure, and stable global supply chains for IT products and services, strengthen collaborative R&D on new generations of information technology, and integrate into the global innovation network. Governments, international organizations, businesses and think thanks should discuss and develop international rules of digital governance that reflect the wishes of all parties and respect the interests of all, to promote the healthy and orderly development of the digital economy.
4. Strengthening international cooperation in protecting critical information infrastructure
Critical information infrastructure is one of the foundations for the normal operation of the economy and society of all countries in the information age. It is the common responsibility of the international community to effectively address any security risks in this regard. China firmly opposes the use of information technology to undermine the critical information infrastructure of other countries, steal their data, or engage in any other form of zero-sum game. The international community should advocate the concept of cybersecurity based on openness and cooperation, and oppose network eavesdropping and cyberattacks. Governments and relevant authorities of all countries should strengthen cooperation on early warning, risk prevention, information sharing and emergency response, and actively share experience on protecting critical information infrastructure.
5. Maintaining the security and stability of the core-resource management system for the internet
The core-resource management system for the internet is the cornerstone of internet operations. It should be guaranteed that those institutions hosting the management systems operate with full credibility and do not pose a threat to the top-level domains of any country just because of the jurisdictional demands on some other country. China advocates guaranteed availability and reliability of core internet resources – to be used by all countries and jointly managed and fairly distributed by the international community, so that the technological systems for the resources, including the domain name system, are secure, stable, and resilient. There should be a guarantee that services will not be interrupted or terminated due to any political or human factors. China advocates that governments, industry authorities, and businesses work together to accelerate the use of IPv6 technology and applications.
6. Cooperation in combating cybercrime and cyberterrorism
Cyberspace should not be a wrestling field for countries fighting against each other, nor a hotbed for crimes. Currently, cybercrime and cyberterrorism have become a global scourge, and they must be fought against through international cooperation. China proposes that governments of all countries should work together within the framework of relevant laws and international conventions to crack down on all forms of cybercrime. China calls for removing the hotbed for cybercrime and severing all criminal links, and building a better mechanism for judicial and law enforcement cooperation against cybercrime and cyberterrorism. China is an active supporter and participant in negotiations on a United Nations Convention against Cybercrime, and calls for an international cyberspace counter-terrorism treaty. China would like to coordinate with other governments in drafting laws and taking actions to jointly tackle the threat of cybercrime and cyberterrorism.
7. Promote data security, development and utilization
Data are a new type of production factor – the basis for digital, internet and smart technologies. Data have been integrated into various areas of production, distribution, circulation, consumption and social service management, profoundly changing people's approach to work, daily life, and social governance. China supports the flow, development, and utilization of data, and promotes data sharing, and would like to actively work with other countries, international organizations, enterprises, and think tanks, engaging in exchanges and cooperation to safeguard data security, development and utilization, promoting relevant international rules and standards under bilateral and multilateral frameworks, and steadily ensuring the interoperability of different data protection rules to promote the safe and free flow of data across borders.
8. Build a fairer and more rational cyberspace governance system
Cyberspace is globally interconnected, so no country can effectively govern it alone. China supports the United Nations as the main player in international cyberspace governance. China upholds genuine multilateralism and opposes any form of unilateralism, camps or coteries targeting specific countries. China champions multilateral participation, leveraging the role of various parties including governments, international organizations, internet companies, technology communities, non-governmental organizations and individuals. Following the principles of extensive consultation, joint contribution, and shared benefits, the international community should step up communication, exchange, and pragmatic cooperation, improve dialogue and consultation mechanisms on cyberspace, and formulate global internet governance rules, so that the global internet governance system becomes fairer and more rational and reflects the aspirations and interests of the majority of countries in a more balanced way.
9. Jointly building a better cyberspace
Internet civilization is an important symbol of the progress of modern society. To meet netizens' desire for a better life it is imperative to step up the construction of internet civilization. China respects the diversity of internet culture, and holds that all countries should tap their own excellent cultural resources, support the digitalization and online dissemination of their quality cultural products, encourage online cultural exchange and learning between the civilizations of various countries, regions and nations, and promote the co-existence and common development of all civilizations. China proposes that countries should cooperate with each other, industry organizations and companies should strengthen self-discipline, and individuals should improve their digital literacy, combining to counter fake online information, strengthen cyber governance, maintain sound online order, and enrich cyberspace with the excellent fruits of human civilization.
10. Sharing the benefits of the internet
The internet develops through joint efforts and its fruits should also be shared. China proposes that the international community should make joint efforts to advance the construction of information infrastructure and bridge the digital divide, step up support and help to vulnerable groups, and promote digital literacy and skills for the general public. Internet and digital technology should play a full role in combating epidemics, improving people's lives, and eliminating poverty. The international community should promote new technologies and applications for the common good, provide more innovative digital products, and promote open, inclusive, sharing, balanced and sustainable development. Efforts should be made for more countries and people to benefit from the information technology, enjoy the fruits of internet development, and actively contribute to the implementation of the United Nations 2030 Agenda for Sustainable Development.

Editor: WXY