Chinese President Xi Jinping delivered a speech titled "Working Together to Meet the Challenges of Our Times and Build a Better Future" at the 17th summit of the Group of 20 (G20) in Bali, Indonesia, Nov. 15, 2022. Here are the highlights.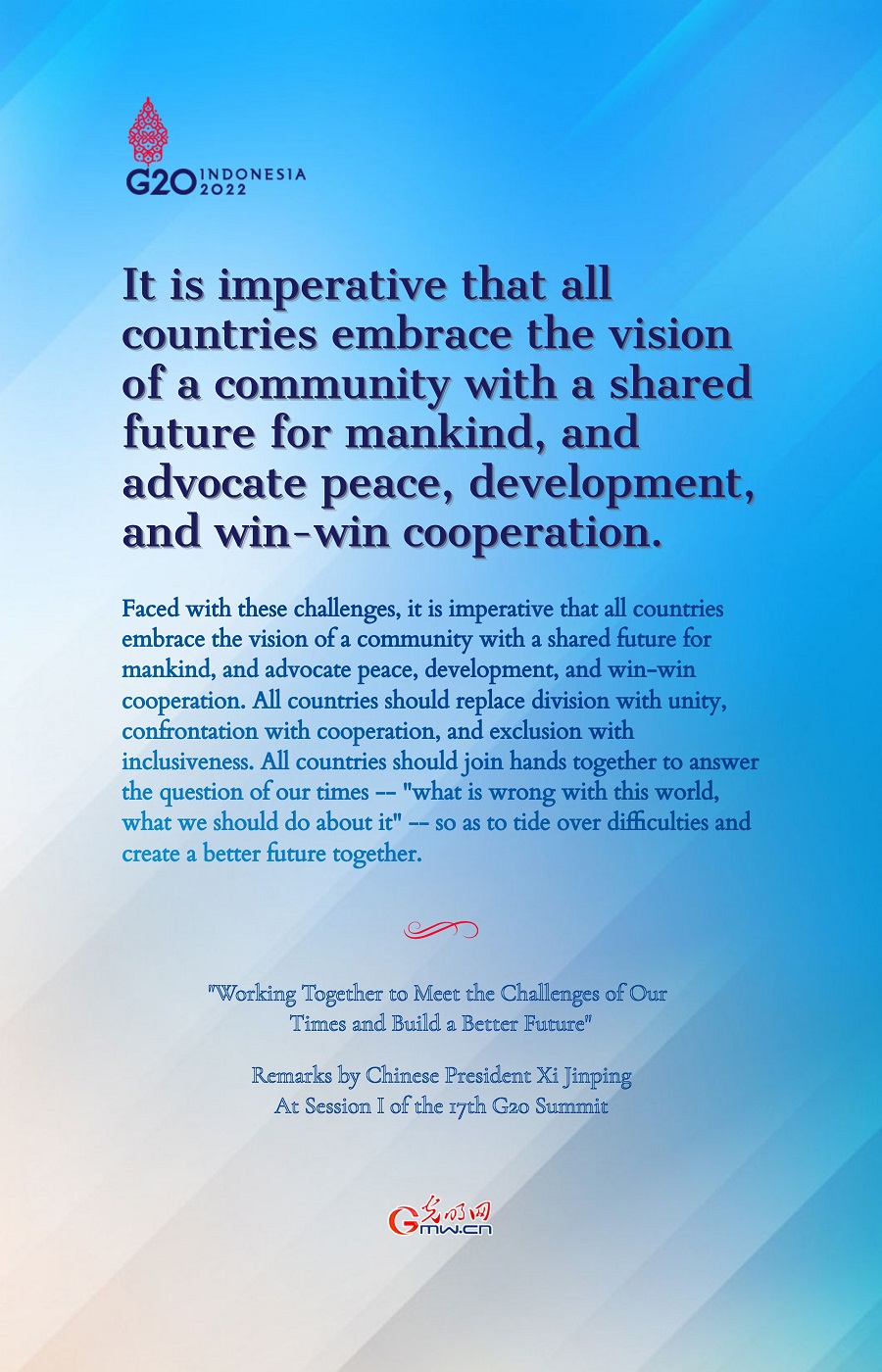 -- Faced with these challenges, it is imperative that all countries embrace the vision of a community with a shared future for mankind, and advocate peace, development, and win-win cooperation. All countries should replace division with unity, confrontation with cooperation, and exclusion with inclusiveness. All countries should join hands together to answer the question of our times -- "what is wrong with this world, what we should do about it" -- so as to tide over difficulties and create a better future together.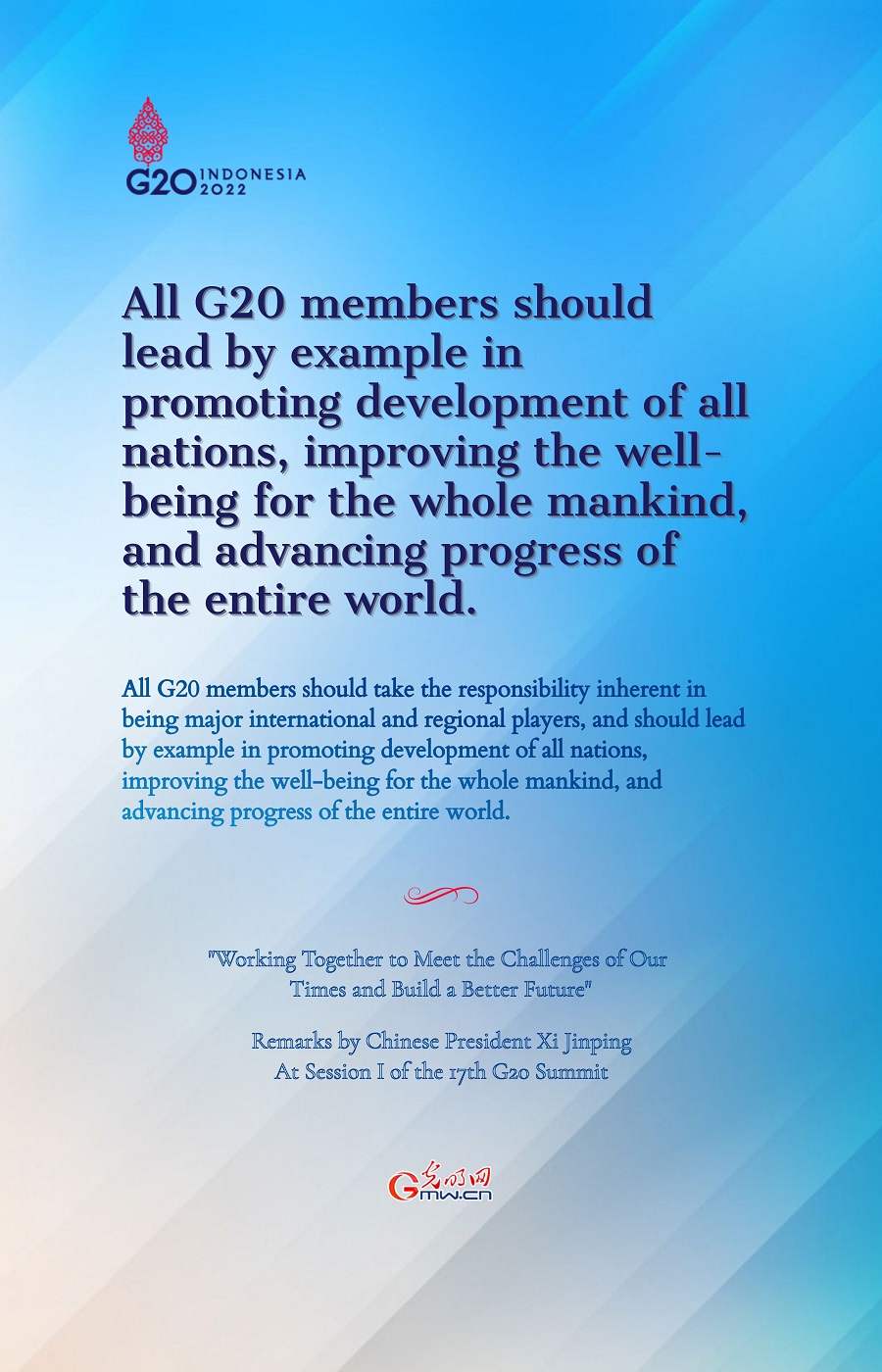 -- All G20 members should take the responsibility inherent in being major international and regional players, and should lead by example in promoting development of all nations, improving the well-being for the whole mankind, and advancing progress of the entire world.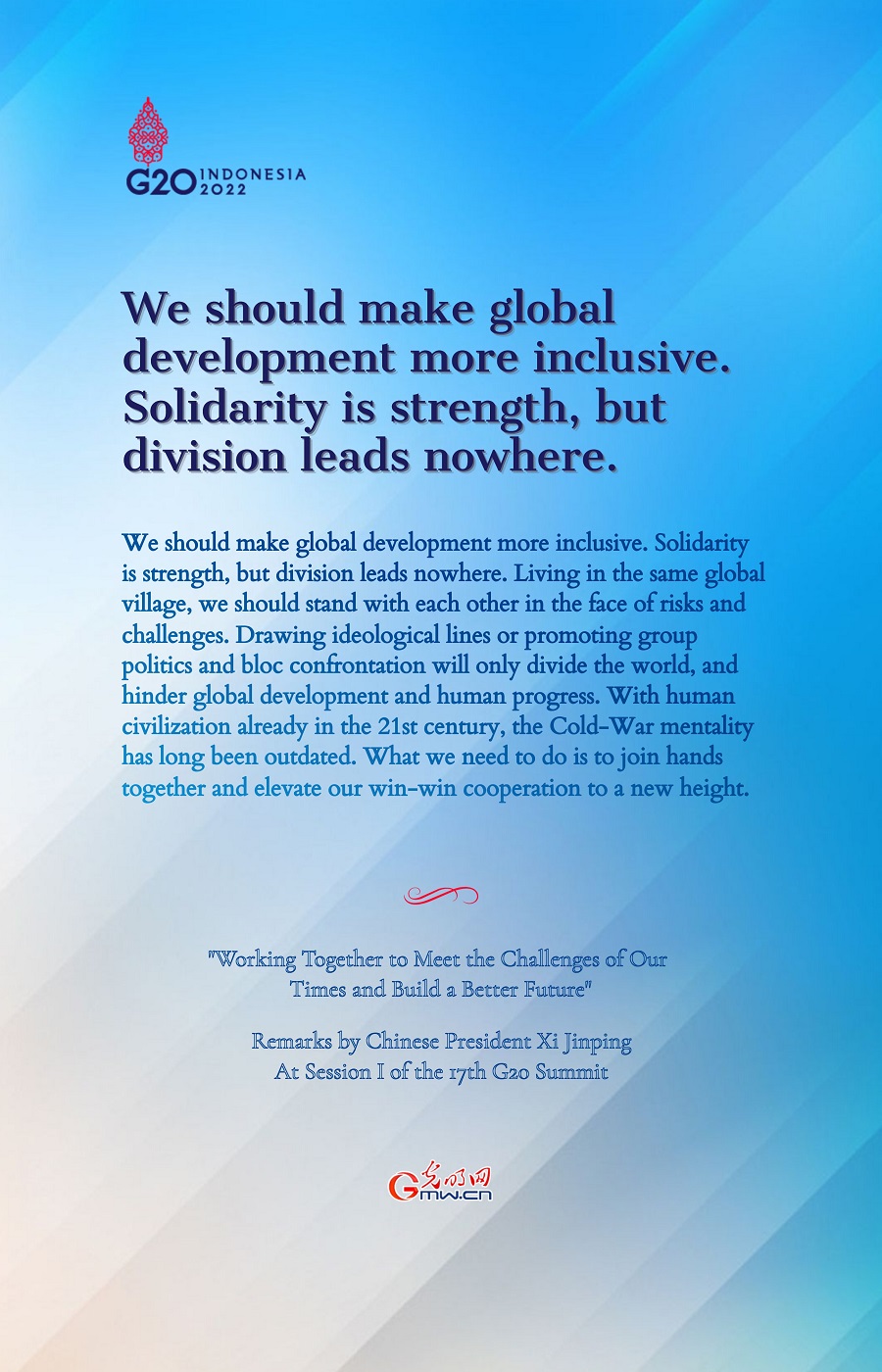 -- We should make global development more inclusive. Solidarity is strength, but division leads nowhere. Living in the same global village, we should stand with each other in the face of risks and challenges. Drawing ideological lines or promoting group politics and bloc confrontation will only divide the world, and hinder global development and human progress. With human civilization already in the 21st century, the Cold-War mentality has long been outdated. What we need to do is to join hands together and elevate our win-win cooperation to a new height.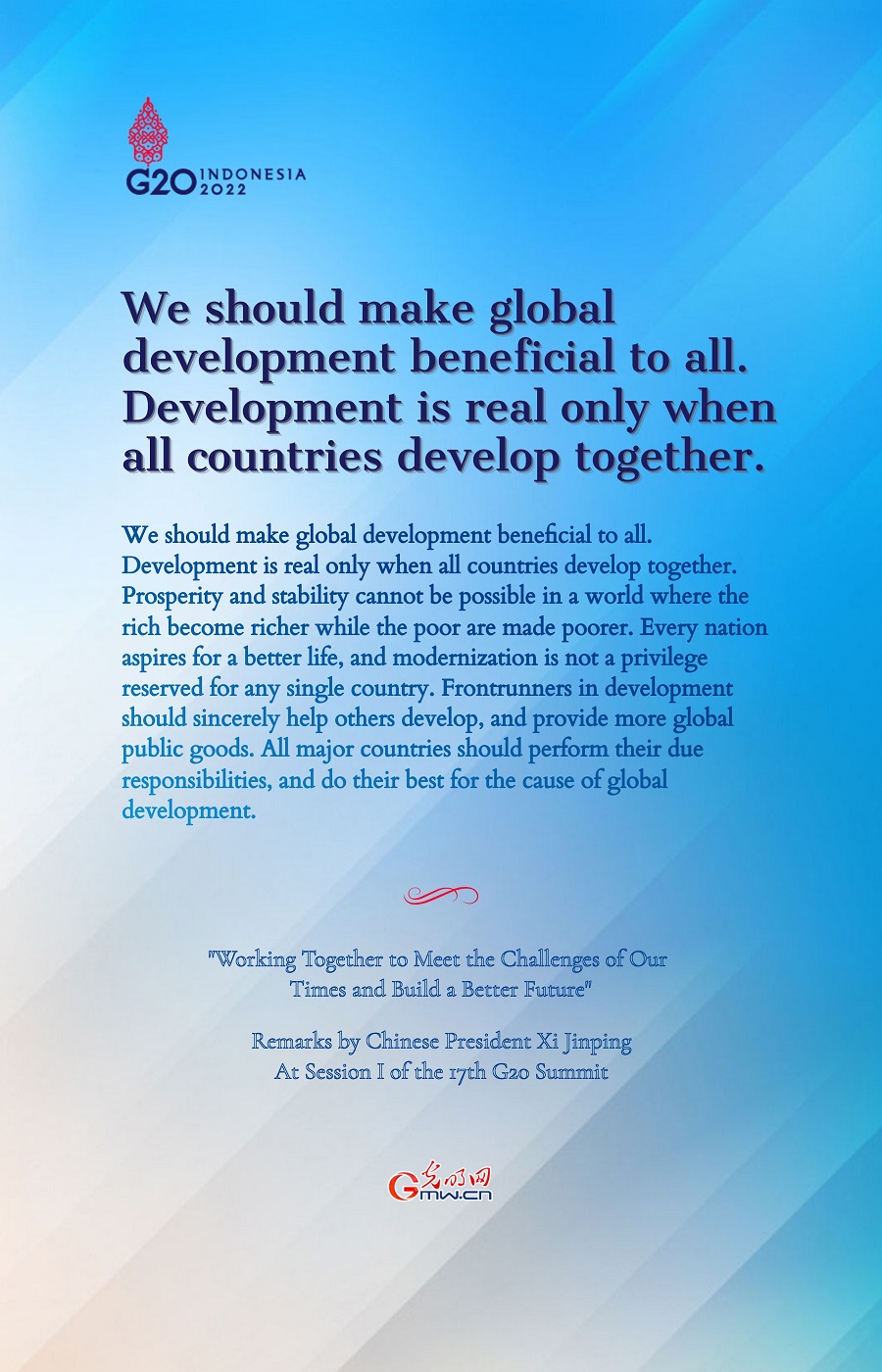 -- We should make global development beneficial to all. Development is real only when all countries develop together. Prosperity and stability cannot be possible in a world where the rich become richer while the poor are made poorer. Every nation aspires for a better life, and modernization is not a privilege reserved for any single country. Frontrunners in development should sincerely help others develop, and provide more global public goods. All major countries should perform their due responsibilities, and do their best for the cause of global development.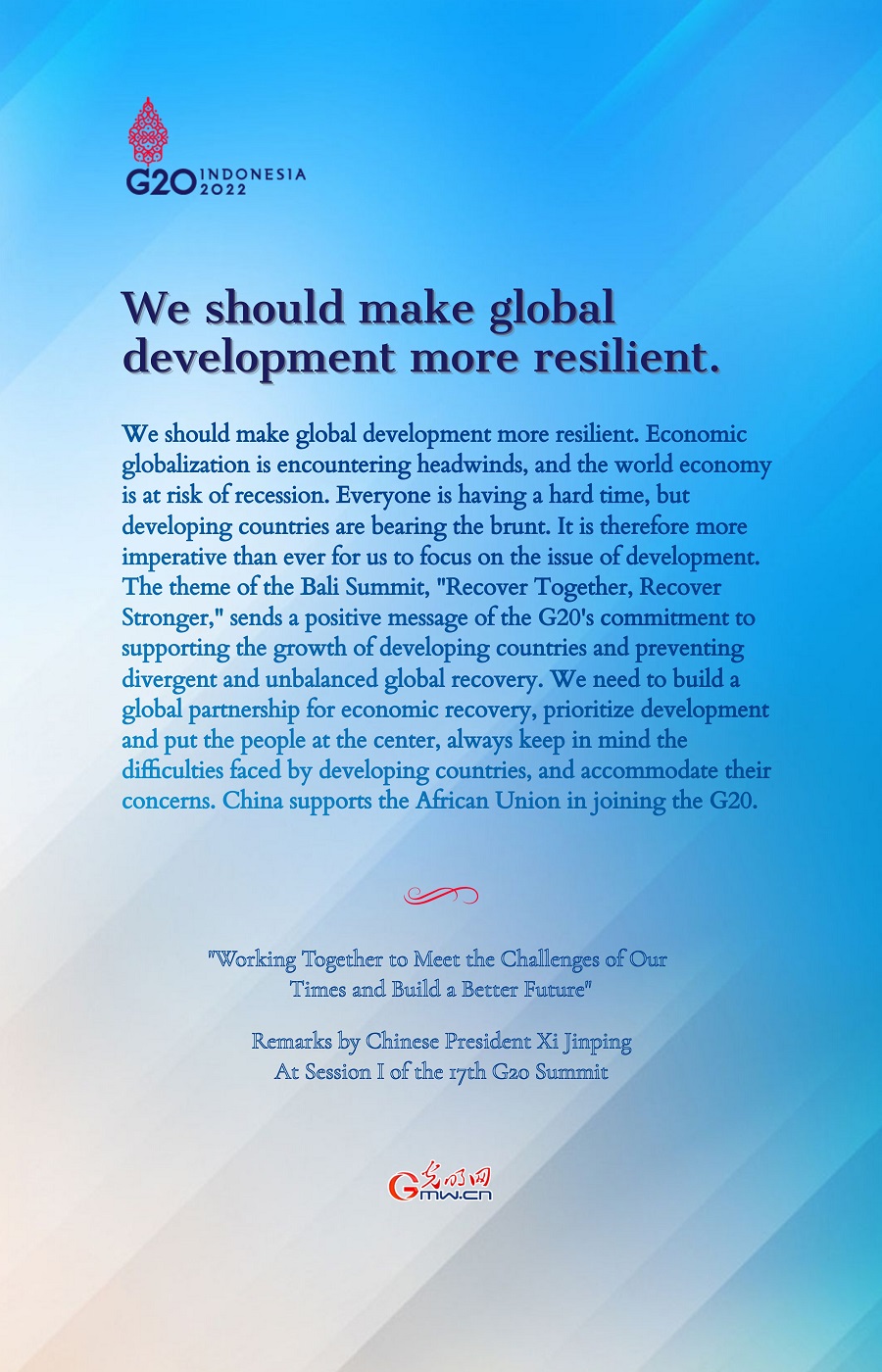 -- We should make global development more resilient. Economic globalization is encountering headwinds, and the world economy is at risk of recession. Everyone is having a hard time, but developing countries are bearing the brunt. It is therefore more imperative than ever for us to focus on the issue of development. The theme of the Bali Summit, "Recover Together, Recover Stronger," sends a positive message of the G20's commitment to supporting the growth of developing countries and preventing divergent and unbalanced global recovery. We need to build a global partnership for economic recovery, prioritize development and put the people at the center, always keep in mind the difficulties faced by developing countries, and accommodate their concerns. China supports the African Union in joining the G20.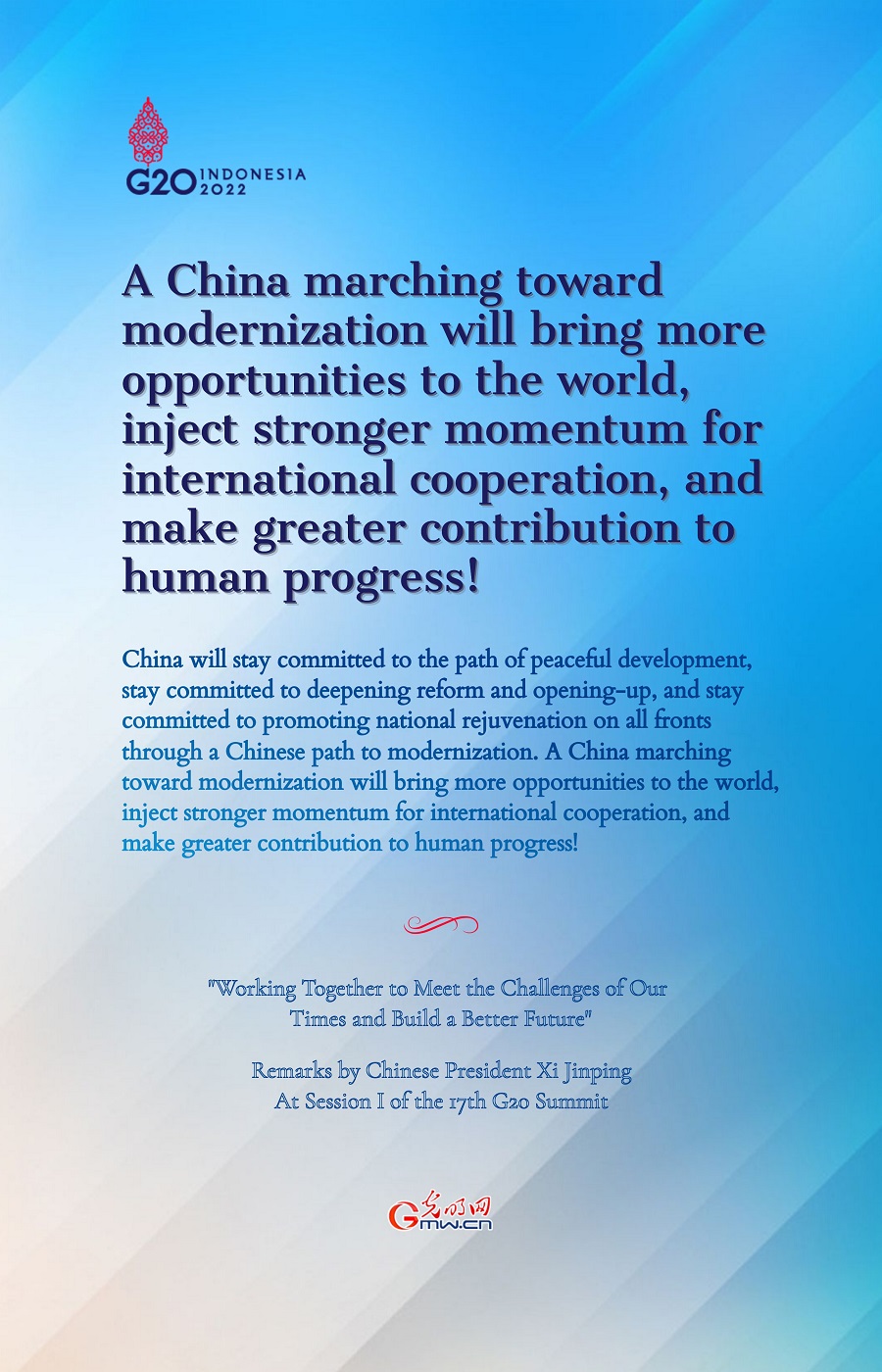 -- China will stay committed to the path of peaceful development, stay committed to deepening reform and opening-up, and stay committed to promoting national rejuvenation on all fronts through a Chinese path to modernization. A China marching toward modernization will bring more opportunities to the world, inject stronger momentum for international cooperation, and make greater contribution to human progress!

Editor: WXY