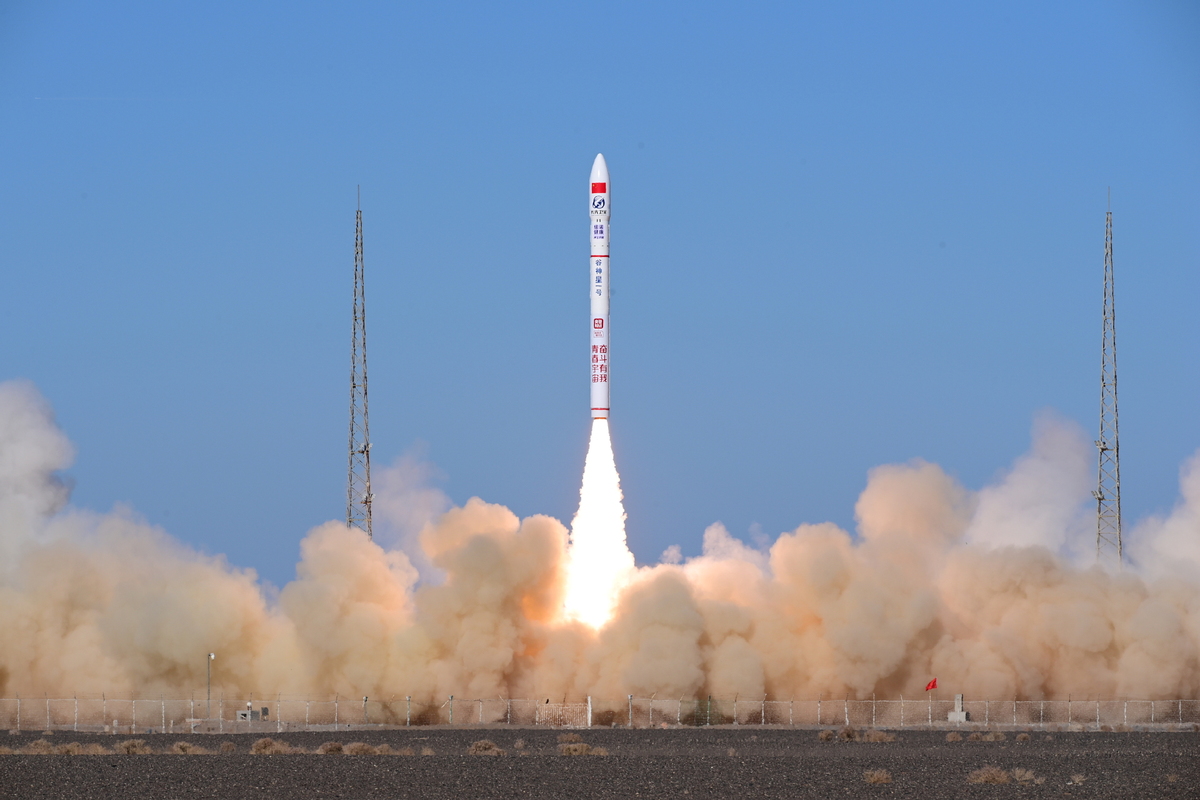 A CERES-1 Y4 carrier rocket carrying five Jilin-1 Gaofen 03D satellites blasts off from the Jiuquan Satellite Launch Center in Northwest China, Nov 16, 2022. [Photo/Xinhua]
Galactic Energy, a private carrier rocket maker in Beijing, carried out the fourth flight mission of its CERES 1 rocket on Wednesday afternoon to deploy five Earth-observation satellites into orbit.
The CERES 1 Y4 rocket blasted off at 2:20 pm at Jiuquan Satellite Launch Center in northwestern China's Gobi Desert and soon placed the Gaofen 03D08, 03D51, 03D52, 03D53 and 03D54, five optical remote-sensing satellites in the Jilin 1 network, into a sun-synchronous orbit, the company said in a news release.
The satellites were built by Changguang Satellite Technology, a State-owned enterprise in Northeast China's Jilin province, and are tasked with obtaining remote-sensing images.
Galactic Energy has achieved four successive orbital launches, far outperforming other private competitors. The four CERES 1 flights placed a total of 14 satellites into space.
There are a number of private rocket companies in China but only Galactic Energy and i-Space, another Beijing-based private startup, have succeeded in orbital missions, which refers to a spaceflight by a carrier rocket that deploys payloads into orbit in outer space.
Before CERES 1, the SQX 1 rocket developed by i-Space launched two satellites and several experimental payloads into space from the Jiuquan center in July 2019. The model's maiden flight also marked the first orbital mission by a privately built rocket in China. However, the next three SQX 1 launches failed due to technical malfunctions.
A CERES 1 is about 20 meters tall, has a diameter of 1.4 meters and is mainly propelled by solid propellant. With a liftoff weight of 33 metric tons, it is capable of sending a 300-kilogram satellite, or several satellites with a combined weight of 300 kg, to a 500-km sun synchronous orbit, or 350-kg payloads to a low-Earth orbit at an altitude of 200 km.
CERES 1 is ideal for domestic and foreign clients seeking a small, cost-efficient launch vehicle to deploy mini satellites, designers said.
The rocket made its debut flight in November 2020 from the Jiuquan center, sending a small communication satellite into space.
In December 2021, it completed a second flight and transported five small satellites to orbit.
The third flight took place in August and lifted three small satellites.
Editor: WJH