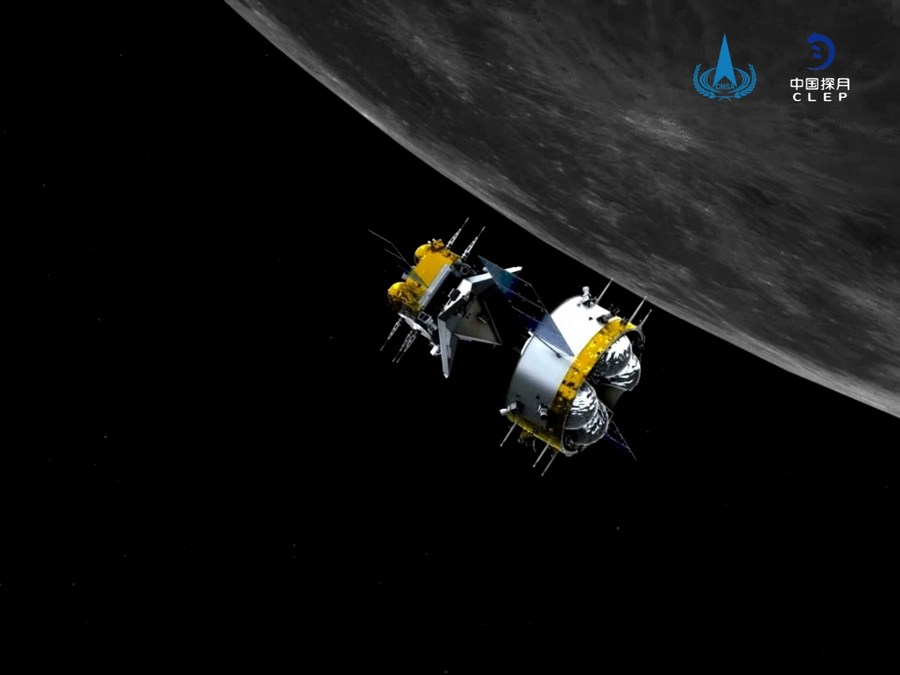 A graphic simulation shows the orbiter and returner combination of China's Chang'e 5 probe after its separation from the ascender. [Photo/China National Space Administration/Handout via Xinhua]
China plans to carry out around 60 space launch missions this year, according to the country's major space contractors.
China Aerospace Science and Technology Corp, the nation's leading space contractor, has arranged more than 50 launches for 2023, said its annual work report.
The report, which was read by Zhang Zhongyang, general manager of the State-owned conglomerate, at the company's annual research and production work conference in Beijing on Tuesday, said that the planned spaceflights include manned and robotic missions to the newly assembled Tiangong space station and the maiden flight of the Long March 6C carrier rocket.
Most of the launches will be made by the company's Long March carrier rocket family while the rest will be conducted by the Smart Dragon series.
In addition to the rocket launches, the company will also continue with the research and development of the Tianwen 2 asteroid probe and the Chang'e 7 lunar probe, according to the report.
The Tianwen 2 mission is scheduled to be launched around 2025 and will deploy a probe on a selected asteroid to collect samples and bring them back.
The Chang'e 7 mission is set to land a sophisticated spacecraft stack on the moon's south pole around 2026 to find traces of water, investigate the environment and weather there, and survey its landform.
Another State-owned space enterprise, China Aerospace Science and Industry Corp, plans to launch about 10 flights using its Kuaizhou 1A and Kuaizhou 11 solid-propellant rockets.
If the plan becomes reality, 2023 will become the busiest year for the Kuaizhou family, said sources with the company.
China conducted 64 rocket liftoffs in 2022, creating a new national record in terms of annual launch numbers.
During the launches last year, 53 were made by Long March-series rockets, the Shanghai Academy of Spaceflight Technology carried out 30, while 23 were performed by the China Academy of Launch Vehicle Technology. Both are subsidiaries of China Aerospace Science and Technology Corp.
The Kuaizhou fleet carried out five flights including the first successful mission of the Kuaizhou 11 model.
Meanwhile, CAS Space, a Beijing-based rocket company owned by the Chinese Academy of Sciences, performed the successful debut flight of its ZK 1A rocket in July. The model is now the country's largest and most powerful solid-propellant rocket.
In addition, three private Chinese rocket companies made four launches with their own rocket models last year and two of them failed due to technical malfunctions.
Editor: JYZ