Video and Posters by Wu Xilu
Interview by Gu Siyu, Zhang Junye, Zhang Andi, Wu Xilu
Experts and scholars from different countries sent their Chinese New Year greetings as China welcomes the Year of the Rabbit. Check out the video to find out their wishes and expectations for China in the new year.
Here are some highlights.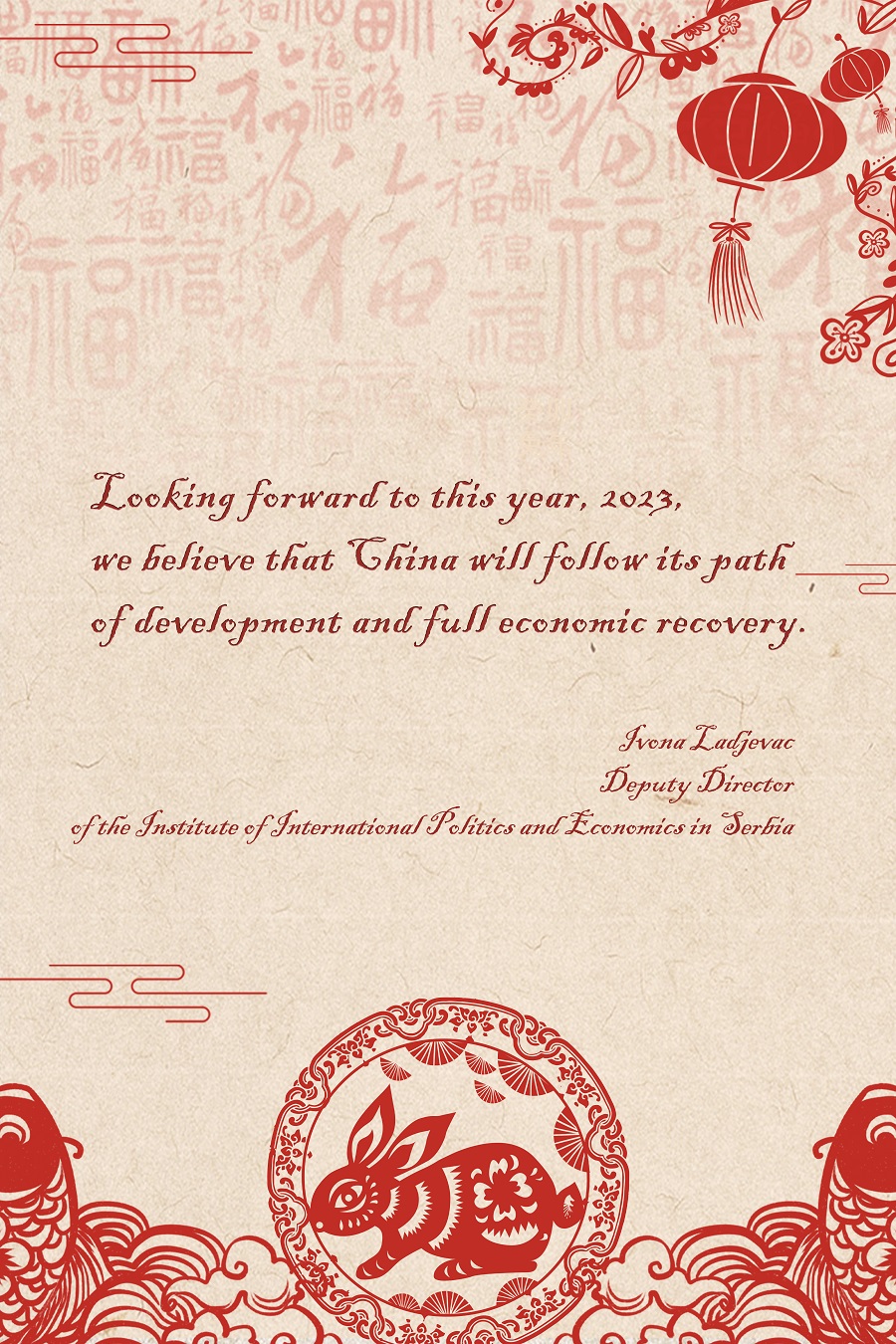 As we know, the year behind us was not so easy. The entire world is faced with different challenges. Luckily, Chinese people managed to succeed (in) great development and economic scores that were unbelievable also. Looking forward to this year, 2023, we believe that China will follow its path of development and full economic recovery. I wish you prosperity, success and lots of health in the forthcoming 2023, the Year of the Rabbit.
By Ivona Ladjevac, Deputy Director of the Institute of International Politics and Economics in Serbia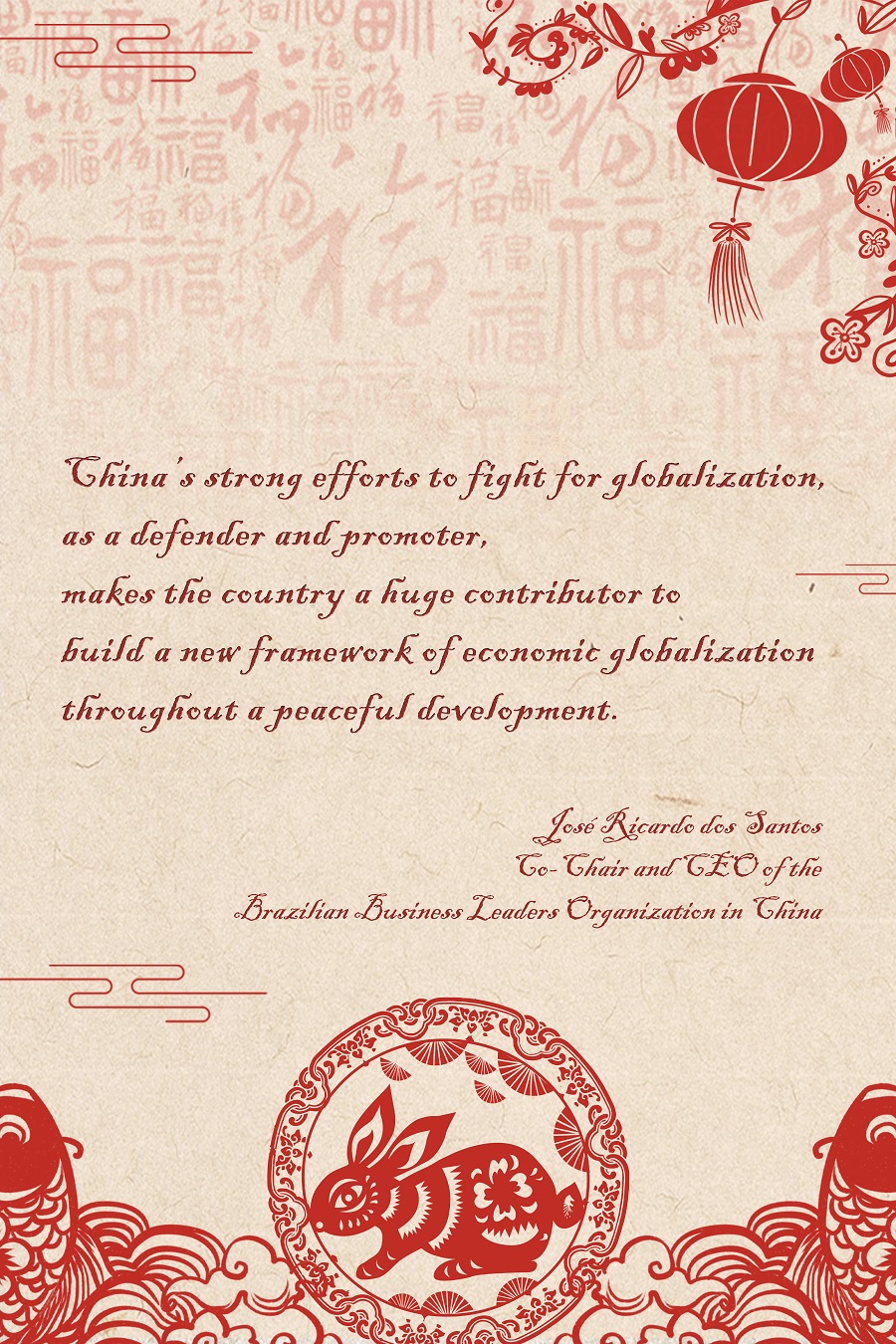 I am confident that in 2023 China will insist on expanding its openness to the outside world and actively continue to promote the building of an open world economy. From the high-quality construction of the Belt and Road Initiative to the consecutive years of holding the China International Import Expo and China International Consumer Products Expo, to the high-quality implementation of the RCEP agreement, China shall continue to uphold multilateralism and promote the construction of common shared future for humanity.
All these policies, international fairs and multilateral agreements contribute directly and indirectly to the opening of the world's economy and inclusiveness. China's strong efforts to fight for globalization, as a defender and promoter, makes the country a huge contributor to build a new framework of economic globalization throughout a peaceful development.
By José Ricardo dos Santos, Co-Chair and CEO of the Brazilian Business Leaders Organization in China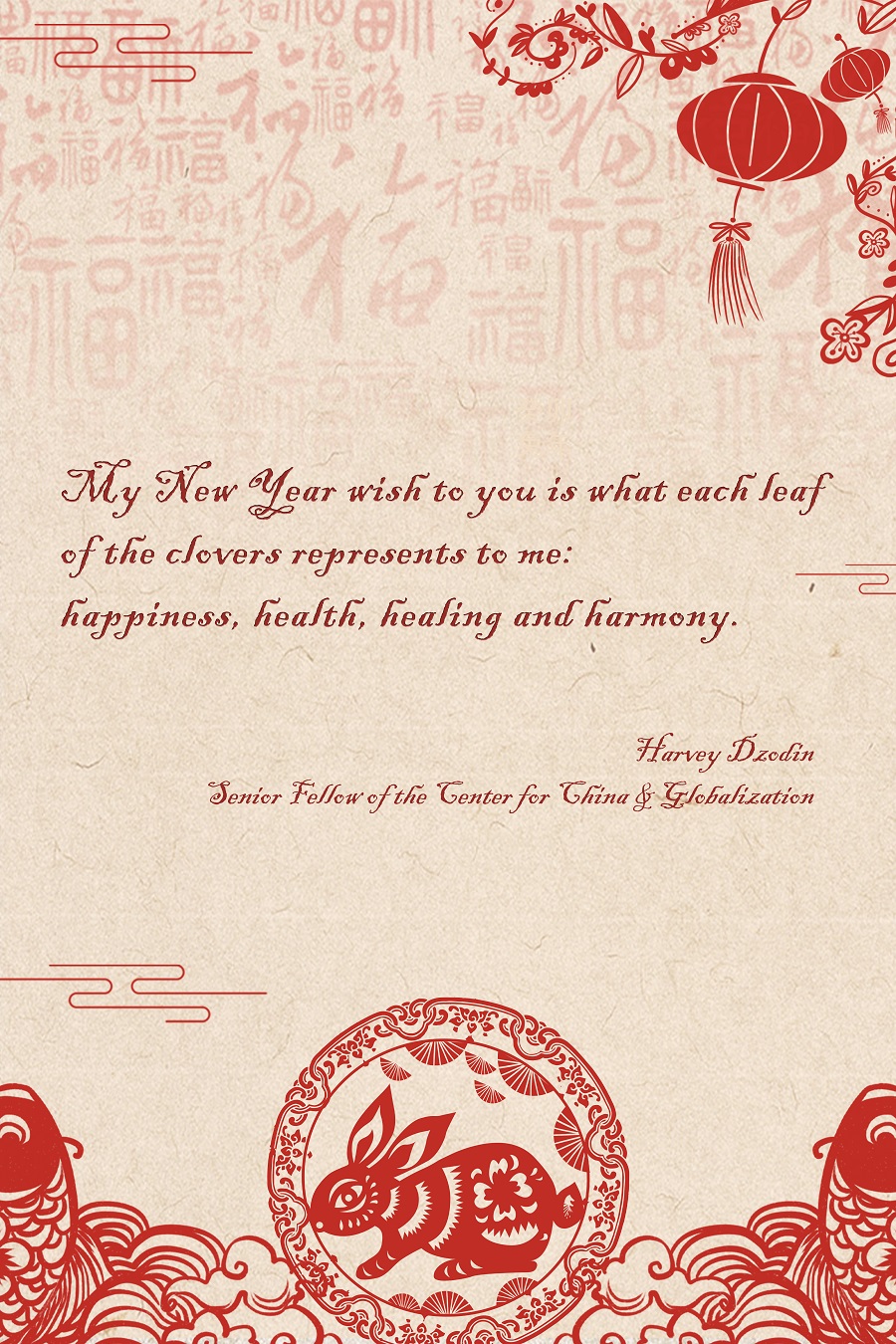 Warmest holiday greetings and blessings to friends of Guangming Online from Vienna, Austria in the heart of Europe. You may know that rabbits love to eat clovers but the most lucky clovers have four leaves, not three. My New Year wish to you is what each leaf represents to me. The first is "happiness": what we always strive to have. The second is "health": what we all wish for ourselves, families and friends, especially after these trying years. The third is healing: not only from disease but from all the hatred in the world that we must eliminate to have a future worth living. The fourth is "harmony": what we need to have on every level of existence.
By Harvey Dzodin, Senior Fellow of the Center for China & Globalization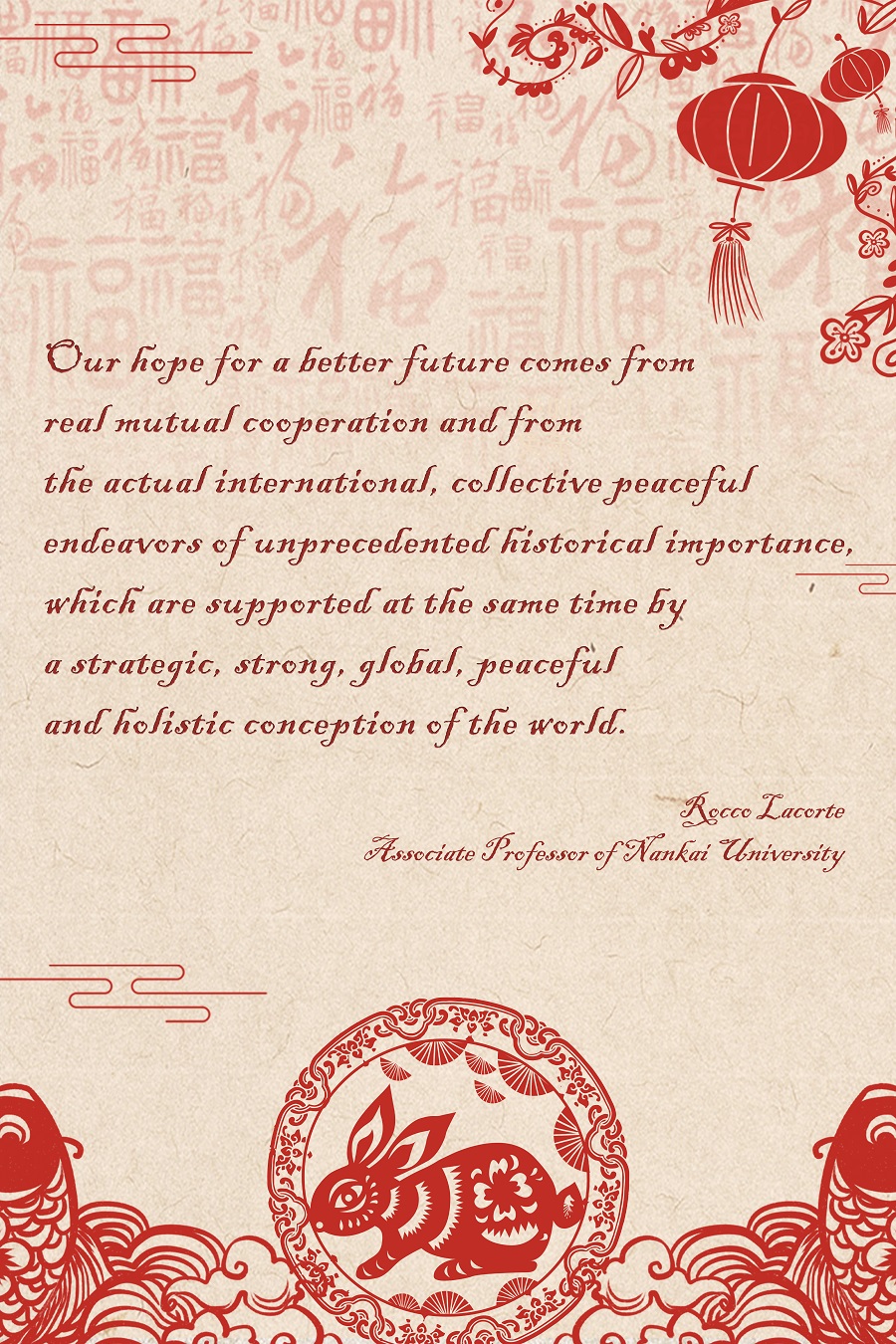 Bringing peace and peaceful development to many countries and eventually to the whole world, has been and is, the main aim of China's long-run, holistic global vision. China's achievements have had a huge impact and importance, not only for the Chinese people, but for the peoples of all (over the) world, as they have been and are truly contributing to the development and prosperity of many developing and even underdeveloped countries. The new year is therefore filled with hope. What we have here is not just empty hope or utopian wishes, but concrete elements of hope and concrete wishes. Our hope for a better future comes from the real mutual cooperation and from the actual international, collective peaceful endeavors of unprecedented historical importance, which are supported at the same time by a strategic, strong, global, peaceful and holistic conception of the world. Dear readers, it is then, with hope, with concrete hope, that I would like to wish you the best for the new year, and a very happy Chinese Spring Festival.
By Rocco Lacorte, Associate Professor of Nankai University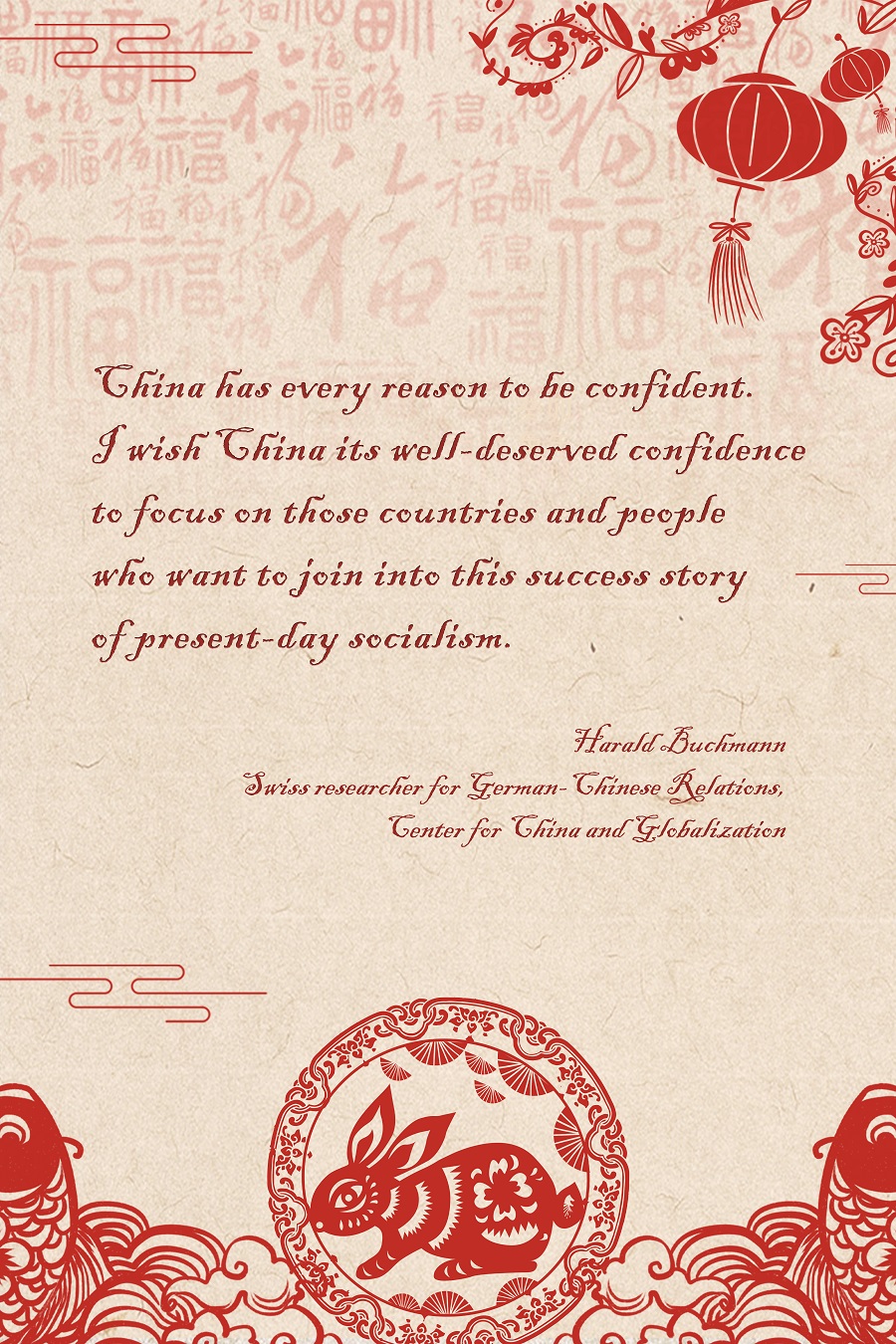 Recently, China seems like a majestic mountain range standing tall above a sea of chaos, war and upheaval, maintaining peace, stability, economic development and increasing quality of life for everyone, while achieving one success after another, from ending poverty to the overall successful, COVID response to reforestation, biodiversity, or the production of clean and green energy as well as a number of very successful and positive international projects. So I wish China the confidence to focus on those countries and people who want to join into this success story of present-day socialism. China does not need the approval from anyone to walk its own path towards modernity. So in a word, I wish China its well-deserved confidence.
By Harald Buchmann, Swiss Researcher for German-Chinese Relations, Center for China and Globalization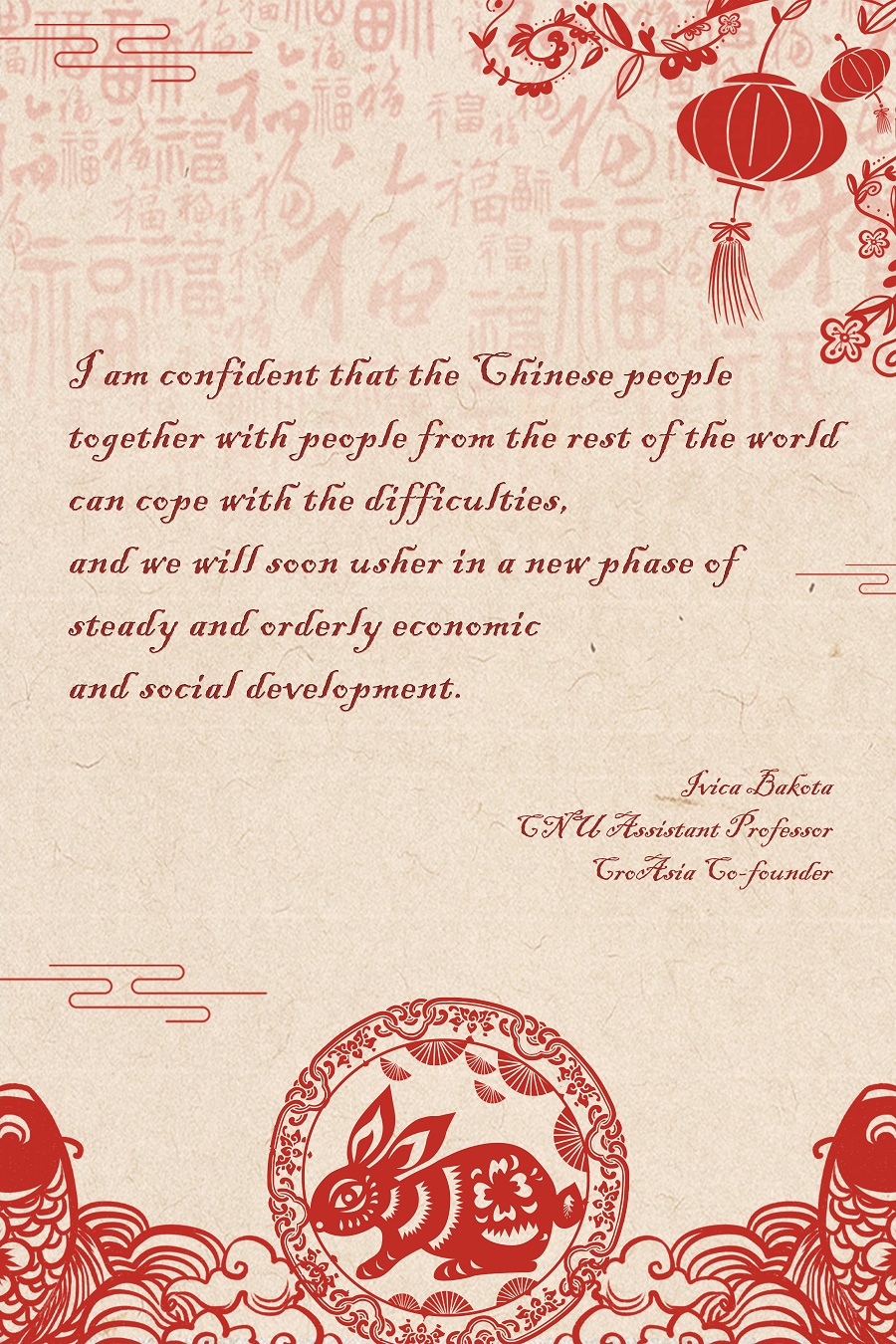 In the past three years, China and the rest of the world have faced enormous challenges under the huge impact of COVID-19. But the gloom is to lift, and the spring is on the way. I am confident that the Chinese people together with people from the rest of the world can cope with the difficulties, and we will soon usher in a new phase of steady and orderly economic and social development.
By Ivica Bakota, CNU Assistant Professor; CroAsia Co-founder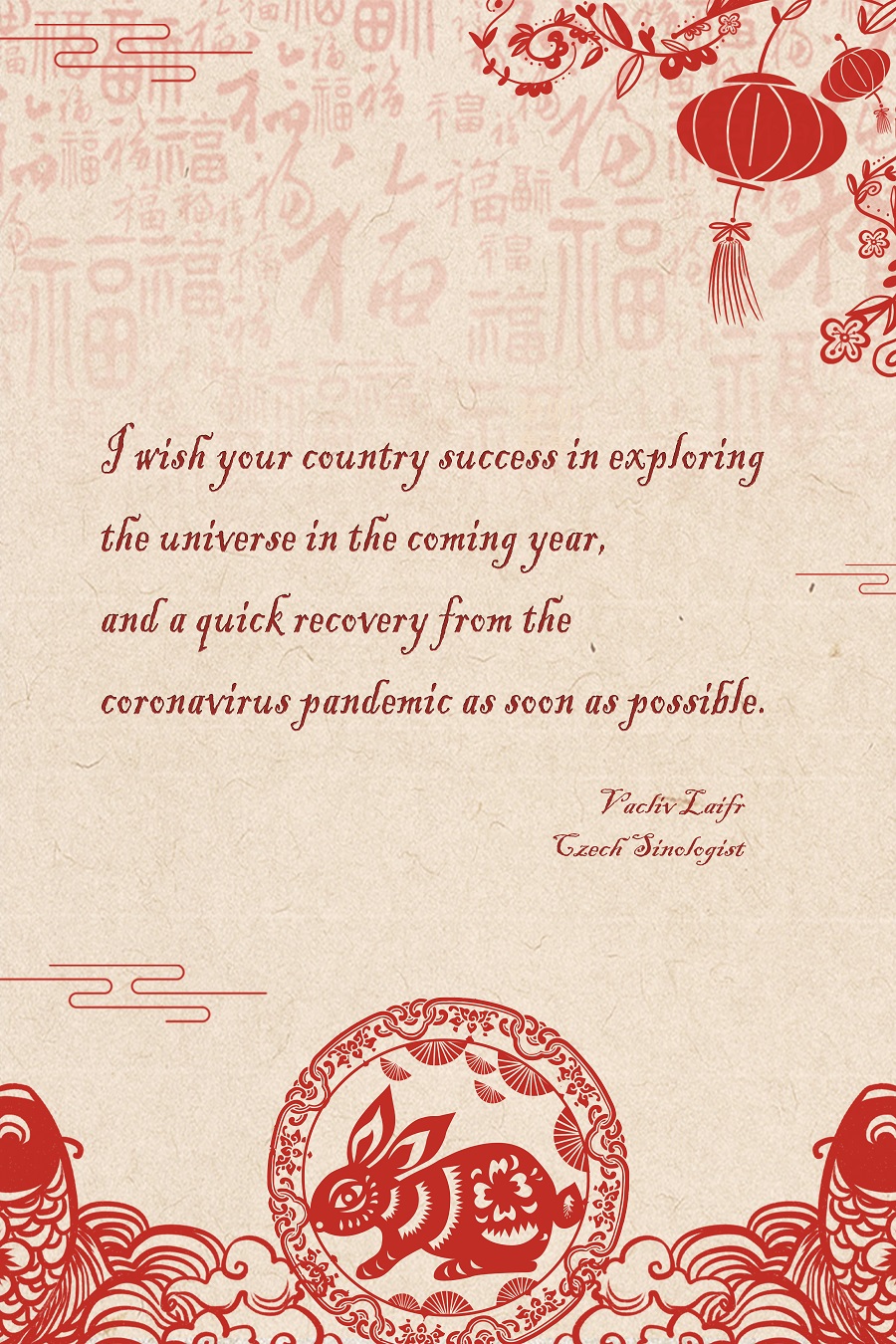 As I am very interested in your country's space program that has shown many outstanding achievements in the last couple of years, I wish your country success in exploring the universe in the coming year. Secondly, I would also like to wish your country a quick recovery from the Coronavirus pandemic as soon as possible.
By Vacliv Laifr, Czech Sinologist
Editor: WXL